It would seem silly that I am posting a guy guide on the proper way to wear perfume. It's like common sense right? But as a matter of fact we should never underestimate how putting on of perfume the wrong way could ruin your day!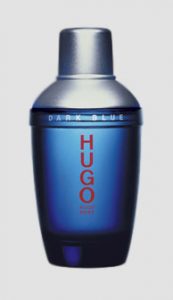 My favorite Hugo Dark Blue as shown in Hugo.com
This is what happened to me last week. lol! I am so excited about my new perfume that I didn't realize that I oversprayed it the whole day. You see it all started when I went to office in the morning. After putting on a very few drops I started to love the scent. Afterwards I passed by one of my officemates and she told me "Damn Chris you really smell great!". To my excitement and much flattery I started to spray more drops of perfume about every two hours until five in the afternoon when I was about to go home. It was then that I realized that I oversprayed it because by the day's end, I smelled like a barber shop! (I hope you know what I mean). The smell was just so strong. lol
Anyway after that experience here are some of the things that I would suggest when wearing your perfume:
1. Body sprays should be applied to pulse areas, neck and obviously your body. This is a good thing to do since our skin's heat amplifies the scent of our perfume.
2. Avoid rubbing the scent on your palm. Let the perfume dry naturally on your skin to preserve the scent. Most perfumes lose their scent after rubbing so leave it to dry after spraying.
3. Avoid spraying on clothes. Aside from risking to stain your clothes it is difficult to remove the scent especially when you overspray it like what happened to me.
Follow these three simple steps when wearing your perfume. After all you don't want to smell like a barbershop or do you? 🙂