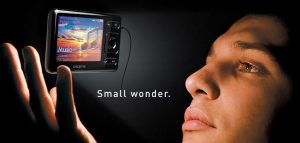 I am actually on the look-out to buy a new music player for myself since my old one is no longer usable. Out of all the music players, Creative Zen caught my attention so I'm planning to buy one by the month's end.
Now, why do I recommend it?
1. Looks
If you take a look at it, it's made of glossy black material, making it look very stylish. It reminds me of the material used in Nokia N76.
2. Size
Not too big, not too small. It's just a little bigger than your regular-sized credit card.
3. Price
The cheapest one is only P 6,999! Very inexpensive for a feature-rich music player.
4. Features
Take a look at its features below:
-Available in 4GB, 8GB, 16GB, 32GB flash memory
-Plays a wide-array of music formats
-Has FM Radio
-Supports voice recording
-Plays video
-Can view photos
-Has built-in organizer
-Plug and Play – so you can just drag and drop your music files just like in your flash disk
BEST of all: Has an SD Memory Card slot, so you can upgrade your memory anytime, anywhere.
Get free updates by Subscribing to Pinoy Guy Guide