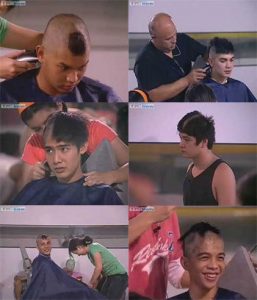 Image credit: Teenplus and PBB
Just a little over a month after the Pinoy Big Brother Teen Plus housemates had their own versions of
mohawk
, the hairstyle spread rapidly across the country.
Some of them left some hair in front, some at the back and one even shaved just half of his head. Now many guys have followed the trend and some have tried to become as unique as possible by coming up with their own versions of mohawk.
Since students are currently on vacation they could get a haircut like this. But for corporate people, I don't think this is a good idea. Nevertheless, this is an absolute headturner because not everyone has the gutts to do it.
So if I were to ask you: Would you get this type of haircut given the chance?
Get updated by Subscribing to Pinoy Guy Guide