I have already been in a few companies since I graduated from college. And in those few companies that I have been, corporate Christmas parties are always costume parties.
Some of the costumes that I have worn in Christmas parties of the past include Walt Disney characters, Rockstars and Retro-look similar to PGG forum member Marky.
The most recent Christmas costume party I have been to this year has the most challenging costume ever so I thought that I had to blog about it. The theme was Greek gods and although it was fun and exciting to wear these costumes and imitate the gods of Greek mythology, it was just too difficult to look for these costumes, not to mention very expensive.
2 weeks and 1,500 Pesos later, I managed to find and wear this costume. Simple but very Greek. 🙂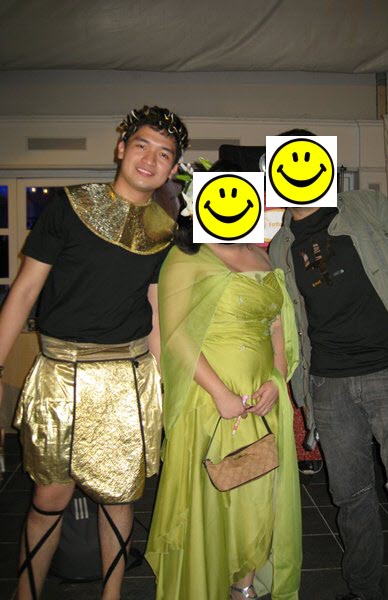 ***Sorry, I had to put those smileys for privacy purposes***
I wasn't sure which Olympus god to imitate. I was thinking maybe Ares (god of war) or something so I just wore something that looks similar to his character.
Anyways, it was such an amazing party! At first my officemates and I were skeptical of wearing something like that thinking that it was kind of corny to do so. But I thought: "Hey, isn't it fun to act like a kid sometimes? Christmas only happens once a year so why not make the most of it?" And so we did.
So how about you guys, what was your Christmas party costume or theme? What did you wear?
Not yet subscribed to Pinoy Guy Guide? Enter your email here.