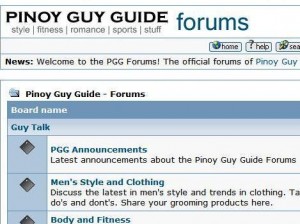 I've been planning for quite sometime to re-launch the PGG forums on our very own host and finally I was able to allot some time to do it. So please, check out and join the all-new Pinoy Guy Guide – Forums!
I've created this message board where we guys can talk about our own experiences and stories. It's a place where we can talk about boys' stuff and ask questions on men's style and fashion, body and fitness, romance and so much more for free!
So what are you waiting for? Join the discussions now at the all-new PGG Forums. Click on the link below to check it out. Don't forget to bookmark the site!
https://www.pinoyguyguide.com/forums
Stay-tuned as I raffle off exciting prizes for the pioneers of PGG forums! So join now and start posting! 🙂