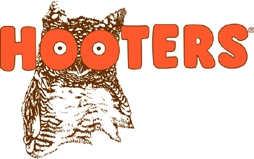 Image credit: Wikipedia
Last May, I featured here in Pinoy Guy Guide about Hooters being now present in the Philippines. Again, for those who are unaware yet, Hooters is a US-based restaurant serving burgers, steaks, chicken wings and many more. Their target market are male customers because they feature girls in sexy outfits serving you food. So going back, I went their with my officemates for team building and here is what I think about the famous restaurant in terms of food and the place itself.
First of all, Hooters is located at the back of SM Mall of Asia where there are lots of good dining places and bars to enjoy especially on a Friday night. So being at the back of Mall of Asia means that Hooters is near Manila Bay itself and the atmosphere is very relaxing.
FOOD
The food is good. If you have ever been to T.G.I. Fridays or other similar restaurants, they taste almost alike. However, it's a bit pricey. A plate of chicken wings could cost you around 500-700 bucks. Same is true with their other menu. They tend to reach a price within that range so it is recommendable to bring the rest of your peers with you to share. Nevertheless, the taste of their food is savory so it's worth the cost.
GIRLS
Maybe the reason I didn't pay much attention to the food was because of the girls! Haha! Contrary to the comments in blogs last May, I personally found many of the Hooters girls pretty – and sexy too! One of my friends who has already been in Hooters USA even mentioned that he prefers the Hooters Philippines' local girls because they are slimmer than their US counterparts and yes, they even dance!
What was unforgettable and terribly hilarious experience we had there was when we told the Hooters girls that one of our friends is celebrating his birthday (which is not true by the way). Right there and then, the Hooters girls pulled our shy friend at the center of the Hooters restaurant and invited him to dance. Mind you, they didn't just dance on the floor, they danced on top of chairs! So our guy friend was forced to do that even if it wasn't really his birthday and you can just imagine the laugh trip we had! They danced to the rhythm of YMCA and Chuchu train with everyone else in the restaurant watching.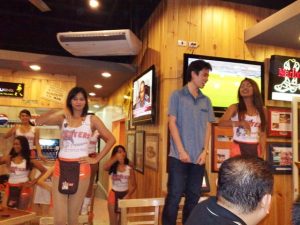 Overall it was a great experience being there. The Hooters girls are amazingly friendly to the customers and they love taking photos with everyone. Try to go there sometime if you haven't. If you've already been there, share your experience here 🙂
Never miss a post in Pinoy Guy Guide by subscribing through email