While every style is unique to each person, there are just some specific fashion rules which are revised every season depending on what's in and what's out. In this article, Jessie tells us some of these fashion rules that every guy ought to follow.
I was at the mall the other day with my wife and kid. We were strolling around, minding our own business. Then all of a sudden a guy passed by wearing these: Baggy jeans, oversized t-shirt, purple chucks and a white framed shades. My wife and I looked at each other in horror. What was he thinking? He obviously wanted to impress people with his 'savvy' style, but even with his decked out head-to-toe outfit – he looked more like a clown simply because he
failed to follow some basic fashion rules. Which leads me to shell out some of the most basic fashion rules every guy needs to be aware of.
Rule #1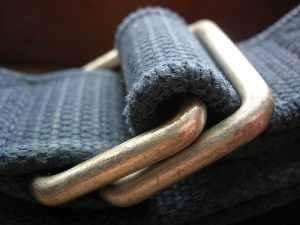 Never wear pants without a belt.

When you're wearing your shirt tucked into your pants, wearing a belt is a commandment to follow. A belt serves as the knot that ties your outfit together. It completes the whole package. It's ok to not wear one if your shirt extends below your waist, but when you're dressing up for a special occasion, belts are a must even if your pants don't really need any help staying put. Aside from that, not wearing a belt makes your outfit look less elegant and chicks don't dig that.
Rule #2
Get rid of waistline and belt accessories
Okay, so you got the gadgets, you got the fine cars, you're with the classiest girl and you got a date. Do yourself a favor: Leave your cellphone clipper at home. Cellphone clippers are those things that you clip or strap to your waist that serve as your cellphone holder. They are a total distraction and people will tend to look at your waistline everytime and you don't want that, especially if you have a beer belly that's waiting to explode. Aside from that, piling up accessories on your waist only makes you look shorter and heavier. So get rid of those clippers, chains and what everything that would make you look like an undercover cop.
Rule #3
Basketball shoes + Jeans = Disaster
If you're wearing jeans that has a narrow or slim bottoms, never EVER wear your favorite basketball shoes. Jeans and basketball sneakers are like oil and water. They don't go well together. Only fifth-graders wear basketball shoes with their jeans because they don't have a choice. But you do. Get yourself a sneaker that would make your feet look slim and sleek. If the bottom of your pants crumples on your ankles – you got it all wrong. Getting another pair of kicks for to match with your daily casual wear might cost you a little more, but you'll definitely gain 'pogi' points for them in the long run.

Rule #4
Pant length commandments
I have an officemate who seriously needs to read this article. Picture this: He's short, he wears tight shirts and an elephant bottom pants. I mean, this dude really has some serious time travelling to do. Elephant pants and bell bottoms for men are OUT. Pants that literally cover your shoes and reach the ground are a thing of the past. Different kinds of pants look best at different lengths. Jeans should not reach the ground and should be perpendicular with your ankles. Nothing more, nothing less. For dress pants or office pants, it should cut off at the top of your heel and your socks should not show when you're walking. If you're buying new pants but the length is not quite right but you love them, have them altered. Never fold them inwards. You're an adult for crying out loud.
Note from Chris: I can relate with Jessie. I thought that I was the only one who noticed some people still wearing oversized shirts and elephant pants. These styles were great sometime in late 90s but now it's considered old school.
Jessie is a full-time employee in Makati as a Technical and Billing Support Supervisor and also works as a Freelance Event Organizer. He has a strong passion in sports and urban lifestyle. In his spare time, he reads books and magazines, surfs the Internet and plays video games.
Know more about men's fashion by Subscribing to Pinoy Guy Guide or signing-up at the forums
Image credit: Mukluk | Creative Commons