Many foreign clothing brands such as Forever 21, Uniqlo, Cotton On, and H&M are coming to the country nowadays. These brands give Filipinos the opportunity to experience the hype on these brands' fashionable clothing pieces.
However, being a well-known brand in their respective countries has one drawback: it makes the prices of their products much higher here in the Philippines. It may be tempting for us to purchase clothes from these stores now that it's Christmas time and we need to look presentable in many parties and gatherings, but, sometimes we need to spend on gifts more than we spend for ourselves.
But still, that shouldn't stop us from being in style this season. We can still purchase trendy apparel while unleashing our inner pagka-kuripot. Here are a few tried and tested places to check if you're looking for new "budget-trendy" clothing this Christmas:
(These choices may seem to be obvious picks but this "obvious-ness" makes them overlooked apparel places.)
1. Bench/
Bench/ is my go-to place when I'm in search for a good pair of pants (or two. or three). To tell you the truth, most of the pants I have in my wardrobe are of this brand. I find their pants comfortable to wear. Most of the branches that I've been to have a rack of pants (regular denim and colored ones) which are priced at 499PhP or even less. I like their colored pants since they're something you can use in formal events without being too formal. It's also something much trendier than regular denim on casual get-togethers.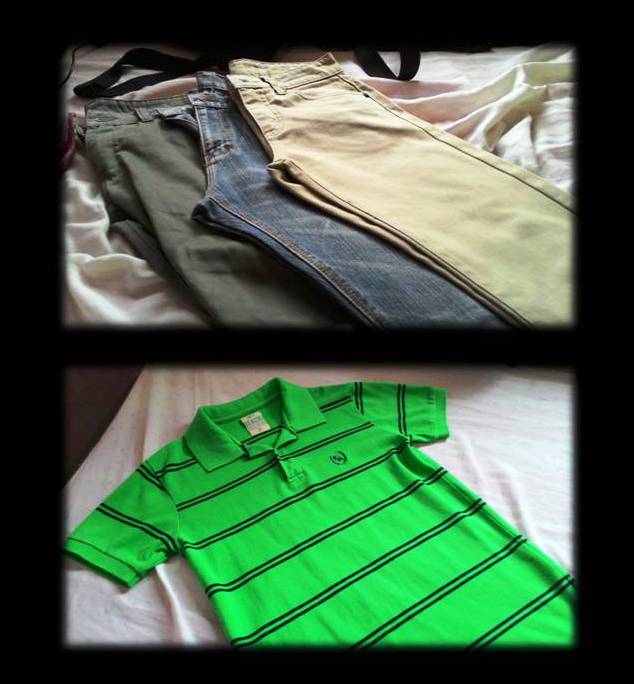 Bench/ also has an array of polo shirts with simple yet still good designs priced at 500PhP or less. I, in fact, have quite a few in my wardrobe. The only problem you'll face here is that Bench/ polo shirts are too common. There may be times where you can come upon a stranger wearing the same polo shirt you're wearing. But hey, that wouldn't be much of a problem if you're wearing it confidently, right?
2. The SM Store and Robinson's Department Store
Department stores are common shopping places due to the presence of numerous brands. I usually shop in department stores when there are sales (see how kuripot I am?), unless there is a product which I really like and which has a good value for money.
At The SM Store, I was able to find a good, plain pair of brown pants priced at around 500PhP. It's like a good alternative to slacks. Depending on what top (and shoes) you pair it with, it can turn from casual to formal or even something edgy.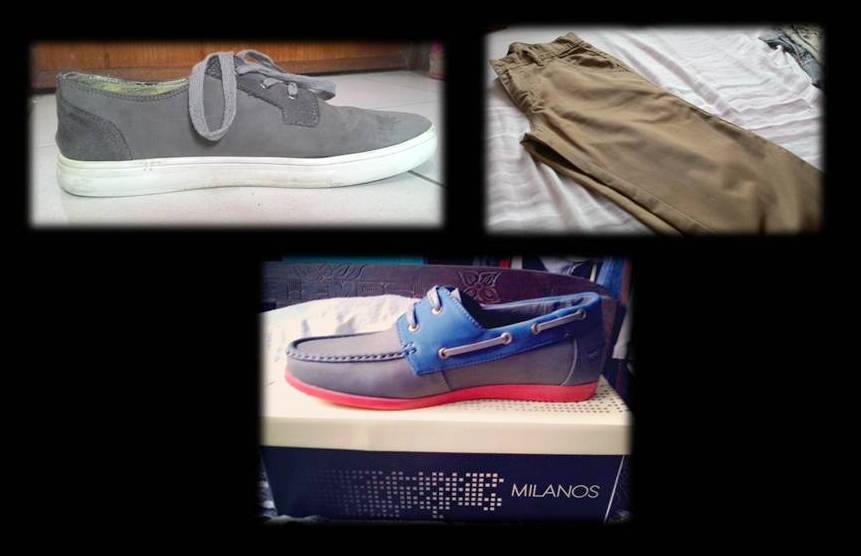 If ever there's one brand that I somehow patronize at The SM Store, it would be Milanos. I adore their shoes! The designs of their shoes, for me, look really awesome plus most of their footwear are priced below 1,000 Pesos. The orange and blue pair of shoes (which looks young and hip) is the first Milanos shoes that I bought almost a year ago. It's priced at 799PhP. The grey one, on the other hand, was priced at 499PhP. Really cheap for a good pair of shoes.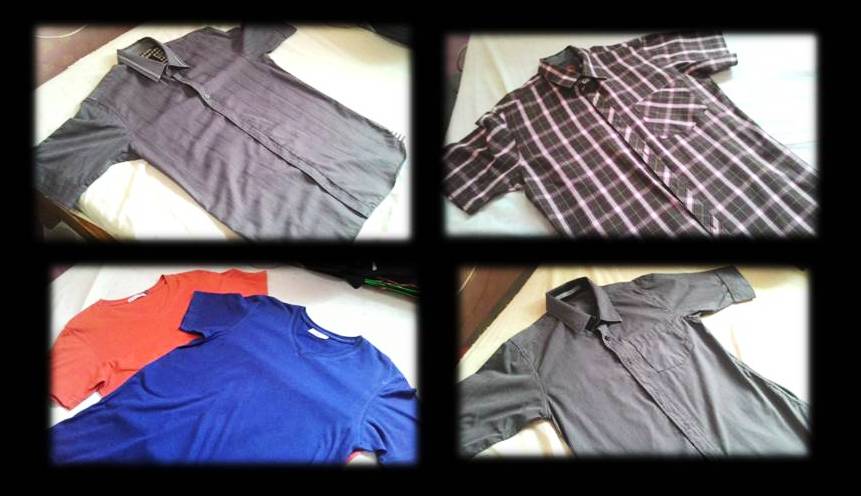 Aside from SM, Robinsons Department Store is another place I go to during sale events whenever I'm looking for a branded polo. I usually buy from Dansen, CEO, and Rafael stores since they offer cheap prices for their products. The grey and black ¾ sleeved polo was priced at around 400PhP if I'm not mistaken. It's really perfect for formal events. For ordinary t-shirts, I usually check out Grab-A-Tee. Their plain v-neck shirts (priced at 300PhP and less) are really comfortable and maaliwalas. I really think that one can never go wrong with plain v-neck shirts, especially if you're more on the slim or athletic side. Wear polo (open-buttoned) with thin fabric over your v-neck shirt then you're off for a fresh and young look for your Christmas happening.
3. Divisoria (168 Mall and 999 Mall)
Divisoria is a shopping haven for those who are really willing to spend a lot of time searching for the perfect piece. I still haven't experienced the "real Divisoria shopping" which is shopping along the streets since I've only been to 168 Mall and 999 Mall.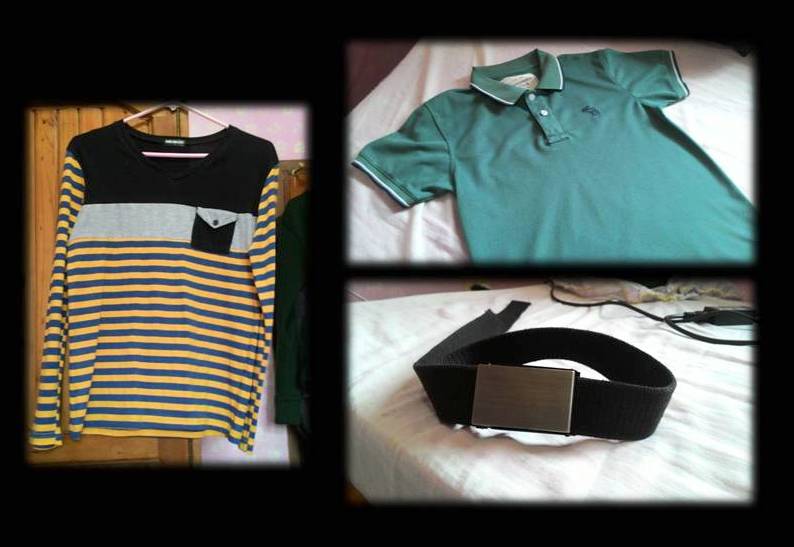 Anyway, I was able to buy a unique long sleeved shirt at around 300 to 350PhP. What I loved about the shirt is that the color is surely eye-catching. I've also managed to score a buckle belt at 75PhP (originally priced at 100PhP). However, the next time I'll go to Divisoria, I must search for that store which sells good quality, plain polo shirts at 185PhP. It's really a good deal! Also, plain polo shirts are something which changes how you look with one button: leave the top button unbuttoned and you'll achieve a laid-back, casual look while fully buttoning the shirt would give you a nerdy, good boy look which seems to be in nowadays.
4. Farmers Plaza, Cubao
The top floor of Farmers Plaza is a haven for bargain-hunters. It's like the Greenhills and Divisoria of Cubao. There also are retail stores scattered throughout the mall. I still haven't explored all sections of Farmers Cubao but I was still able to find some good buys here.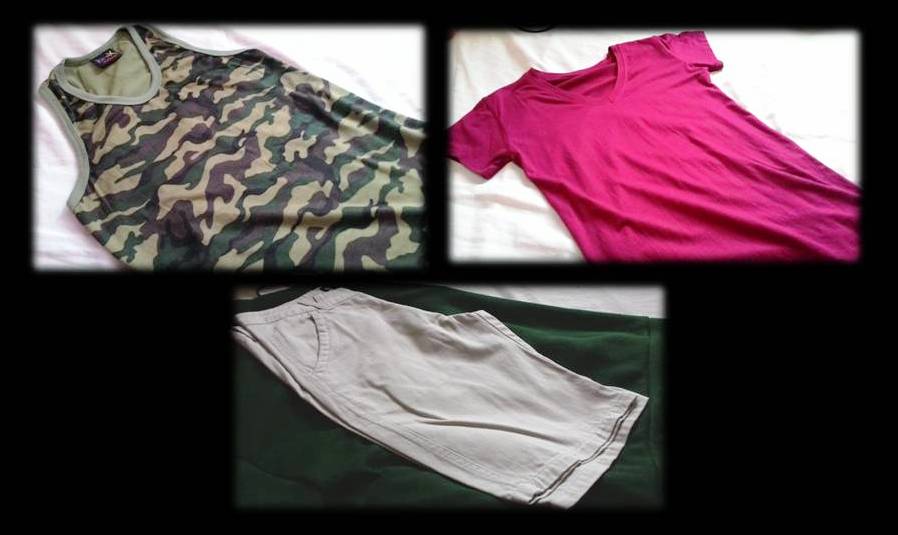 I got myself a good military-inspired tank top at around 300PhP if I remember correctly. I've also managed to score two v-neck shirts for 180PhP (both). Really good deal! I've also bought a raglan tee for 220PhP here. But among my purchases here, the one I'm using most often is the cream-colored shorts. I bought it at around 250PhP. It's really something I like to wear whenever I have get-togethers with the barkada. I wear it with the blue/orange shoes I bought at SM. They're really a match.
5. Greenhills Shopping Center
I've only managed to shop at Greenhills once. But I've already bought a lot! Just like Divisoria, Greenhills is not for the impatient shopper. You may get bored (and dizzy) with the numerous stalls selling almost the same pieces. If you're patient with this, you can find stores where you can really haggle for a lower price.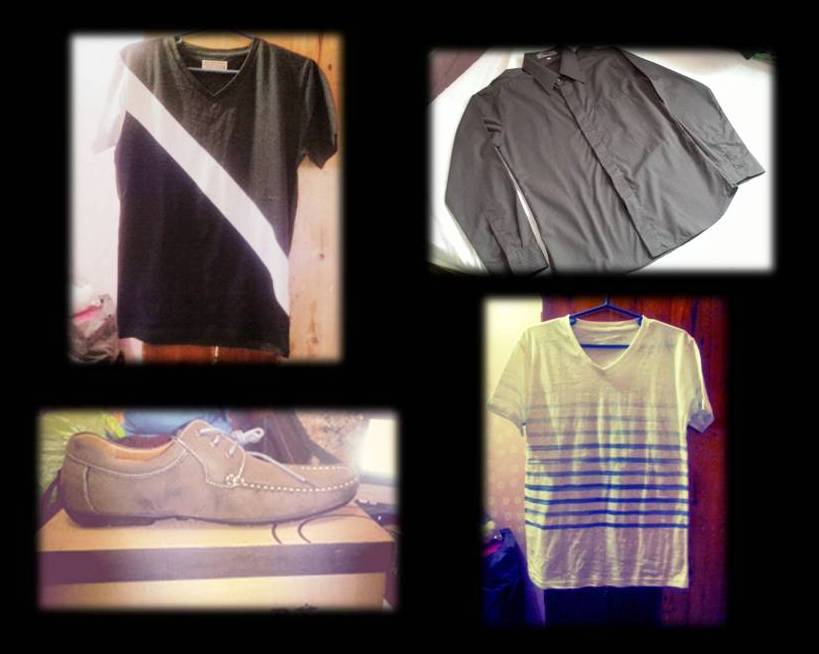 I bought the shirts at 160PhP each. The white one with blue stripes stood out for me since it looks really good for a chill kind of look. The brown long sleeved polo priced at 320PhP is something one can wear to formal events, particularly gatherings held in air-conditioned areas. I find the fabric too hot to wear for outdoor get-togethers. Lastly, I've managed to get a pair of decent shoes for 500PhP after haggling from a 600PhP original price. I'm not sure if that's a good haggle but yeah, I can do better. Anyway, shoes don't usually last long when I'm not the one using it. However, I'm pleasantly surprised that this pair of shoes is still good to go after almost a year of use. Not bad, I must say.
6. The Landmark
Among the places I've mentioned in this list, The Landmark's probably my favorite from this bunch. First, it's air-conditioned so it's really comfortable to shop even during peak hours. The second reason is the presence of a "bazaar" within the department store. This is the area where I usually shop since you can find a lot of choices from t-shirts, shorts, pants, polo, polo shirts, boxers, etc. It's really good since you don't have to roam the whole department store to find what you want. The only reason why I don't like Landmark is that every time I go there, I always manage to buy something even if it's unplanned. Not good for my wallet.
I was able to buy a really preskong tank top priced at 130PhP. Layer it under a polo and you're top look is done. I also love the gray short sleeved polo I bought at 290PhP. The fit is really perfect for my body type. It's also really a flexible polo for any kind of event.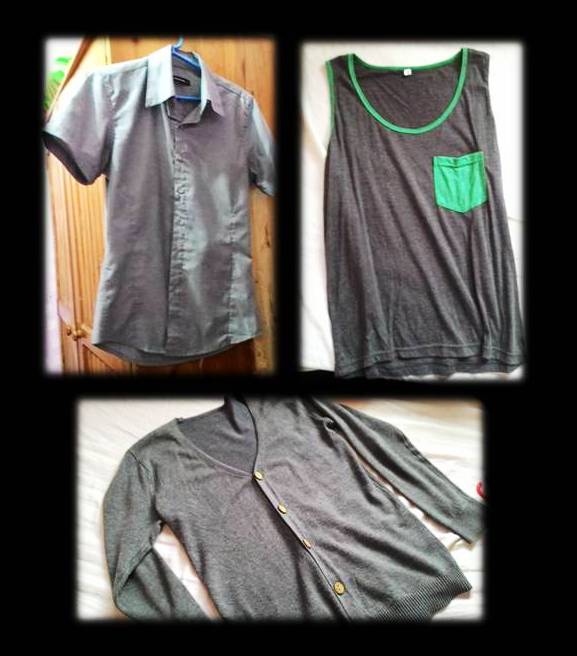 The gray cardigan is something I bought with no plans at all. I usually see cardigans priced 700 Pesos and up (which is quite expensive for me), but one day, when I was strolling through Landmark while waiting for my friend, I found a rack of cardigans and found the one pictured above. It is priced at 380PhP so I bought it. I usually wear my cardigan over a collared polo shirt or polo. I leave it unbuttoned to achieve a cool, youthful getup while I button it for a nerdy/preppy look. If you're wearing glasses (like me), I think that this would be a good part of your ensemble. I've also managed to buy a dark blue long-sleeved polo here. I matched it with my cream-colored shorts and my favorite shoes from SM. My friends told me that the clothes I wore looks really nice and do not look cheap. So yeah, I guess that's a compliment.
So there you have it. A list of places where one can purchase trendy yet budget-friendly apparel in time for Christmas parties, events, and gatherings. Patience is really a must when it comes to shopping at not-so-extravagant-and-branded retail stores. In the end, it doesn't really matter how expensive or cheap your clothes are nasa nagdadala lang yan.
*     *    *    *
Mac

is a 21-year old Research and Account Officer in Quezon City. He's also a part-time student taking up his Master's degree in Marketing Communications. He's a simple guy always seeking to try out new experiences and also a self-proclaimed "probinsiyano", lakwatchero, and a wanna-be foodie.