My original plan was to create this post last Wednesday but due to my busy-ness, I wasn't able to do so. Anyway, here is a somewhat timely update on the latest happenings in the metro. I say better late than never.
1. Philippine Fashion Week 2008
If I'm not mistaken this is the second Philippine Fashion Week for 2008. Perhaps they are conducting it every season of the year? So anyway, the said event started last October 22 and will continue through October 29 at SM Mall of Asia's Atrium and the SMX Convention Center. A friend of mine was lucky enough to attend the event yesterday and he said that Angel Locsin is really pretty in person. By the way, Angel models for Folded and Hung apparel. If you want to see eye candy models like Angel, SMX is the way to go 😉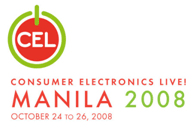 2. Consumer Electronics Live
I was informed by BPI Edge Credit Card that I get a free entrance at this year's Consumer Electronics Live in Manila 2008. I believe that this is similar to the Consumer Electronics Show which is being held in the US where electronic and technology companies showcase their latest products, gadgets and appliances. If you want to attend the event, it is currently being held at SM Mall of Asia. The show started yesterday, October 24, and will last up to tomorrow, October 26. Accordingly, the exhibit includes the latest mobile phones, computers, laptops, home theater systems and so much more. If you have a passion for technology, here's a great place to go. As for me, I hope to find time tomorrow to catch up and see the event.
3. Cream Halloween Ball
Bored for the halloween? Don't be because Big Fish Manila will once again conduct another halloween costume dance party. This will be held on October 30 at the World Trade Center. So, if you're up for the gimmick, you better buy your tickets now.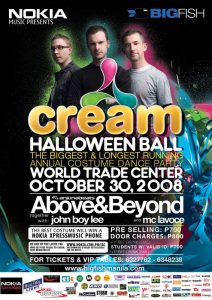 4. Chris Brown and Rihanna live in Taguig!

I first heard about Chris Brown coming in Manila last August. I thought that it was a joke because I never heard about it again. But the next time I heard about it, it was even better for he's coming along with Rihanna to have a major live concert at Taguig this November 16! Music lovers: get your tickets now.
I hope I've updated you with the latest happenings in the city. Stay tuned to PGG for more by subscribing through email or by joining the online forums.
Image credits: PinoyTechBlog, BigFishManila and TicketWorld