There has been an on-going discussion at the PGG Forums about speed dating in the Philippines. What is it anyway? Are you willing to join one given the chance?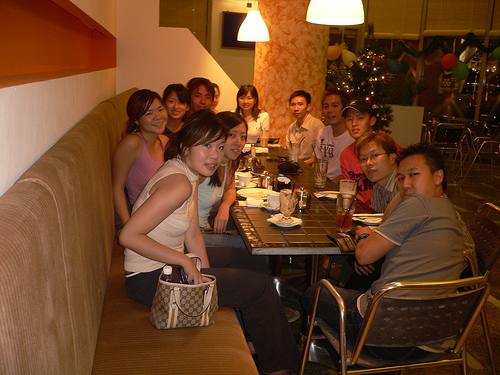 Image credit: Voux | Creative Commons
What is speed dating?
For those who are not familiar about speed dating – well it's an event that is organized where single men and women meet to find new acquaintances or potential mate.
Each man and woman will have an approximately 3-8 minute conversation with one another after which the organizers will ring a bell prompting everyone to rotate and switch partners. The cycle goes on until everyone has been given a chance to mingle and get to know the rest. To reduce the pressure on women, the organizers will not allow you to exchange contact information with one another. You will just have to list down on a piece of paper the names of the women you like for you to remember.
At the end of the event both male and female participants will submit their lists of the people they would like to know better. If there is a match (say guy Y wants to know girl X better and likewise girl X wants to know guy Y better) then the organizers will send the contact information to the matched participants – and it's up to them to continue their friendship to the next level in case they realize that they have that "spark" for one another.
Views on Speed Dating
Actually, I was planning to attend a speed dating event early this year. It's not that I'm looking. It's because I wanted to experience first hand what speed dating is like so that I could feature my experience here in Pinoy Guy Guide. However, since the slots were limited, I wasn't able to attend the said event. But anyway, I would like to share my few thoughts on speed dating – the good and the bad.
The Good
1. Everyone's business is to find a match
Unlike in bars or in real-life scenario where you are in a guessing game wondering if the hottie you met is single or not, in speed dating you are certain that everyone is most-likely single and that the very reason you are all gathered in the first place is for you to find a match. So there's no more reason for you to guess who is single or not.
2. You get to know more people
While it's not guaranteed that someone will pick you as a potential date, at least you will know more people and you will have a chance to practice your skills towards the opposite sex. This is the best time for you to use your pick-up lines and see which one is most effective to different types of women.
3. It's a stress reliever
Since most people who attend these events are by nature busy people, it's a good way to release one's stress by conversing with other people and at the same time relax and enjoy the event.
The Bad
1. It could be a bad impression on some women
I used to have a female officemate who said that it is a total turn-off for her to see a guy in speed dating events. When I asked her why, she told me that it appears to her that guys who attend speed dates look as if they are a "chickboy" who are always single and ready to mingle with new women.
2. It may appear as if you are desperate
Contrary to #1, some people think that men or even women who attend these events are desperate, hopeless-romantics who couldn't find a mate. Though to be honest, I certainly disagree with that.
3. It is a risky business which may lead to disappointment
People who attend speed dating events are total strangers to you. So even if you are a guy, you've got to be careful because you are not sure about the personal background of the women you will meet in the event (they may be uh, well, psychos weird or stalkers? I hope not). Also you are never sure if you will be successfully matched and it could lead to disappointment – especially when you have already paid the registration fee :p
Where is it organized in the Philippines?
Unlike in the Western parts of the world, speed dating isn't that popular in the Philippines. The last time I've heard of such an event was the one conducted early this year by SixDegrees and also by RX 93.1 Monster Radio if I'm not mistaken.
So how about you? What do you think about speed dating? Do you know any venues where one is being organized?
Subscribe to Pinoy Guy Guide or Discuss this story at the Forums