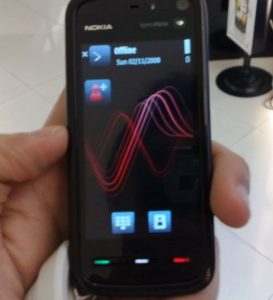 It has been like ages waiting for 5800 Xpress Music phone from Nokia and I'm very happy that it is finally here. Surprisingly, it's not as expensive as I thought it would be.
At only 18,000 Pesos, it is hard to imagine that a new phone from Nokia containing cool music features would cost only this much. As what I have seen in the past from Nokia, I expected it to be more or less 30,000 Pesos. Anyway some of 5800's nice features are:
3G with HSPDA
Touchscreen
Accelerometer sensor for screen auto-rotation
Up to 16 GB Memory Card (original package has 8GB Memory Card and 81MB internal memory)
Wi-Fi and bluetooth
3.15 Megapixel Camera with Carl Zeiss lens and auto-focus. Has a secondary camera for video call
GPS receiver
Plays MP3, WMA, WAV, EAAC, MP4, WMV, 3GP
While the features are really nice, the only thing that makes me wonder is why the internal memory is only 81MB? I think they should have added more since this is a music phone. But no need to worry since it has a memory card slot of up to 16 GB anyway.
And for some reason, I don't understand why all music phones that come out are being compared to the iPhone? I don't know but I think it's weird. It just makes the iPhone more overrated. Just take a look at a spoof ad I found below from BlueTrigger.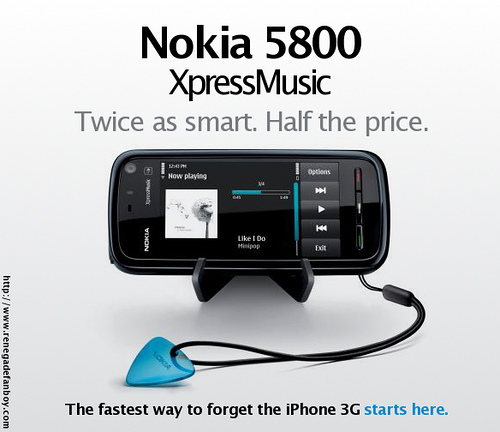 Between this and the iPhone, which one would you choose?
Not yet subscribed to Pinoy Guy Guide? Subscribe now via email to get the latest updates