I have been eyeing this shoe for the longest time now so when I saw the 2009 Nike Free on sale, I didn't think twice and I immediately bought it. Who would think that this dashing pair of shoes would be at 40% off?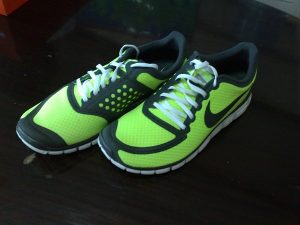 Wear it for running
I guess it's true that the Nike Free is built for running. It felt so comfortable wearing it that I felt like I wasn't even wearing a shoe. (Nike mentions that you will feel like running on barefoot). This one is a must-buy for you if you like joining fun runs, running half an hour or more at the gym's treadmill or even if you are just walking as an exercise.
So have you ever wondered what the "5.0" and "v4" meant in Nike Free 5.0 v4? Well according to Nike, v4 means the 2009 version 4 while the 5.0 tells how soft the shoe is. According to Wikipedia which I quote below:
"The Nike shoe scale goes from 10.0 to 3.0 with a '10' being a fully supportive shoe, and '0' being completely barefoot.

Example: The 5.0 Nike Free is like running halfway barefoot, the 3.0 is even less shoe, and the 7.0 is a bit more supportive."
Wear it to party
If you have been strolling by shops or even browsing mags lately, you will notice that bright colors are the most popular nowadays. That's why I chose the color variant "Volt/Dark Army-White". I wore this at our company's Christmas party and I tell you that most of my collegues WOWed at the sight of it. I received numerous compliments for this shoe and I can say that I'm lovin' it day in and day out.
Check out more photos below (click image to zoom):
Want to read more about footwear? Subscribe to Pinoy Guy Guide by email or by feed.