A couple of months ago, I received an email from a PGG reader regarding men's hairstyles. It took me quite some time to respond since I needed to find out more about it. Here was his question.
"Hi. Are mohawk and emo hairstyles still "in" nowadays? What other hairstyles are popular? Thanks."
My answer to that would be yes. I know that the emo haircut was already around a few years ago as evident in my post here but yes, it is still "in" and guess what? There is a variation of it which is currently being made popular again by salons for men here in the Philippines.
The idea is you will get a short haircut (probably a faux-hawk) and add short stripes to either or both sides of your head (called racing stripes or dash stripes) and you will end up having lines like these: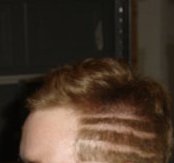 Image credit: No source. Photo found in a message board
And since summer is here in just a few more days, short haircuts would be fantastic! I'm planning to get this haircut but I have to double check to make sure that I'm not violating any of my company's policies.


Want to find out more about men's hairstyle? Subscribe now to PGG by email or Join the PGG Forums. You can also become a fan in Facebook!