In the company where I work, all parties are costume parties.
The funny thing about my colleagues in the office is that when the party is still months away, they do not seem to care about what to wear. But as the party draws nearer each day, people start to panic and cram looking for costumes. The end result? Everyone is dressed up so good at the party that it looks like they have taken the costume seriously and prepared for it months before. It's crazy I am telling you. You will be out of place, as in totally, if you are not wearing a decent costume.
Now this Christmas, our company's costume party theme was "Superheroes and Villains". Cosplay, to be exact. This is freaking fun when you are a kid but when you reach adolescence, it becomes a bit corny and if you are already working, it can be a major hassle.
But as for me, I never perceived it as corny. Yes, it is a hassle but I was thinking that on the positive side, it would be really fun. I was a timid kid back then so I never attempted to wear costumes when I was little. I was too shy to stand in front of other kids and to show off my costume. So yes, needless to say, I am a frustrated cosplayer.
Now that opportunity arose, even if I am already a grown-up, I wanted to try costumes of my favorite characters that I have seen in the movies. I needed to pick one, but the question is who and where do I get the costume?
I initially wanted to dress up as Spiderman because I liked his character a lot. I loved the fact that in the movies, Spiderman, unlike most superheroes, have both strengths and human weaknesses I can relate to. In short, I could see myself in him so I began my search for Spiderman costumes.
About two weeks before the Christmas party, I started to become frustrated. Spiderman costumes were nowhere to be found. Department stores have a lot of them, but they are for kids so as a back-up plan, I decided to just buy myself a Spiderman shirt so that when worse comes to worst and I'm unable to get a costume, I would still fit in to the theme of our Christmas Party. Actually, I was so close to giving up on this cosplaying thing because it was so hard to look for costumes.
Less than a week before the party, I desperately Googled for shops specializing in costumes. I already have a Spiderman shirt but I still wanted to give it one last shot before I throw in the towel. After about an hour and fifty mouse clicks, I luckily found a costume shop in Mandaluyong. It's called Sinag Arts Studio. It is located at 664 San Ignacio Street, Plainview, Mandaluyong City, Philippines.
The next weekend, I found myself heading to Sinag Arts. I was with my brother that time and he kept on asking me if I am indeed serious to wear a costume. I said yes. He laughed and couldn't believe it because he always knew me as a shy kid back then.
When we reached our destination somewhere in Mandaluyong, we found an old but huge two-storey house that was surrounded by a very tall gate inscribed with the words "Sinag Arts Studio".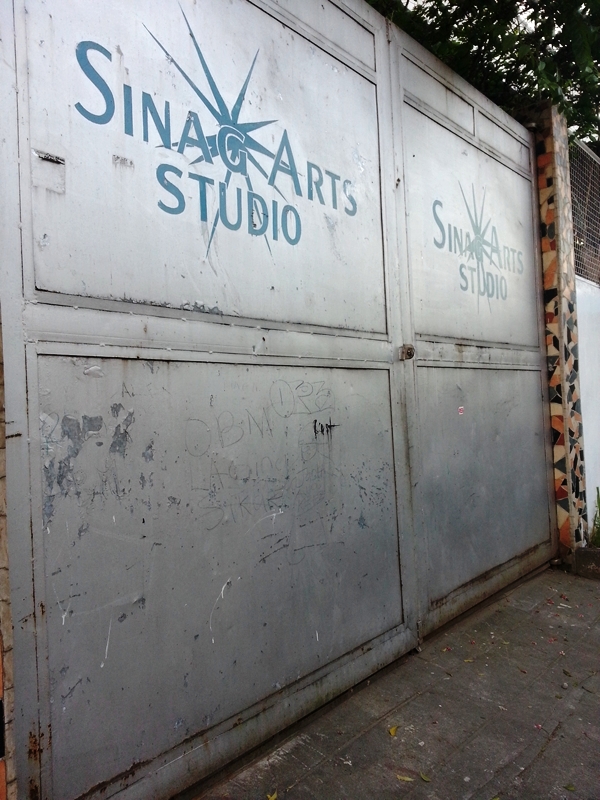 I rang the door bell and some friendly, old lady opened the gate for us and welcomed us to the house. I asked if she has costumes of superheroes and she responded by saying: "Absolutely! That's our business and what we do for a living". I held my hopes up high and told myself that this is it. I would not leave this place without finding a good costume.
When we got to the second floor of the house, my eyes opened wide. I could not believe what I saw. An entire floor full of costumes hanging above us and lying down on the tables in front of us. I was in awe. Then the old lady, who I would later find out to be the storekeeper and tailor of Sinag Arts, asked me to try different costumes she created.
I tried my first choice. Spiderman. I did not like it because of two things. One is that the color is already faded and two is that it is very small for me. I learned that it was originally created for a highschool dude so there is no way that it would fit me given that I am a couple of inches from being a six footer.
The next thing I tried is the costume of Luke Skywalker in Star Wars. When I tried it on, it was a little heavy but kind of cool. However, when my brother burst into laughter and told me that I looked like a monk instead of a Jedi, I immediately removed it. He was right.  It's an epic fail for a cosplay party.
I picked up Captain America's costume next. It looked very promising as it comes with a helmet and shield that Captain America used in the movies. Indeed it looked awesome. However, halfway through fitting it, I knew it was just not meant for me. It was made up of spandex and it looks fantastic if you have the body of Chris Evans in the movie. But since I do not have that, forget it. To make things worse, the body-shaping fabric is killing me because it is too tight and girls would notice if you are having an erection. No way that I would wear something like this.
I then got tired of fitting costumes so I sat down in the corner of the old house of Sinag Arts with all costumes piled up right beside me. I was too exhausted. It is not easy to try fitting costumes. Unlike your jeans and shirt, which you could put on in less than 20 seconds, superhero costumes would take you about 15 minutes each as you would have to put on a lot of parts and accessories before your get up is complete.
I was losing hope again in finding a good costume when the old lady emerged from a room with a costume in her hand.
"Chris, I bet you would like this. It is one of our best to date.", she said. After she spoke, she handed me a sophisticated black costume. It was brand new and had never been used or rented before. It was Batman.
Although the costume was all spandex and tights everywhere, it is black so your body shape and frame isn't obvious when you wear it and you wouldn't be too embarrassed if something bulges out. The costume comes with a fantastic helmet and a front padded armor vest that makes you appear like you have big pecs and a perfect set of eight pack abs.  It looked impressive. Here is a picture when I tried it on.
It's way too cool and fits me so well so without second thought, I told the old lady that I will get it.
The Batman Costume rental costs 1,000 Pesos. But on top of that, you need to deposit another 1,500 bucks just in case you do not return the costume. They will give back to you that amount once you return the costume in good condition.
Fast forward to our Christmas party at a five-star hotel in Makati, everyone, as I expected, appeared to have prepared for their costumes. The setting looked like a cosplay contest, I could hardly recognize anyone.
I arrived there at the venue wearing my Batman suit and helmet already and the funny thing was, when I entered the hotel, the security guard glanced and said: "Hey Batman, where is Robin?". I laughed and said "He's on a mission and will arrive in 5 minutes."
As I entered the ballroom where our party was being held, everyone stared at me and my costume. They clapped. People I barely knew from the office kept asking who I really was and I just responded "The Dark Knight". I felt like an instant celebrity and people stood up from their seats asking me to take pictures with them. I was overwhelmed. I even met and had a chance to talk with a couple of hot chicks there because of my costume. It was intense.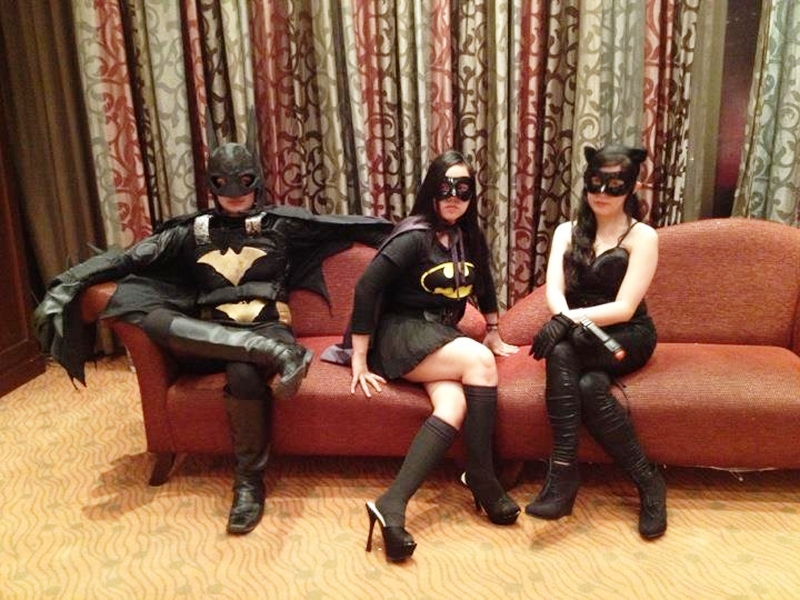 During the programme, I became a bit conscious about the costume because even if it was black, it was still body-shaping. My friends kept on teasing me not as "Batman" but as "Bakat-man" (go figure) because they were saying that my thing down there was bulging and maybe they were right. I noticed that some of the ladies who took photos with me kept on looking down at my crotch the whole time. Good thing that the costume is dark and that they could not recognize me much.  Hahaha!
Towards the end of the party, I was selected as one of the finalists for Best in Costume. Other finalists were Bumblebee in Transformers and another was someone dressed up as Ironman. The three of us received a lot of applauses and cheers from the audience when we stood and posed on stage.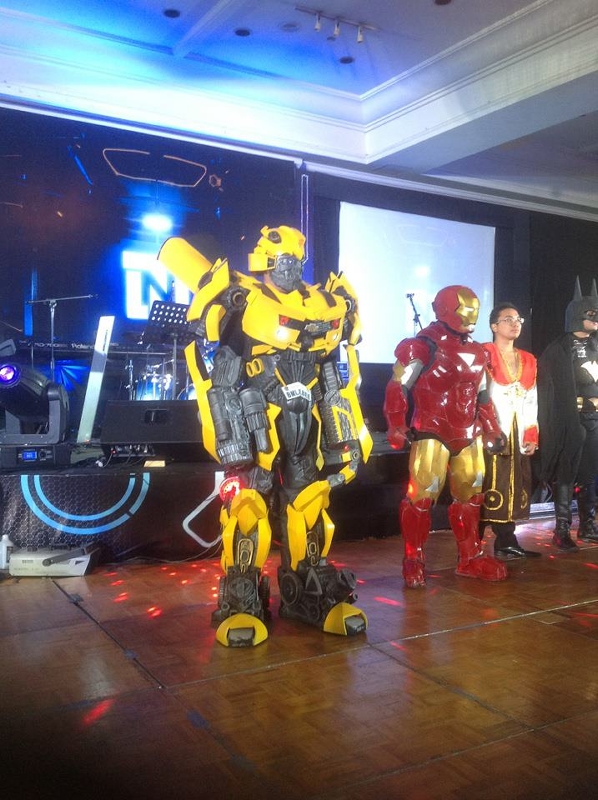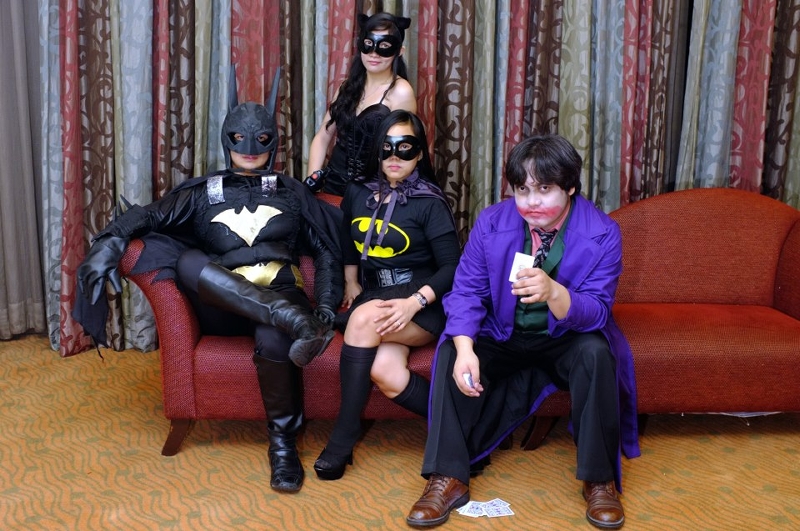 As you would expect, I do not stand a chance against the likes of the two guys disguised up as Bumblebee and Ironman. Their costumes were so difficult to put on that they needed assistants during the party to help them up. The worst part of it was that they couldn't eat nor sit down much during the whole party because their costumes might break. So yes, they really deserve to win. Ultimately, Bumblebee won in the end, Ironman placed second and me, Batman, finished third place. Not bad for someone like me who was cosplaying for the first time right?
Although I didn't bag the Best in Costume thing, I was still lucky enough that day to win one of the major prizes in our Christmas Party's Raffle – a Samsung LED TV.  I went home past midnight with a TV, hundreds of cosplay pictures and a big smile on my face. We all had fun.
The next day, my brother and I headed back to Sinag Arts to return my Batman costume and get my refund. I started to feel sad that I was going to return it. I kind of wanted to keep it with me for good because the mere fact that it was brand new and that I was the very first person to rent it, wear it and even placed third with it, means that it already had some sort of emotional worth to me.
When we reached Sinag Arts, I told the old lady how happy I was with the costume. She congratulated me and was very delighted that I placed third with it. It made her proud as a costume-maker. As I was about to hand back the Batman costume to her, my heart started to break. I felt like a five-year-old kid who is parting with his favorite old toy and giving it as a donation to an orphanage reluctantly. That moment, I understood why most cosplayers kept their costumes as part of their collection in their wardrobe – it had a sentimental value attached to it.
But what the heck? I'm not a kid anymore so I don't think I'll use the Batman costume again anytime soon. It will just gather dust in my room. I'm already a grown-up man and I needed to be practical so I got back my 1,500 bucks and shrugged off what I was feeling that time. As I bid goodbye to my costume, I knew deep within me that Sinag Arts is the best home for it. It will have many more uses for other people. Many more cosplayers would rent it, wear it,  show it off and win with it.
'Til my next cosplaying experience…
Can't get enough of Pinoy Guy Guide? Stay updated
Subscribe your email here or Connect via Facebook | Twitter | PGG Forums