I have noticed that since I joined the corporate world, employees in offices tend to be stiff, formal, and often times too serious at work.
After all, one would think it's all about business, right? Somehow, that's true but thankfully, in the last three companies I've been with, the HR personnel have noticed that being too rigid at the workplace is unhealthy so they kept thinking of ways to engage employees in order to have fun.
And that's exactly what we did last week. Our company organized a massive team building and outing at Camp Benjamin, a resort-farm somewhere in Cavite. Our mission? To enjoy and to loosen up Amazing Race-style.
The place is about a 2-hour drive from Makati. When we arrived there we were impressed at the venue. It is new, clean and not to mention green everywhere. It has that peaceful and very relaxing ambiance.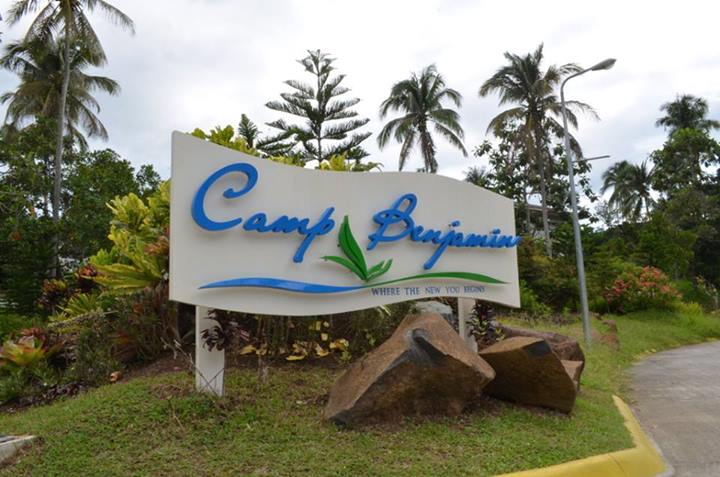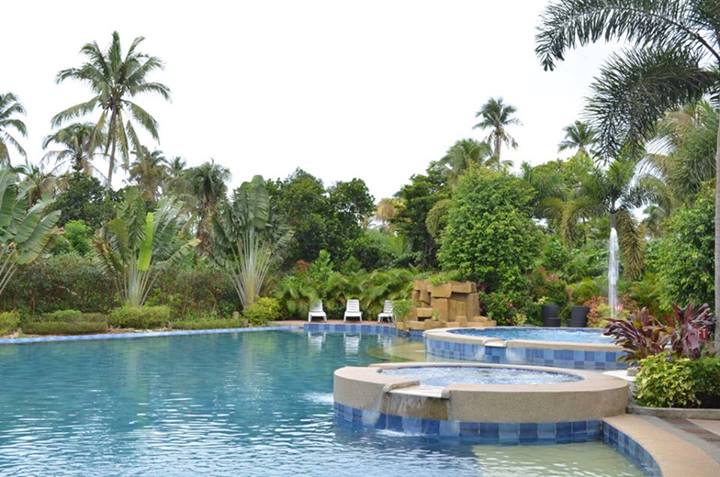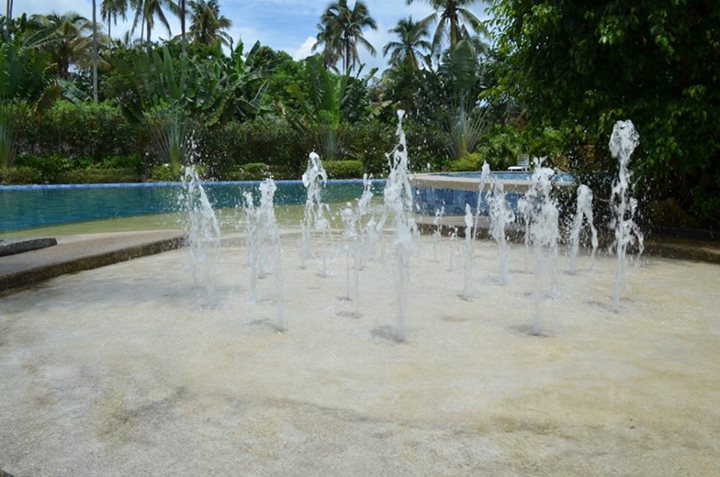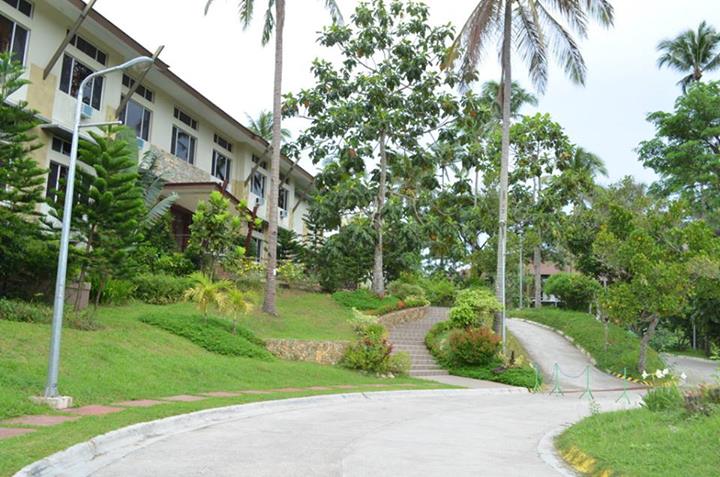 The team building organizers at the camp grouped us into four colors – red, orange, yellow and green. To make things more exciting, they grouped us with colleagues who we barely knew and rarely interacted with. This is to make sure that each of us get to know everyone and get closer to each other after the activity.
Now there are four group colors (each with 10 members) and a total of 8 challenges. I was part of the yellow team. If you are familiar with Amazing Race, the idea is for each team to finish all 8 challenges, together as a group, in the least amount of time. The team that finishes fastest wins.
The First Challenge? Human Elevator!
Now, what the heck is that?
What you need to do, as a team, is to sit on the grass in a single file then when the organizers blow the whistle, you need to lift the person in front of you and pass him along to the person at your rear until he reaches all the way to the back of the queue. Each group is required to carry their first five members. Now isn't this madness?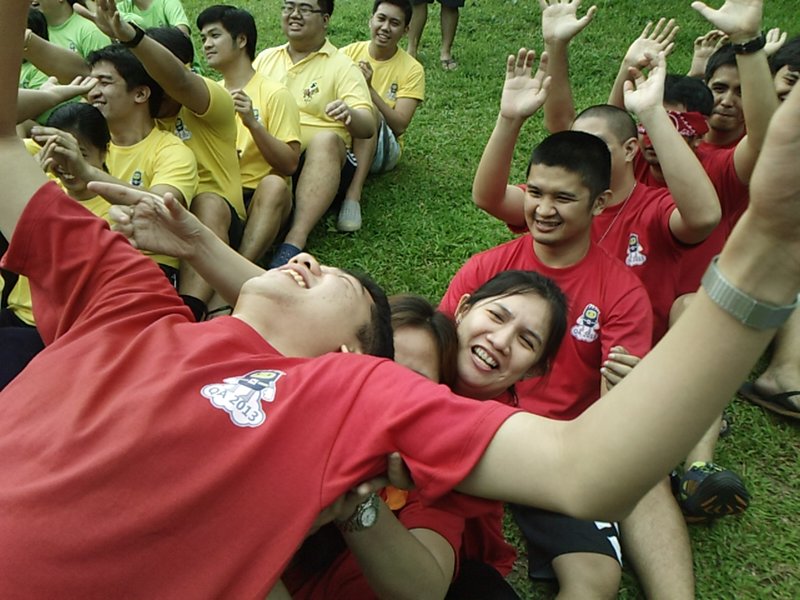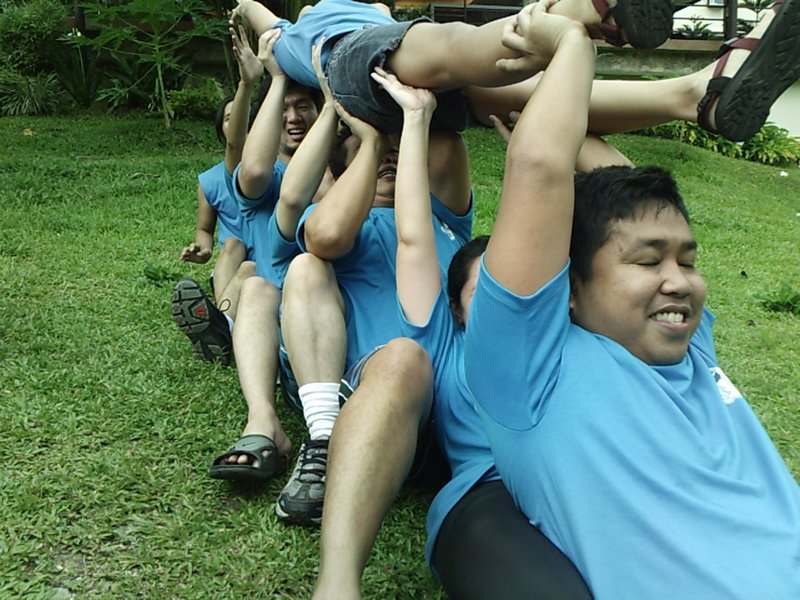 It's kind of embarrassing to carry someone you are not very close with but I guess that's what this Team Building is for.
The Second Challenge is something which they call "Child's Play".

The idea is for each team member to ride a see-saw, a swing and cross a monkey bar in the least amount of time.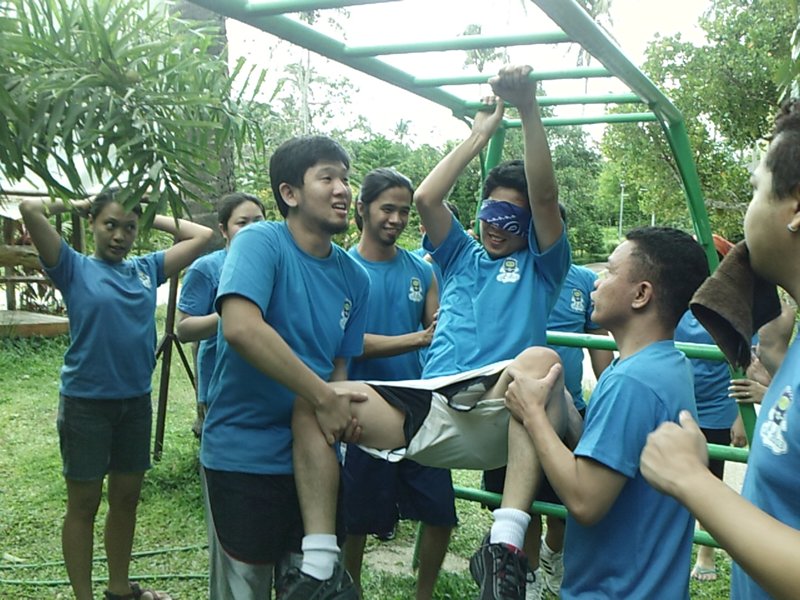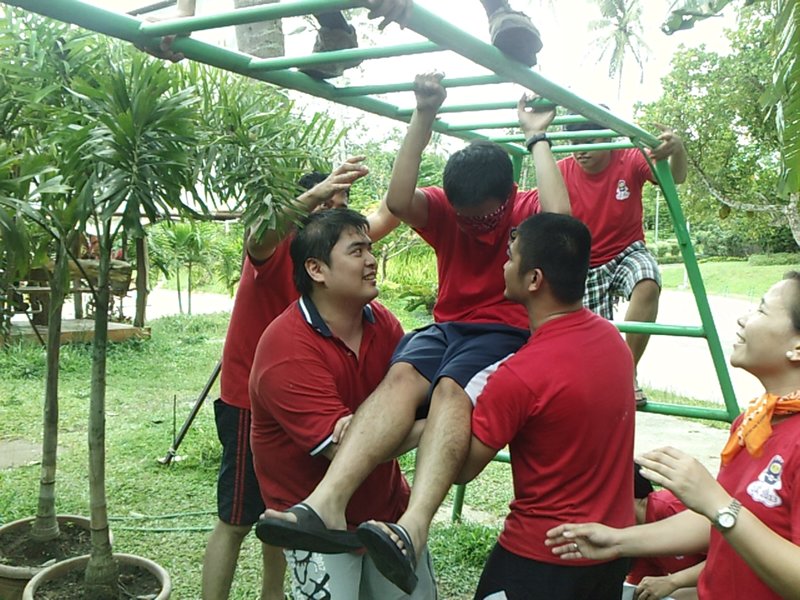 I could not believe we were doing this. I haven't done it in years. Geez, I thought I was going to break my back. LOL.
The Third Challenge is something they call "Aladdin and the Magic Carpet"
Picture this out. There is an empty sack of rice lying down on the rough cemented road. The objective is for all ten members of the team to step on the sack at the same time and use their feet to move the sack to the finish line which is just about 7 meters away. You are not allowed to touch the sack using your hand, nor are you allowed to step out of it. Once you step in the sack, you can only use your feet (together as a team) to move the sack.
If you think it's easy, think again. The road is rough, the sack is thin and with 10 pairs of feet moving at different times, you'd see that you won't get anywhere without COOPERATION. I realized that it was the longest 7 meters of my life. It took our team 20 minutes and a bucket of sweat to move it to the finish line. How tough is that?
The Fourth Challenge is called something they call "Anti-Gravity"
Members of the team are positioned in one small circle. Each member should point the index finger of each hand forward. Now a single hula-hoop is placed on top of our index fingers like this:
The mission? To bring down the hula-hoop, as a team, from the standing position down to the ground, using our index fingers only without dropping it.
I thought it was so simple and easy. Believe me, it is not. As a matter of fact it is the hardest of the 8 challenges in my opinion. Why? We couldn't bring down the hula-hoop to the ground unless all 10 members do it very slowly and in sync.
The Fifth Challenge is named "Rolling Hills"
Members are paired. Each pair will hold one end of the rope. Using that rope, you need to push the basketball upward the hill. Sounds easy? Take a look at this and judge for yourself.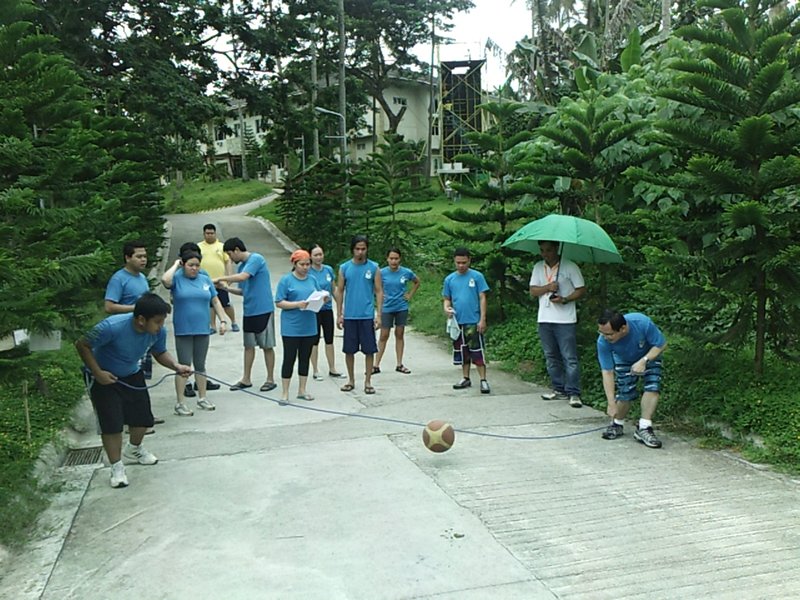 The Sixth Challenge is called "Leap of Faith"
Yes indeed. It is a leap of faith because all 10 members need to ride a zip-line.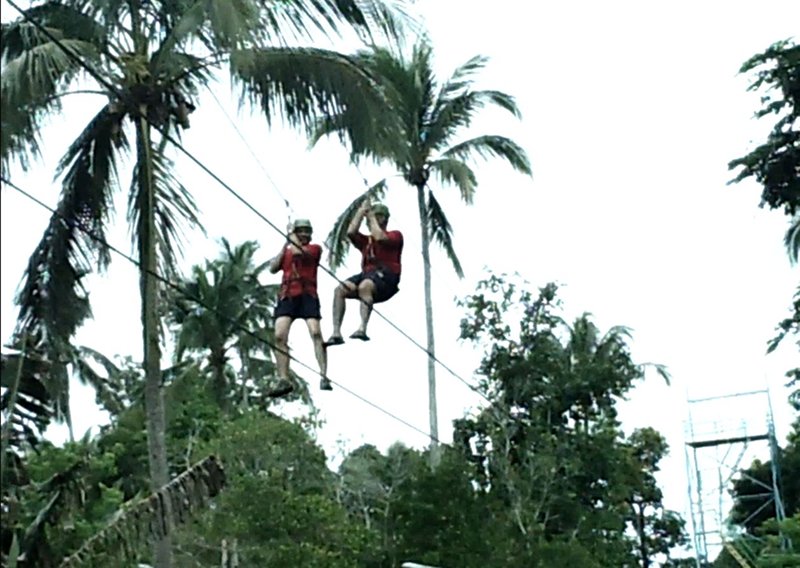 I think this is the most thrilling and at the same time scariest of them all coming from me who has never tried a zip-line until that day. I remember when the organizers were helping me put on my harness and my safety gear, I asked them about a dozen times: "Are you really really sure that this is safe and secure? Do you promise I'll be okay and not fall?". Maybe the organizers think that had I lost my mind for asking them the same question over and over.
Never in my life did I feel so scared! When I was about to leap at the peak, I did a sign of the cross. It felt as if I was going to commit suicide. Finally, when I jumped, I shouted at the top of my lungs and a lot of my teammates were laughing so hard. It was scary during the first part but it started to feel good towards the end.
When I reached the other side, I was still trembling as they removed my gear. It was fun but I don't think I'll be doing it again. Ever.
The Seventh Challenge is called "Light at the end of the tunnel"
Each team member is going to crawl a horizontal man hole about 10 meters long. It is quite dirty and I got myself scratched and wounded a bit due to its rough surface. But thankfully I made it to the end of the tunnel.
The tunnel looked like this…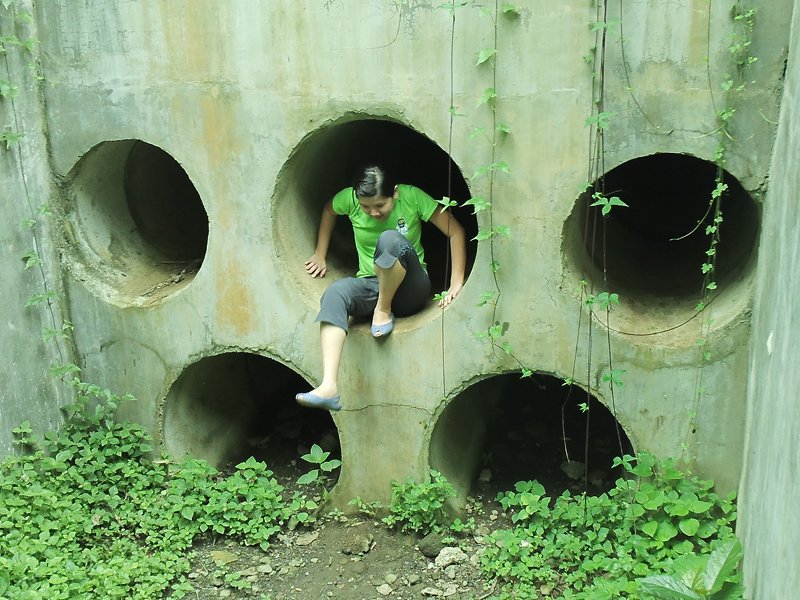 The Eighth and last challenge is called the "Jordan River"
This is the best part. Team members are paired again and they need to slide together on an improvised slide which is flowing with soapy water. You got to be careful as the slide is so slippery and so fast!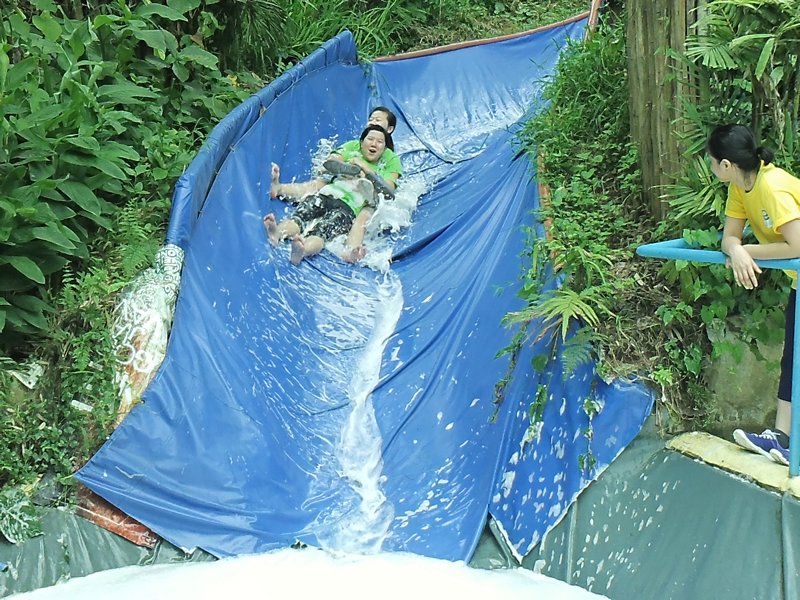 And guess what? The end of the slide is not your ordinary swimming pool. It is a 4-feet pool of soapy and fragrant water.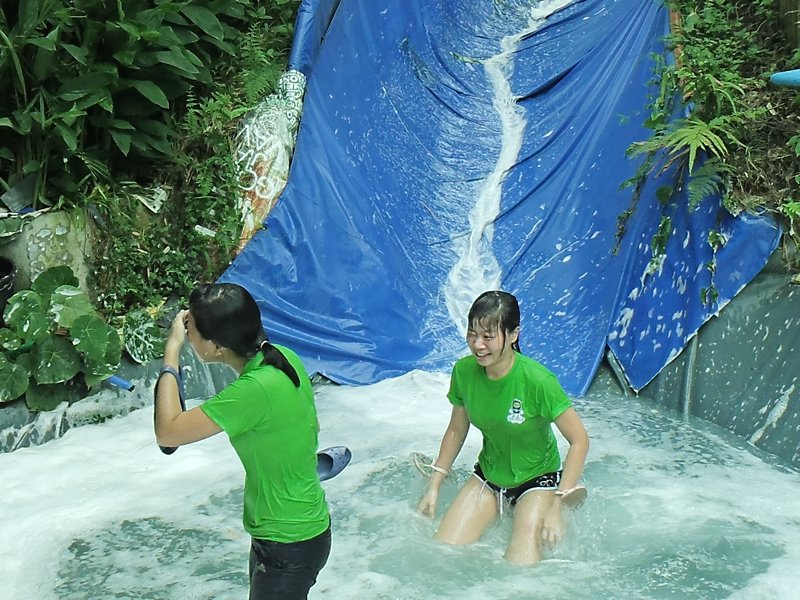 Beside the pool, there is a shower where you can take final pictures, rinse and then clean-up.
I actually think that this is brilliant. After getting dirty in all the other challenges, you get cleaned-up on the final challenge. It is fun fun fun!
Just in case you'd like see all the action, here is a quick video that I compiled. Watch it, it's hilarious!
The Lunch and Free Time
We had a tasty lunch after the Amazing Race. We were starving so we devoured the food like what wild animals do in the jungle. LOL.
After we were done eating came the announcement of winners. Guess what? We lost. haha. As a matter of fact, yellow team placed last. I think it is because my teammates and I prioritized on taking pictures (and enjoying the experience) than finishing the race first. How vain.
Even though we didn't win, we posed for the camera as if we were champs! As the saying goes "If you've done your best, it will feel like winning first!". I guess it is true and the best part of it all is that no one really ended as losers because we all won new friends and we became closer as a team than ever.
For the rest of the afternoon, we had free time. Some of us played basketball. Some went swimming. Some played Frisbee. Some went to play table tennis and others went singing on the videoke. There are so many things to do there and a day tour does not seem enough.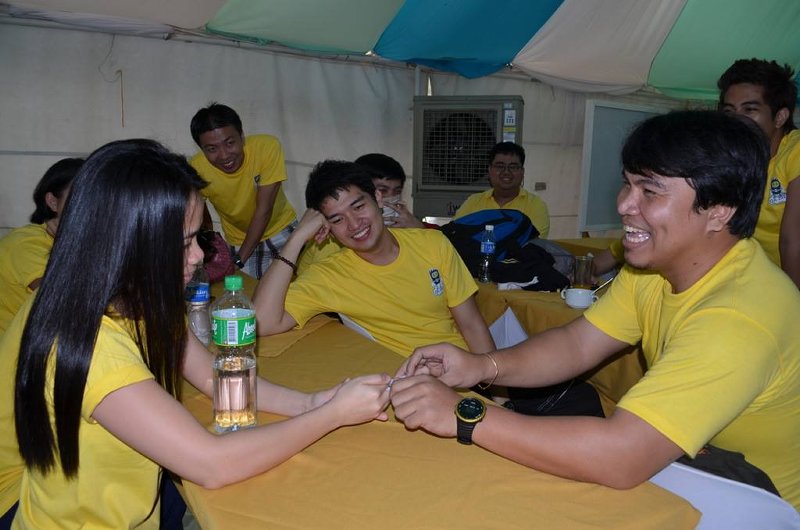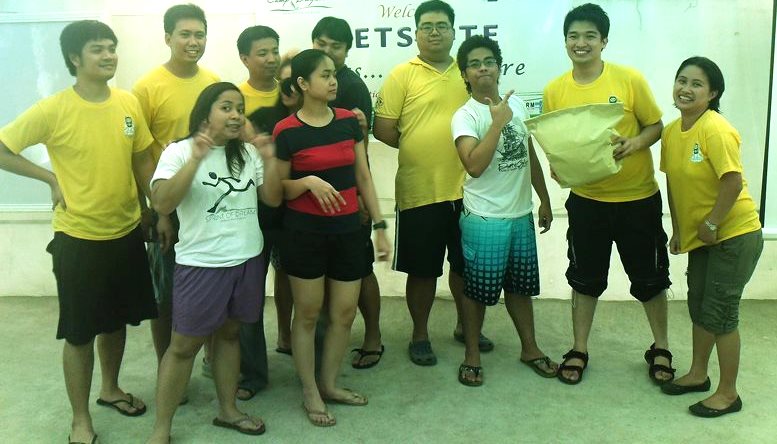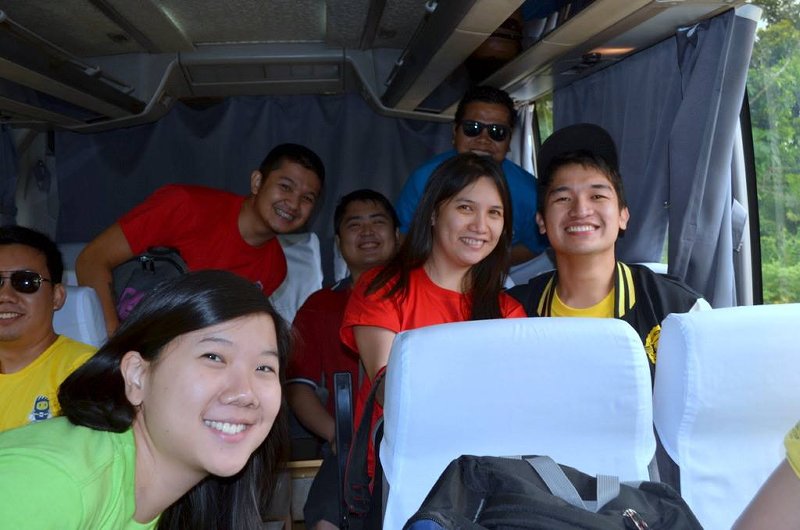 The team building we had at Camp Benjamin made us appreciate our work and our officemates. What is important in team buildings like these is developing camaraderie. As you have seen in the games that we played, my colleagues and I became more "humanized". We tapped each other's backs, we held each other's hands, we carried each other and we became more open to speak to our colleagues whatever we had in our minds. The games we played helped break all the social and communication barriers.
You see, the openness that we gained is very crucial to our work. At our workplace, being a team-player, honest, helpful, and providing constructive criticism to each other can go a long way in making our jobs easier and helping our company as a whole to succeed.
They said that all work and no play makes a person dull. So if you work in a company that is all work, why not suggest a team building as thrilling as this? Or maybe if you are still a student or have a lot of friends and new acquaintances, you can suggest to your orgs to try out Camp Benjamin. It's really a nice place to chill!
Now here's the thing. The next morning after the team building, I woke up with aching muscles and a sun burn. I almost couldn't get out of bed.
Get the best stories on men's lifestyle at Pinoy Guy Guide. Subscribe your email for free.
Follow PGG on Twitter | Facebook | PGG Forums