I've learned from a mentor of mine, that if you go to a certain place, you should do everything you can while you're there. Because who knows when you'll ever be back? Maybe soon. Maybe someday. Maybe never.
My mentor has a good point. And I guess I followed his advice more seriously than I thought. Remember last time we went to Legazpi in Bicol to see Mt. Mayon? Well, we grabbed that opportunity to drop by one of the most popular destinations nearby – Misibis Bay.
Misibis Bay is a growing tourist attraction. You've seen it in magazines, in a television show named after it, and it's everywhere in group buying sites like Deal Grocer. So when we planned a trip to Bicol, we made sure to include Misibis as part of our itinerary.
I've always seen Misibis in group buying sites so at that time, I was expecting to find a discounted deal online to lessen the cost of our trip. Unfortunately for us, discounted vouchers were nowhere to be found. We were travelling in the month of May which was still the peak of the summer season and where the rates were soaring high so we had to think twice whether to bite the bullet or just skip going there altogether. But heck, YOLO, so we just gave it a shot and shelled out our hard-earned cash.
From Legazpi City, Misibis Bay is about an hour and a half drive. Tourists basically had two options when going there.
One option is a day trip, which costs 4,500 Pesos per pax on peak seasons. The fee includes entrance and use of Misibis Bay's Pool and Beach Facilities as well as round trip transfers from Legazpi. It does not include food.
The other option is an overnight accommodation. Depending on the type of room you choose, overnight stays can cost about 6,000 Pesos per pax. For instance, their luxury villa good for four, costs about 24K a night and includes use of the beach, pool, and round trip transfers. Food, as usual, is of separate charge.
If you do the math, you'll see that the difference between a day trip and an overnight stay is not that much. Given how far it is from Legazpi, and how much time you'll spend just to get there, you'll quickly realize that it makes more sense to book the hotel's accommodations in order to get the full Misibis Bay experience. And that's exactly what we did.
The Road to Misibis
I booked everything online via their website and on the actual day of our trip, a van branded with Misibis Bay stickers all over, picked us up from Legazpi City. We were a little bit surprised that we were the only ones in the vehicle because we were expecting other passengers to share the ride with us.
The road to Misibis starts somewhere here.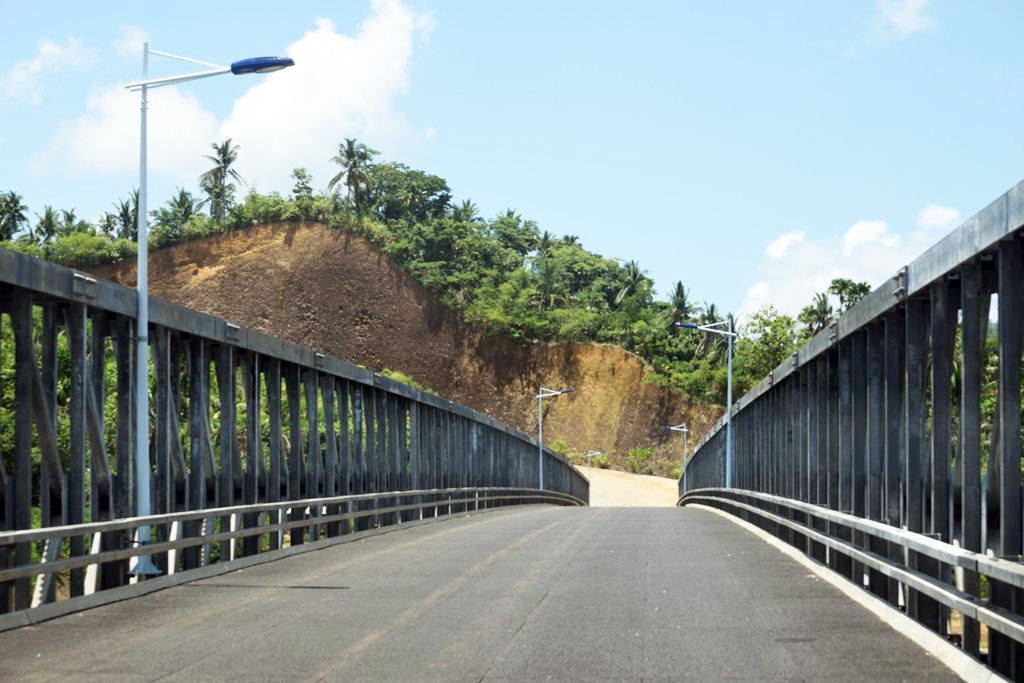 It used to be that you'd have to take a boat going there, but they somehow constructed a bridge to connect the island so that you can drive directly to the resort.
Since the island is located in a remote area at the end of the coast facing Albay Gulf,  you'll find that at most times, you're driving the road solo.  I can only imagine how difficult and scary it is to go there in the middle of the night so make sure to drive there while the sun is still up.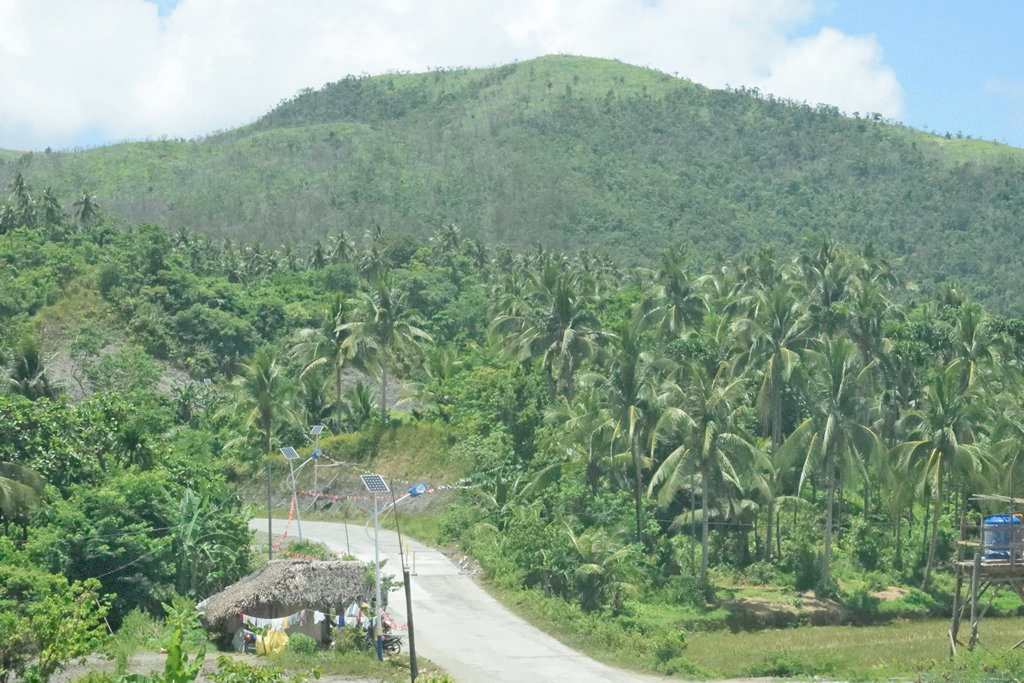 On your way, you'll move through hills, zig-zag roads and some breathtaking views of nature similar to this.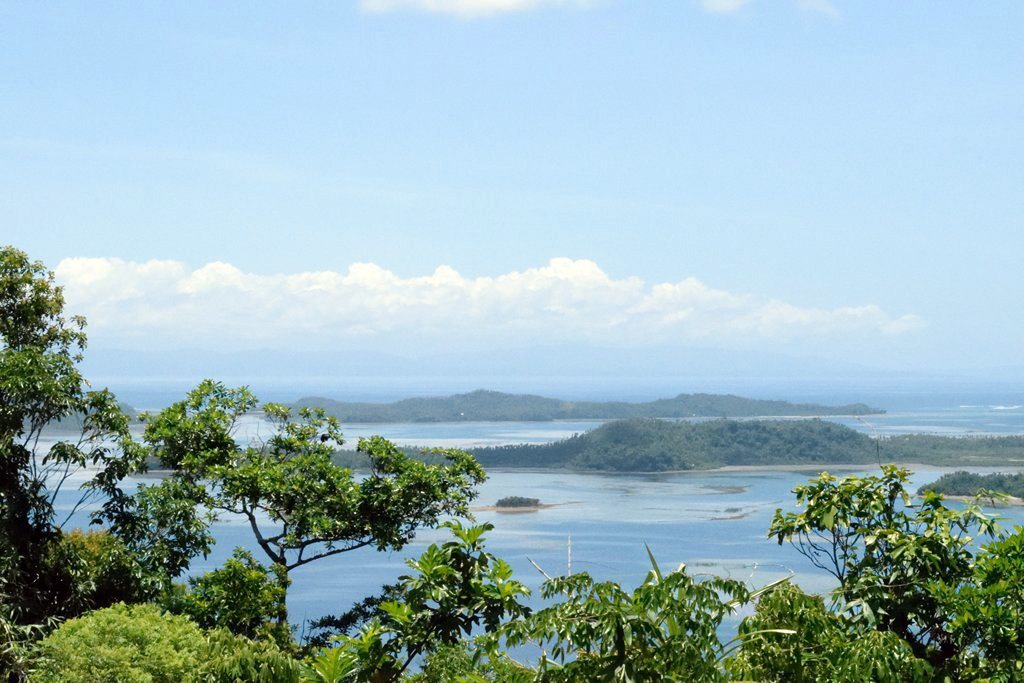 About one and a half hour plus a few naps in between later, we found ourselves at the gate of the luxury resort.
The Villas
Check-in time is the usual 2 PM, but we got a little excited and arrived there two hours earlier. We did that on purpose because we wanted to maximize our stay since the resort, in all honesty, is not cheap. Thankfully though, despite having arrived that early, they allowed us to check-in to our rooms because it was already vacant and ready anyway.
Their rooms are not the typical ones you see in most hotels. In fact, they don't even call it rooms, they call it "villas".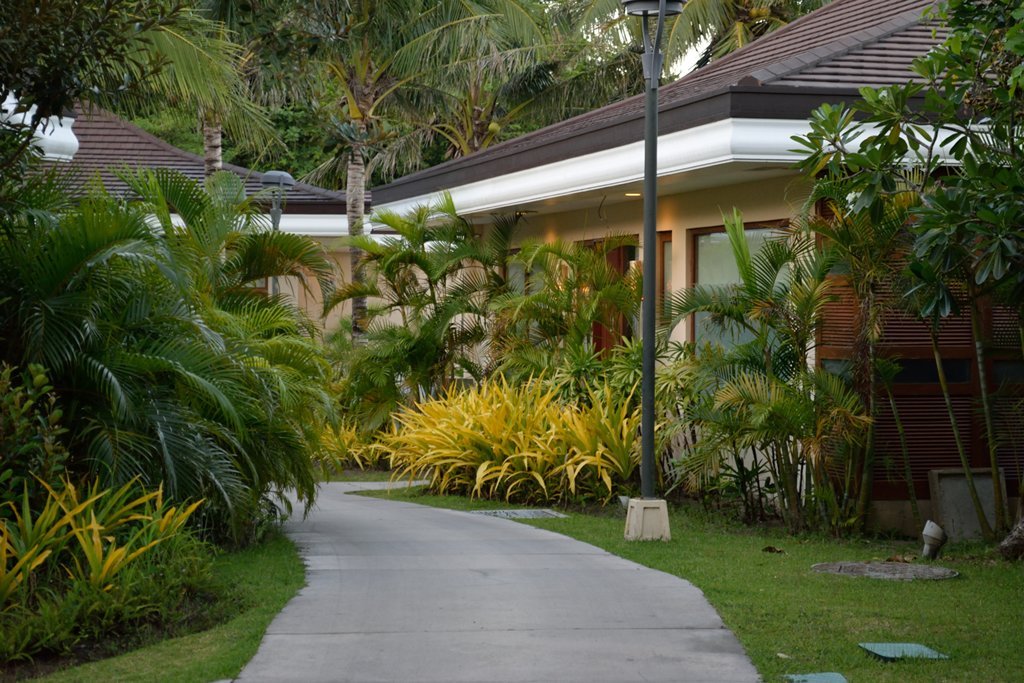 These villas are actually standalone houses within the resort. Since the goal of our trip is to do some sightseeing and to ultimately relax, we handpicked one which is directly facing the beach.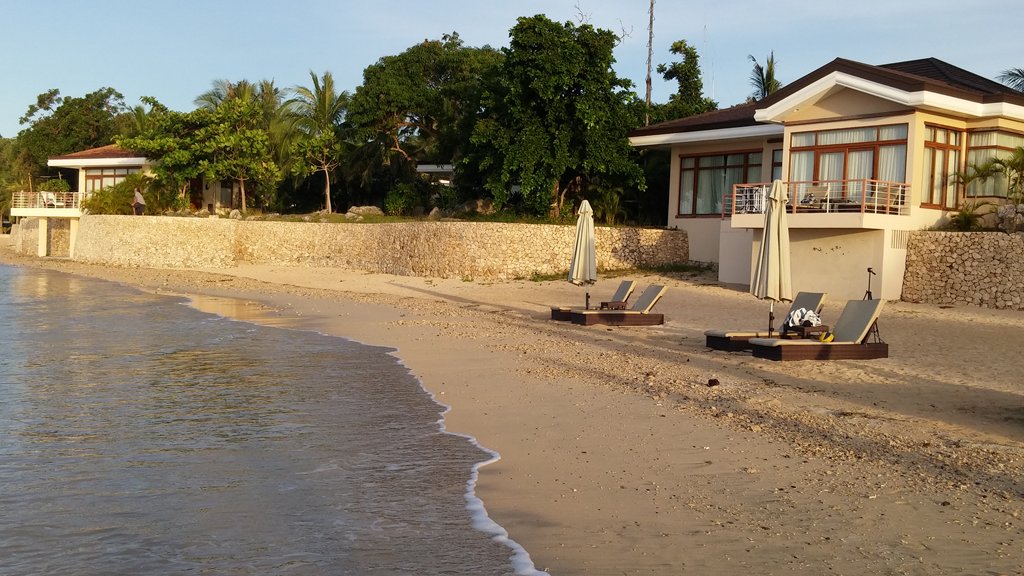 Entering our villa, we were greeted by the well-arranged linens.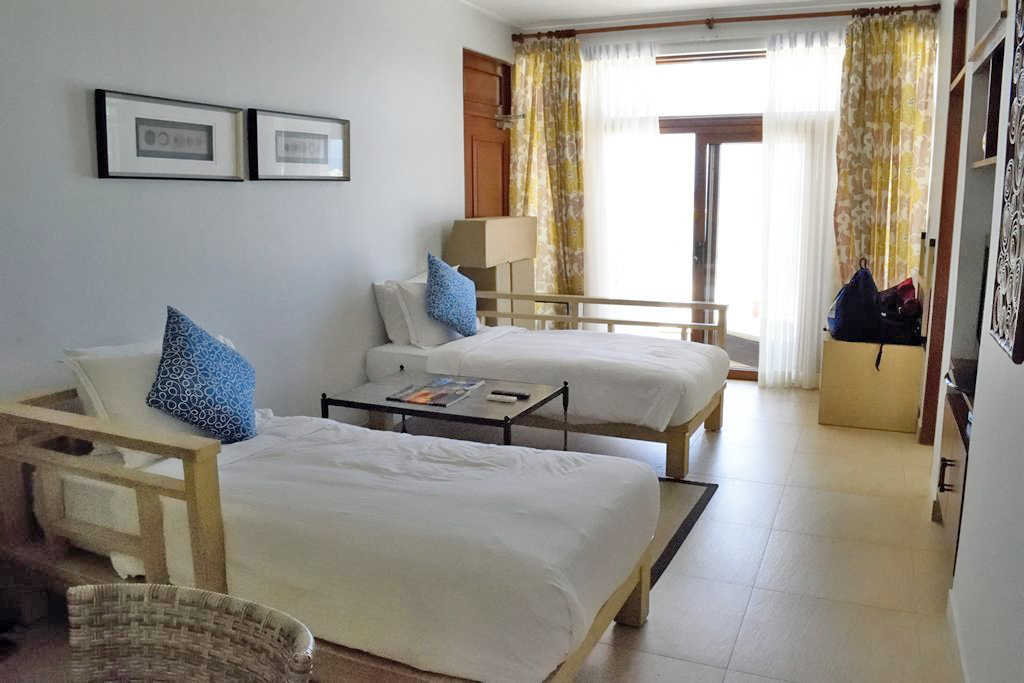 Since there were four of us, we chose their luxury villa which is 65 sqm and has four beds. The masters' bedroom was even more astounding.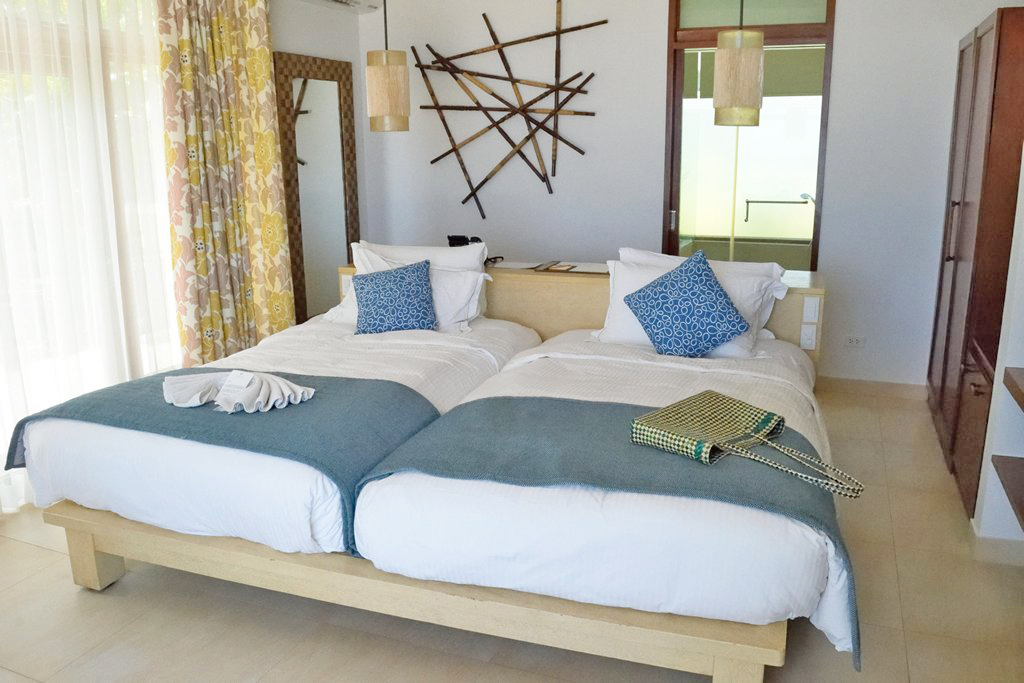 As you can see, it has a window facing the beach.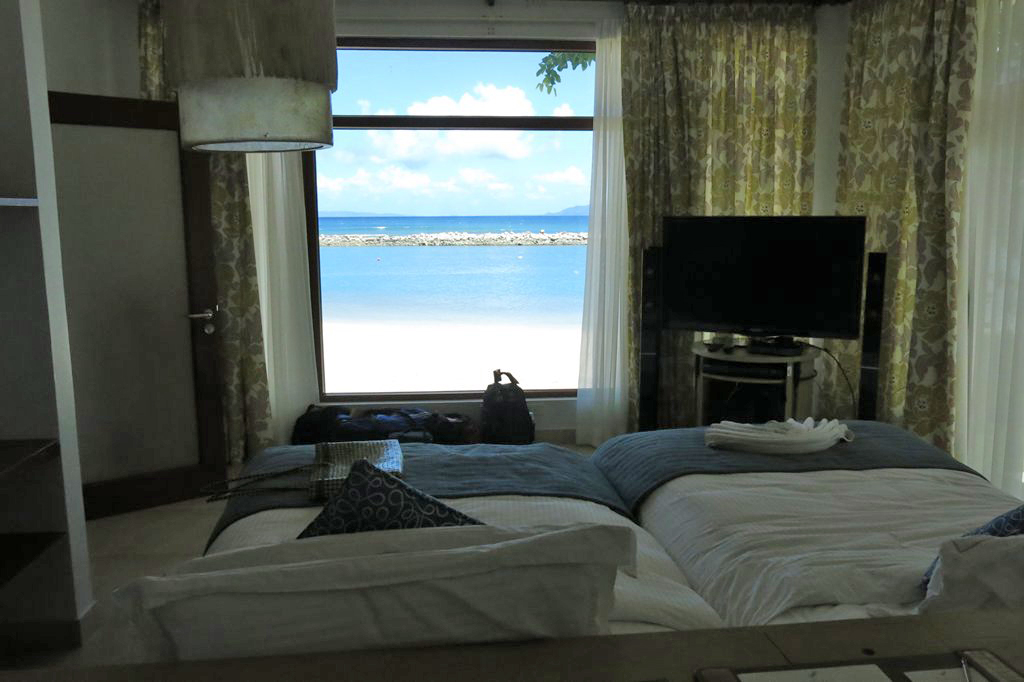 It also has a full-blown home theater complete with cable subscription. Since Misibis is far from the rest of the world, only Cignal's sattelite TV can reach them.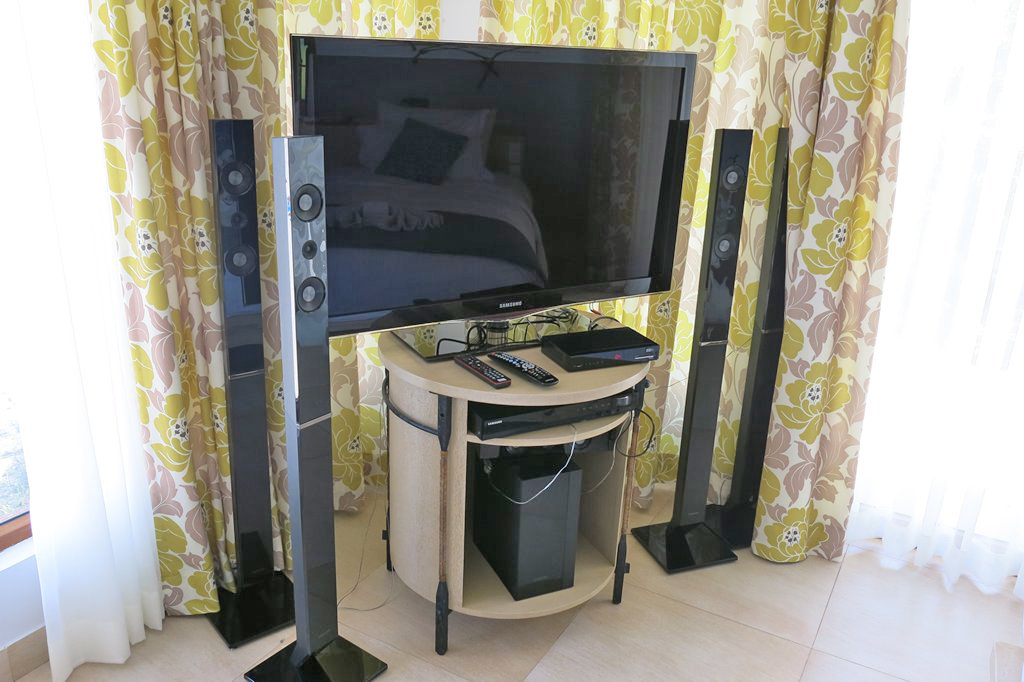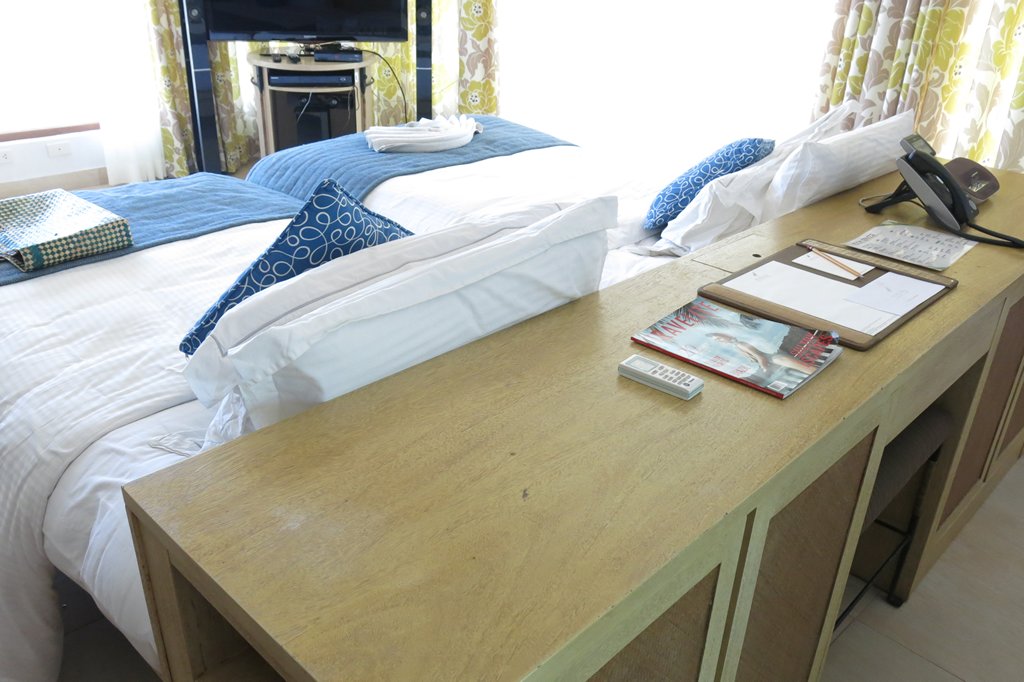 The villa also has a huge bathroom and is equipped with a bathtub…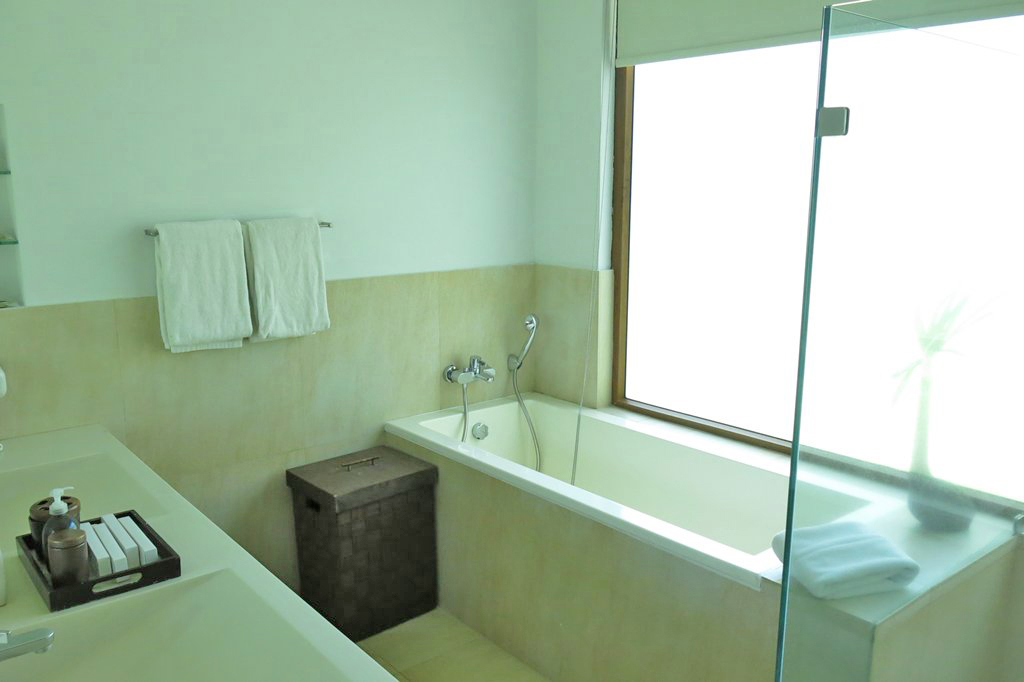 … and a shower room that looks like this.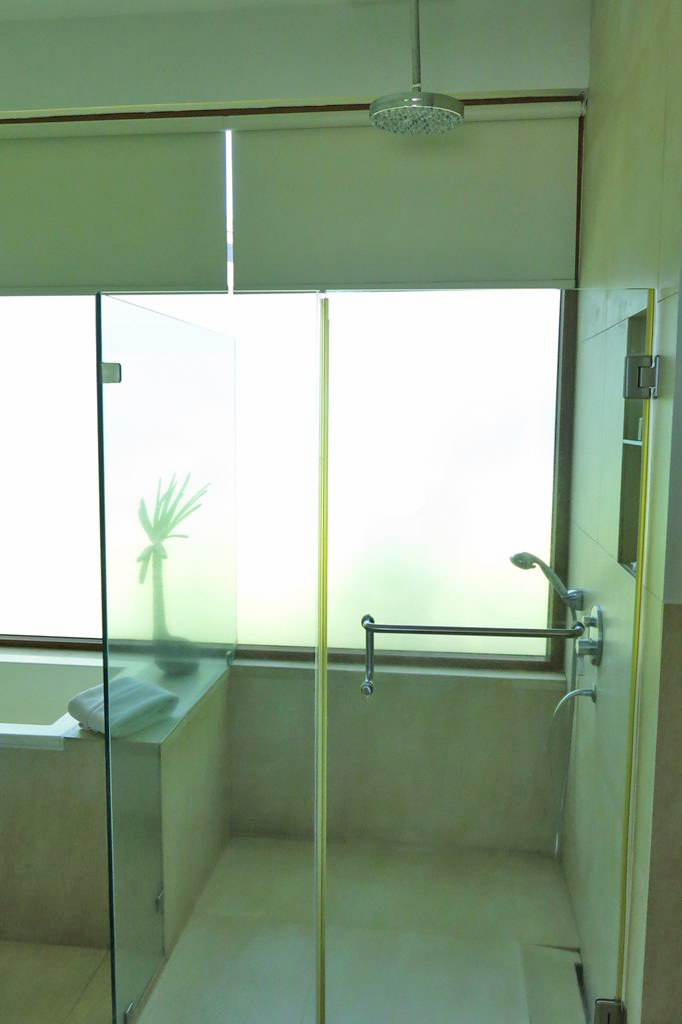 The villa also has a balcony with a sun bed where you can lie down and relax while gazing at the beach.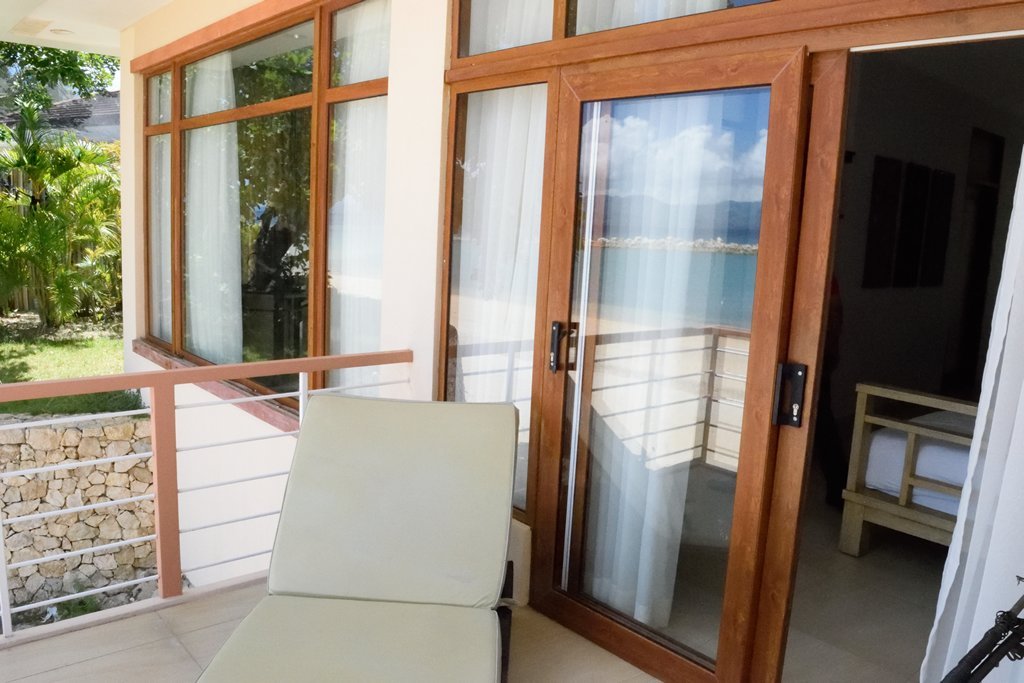 Or tune in to Spotify or play your favorite online game when you're bored. You know, I'm quite impressed that Globe Tattoo has a strong signal and fast Internet connection in this remote island.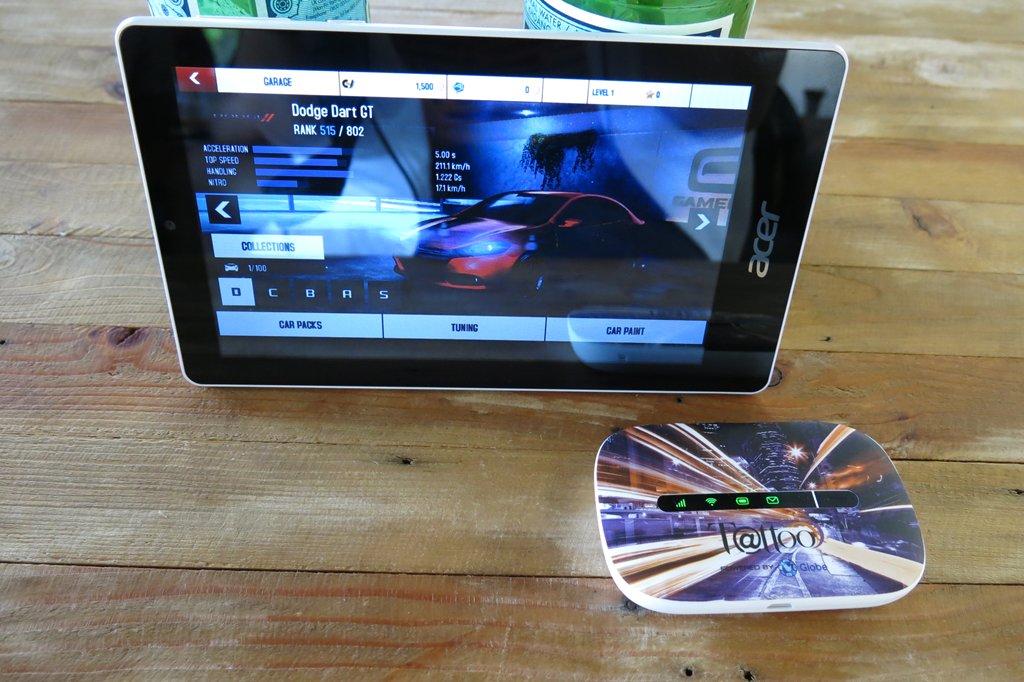 But I highly doubt if you'll be able to concentrate on games given this spectacular view of the beach.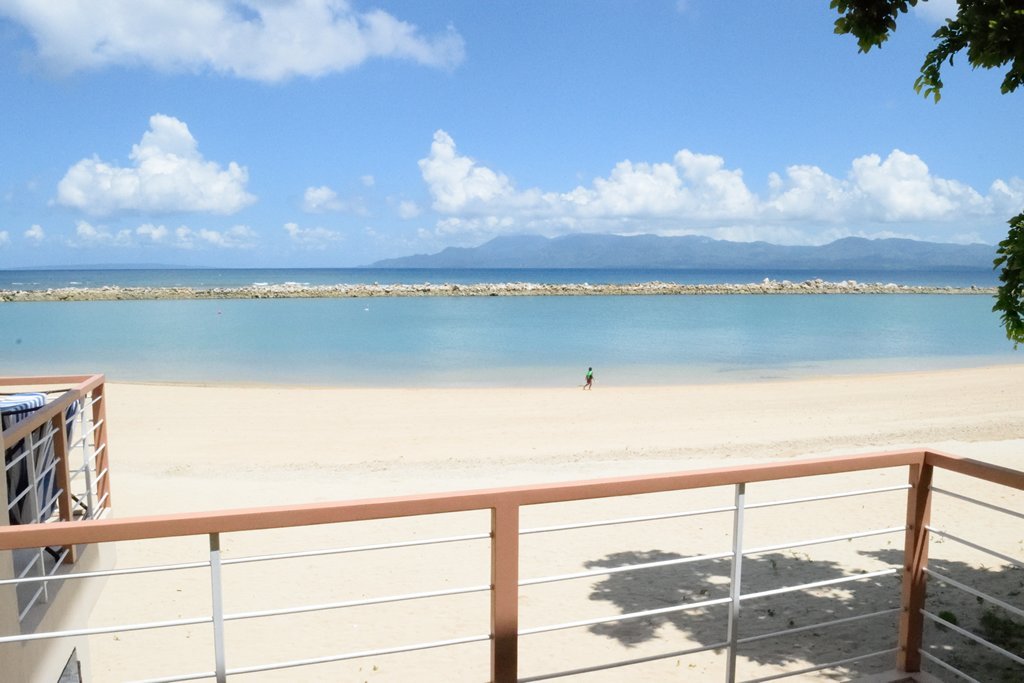 The Facilities
I admit that when I saw our villa, I didn't want to leave it even for a minute. But silly me, I didn't pay just to sleep on the bed, so I looked around to see their facilities and recreation areas.
The swimming pools of Misibis span throughout the resort. This one for instance is the lagoon pool which stretches in front of the other villas.
Then over here is the infinity pool which has fountains shooting water all over the place.
The pools have bars where you can get served with a bottle of champagne or beer while you're submerged in water.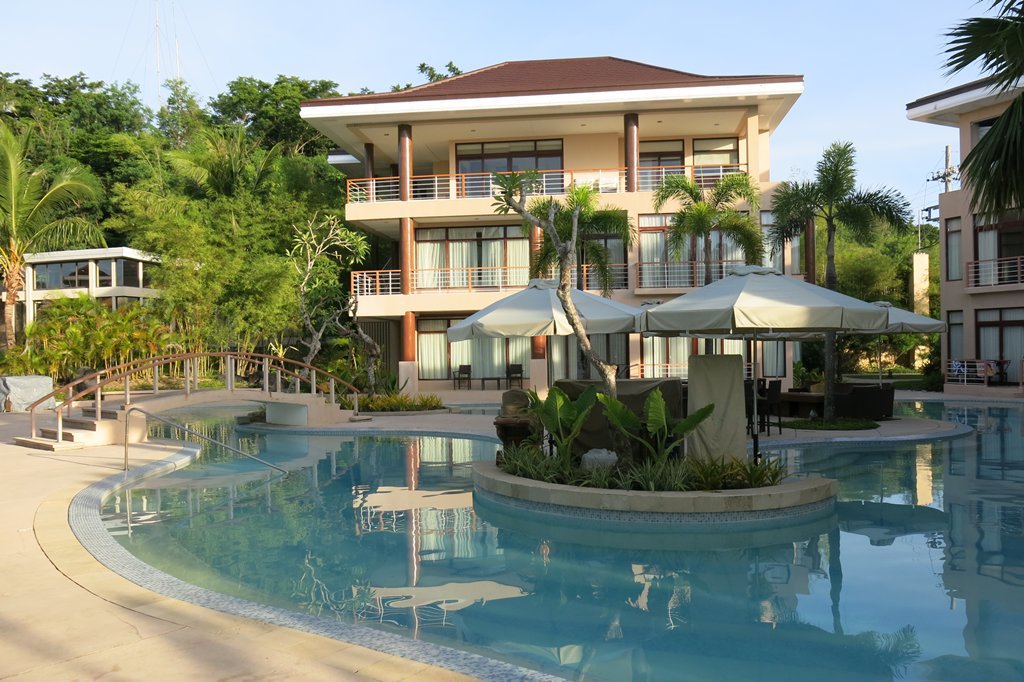 They also have a videoke and a billiards room for recreation.
At the heart of the resort is their one and only restaurant which serves buffet meals. Their specialty? Bicolano food which are really good.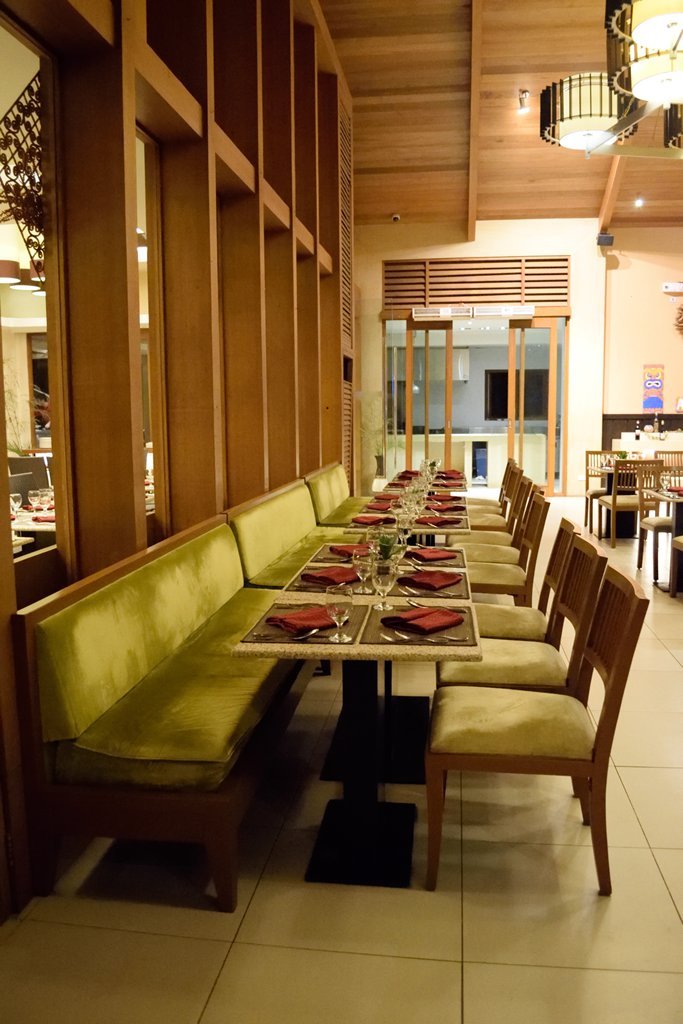 If you ever wondered if you can bring food into the resort from the outside – the answer is yes and no. That is because you will be charged with corkage fees so you might as well leave them behind.
The Beach
Almost all Philippine beaches are beautiful. Including this one, especially in the afternoon where the sun is up in the sky and the colors are vibrant.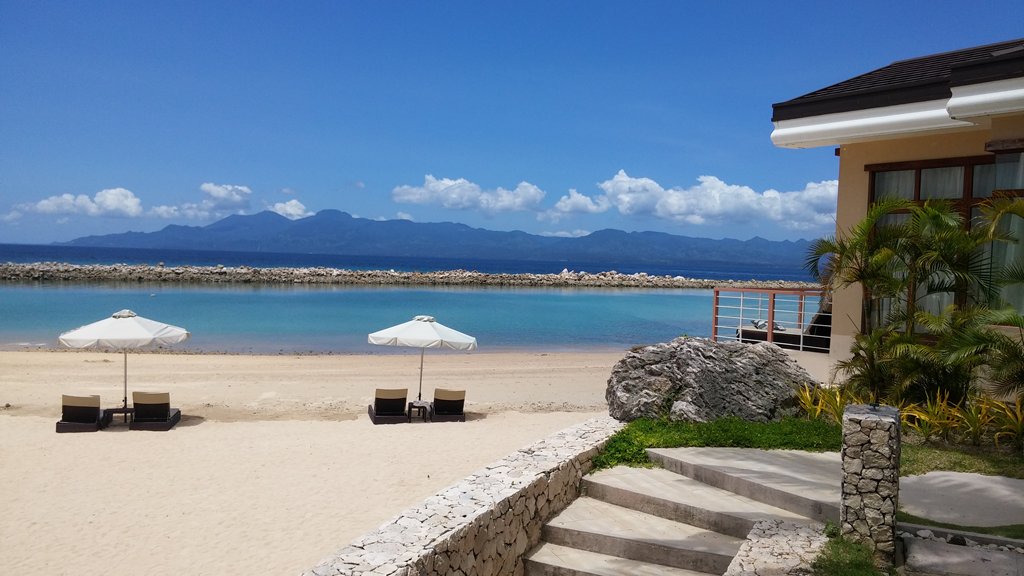 Just for the record, Misibis faces the East, so the sun does not set at the beach, but rises in front of it.
In case you're wondering how the sands are, well, I'd say just average. By no means should you compare it to Boracay, because, it's not. In fact, it doesn't even come close. The sands may look nice, but it has too many stones. There's even a part of the beach where you cannot walk barefoot and need to wear slippers because the small rocks can hurt your feet.
Nevertheless, the seawater is clean and is good for swimming. They have some non-motorized boats nearby which you can use for kayaking.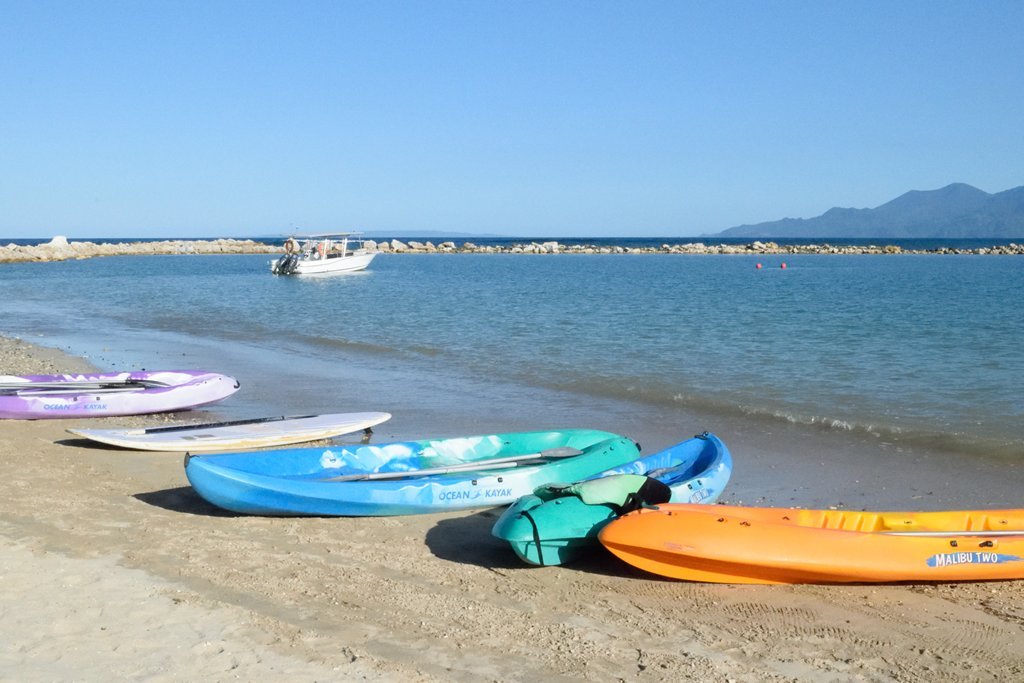 The waves are very strong in Misibis, so in the pictures above, you'll notice that there is a pile of rocks that serves as a barrier to protect the resort from huge waves.
Overall Impression
We pretty much had a good time in Misibis. I even felt that an overnight stay is not enough because their swimming pools are splendid, their food is sumptuous and their villas are indeed the best of its class. I kind of wished though, that the next time we visit, they would have cleared up the beach of small rocks so that guests like us can walk by the sands on barefoot.
Is Misibis for you? It depends on your personality and what you want out of a much-needed vacation.
For solo travelers, it's a place where you can think, relax and do some reflections.
For couples, it's a place to spend honeymoon and anniversaries.
For families, it's a place to have a staycation and quality bonding away from all the noise in the city.
It's because the reality is that there are no parties and loud music in Misibis. Just tranquility and pure bliss.
Follow Pinoy Guy Guide on Instagram for more updates on men's lifestyle.
Subscribe to the PGG mailing list for free.