There is a common notion or theory that if you are good in math and logical thinking, then you must probably suck big time when it comes to arts. Conversely, it has been assumed that if you are gifted with creative talent, then it should follow that you are pretty bad when it comes to math or anything that involves analytical thinking. Seems like you can't have it all, huh?
If the above theory is correct, then that means that Computer Science majors like me don't have a chance in arts or whatsoever.
I don't believe that.
While I accept the fact that I would never be Vincent van Gogh nor would I be someone like Michelangelo in my lifetime, that wouldn't stop me from giving it a shot in arts, even if it is just for fun and recreation. After all, even the great physicist and mathematical genius Albert Einstein once said that: "Creativity is intelligence having fun.".
I couldn't agree more.
So one Saturday last May, my friends and I made an ambitious attempt to test our artistic side. Three of us, all IT majors with very little background in art, decided to visit a new and exciting Workshop/Café in Marikina City. It's called Mosaic by the Creek.
As the name implies, Mosaic by the Creek is a mosaic school and also a restaurant, café, and bar all rolled into one. I discovered them after reading about them online and after having been invited personally by its owners to try what they have to offer.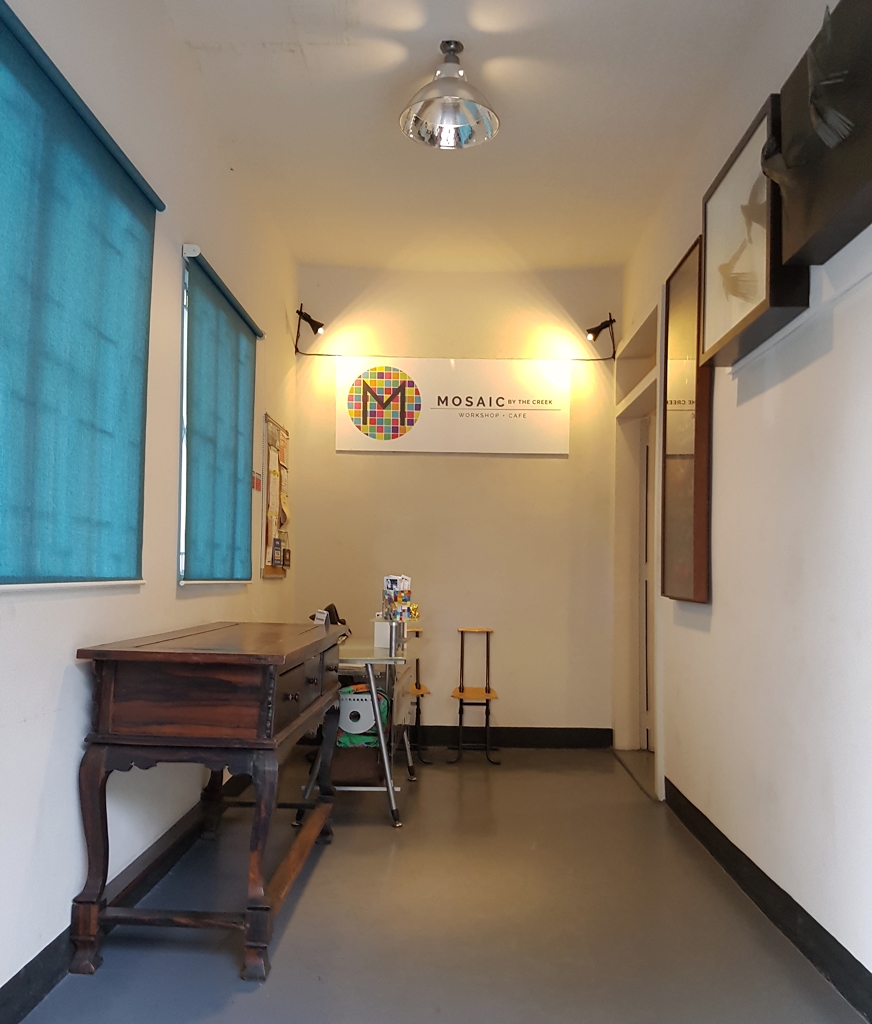 From the outside, Mosaic by the Creek appears like a huge bungalow house. As you step in and work your way inside, you'll find that it has a single hallway with adjacent rooms. The first room you'll find on the left is their classroom which is where they conduct and teach mosaic classes.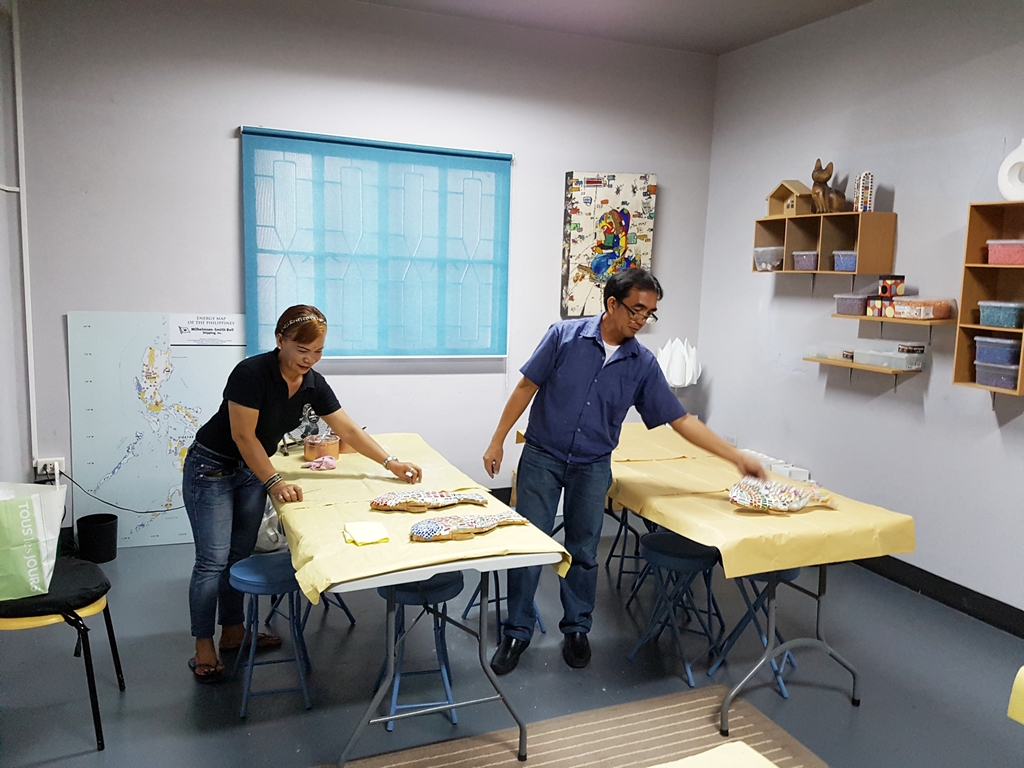 Yep, this is the classroom. I'll tell you more about that later.
Adjacent to the classroom is a function room which you can reserve for private functions. Perhaps an anniversary date with your girlfriend, a corporate team building or a birthday party celebration with friends and family – you get the idea.
Then as you walk towards the far end, you'll find a cozy, dimly-lit and somewhat artsy restaurant which specializes in topnotch home-cooked meals. As you enter the restaurant, you'll notice mosaic artwork everywhere. They are on tables, chairs and walls.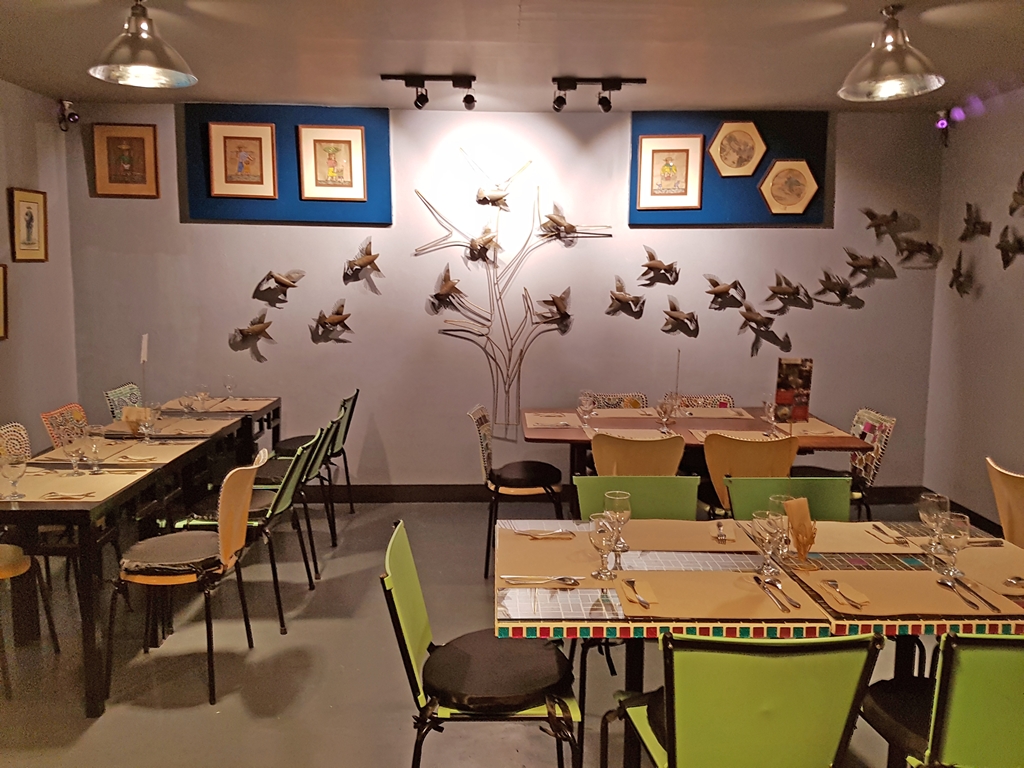 Since we love food (who doesn't?) I'll start talking about the restaurant first before we go to my actual mosaic creation experience.
The Café
Truth be told, I came to Mosaic by the Creek to work on arts and crafts but who would have thought that I would be a little more drawn to their food? I mean, who would have guessed that an art school served good food in the first place?
I was told that most of their customers would take the mosaic class first and then dine at the restaurant afterwards while they leave their artwork to dry up. But for my friends and I it was the complete opposite! Haha. We ate first before doing the mosaic. But can you blame us? We haven't eaten lunch when we got there so we just couldn't wait longer to try what's on their menu.
Whenever my friends and I would try a restaurant for the very first time, we would always ask what their bestsellers are so that we are guaranteed to have a taste of their finest and "must-try" recipes. As for Mosaic by the Creek Café, here are their specialties that we tried and which we were told are the most sought-after by their customers.
Bestseller #1: Assorted Lumpiang Shanghai
In pictures, each lumpia looks the same, but no they are not.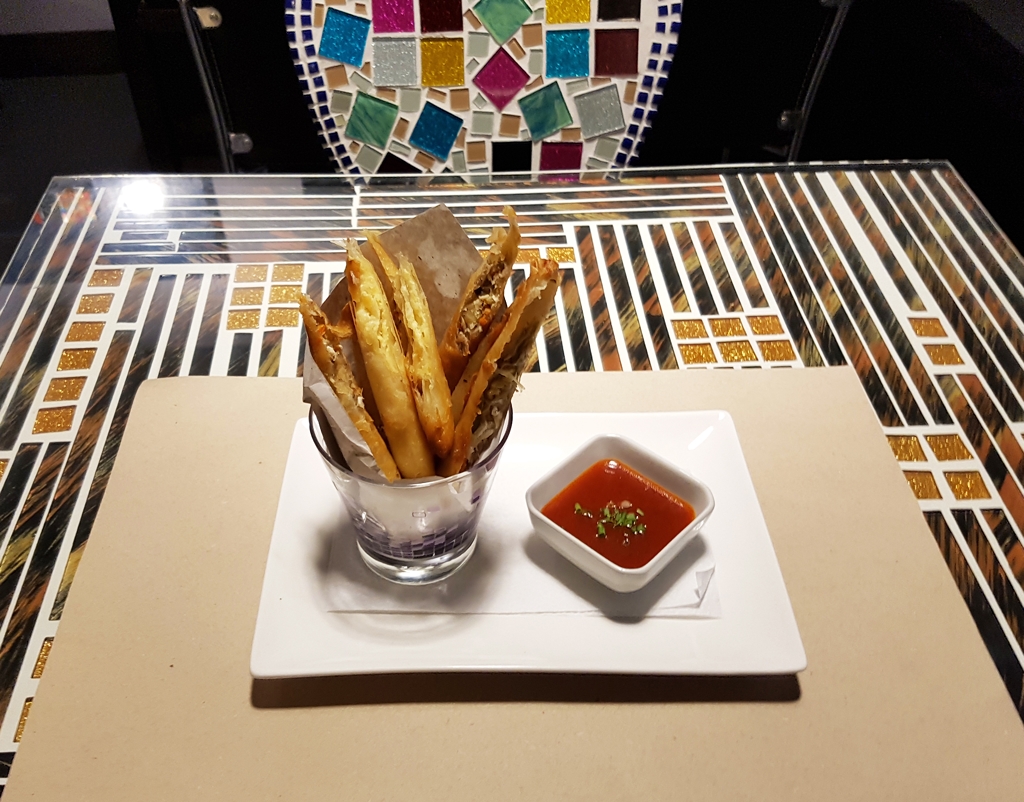 Each deep-fried roll varies in flavor and has a different filling. One is cheese, the other is chicken, the third one is vegetarian and the fourth one is bangus. It makes for a great appetizer.
Bestseller #2: Carlo's Roasted Chicken
Mosaic by the Creek is a family-owned business. One of its owners named Carlo said that he loved his mom's roasted chicken recipe so much that their family decided to include them in the restaurant's menu.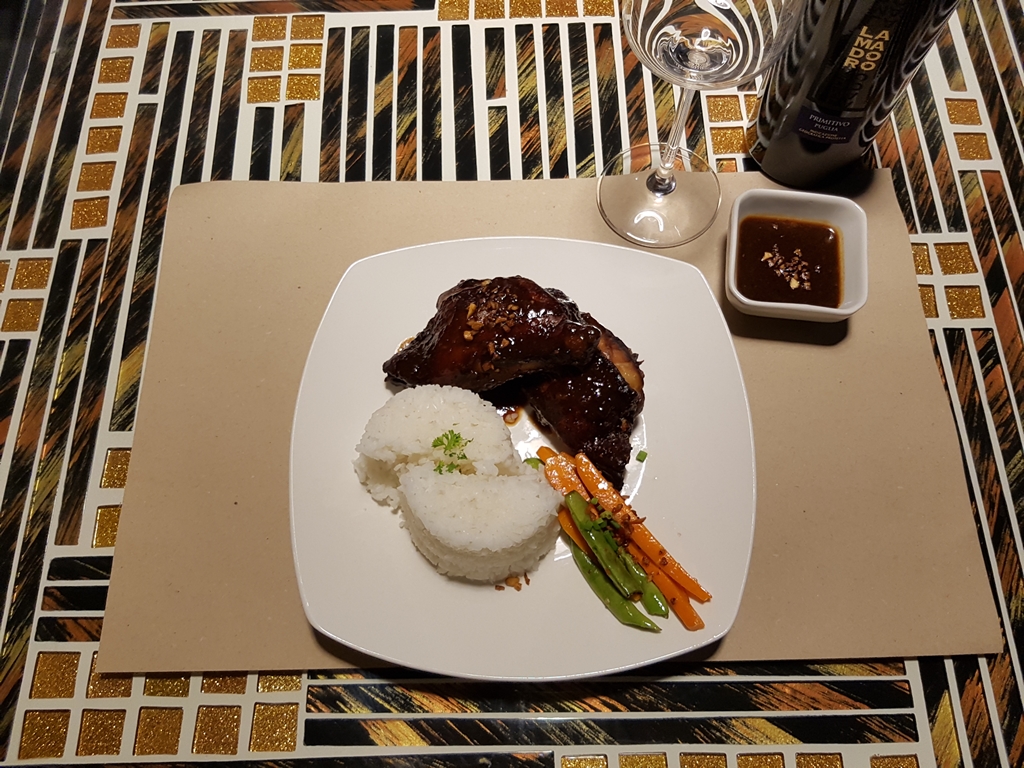 As you have probably noticed, the recipe was even named after him because he was obsessed with it. After all, I agree that the sauce is to die for.
Bestseller #3: Cuapao Sandwich
It was my first time to ever try a sandwich called "Cuapao". As you'll see in the photo below, it's a sandwich wrapped in a siopao bun or steamed bread.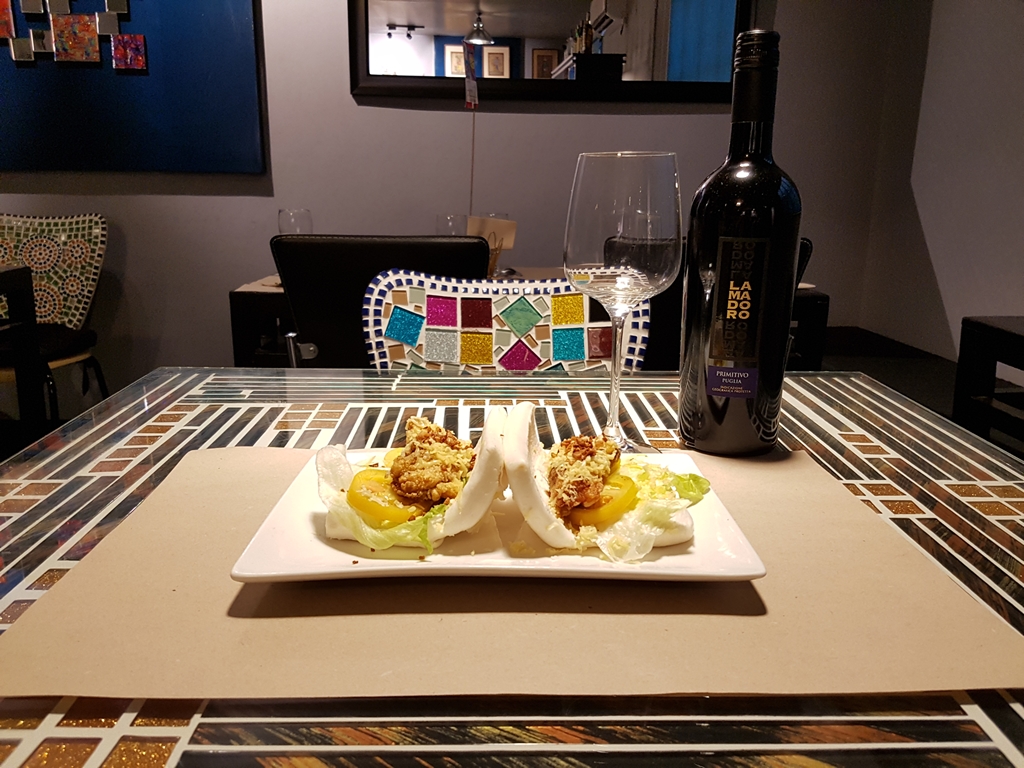 We tried the Sloppy Joe Cuapao made of ground beef, tomato, bell peppers and cheese. Adding the sweet and smooth-textured bun into the mix made its flavor surprisingly good.
Bestseller #4: FilMex Fries
Have you tried eating a burrito from Mexico? If you have, you'll easily identify Mexican cuisine by its distinct aroma, flavor and spices.
Imagine all those flavors in your potato fries and that is exactly what you have here.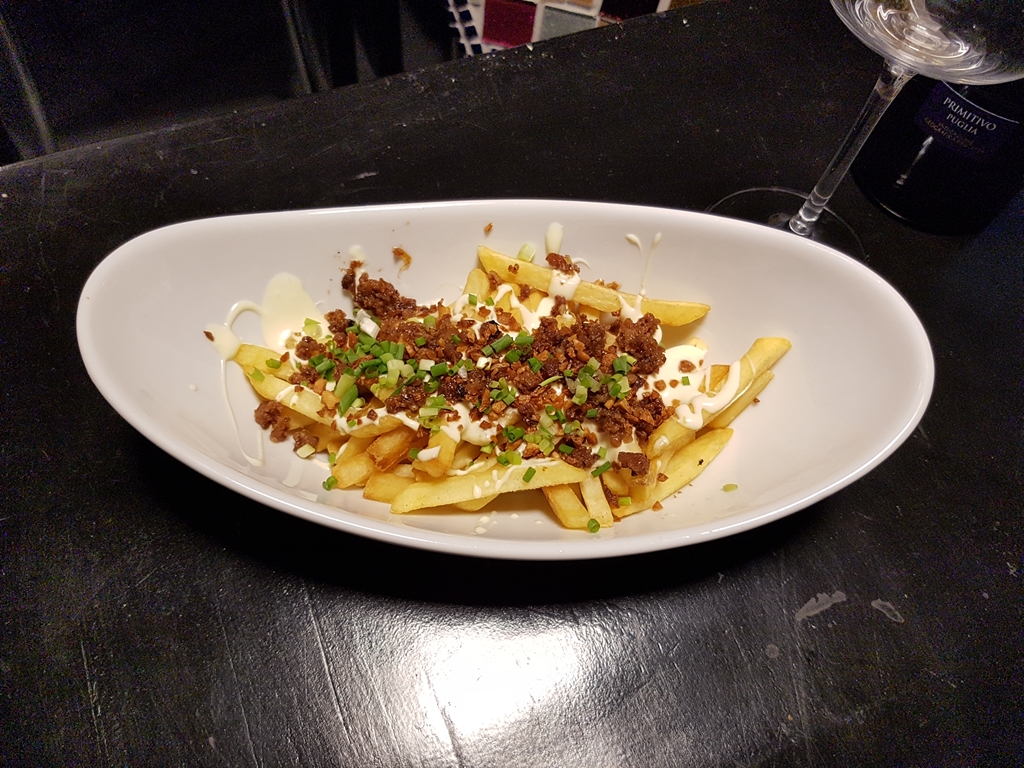 Called the FilMex fries, this finger food is topped with sour cream, crispy garlic beef bits and shallots. It's your French Fries with a twist of Mexican flavor.
Bestseller #5: Mechado 48 Hour Slow Cook
If there is one dish that is truly unforgettable at Mosaic by the Creek Café, it would be none other than their Mechado, a recipe which they cook literally for 48 hours.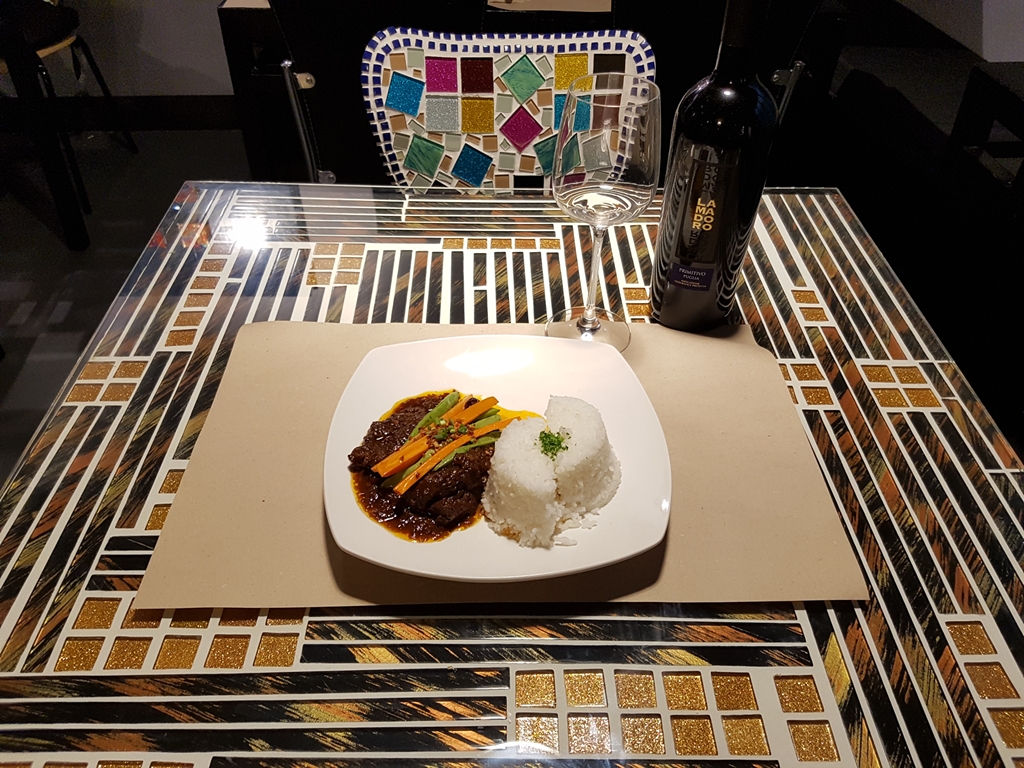 The beef is so tender and it tastes so damn good. We ordered food for sharing but this is the only dish in their menu that I ate on my own without giving some to my friends. Haha. I can attest to the fact that this is their best recipe that we have tried.
Side note: Did you notice in the above pictures that the dining tables and chairs are made of mosaic too? 😉
In the restaurant, you'll also find coffee, beer and wine being served at their bar or counter top right here.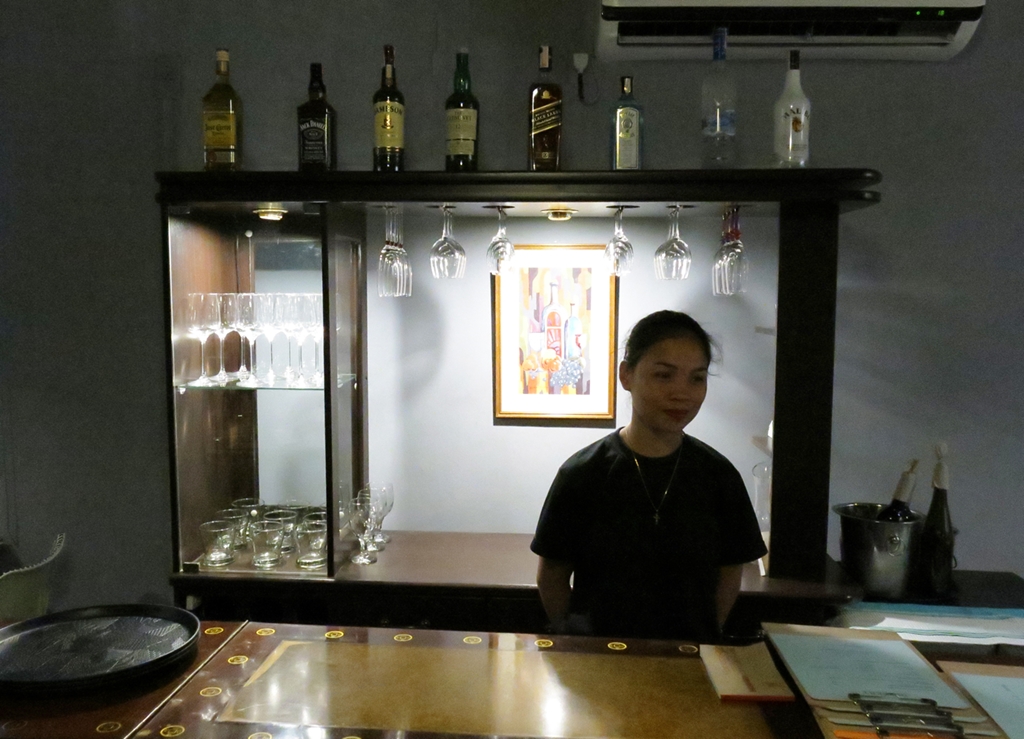 The Mosaic School
This story wouldn't be complete without talking about their mosaic class since that's the whole point of going there and writing this blog post, right?
So let's begin by talking about what mosaic is in the first place. Simply described, mosaic is an art where you place different colored squares or tiles in a pattern to create beautiful pictures.
Like these.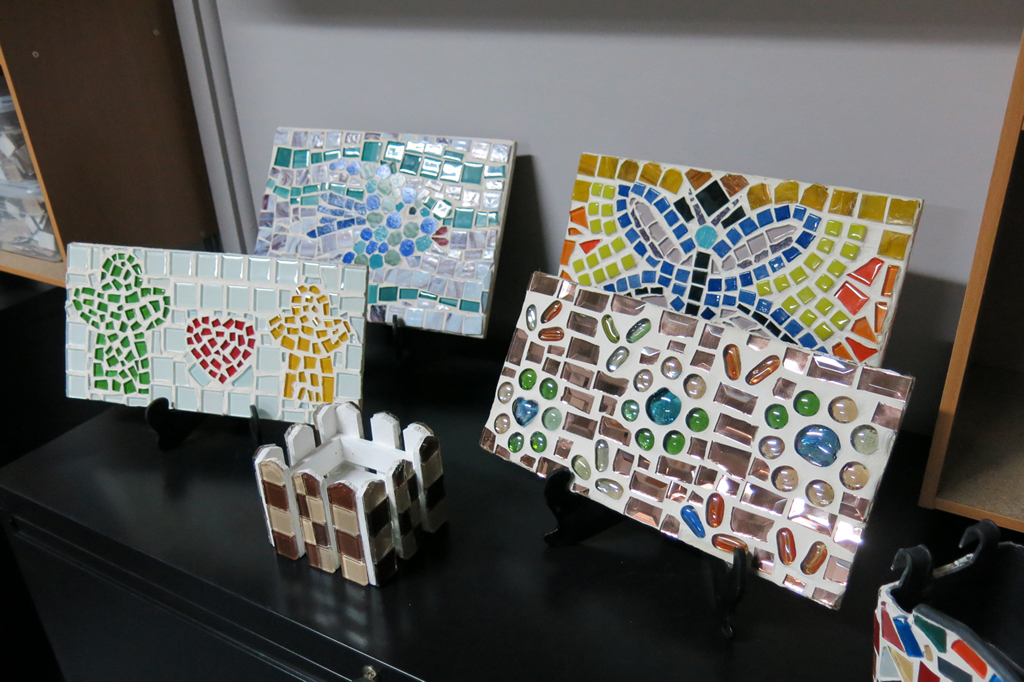 Or even figures like these.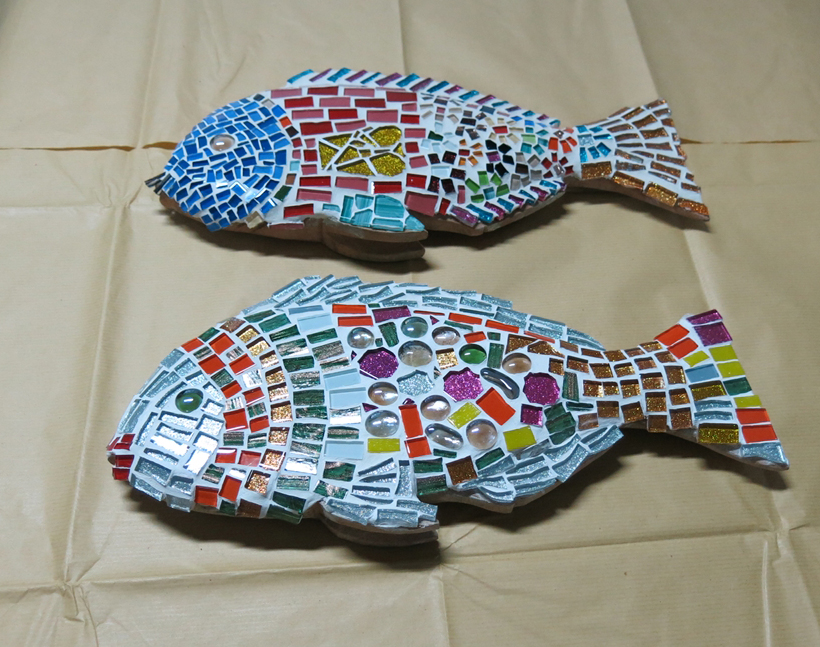 But don't dream yet because for starters, you won't be creating something as big as that. The fish, for example, is not for beginners. It was created in their more advanced workshops where they will teach you a variety of methods of cutting tiles into different shapes.
At Mosaic by the Creek school, the beginners' session lasts for three hours. The advanced classes which I'm talking about has a more detailed course outline as you'll see in this whiteboard behind me right here.
Do I look like a teacher? LOL.
As my friends and I were newbies to mosaic, we attended the beginners' or hobbyists' session.
In that class they will first give you a brief overview of the history of mosaic then afterwards you will be asked to do some hands on right away.
The first thing you need when building a mosaic is a pattern. The pattern is usually drawn on a hard board where you will glue the tiles to.
You can either draw the pattern on a blank board by yourself or if you are not good in drawing, you can start with a board which already has a pre-drawn pattern for you. As for me, I opted for the latter because I didn't want to spend time on drawing. I kind of wanted to spend more time on mosaic itself.
I was choosing from a variety of pre-drawn patterns available during the class and look what I picked.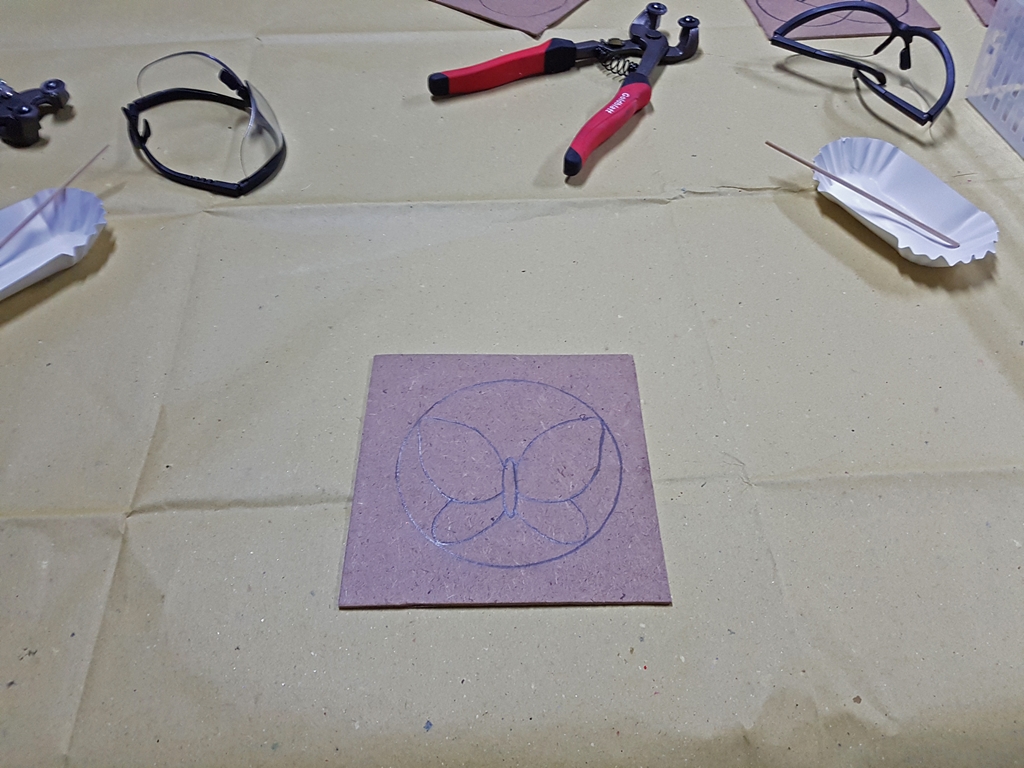 Voila. A butterfly.  

But hang on just a second, dude. Don't be too quick to judge me. Allow me to explain. Haha
The reason I picked the butterfly is because I wanted to create a mosaic not for myself, but for my girlfriend. It's my gift to her. Get it? LOL.
Now here's the fun part. The next thing you need to do after you've selected a pattern is to "shop" for tiles on the shelves. You'll need to pick tiles of different colors depending on the look you want to achieve for your pattern. Some tiles appear glittery, some matte and some glossy. The tiles also come in a variety of shapes and sizes too.
You will then put the pieces of tiles in the tray that they will provide you and then the instructors will supply you with the rest of the materials needed to put them all together. The materials include a bottle of glue, a handheld tile cutter, tweezers and a pair of glasses.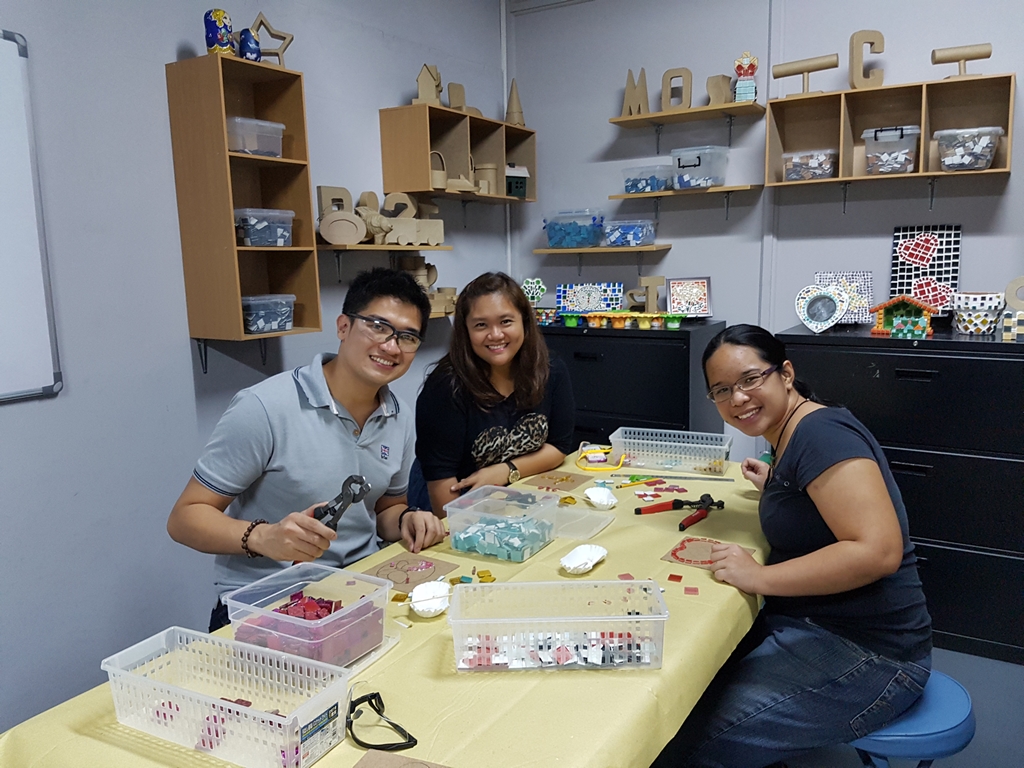 Yes guys, the glasses that I'm wearing in the photos are not for style. They are actually for protection. It is mandatory for you to wear them during the entire class to protect your eyes from tiles that will literally fly everywhere once you start cutting and breaking them down into pieces.
Now as you work on your piece of artwork, you would want to use tiles of different colors and cut them into a variety of shapes and sizes to breathe life into your mosaic. At the beginners' workshop, you will mostly be cutting the tiles into smaller square pieces. That is fairly easy with the handheld cutter but what is a bit difficult is cutting those tiles into more complex shapes like triangles, stars and even circles. They will not teach those advanced cutting methods in the beginners' class but they will in their more advanced classes.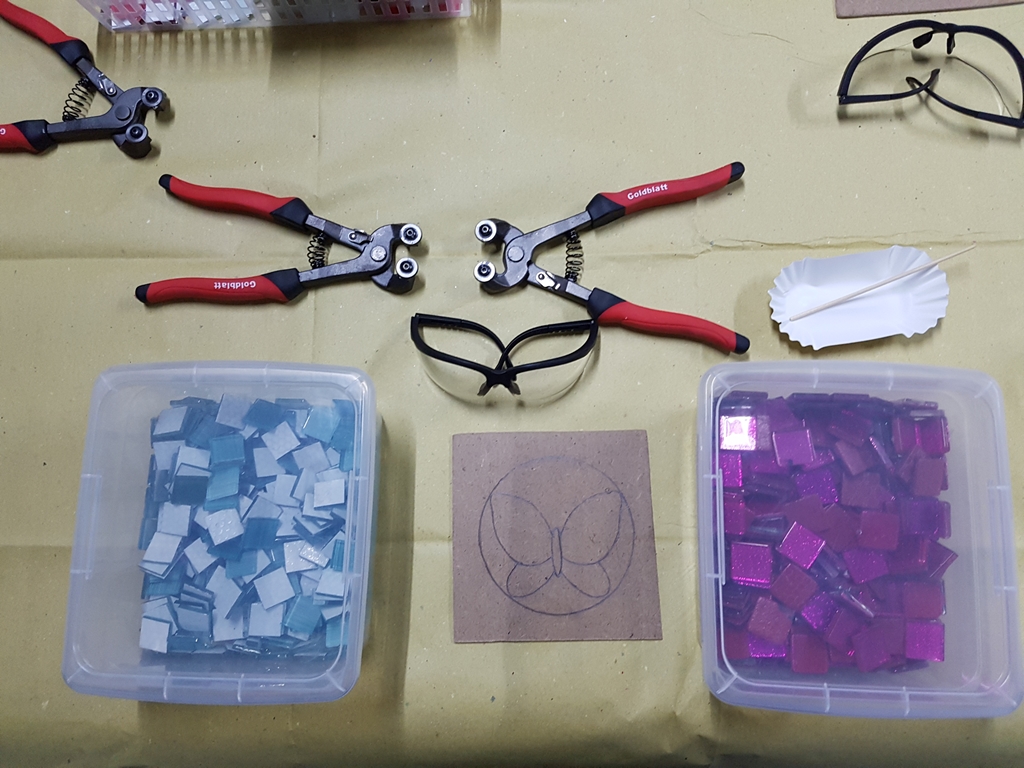 It took my friends and I about 2.5 to 3 hours to complete our very own mosaic. That length of time includes drawing your artwork, shopping for tiles, cutting through tiles, gluing your tiles on the board, adding grout or cement for the finishing touch and then leaving your artwork to dry up.
Want to see how my finished artwork looks like?
Tadaaa…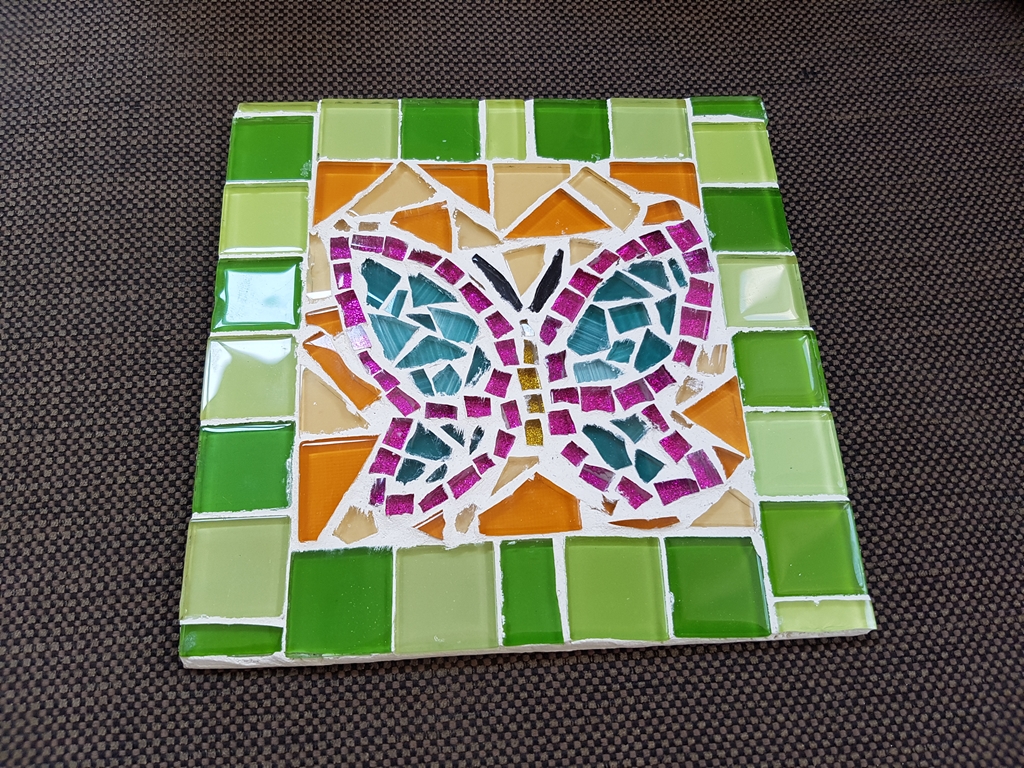 Not bad for a first timer, right? I've never been prouder of myself. Haha.
Now here is mine including my friends' mosaic in one picture.
Can you comment below and rank your top three? LOL.
My friends and I had a wonderful time at Mosaic by the Creek. The food was great and the actual mosaic experience was fun. It brought out the artistic side of us even if it was just for a few hours.
People say that time flies fast when you are enjoying what you are doing and that is exactly what happened to us there. We barely noticed that more than three hours have passed. How could you when you are served with savory food and are having fun with tile cutting and gluing? It is a truly one of a kind experience.
Mosaic by the Creek is a place I'd recommend for you to try if you happen to be here in Manila. It is a unique place for you to bond with friends, celebrate milestones with colleagues and even go out on a date with your girlfriend.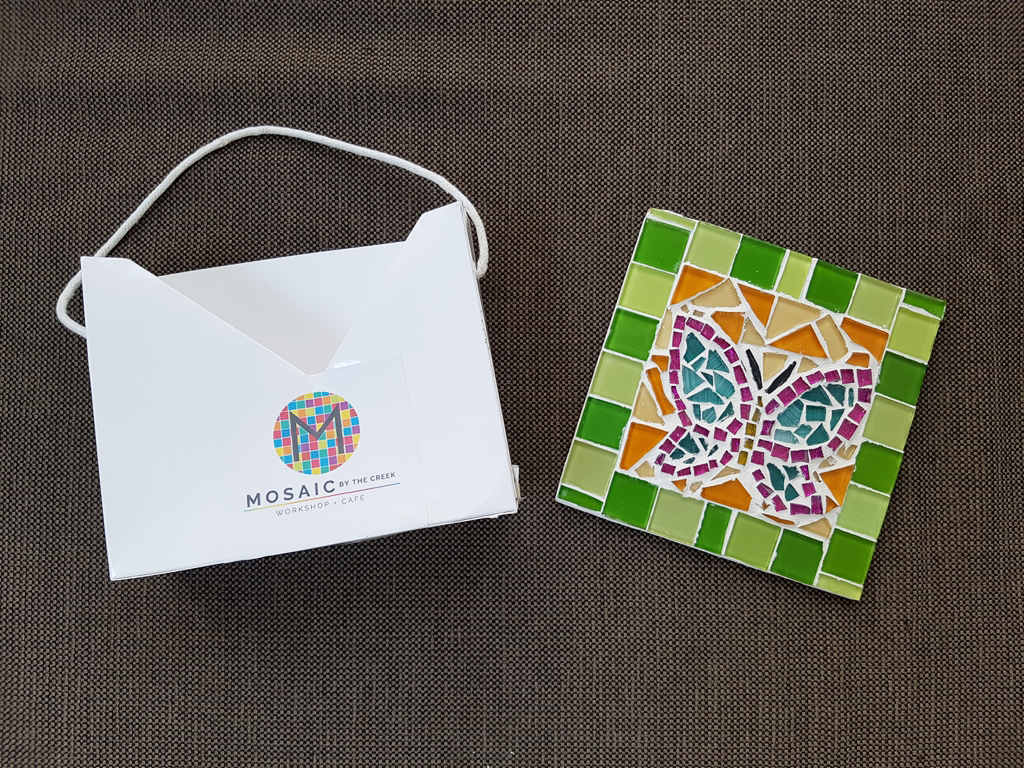 Mosaic by the Creek Café and Workshop is located along Major Dizon Street in Marikina City.
Learn more about men's lifestyle on Pinoy Guy Guide. Subscribe your email here for free updates.