So last Wednesday, August 22, was my first time ever to watch a bodybuilding competition. The one that I watched was from Slimmers World, which have been conducting their own Mr. and Ms. Great Bodies for 23 years now.
Slimmers World Mr. and Ms. Great Bodies is a search for the candidates who are at the pinnacle of physical perfection. The search is done among members of Slimmers World Gyms nationwide who have the best bodies. And for 2018, the contest has been inspired by Marvel's Black Panther as you can see in their impressive Wakanda-themed stage below during the pre-judging night.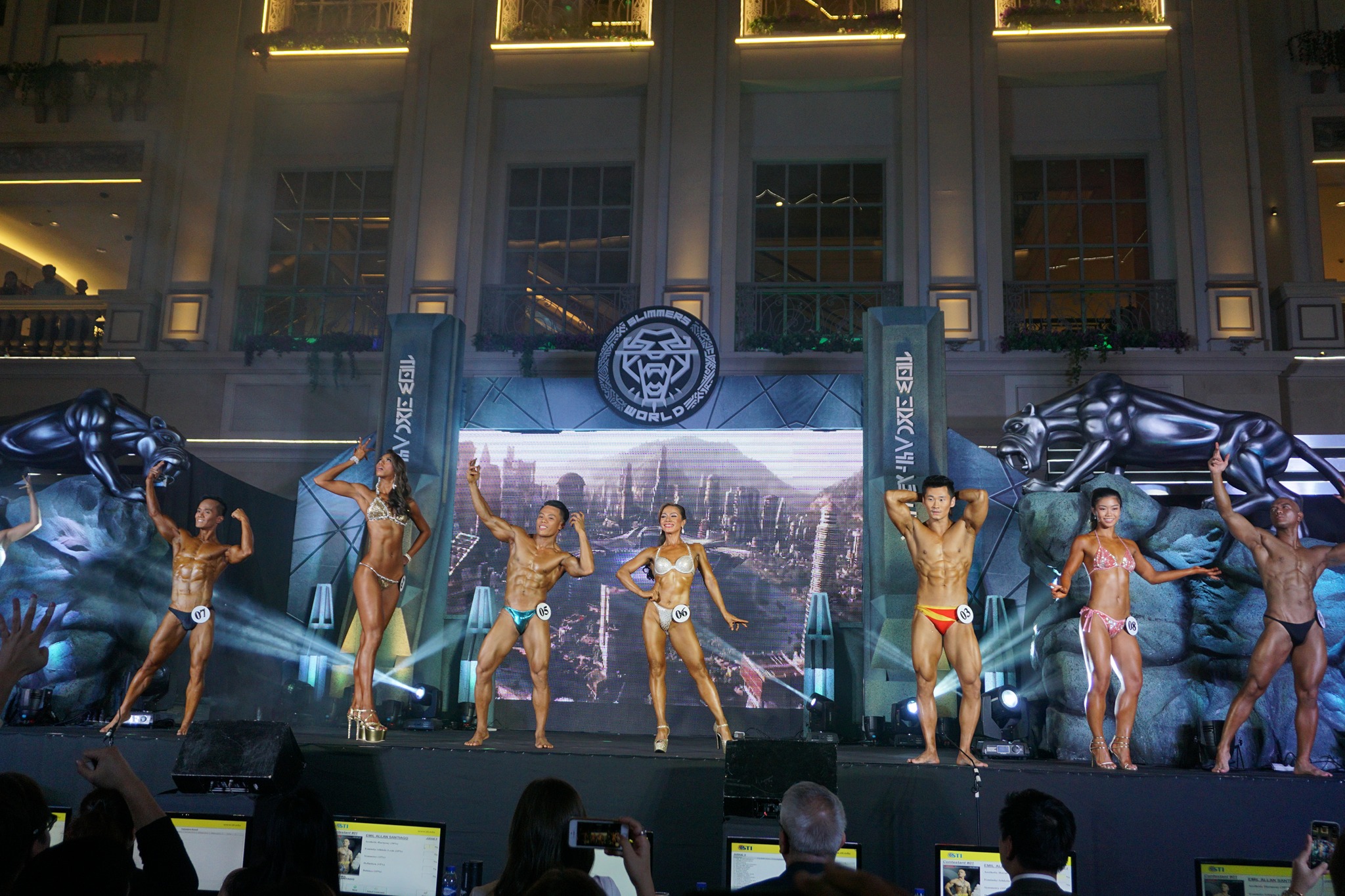 The pre-judging night was held at Resorts World Manila and yes guys, PGG is proud to be one of the media partners.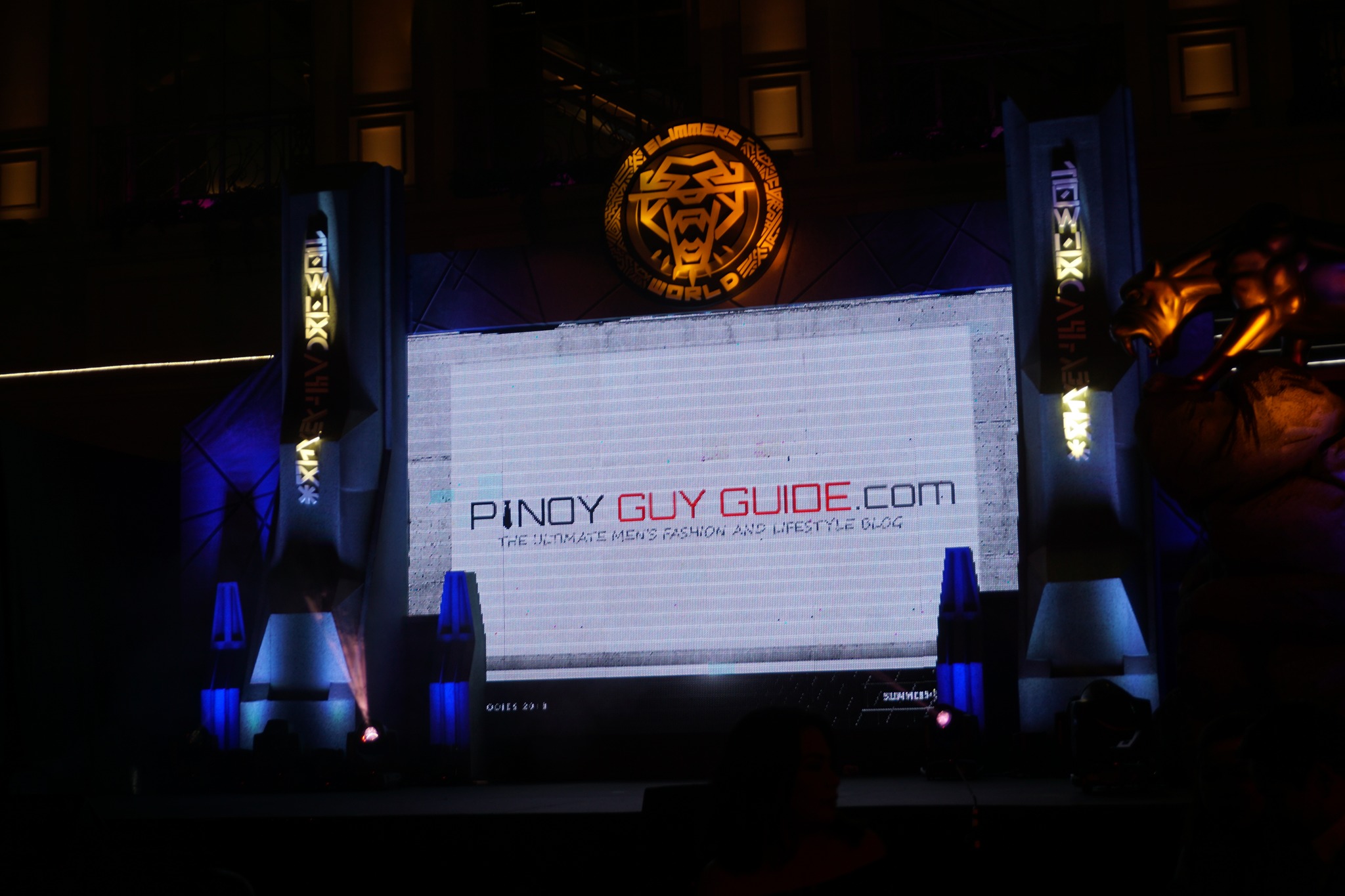 The competition opened with a parade of all contestants, male and female on the stage. I recall eating a sandwich when the competition started, and I stopped eating halfway and found myself in some serious self-loathing when the contestants appeared with their superfit and astounding bodies! If I could only have that discipline in keeping myself fit, I thought!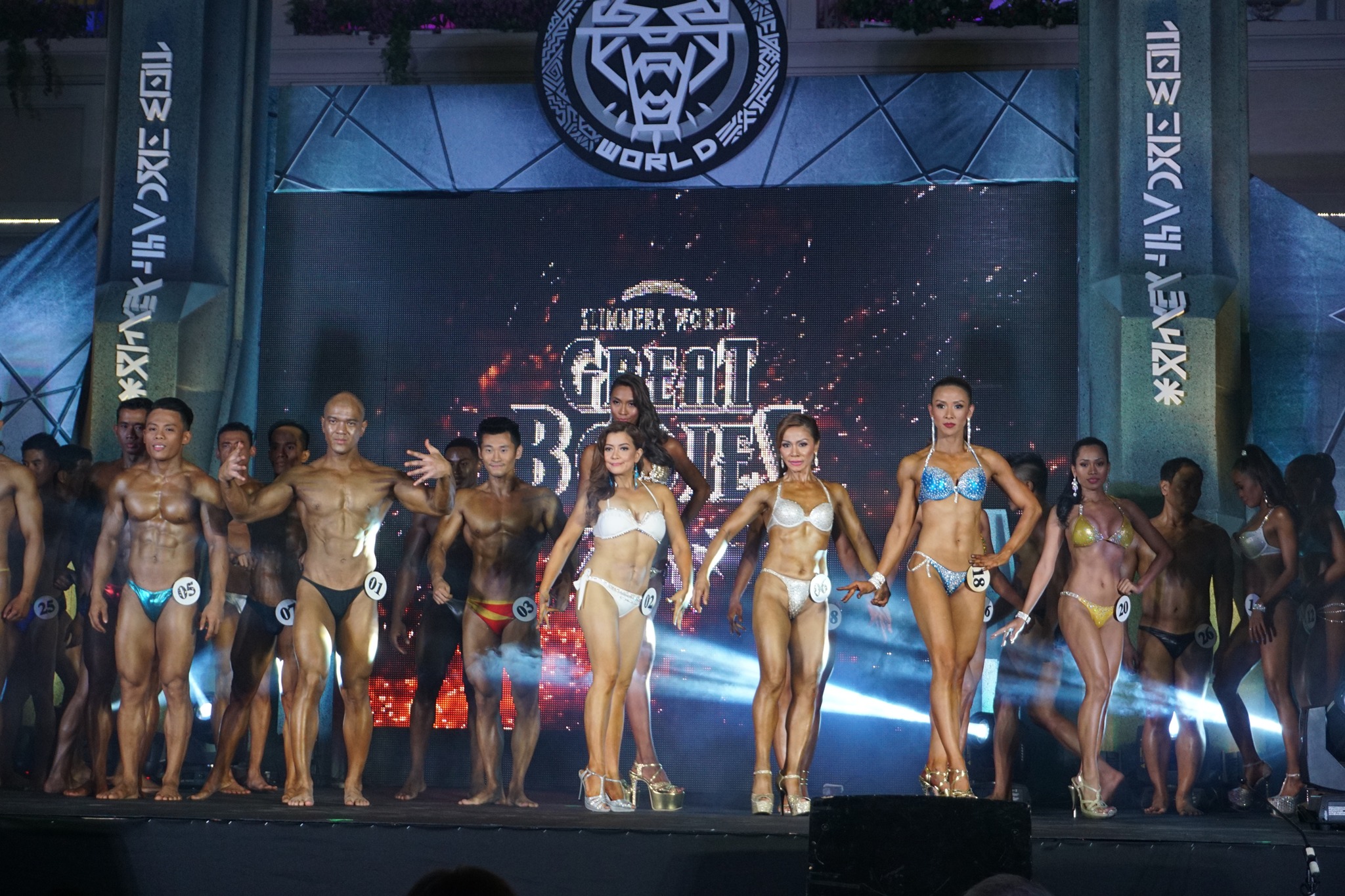 All in all, there were 26 candidates for Slimmers World Mr. and Ms. Great Bodies 2018. Here are their names, along with the respective Slimmers World branch they work out in.
Candidate #1 Emil Allan Santiago (SM North), #2 Maribeth Bautista (Megamall), #3 Han Dong Il (Adriatico), #4 Maria Theresa Soriano (Pasay Road), #5 Aleykhaine Balabat (Adriatico), #6 Jorgin Laudiana (Megamall), #7 Randy A. Budomo (SM North), #8 Alyssa Chan (Greenhills), #9 Joseph H. Aballe (Pasay Rd), #10 Jeanne Louise Oliva (Legaspi), #11 Emmanuel Ngala Shey (Pasay Rd), #12 Hannah Bianca Herrera (Megamall), #13 Albert Adrales (SM North), Karen Cyrille Edeier (SM North), #15 Felix Aris Aquino (Megamall), #16 Daniela Molina (Alabang), #17 Jefferson Ollero (Pasay Road), #18 Katherine Tan (Alabang), #19 Angel Jose Resurreccion (SM North), #20 Terlyn Grace Rubi (Adriatico), #21 Russell Tee (Caloocan), #22 William Carl Bolo (Adriatico), #23 Joffrey Cacanindin (SM North), #24 Ralph Rempilio (Caloocan), #25 John Christopher Maloles (Greenhills), #26 Vicente Bautista Jr. (Legaspi).
The pre-judging night consisted of five parts, like any true bodybuilding show. The format was presented as follows:
Introducing Yourself
The show started with each of the 26 contestants ramping through the stage and heading to the nearest microphone stand to state their names, where they are from, and which branch of Slimmers World they work out in.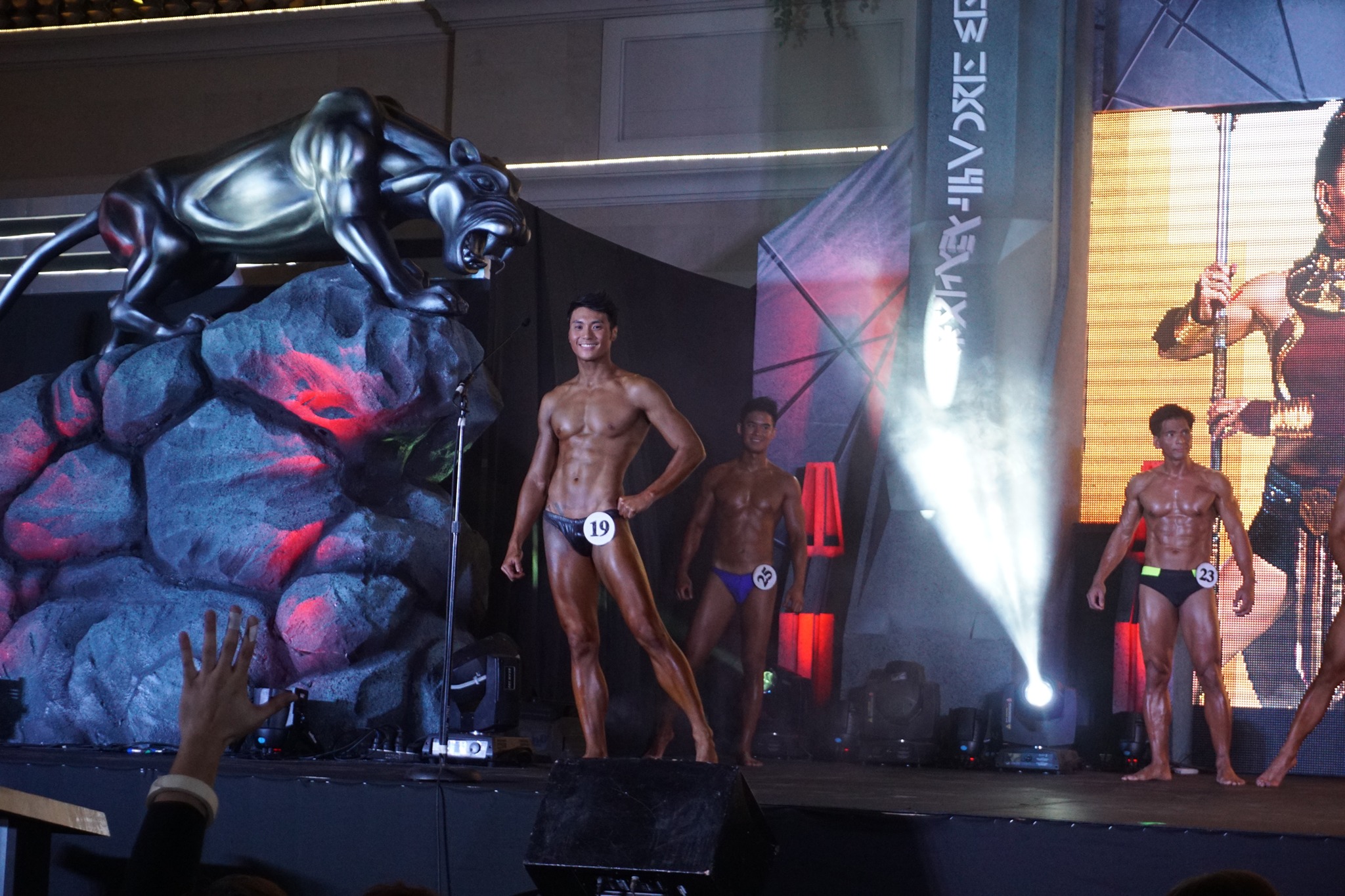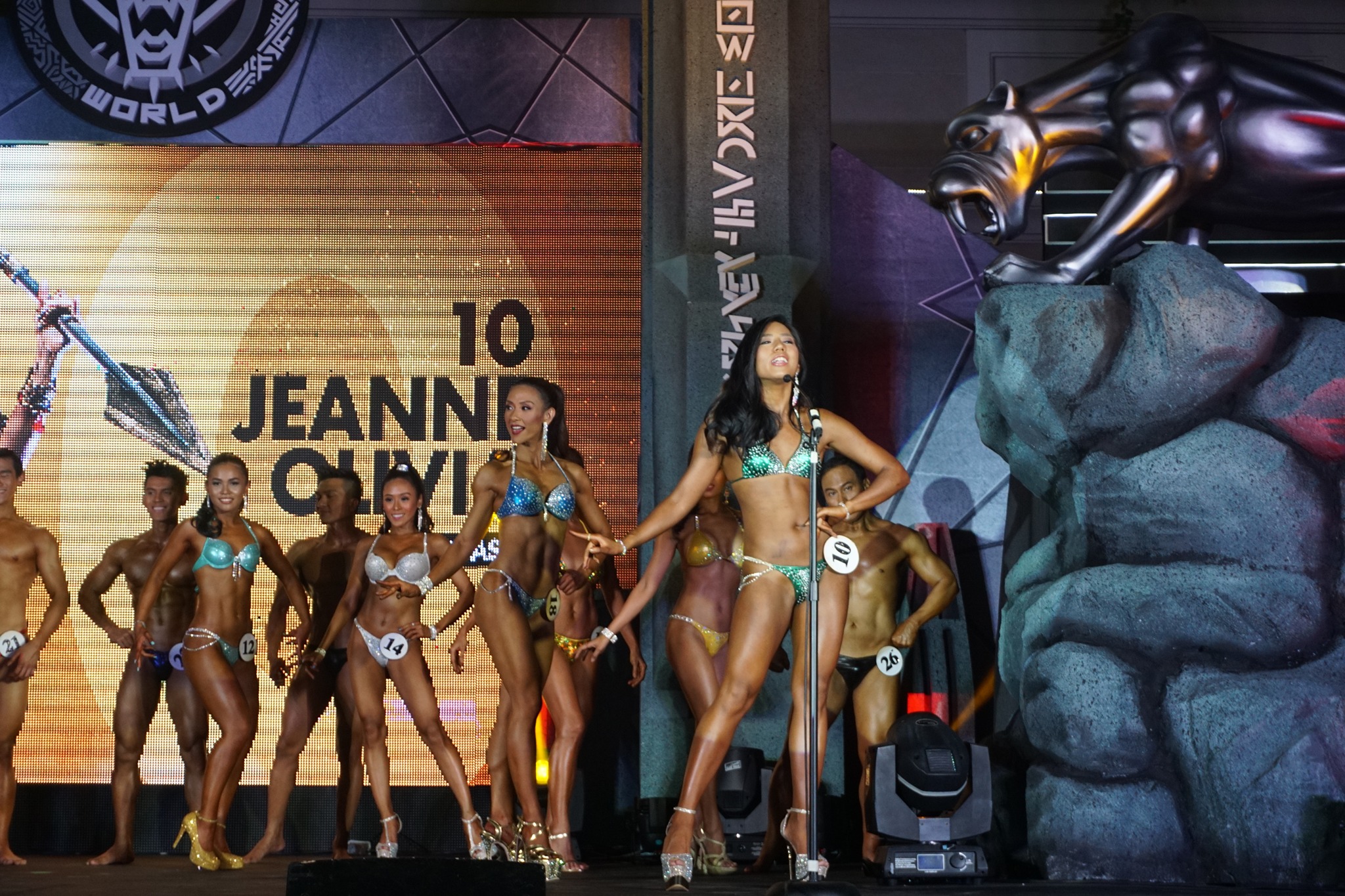 Individual Posing Routines
The next part of the show are individual posing routines. For this segment, each contestant will go on stage, and will execute their own poses, flexing, and showcasing their muscles accompanied by catchy music. Contestants were given a minute each to do their flexing and freestyle posing routines.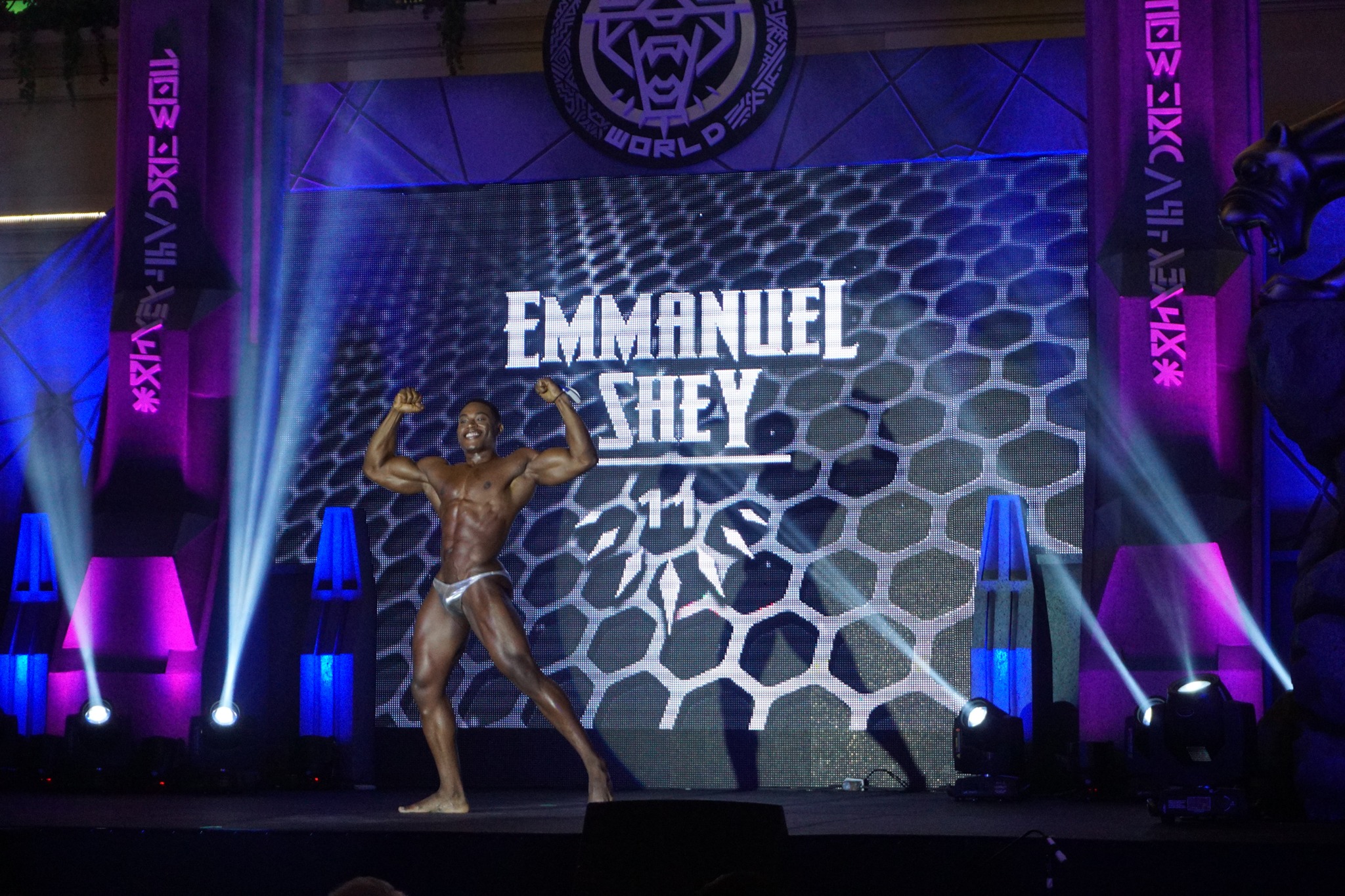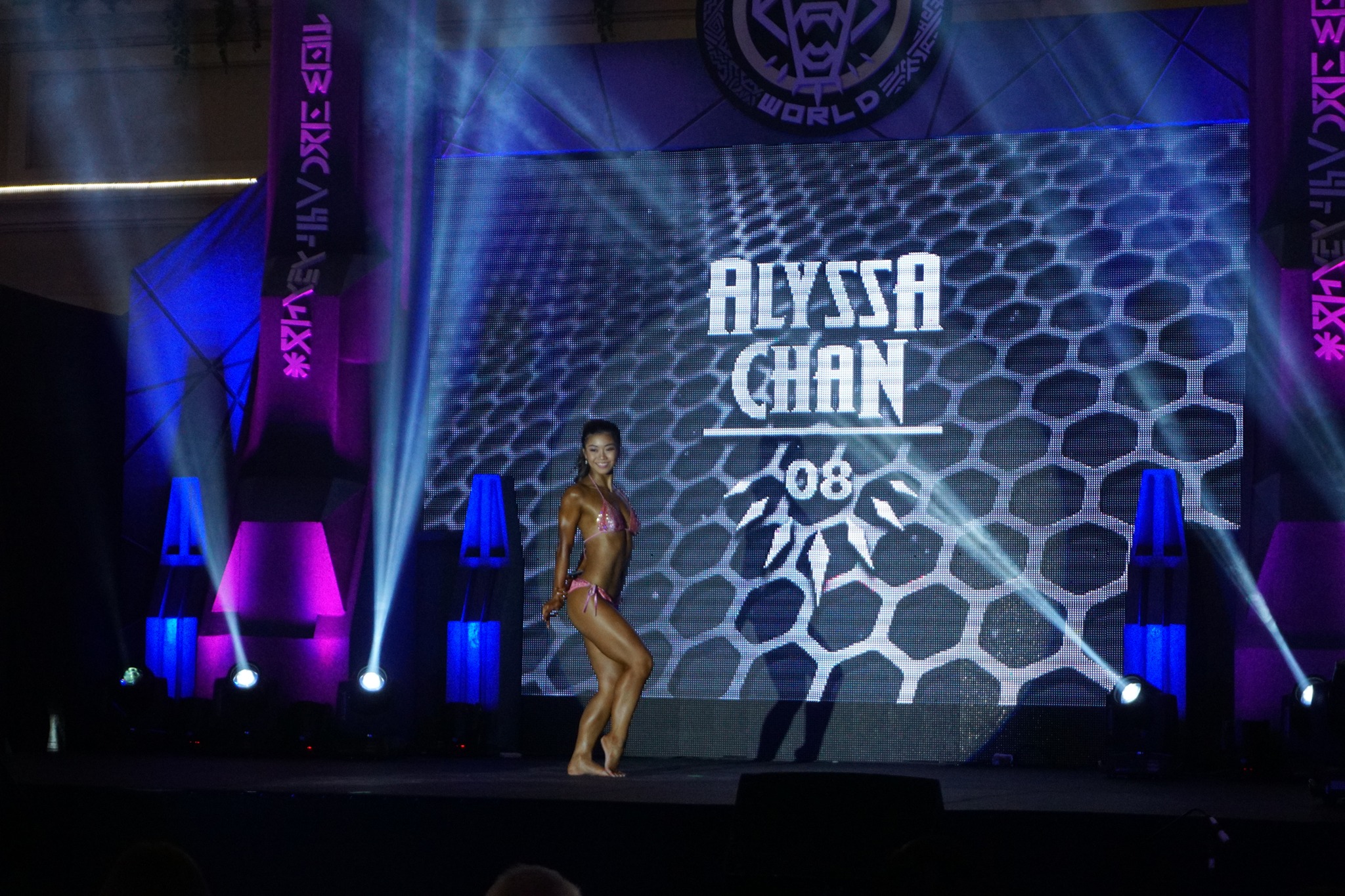 If you are a bodybuilder, this is the part where you show body parts and muscles which you are most proud of.
Symmetry Round
The third part of the contest is what is called the "Symmetry Round".  During this part of the contest, participants were called in batches.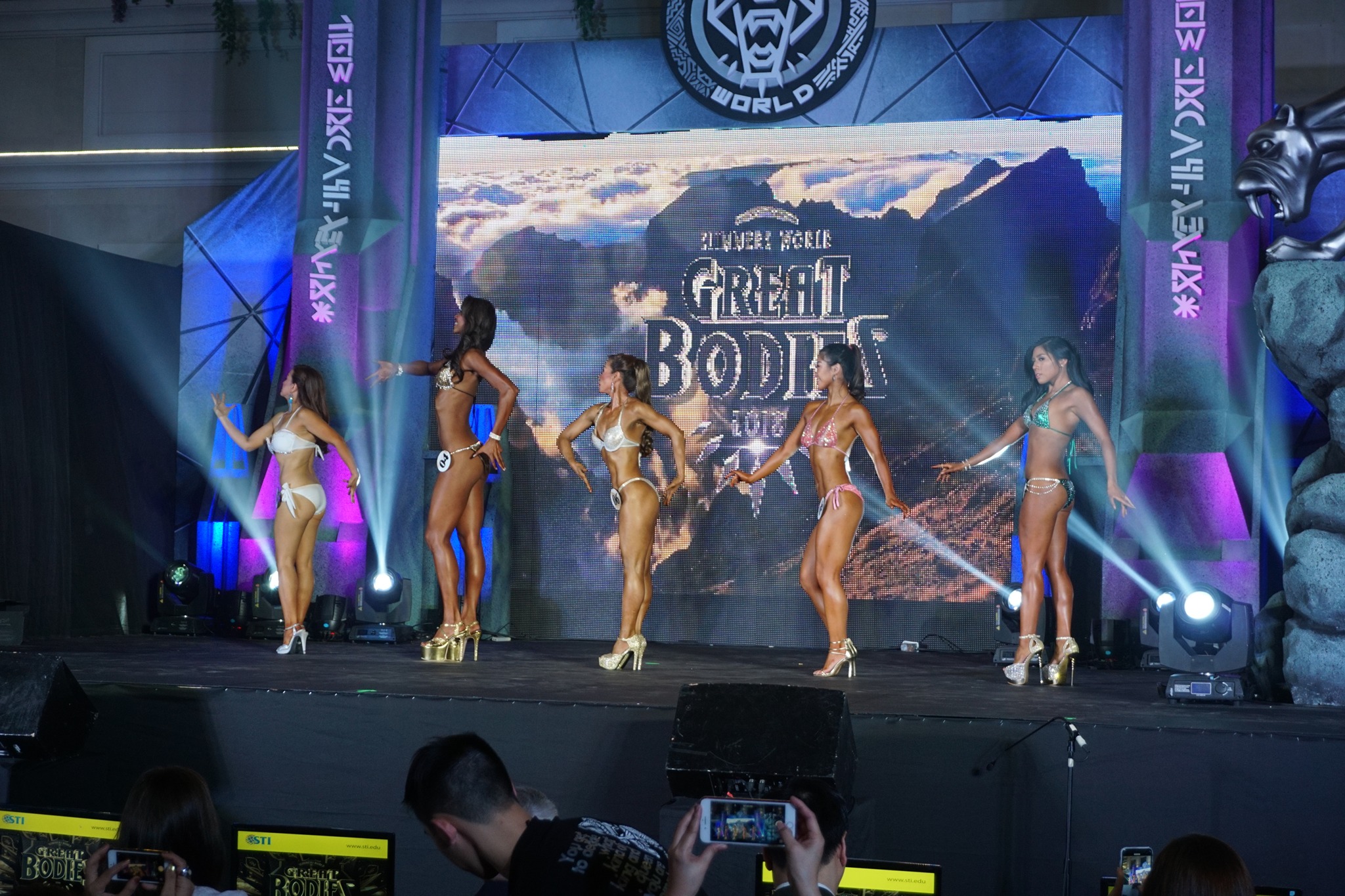 The contestants were asked to pose with relaxed muscles so that the judges would be able to check their body symmetry and how their muscles look like even when not flexed. They were also asked to turn around so that the judges could grade how they look from every angle.
Compulsory Poses
In the fourth part of the programme, contestants were again, asked to come up on stage by batches and the emcee asked them to do compulsory poses.
The seven compulsory poses are as follows:
Front Double Biceps
Front Lat Spread
Side Chest
Side Triceps
Back Double Biceps
Back Lat Spread
Abdominals and Thighs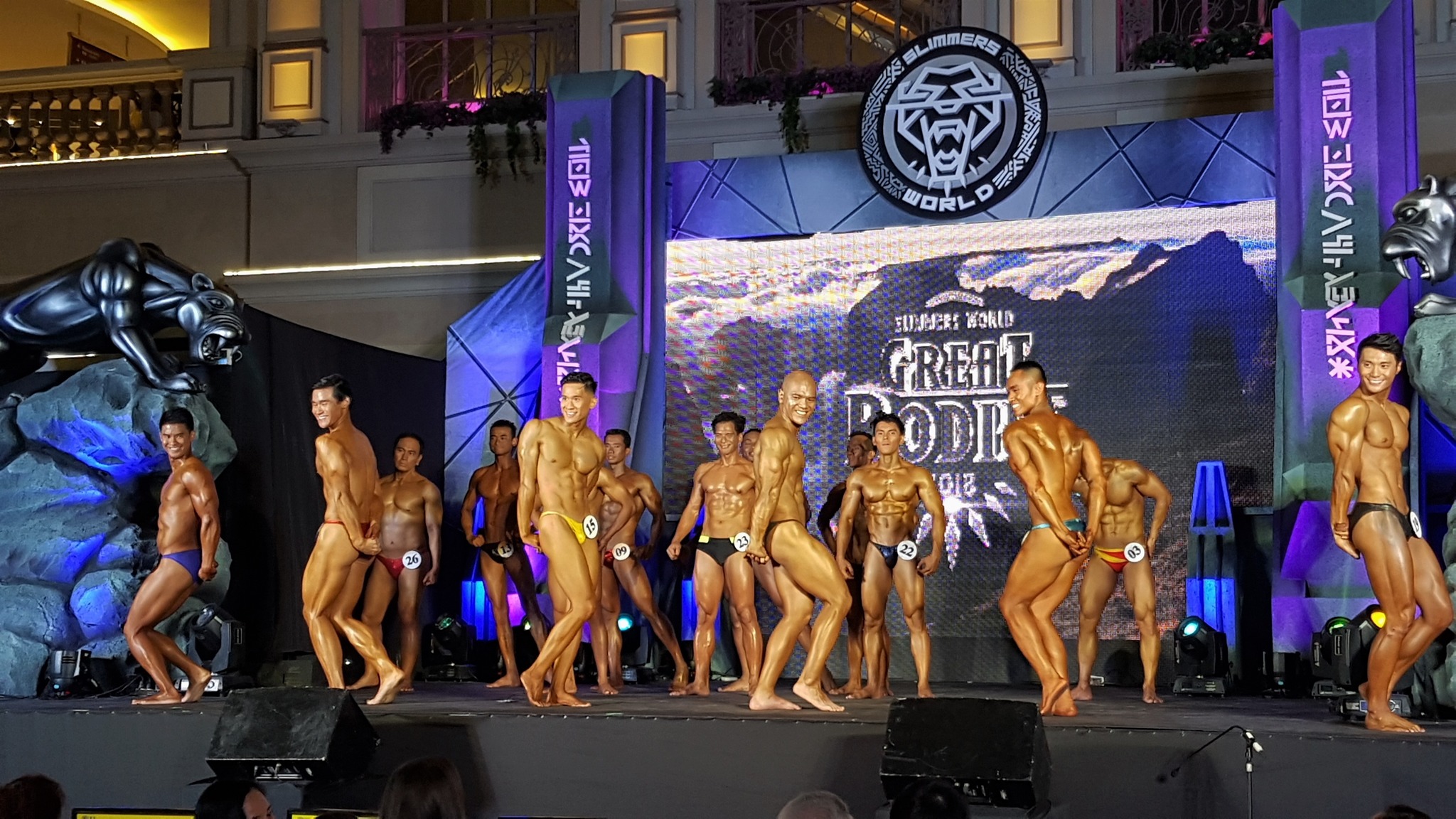 As you may have noticed, most bodybuilders use a fake tan because it defines muscles and hides stretch marks. Also, if you have a fair complexion, your abs would be difficult to see so a fake tan spray comes in handy for competitions like this.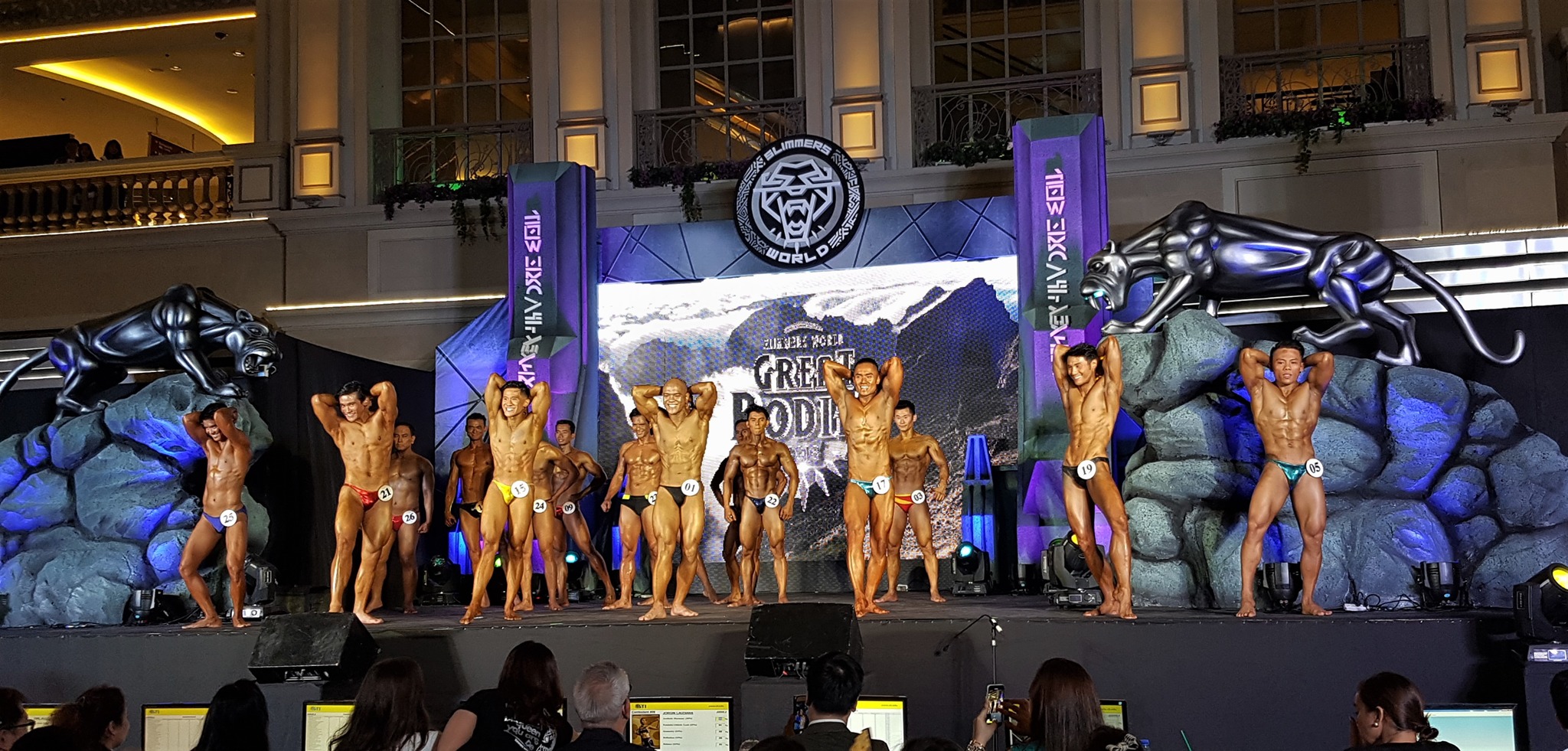 The poses may look easy, but in reality, I've heard that it's hard and may cause cramps if you are not fit.
As shown in these photos, the contestants were called by batch and each batch would be asked to perform every compulsory pose at the same time, to show to the judges how each body part and muscle group looks like when flexed.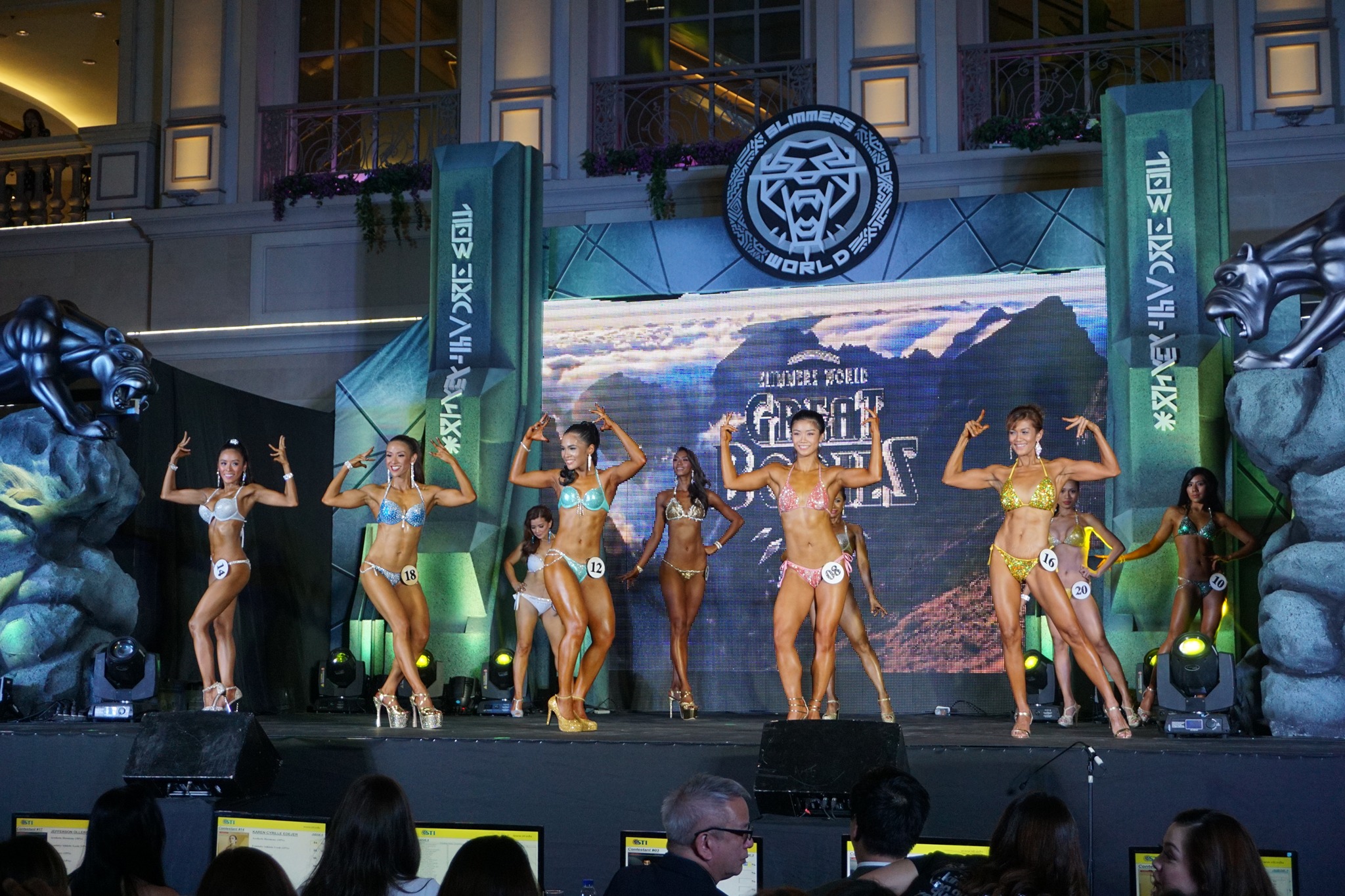 Contestants are then graded accordingly.
Comparisons
The last and most interesting part of the programme are comparisons.
In this part, the judges will call out contestants, by number, and they will be asked to come up on stage together so that they (the judges) could examine, side-by-side, the body definitions of each of the contestants they want to compare. I have not seen anything like this in contests per se. It is only in bodybuilding as far as I know.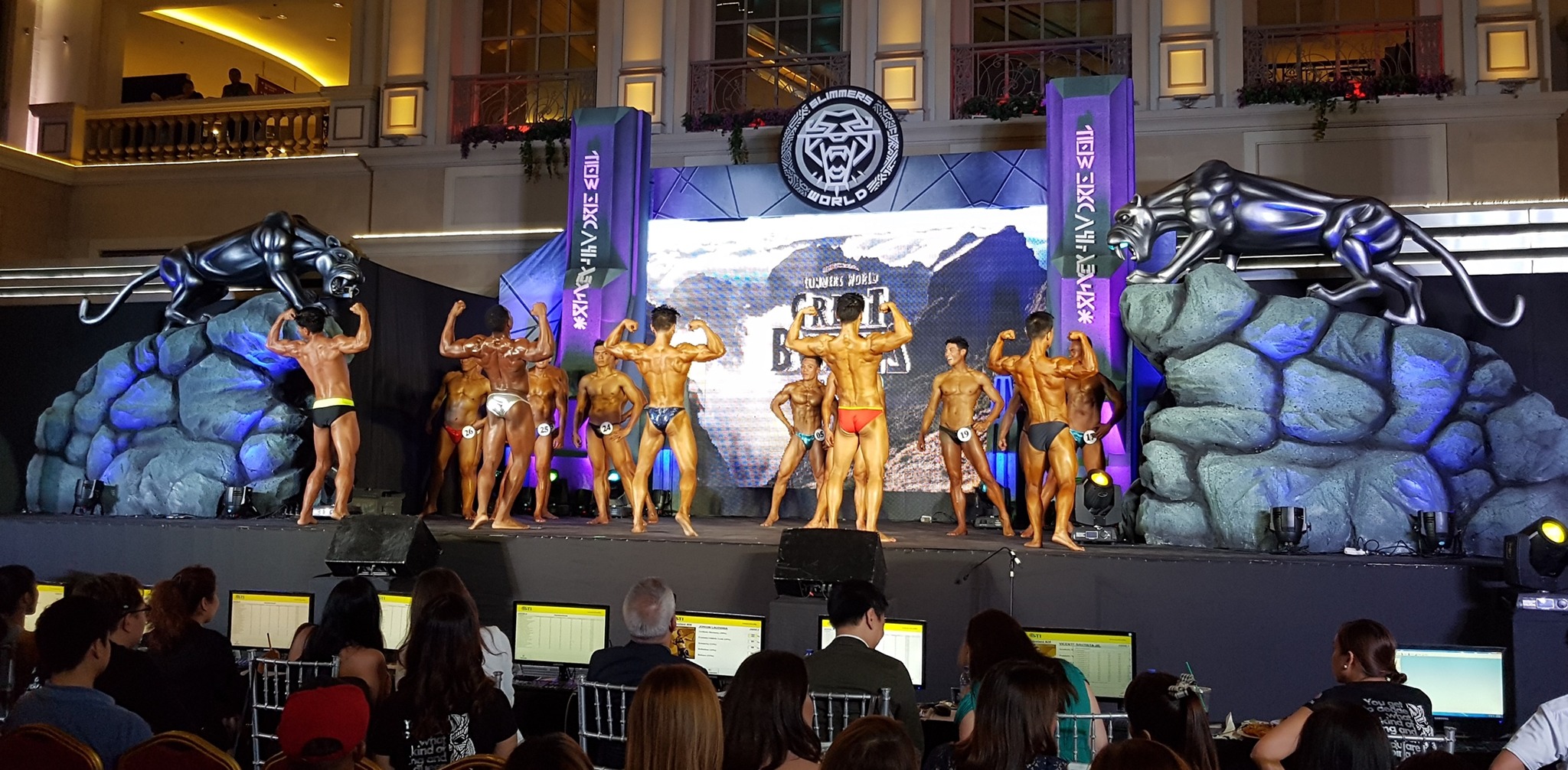 During comparisons, you will most likely have a clue by then which contestants are favorites and who among them are leading. The more frequent a contestant is called to be compared with another contestant, the more likely that he or she is a favorite to win.
Judges will then be able to rank and grade each contestant easier through comparisons because they now have a chance to check and compare the physique of each contestant executing each of the compulsory, seven poses, mentioned above.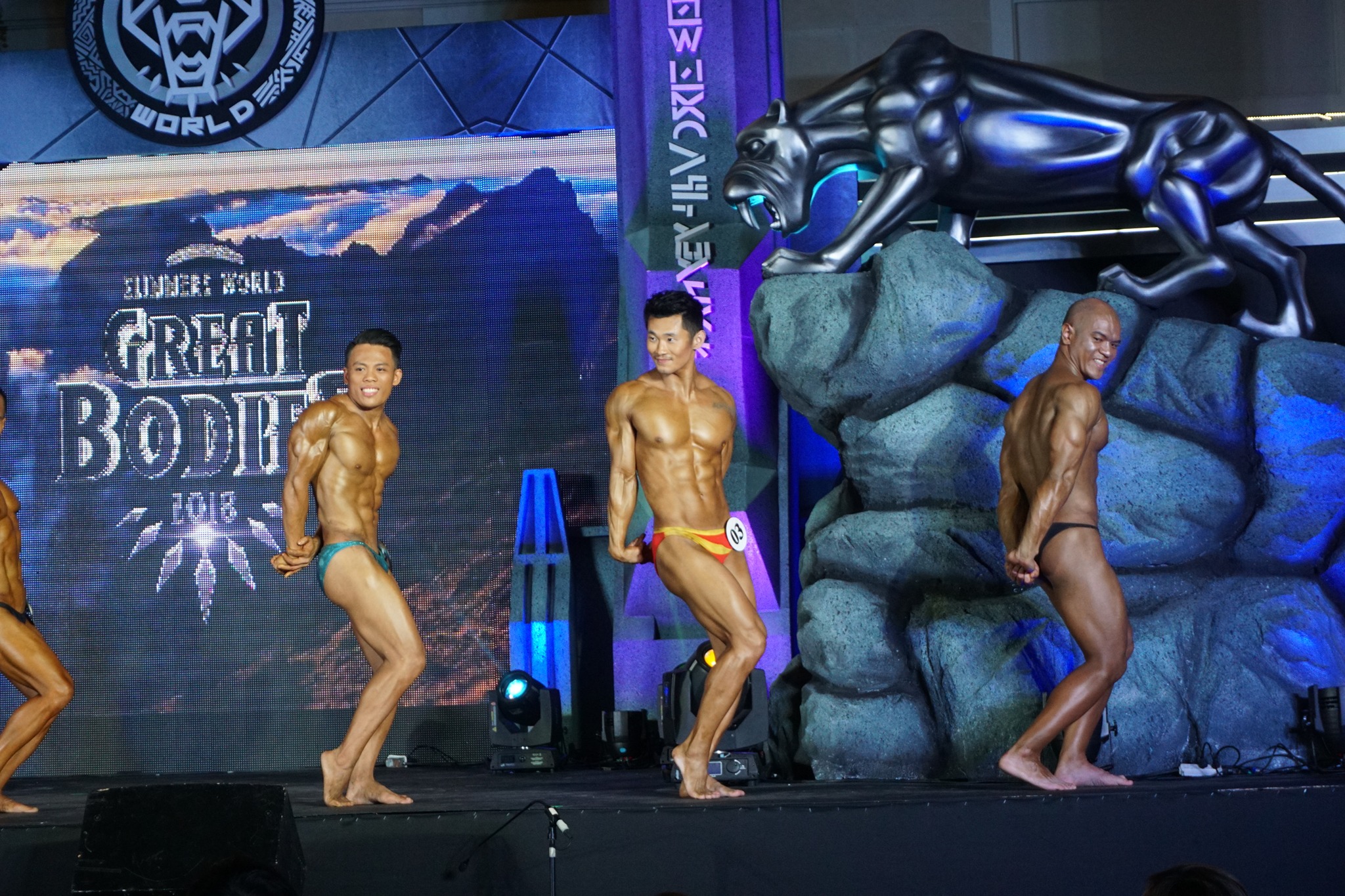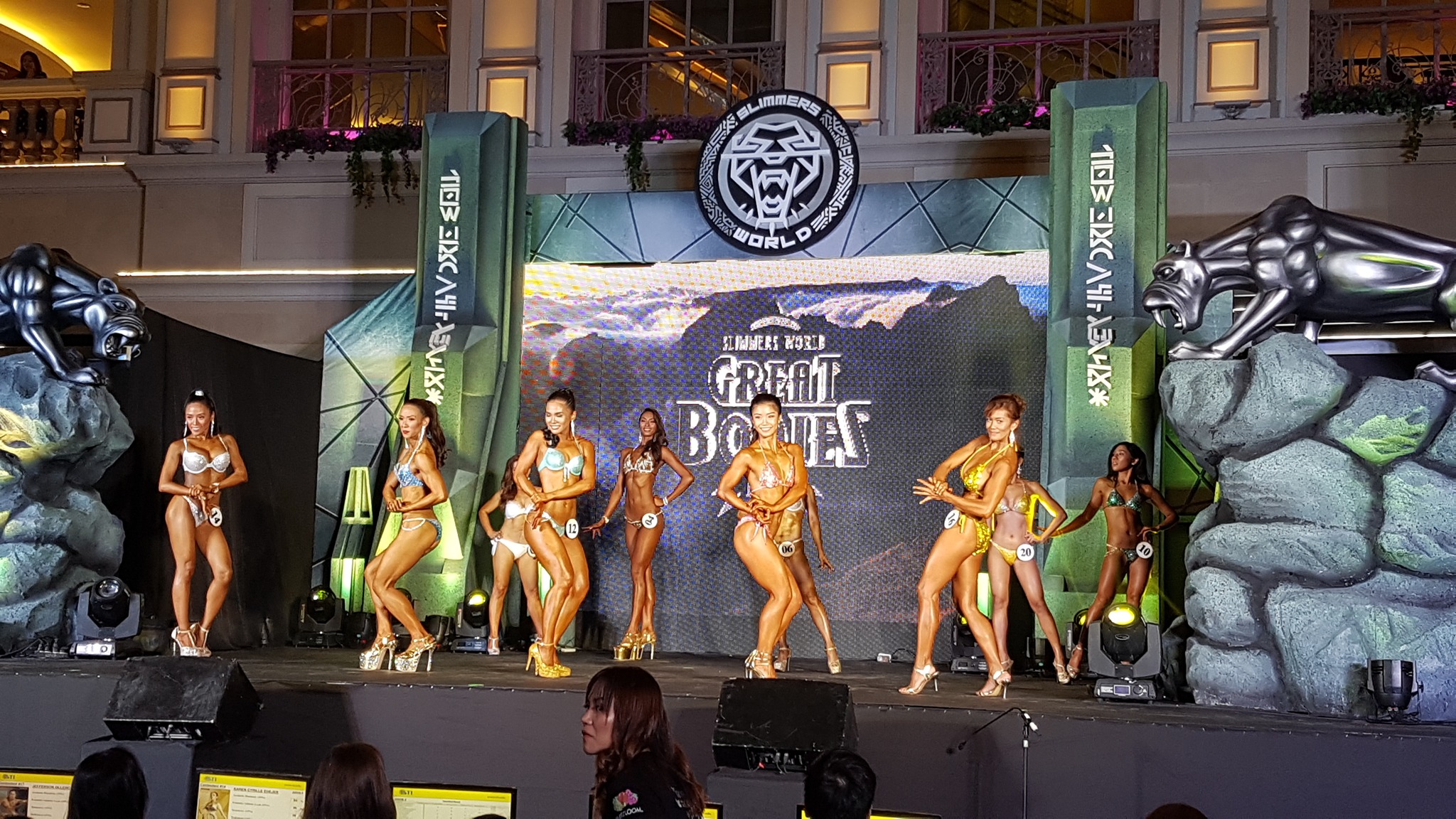 During this last stage of the contest, the emcee will keep asking judges if they would like to do more comparisons. If one of the judges wants to, he would call out the numbers of the contestants he would like to have a side-by-side comparison and will rank them in his score sheet. This continues until all judges are satisfied with the comparisons.
*  *  *  *
During the pre-judging night, special awards, courtesy of sponsors were announced. Here is the partial list of special awardees
Mr. Face of the Night: #15 Felix Aris Aquino
Ms. Face of the Night: #12 Hannah Bianca Herrera
Mr. Australia Harvest: #3 Han Dong Il
Ms. Australia Harvest: #18 Katherine Tan
Mr Walker: #11 Emmanuel Ngala Shey
Ms Walker : #18 Katherine Tan
On August 28, the main event to determine the ultimate winners of Slimmers World Mr. and Ms. Great Bodies will happen at the Resorts World Newport Performing Arts Theater. Make sure to subscribe to the PGG newsletter to get the latest updates about the event.