I never thought that I would live to watch a FIFA World Cup match live.
It's because of a couple of reasons. One is that, it's not cheap and two is that it only happens every four years and the host nations are usually too far from the Philippines. You have to pay not only for the match tickets but also for the plane tickets and hotel accommodations which are priced at a premium during peak seasons like this.
My desire to watch a live football event, especially that of the FIFA World Cup started during my toddler years. As a guy who was raised during my youth years in Kenya, where the nation's main sport is football, I grew up being a fan of the game. And so when I came back here to the Philippines for good during my early teens to continue my studies, I found it disappointing that football was virtually an unknown sport here in the country. It wasn't as popular and so I thought that maybe the best chance for me to relive the football experience was to watch a football match live.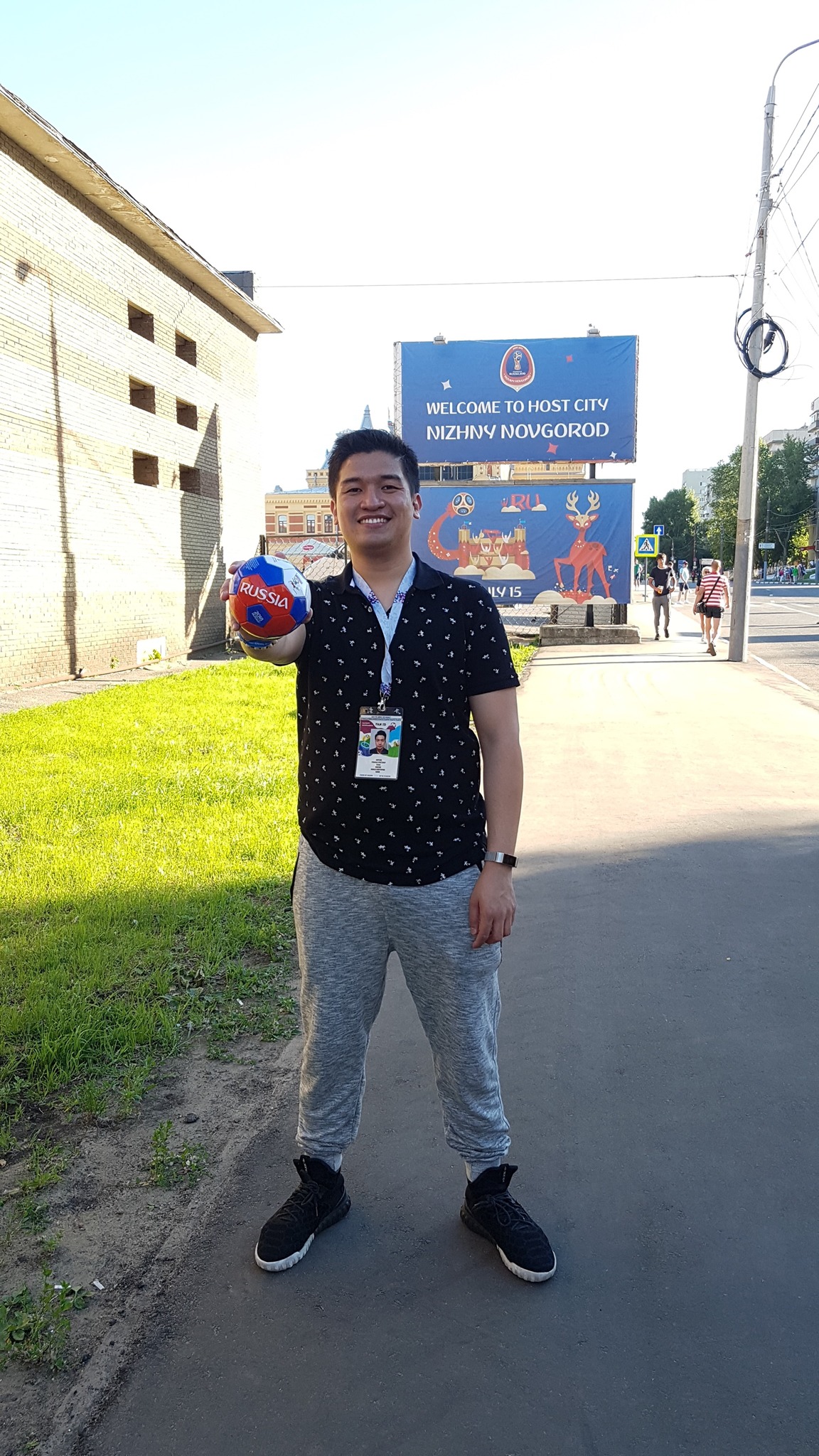 Now one of the countries listed in my travel bucketlist is Brazil. Back in 2014, when I found out that the FIFA World Cup that year would be held in Brazil, I was so eager to fly all the way to watch a football match and to travel to the beautiful South American country.
Unfortunately, my plans didn't work out.
Brazil, it seems, is too far from the Philippines. There is no direct and short flight and basically you have to fly all the way to the US (or to the Middle East) before taking another plane to bring you to Rio de Janeiro. It's double the price, double the time, double the money and double the effort. It's just too expensive for me. Not to mention that I was younger at that time and as you have probably guessed, I had other priorities and I didn't have enough cash to burn.
So when the 2014 FIFA World Cup was over, I swore to myself and made a pact with my brother to save up in order to watch the 2018 FIFA World Cup in Russia not on TV, but live.
Fast forward four years, 2018, I found myself in a rather different situation. Something I didn't expect.
I'm married.
With a baby 8 months old.
It's an awesome blessing, but how would you expect a newly married man to travel all the way to Russia with an infant and to fulfill his dream to watch the FIFA World Cup?
The good thing is I married a very understanding and supportive wife! Plus, she loves travelling to. So we made it happen.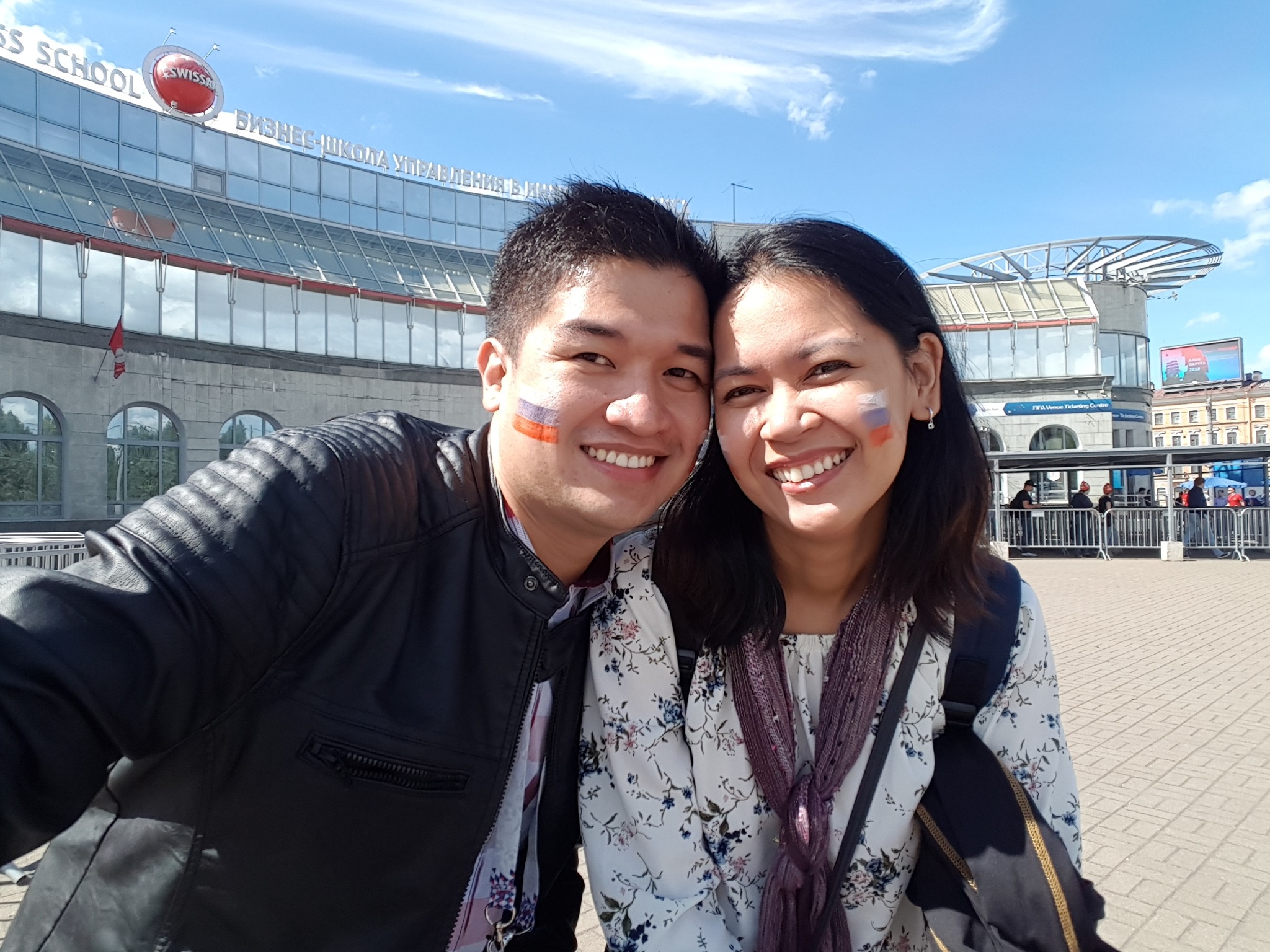 One question that would linger in your mind as you are reading this is:
Aside from the World Cup, what would a traveller see in Russia, in the first place?
Isn't it a country always being portrayed by Hollywood, news outlets and media as a villain?
Why would anyone go there? Isn't it a dangerous place?
I thought the exact same thing. My wife and entire family thought too.
But given my love for football, I just didn't care about all the "supposedly" negative comments that I've read about Russia. I thought, what the heck, YOLO, right?
My wife agreed. She was convinced that we would travel to Russia with our eight month old baby and with my brother who I made a pact with to watch the World Cup four years ago.
And it's not just the four of us. We even invited our parents to come to Russia with us. It's a family trip to remember.
The 2018 FIFA World Cup in Russia was happening in June and we were only able to decide to go there last May – which is technically a month before. Some would think that it is impossible to get tickets that late, but as if it was some sort of destiny, the stars aligned (thank God) because in a short period amount of time of one month, we were able to secure plane tickets, match tickets, train tickets and everything we needed for our trip to Russia.
We arrived in Russia, expecting and preparing for the worst, after all the negative publicity you would hear from the news. But lo and behold, all that bad impression went away and was erased as soon as we stepped down the plane.
Especially when we saw how beautiful Russia is.
Let me take you to a short tour of the top sights and must-see attractions in Russia and explain why we fell in love with the country.
State Hermitage Museum

The Hermitage Museum in Saint Petersburg in Russia is the second largest museum in the world.
It houses the artist Rembrandt's well renowned painting, "The Prodigal Son".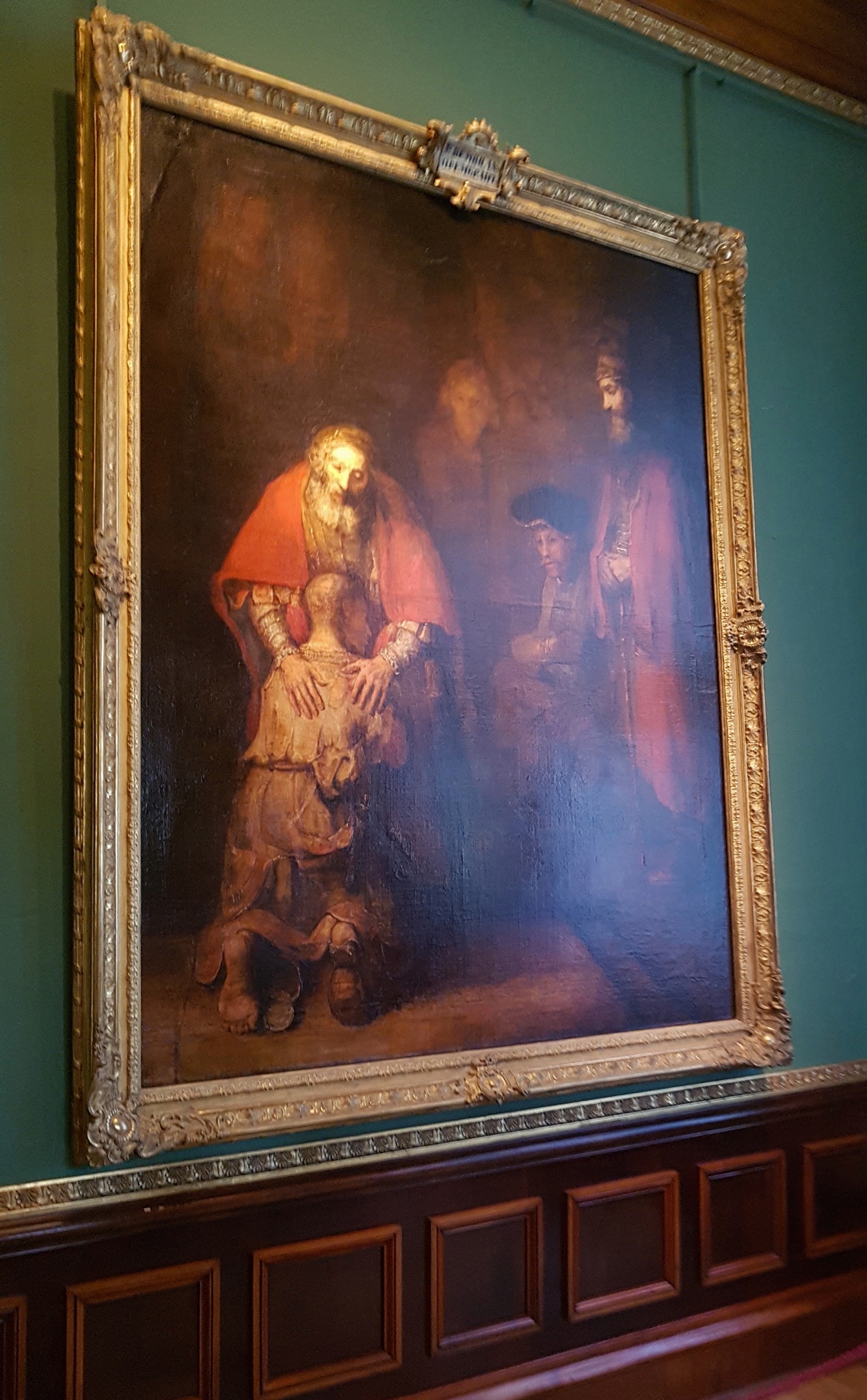 And one of Da Vinci's masterpieces: The Madonna Litta.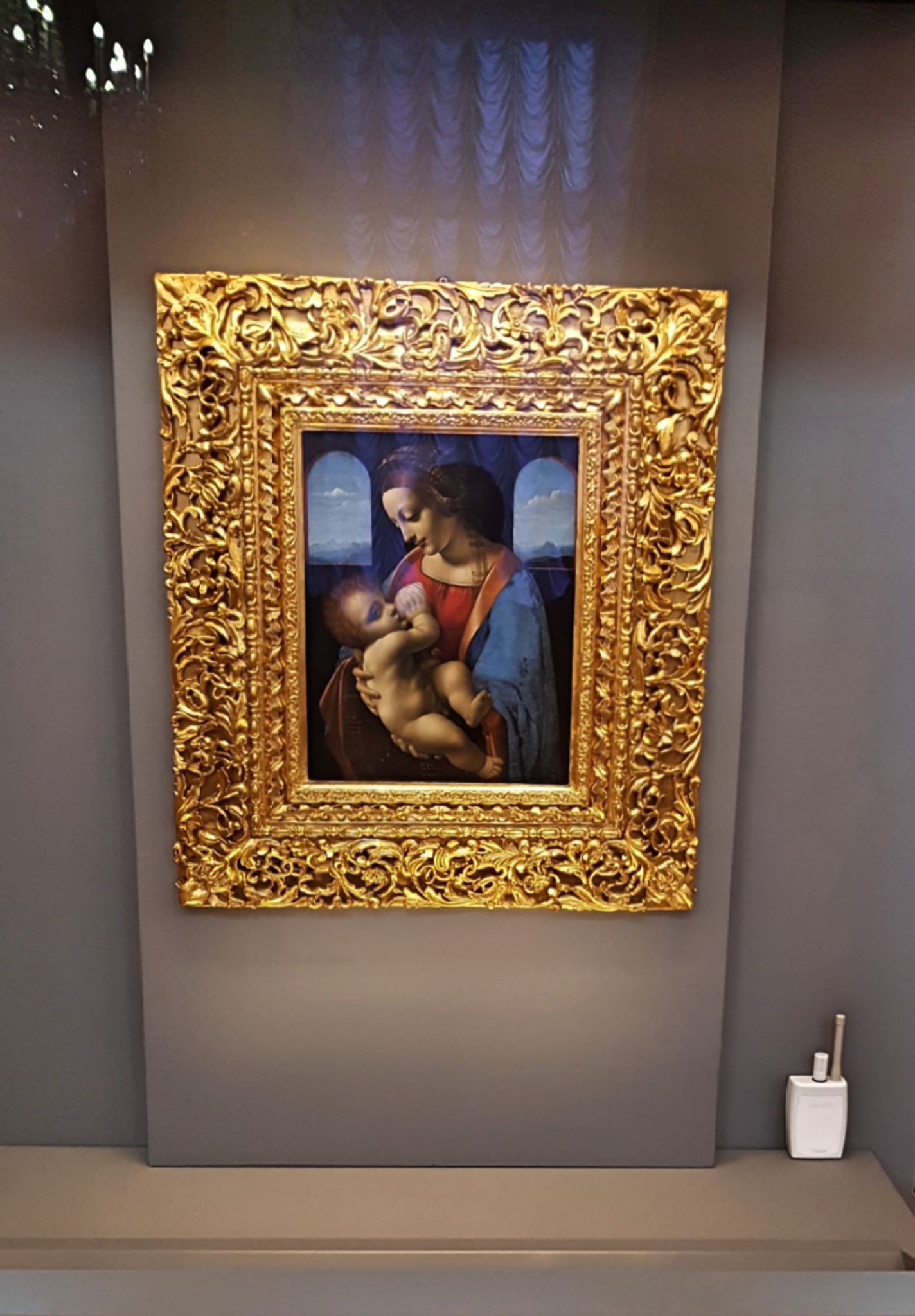 If you find the outer appearance of The Hermitage majestic already, wait until you get inside.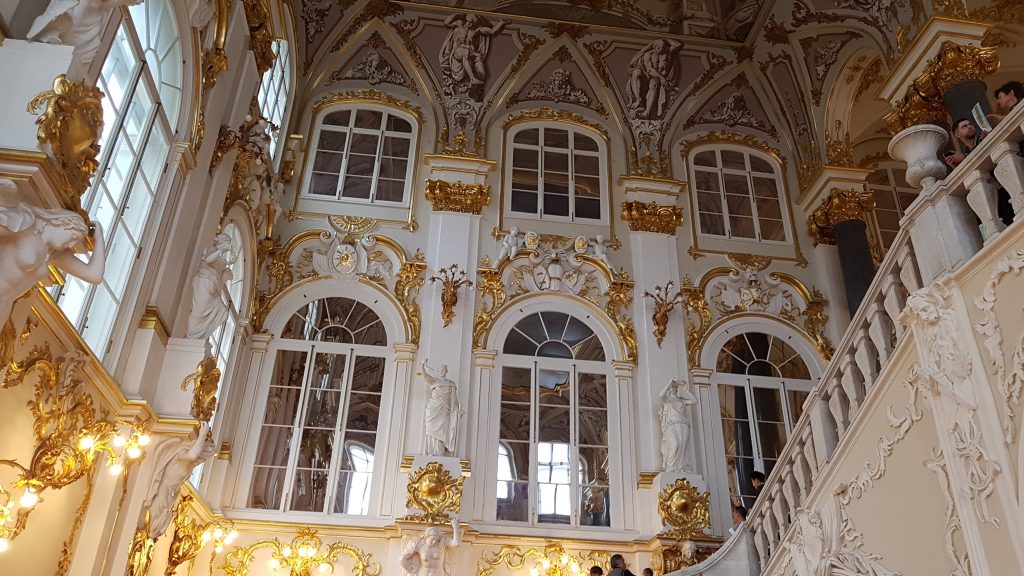 I couldn't help myself not to take a selfie.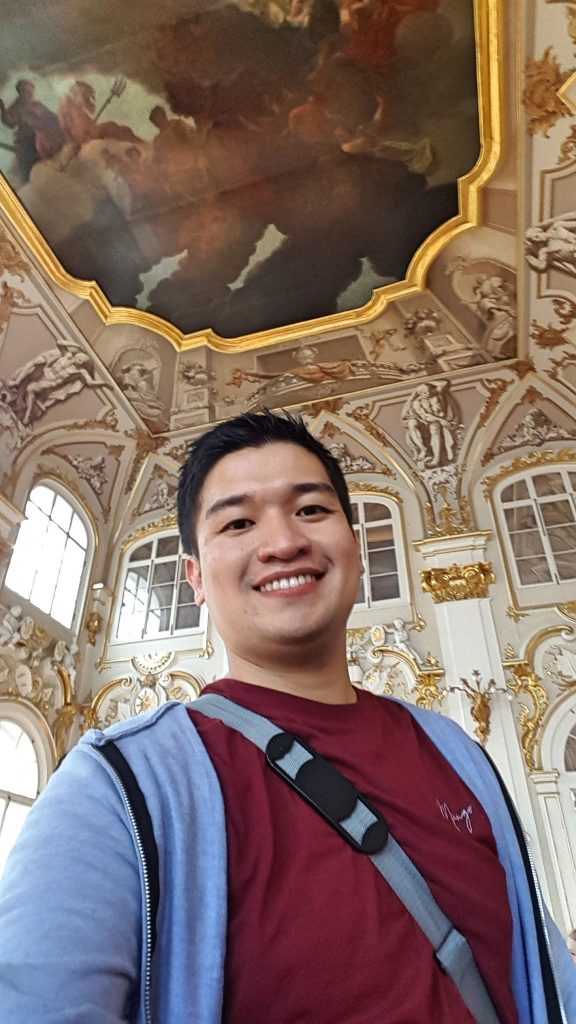 Every turn you make, you'll find something beautiful.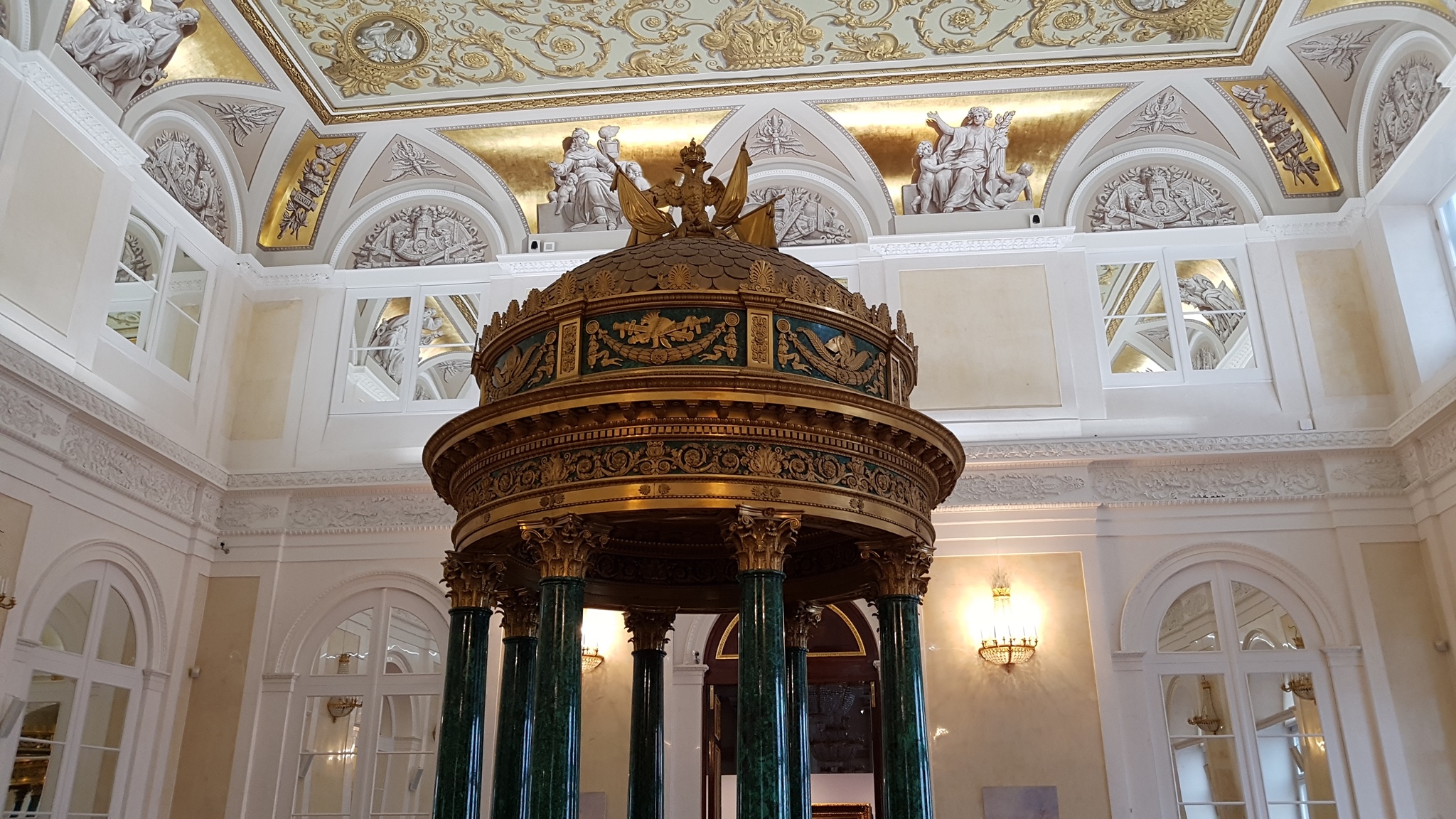 Saint Isaac's Cathedral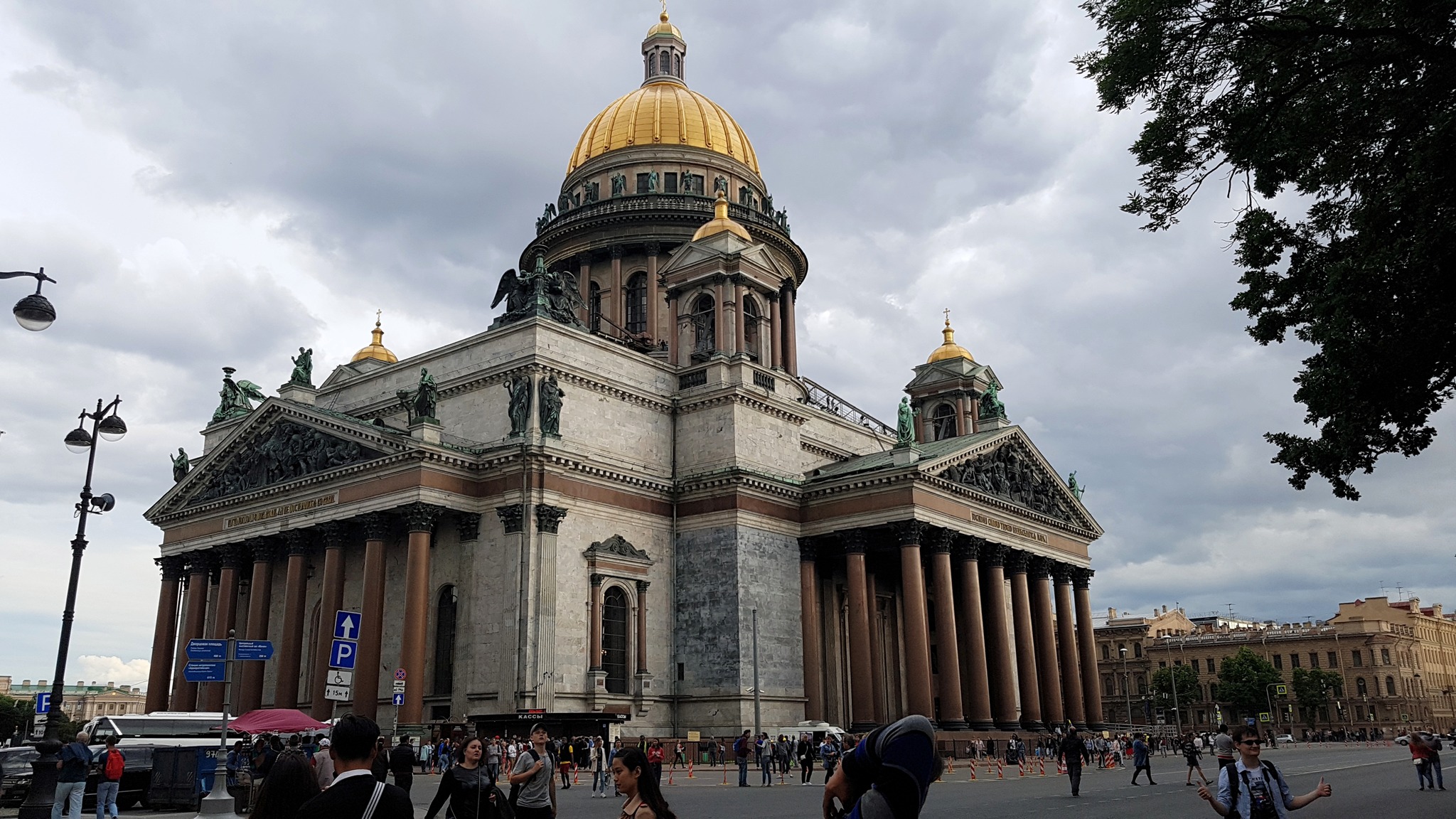 Walking distance from The Hermitage Museum, Saint Isaac's Cathedral is the largest Orthodox Basilica in the World.
The Peterhof Palace
Two hours away from Saint Petersburg city proper, you will find The Peterhof Palace.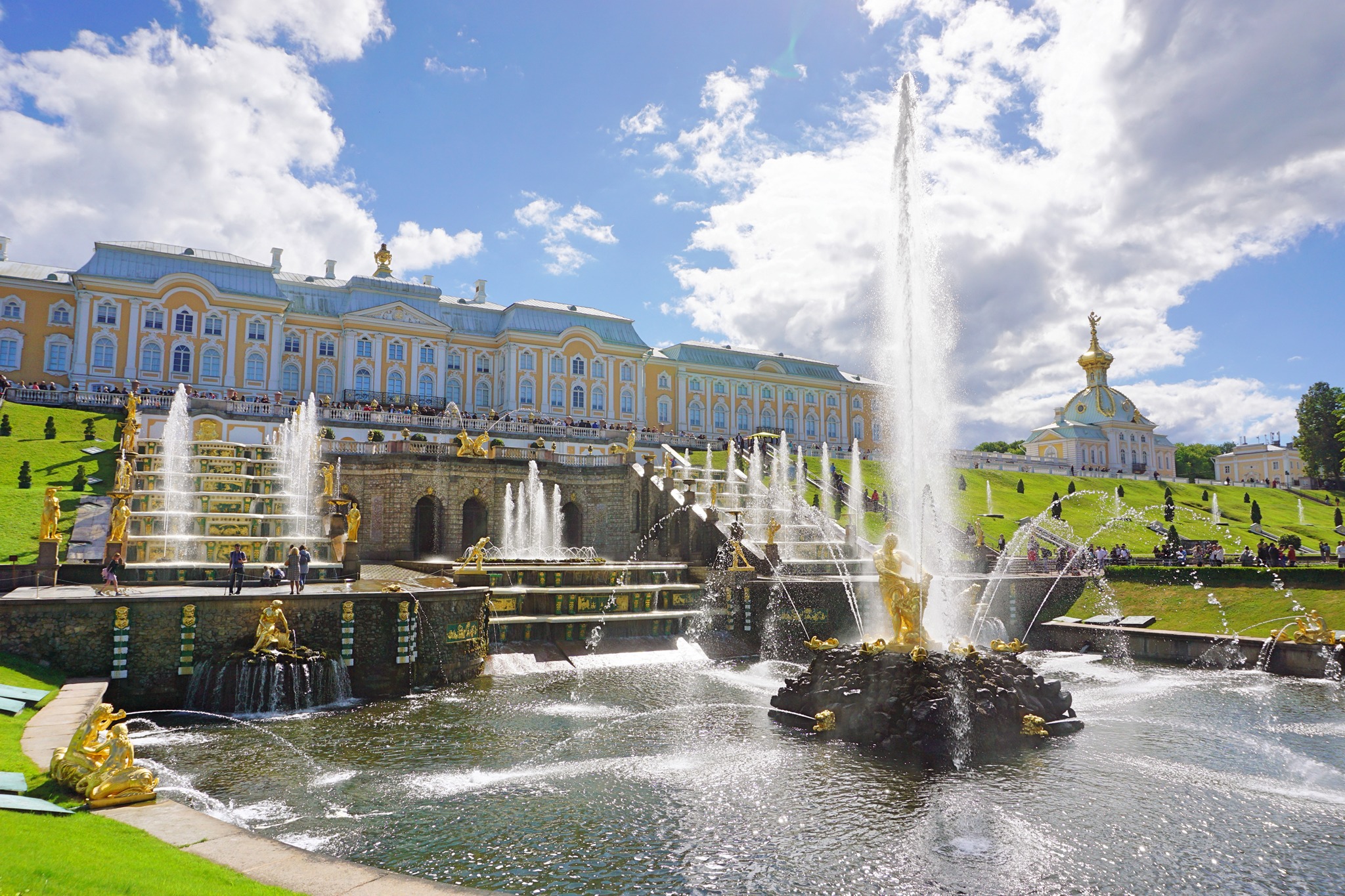 The Peterhof Palace is a picturesque series of palaces built by Peter the Great, the founder of Saint Petersburg and the first tsar (Russian monarch) back in the day. This is where he stayed during the summer.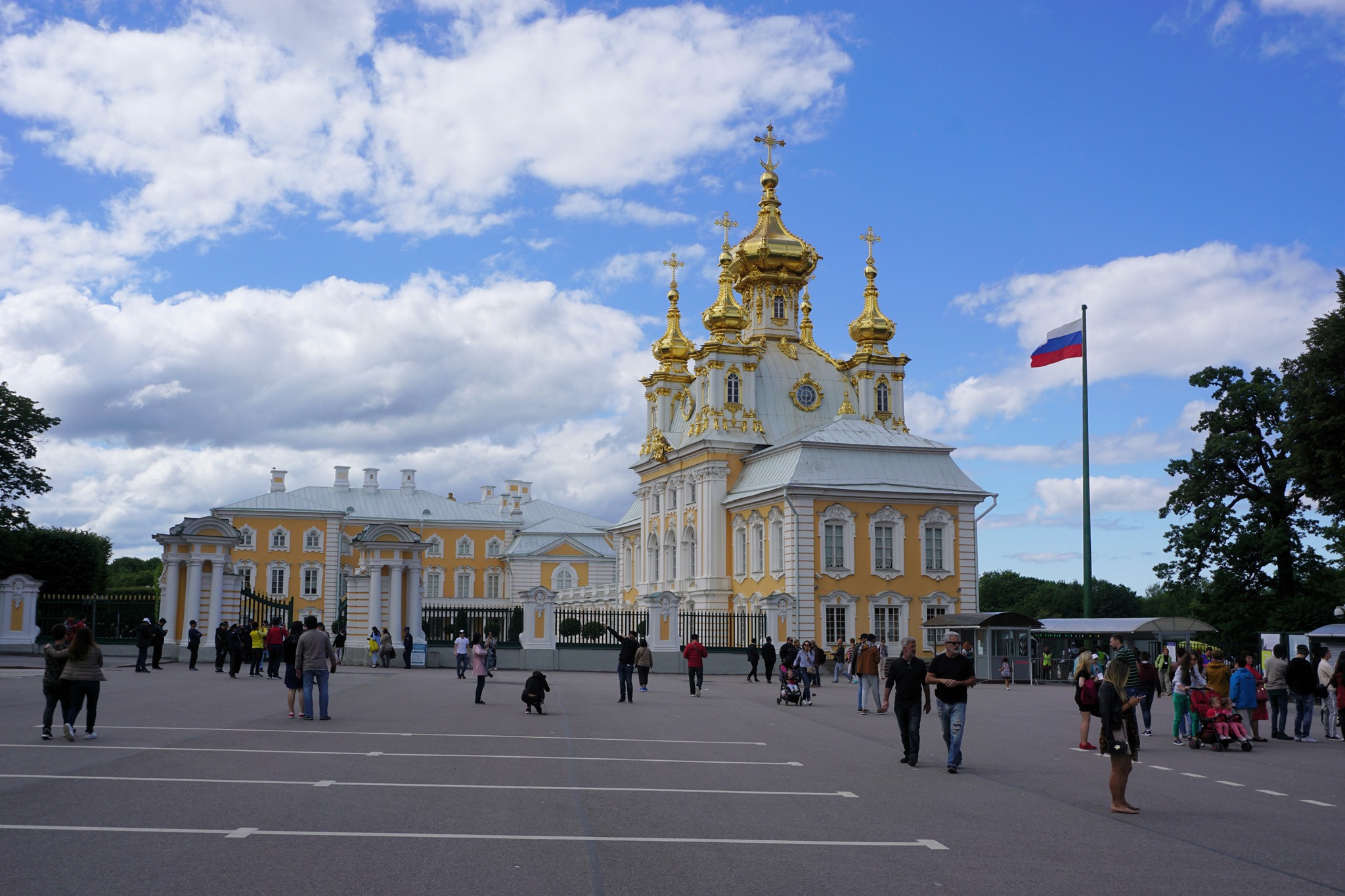 The place is actually a UNESCO World Heritage site.
Church of Savior on Spilled Blood
At the heart of Saint Petersburg stands a church built in memory of Alexander II, the Russian emperor who was assassinated at the exact place where the church stands – hence, the name Church of Savior on Spilled blood.
The church is not being used for liturgical services anymore, but more of a museum. It is a huge museum of mosaics.
Peter and Paul Fortress
Peter and Paul fortress is the citadel of Russia back when Saint Petersburg was the capital city and not Moscow.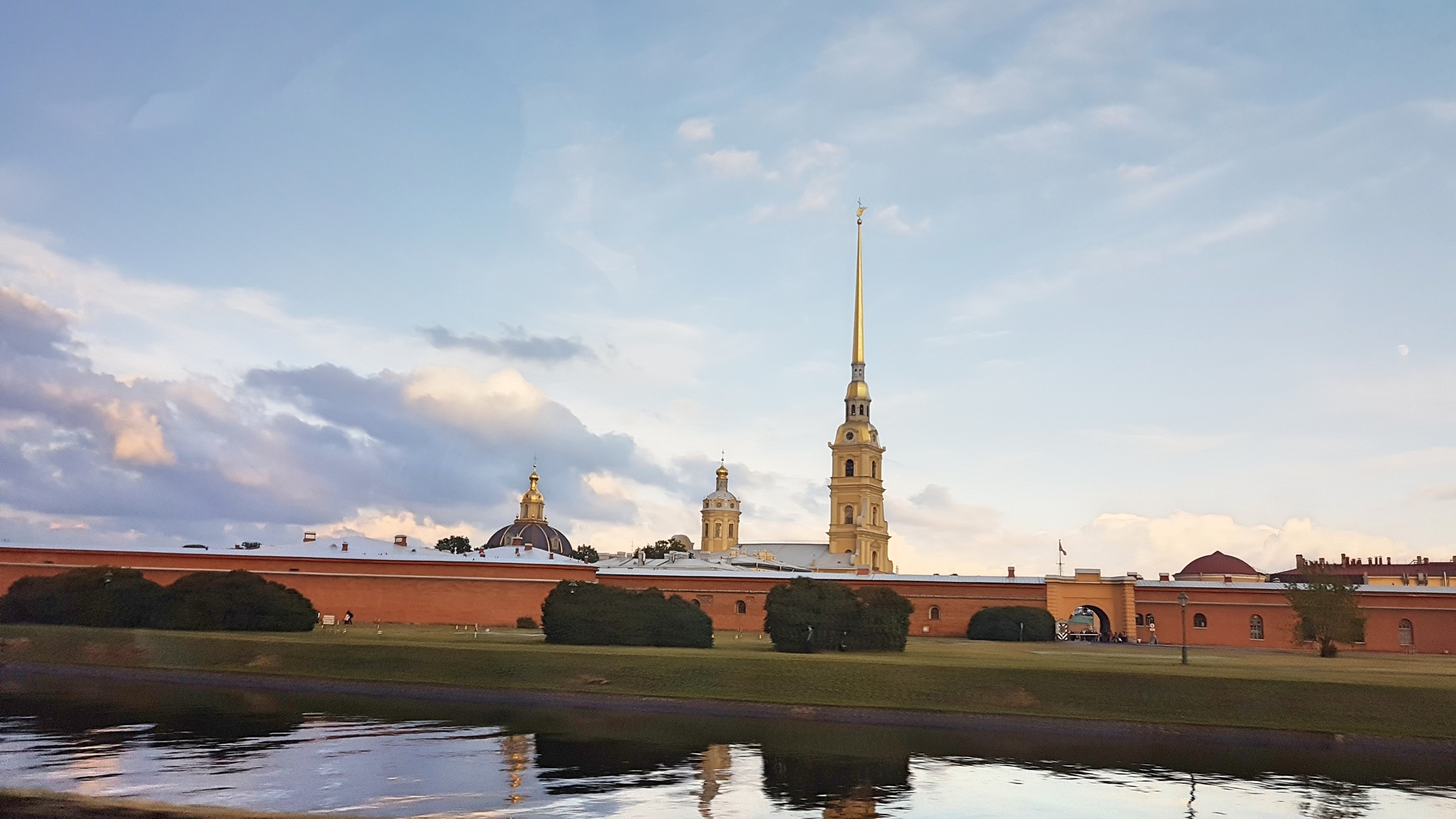 Think of it as the "Intramuros" of Russia back in the day. Today, it serves as a museum.
The Bridges of Saint Petersburg
If you think that London is the only city where bridges open up to let ships pass by underneath, then think again.
Saint Petersburg has many bridges like this one (sorry, bad picture because it was raining), which opens in the evenings to let tall ships pass through.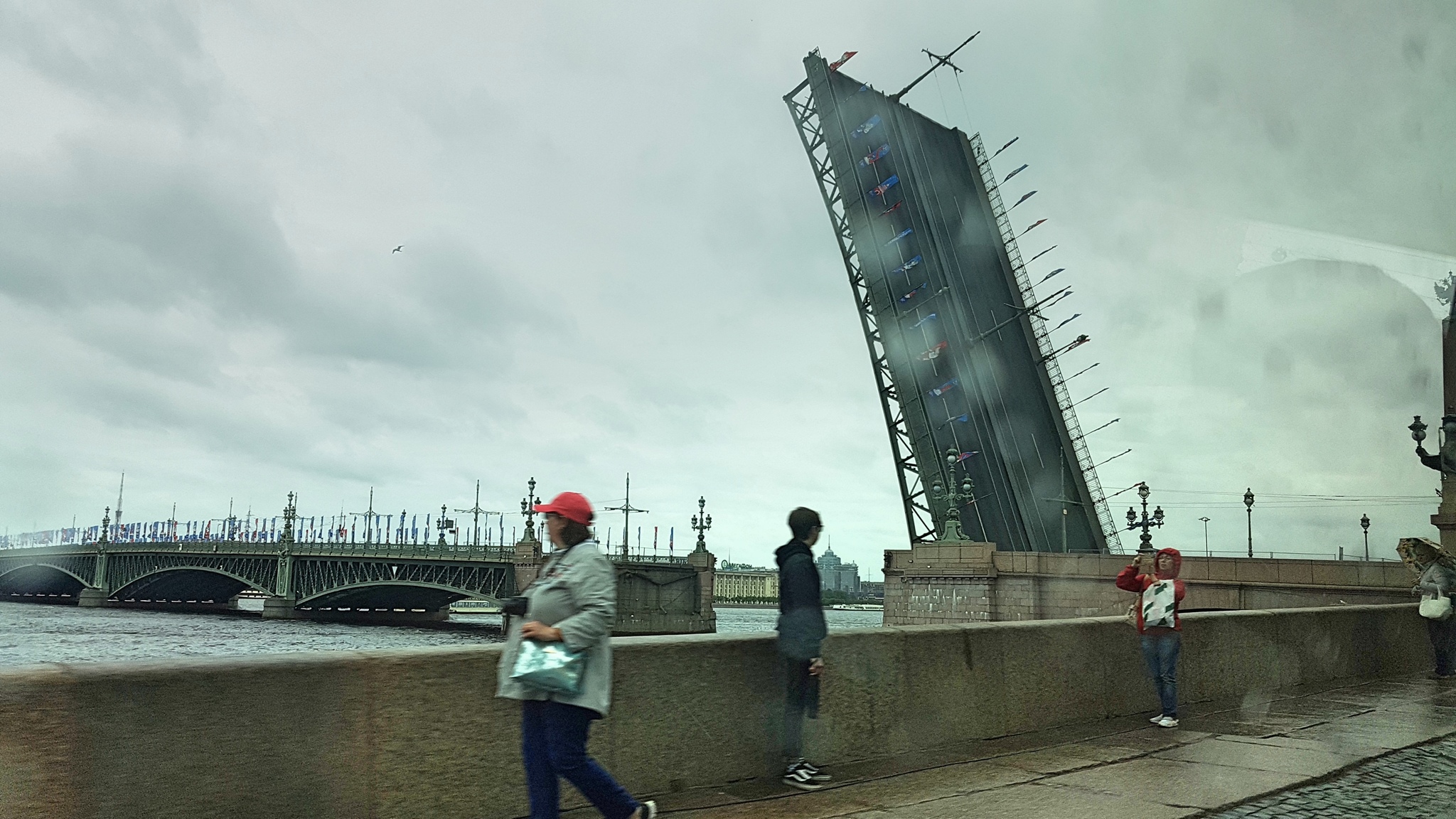 The river where these bridges stand is so postcard-worthy that I made sure to change our itinerary to go back to the same place one more time to capture photos of it on a bright and sunny day.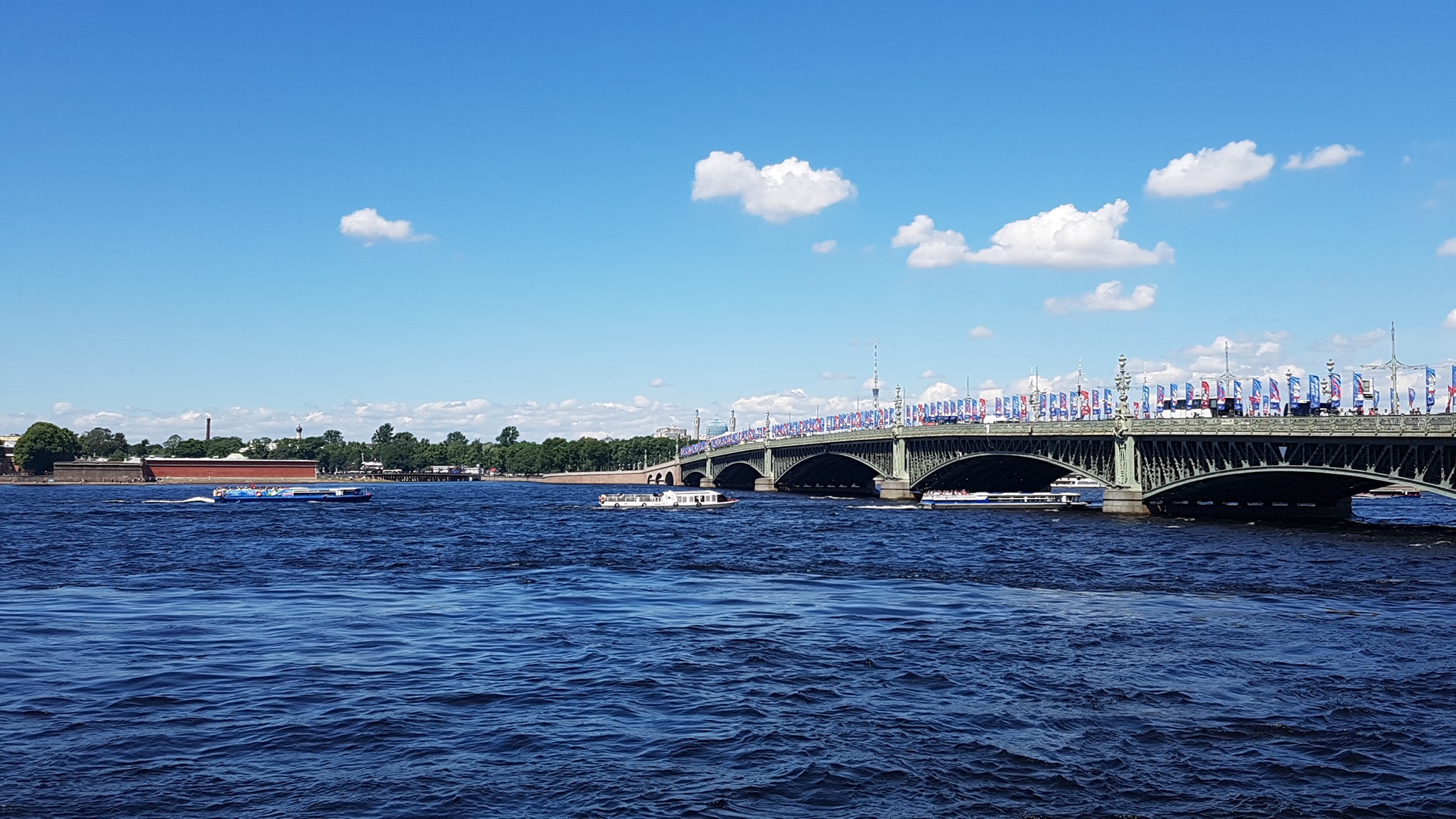 I also made sure to take a quick photo on a moving vehicle at the golden hour. I just couldn't get enough of it.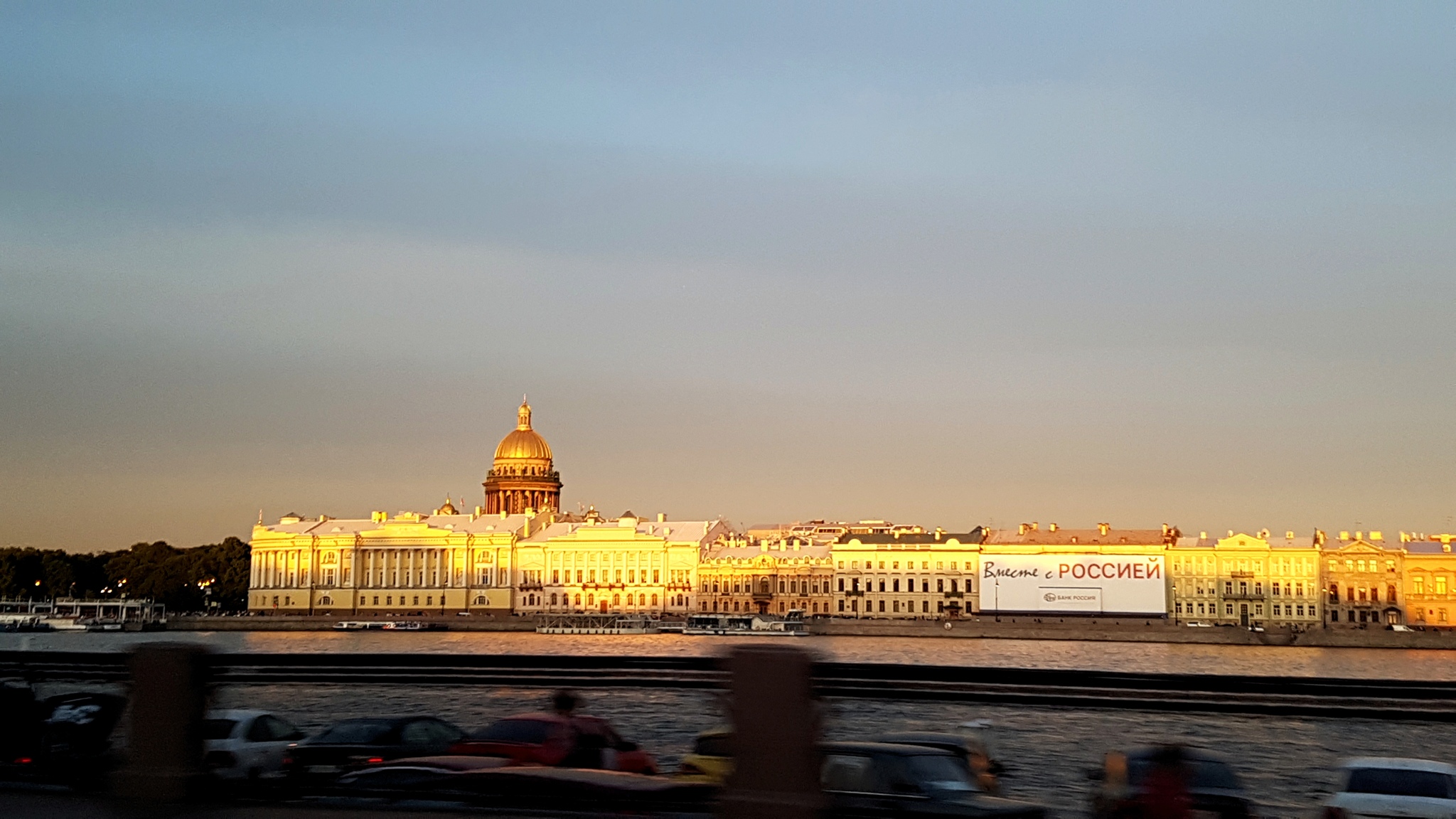 It's so romantic and splendid isn't it? It gives you the Paris or Venice vibe. Who would ever think that Russia has something like this?
Sapsan Trains
Transportation in Russia is usually by trams, buses and trains.
And because Russia is the world's largest country hosting the World Cup, the football matches are held in different cities which span miles and miles apart.
In order to get from one city to another, we rode the Sapsan High Speed Train. It's the bullet train of Russia.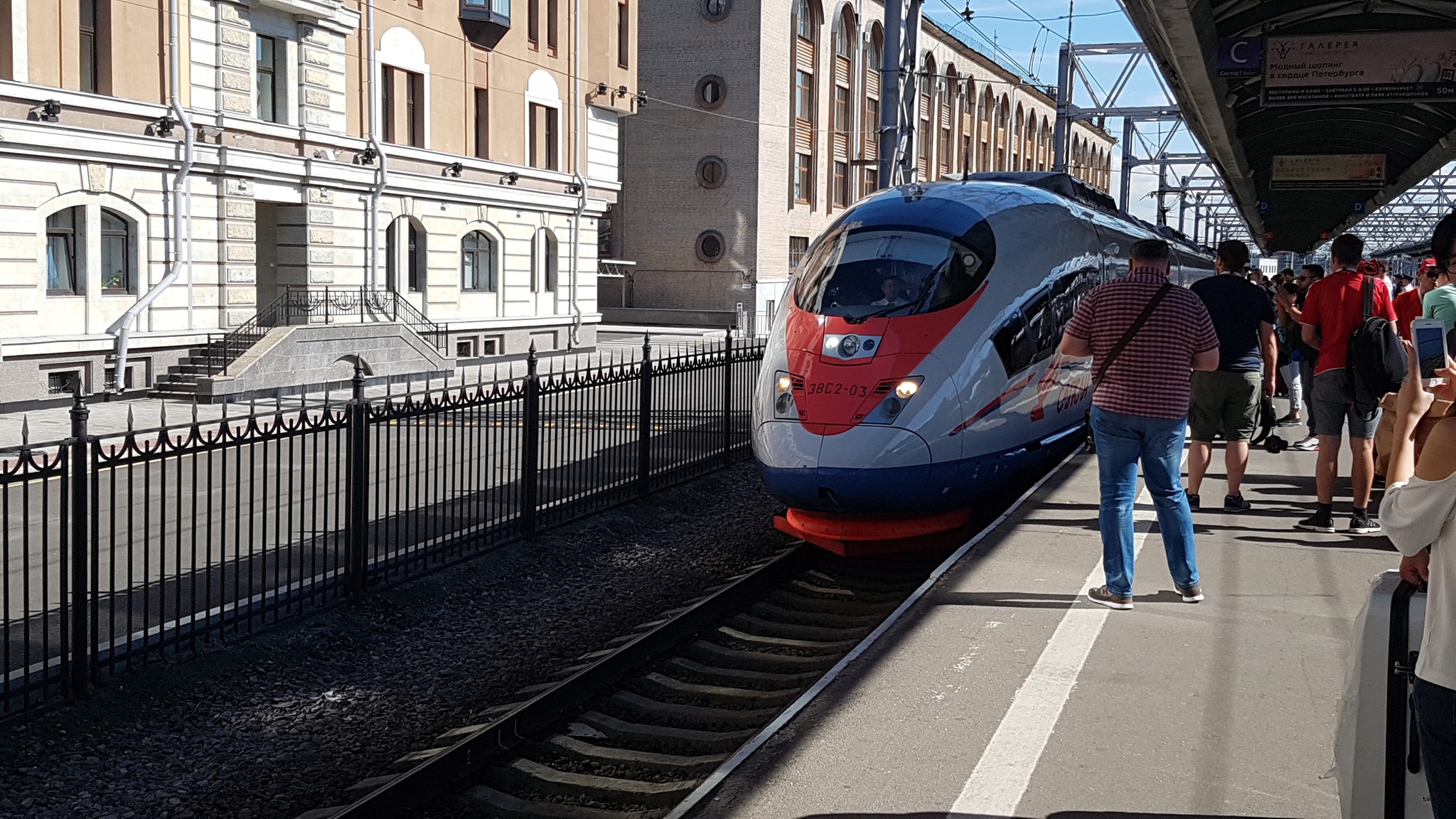 The Sapsan Train can go up to speeds of 250km/hour. We went from Saint Petersburg to Nizhny Novgorod (the two cities are over 1,100 km apart) to watch a football match and it took us about 8 hours to go there. It would normally take 22 hours via ordinary trains.
The trains are on time and the service is topnotch. All tickets can be booked online.
Red Square and Moscow Kremlin
In Russia's present day capital, Moscow, you will find the Red Square and the Moscow Kremlin which is the official residence of the President of Russia.


Izmailovo Flea Market
From the outside, the Izmailovo Flea Market looks like a children's fantasy castle.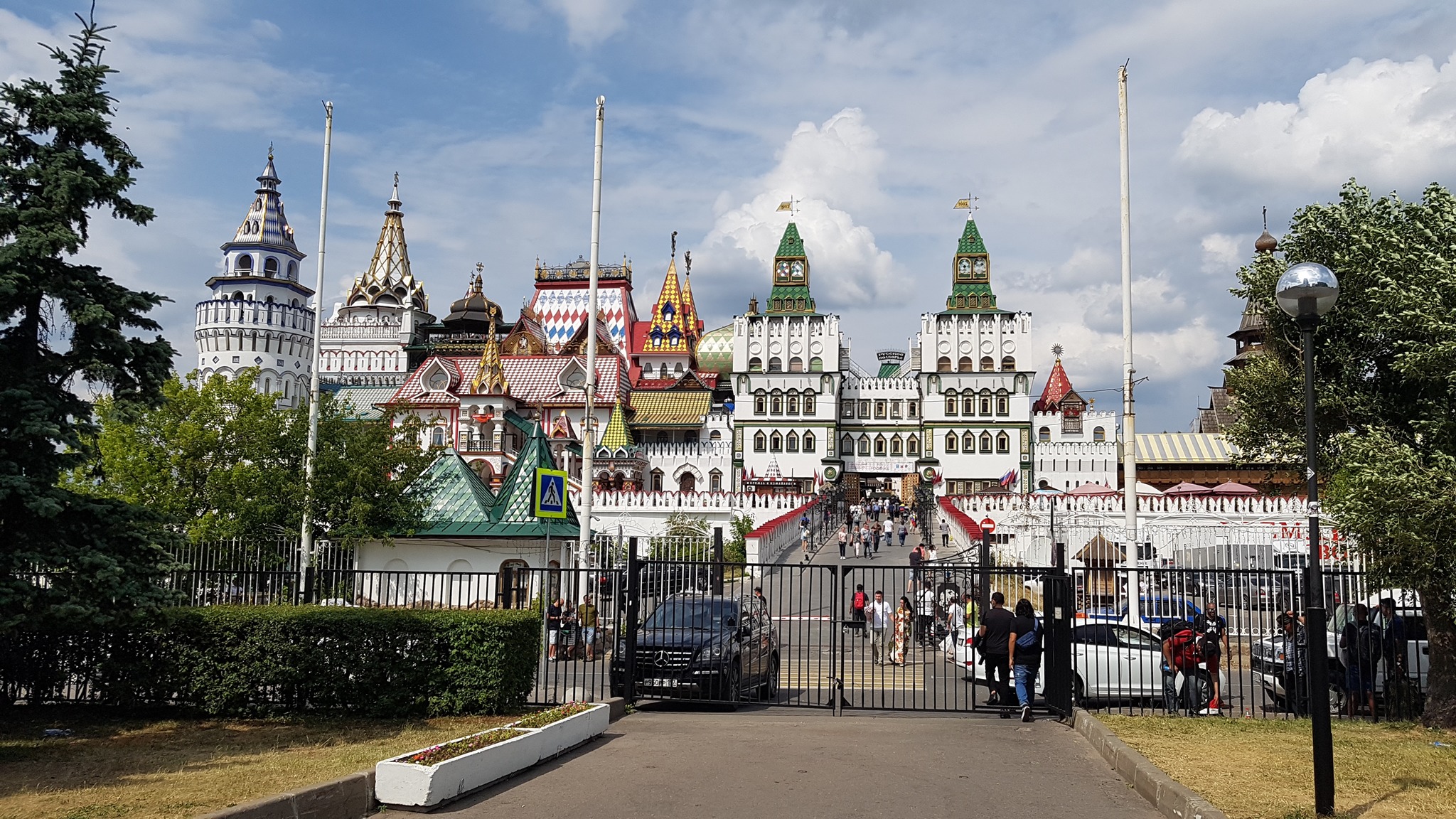 Inside, it showcases replicas of museums and it is also the place where you could buy local art and cultural finds. It is one of the nicest places to buy souvenirs in Moscow.
The Matryoshka Dolls
If there is one souvenir that your girlfriends would like from Russia, it would be none other than these dolls.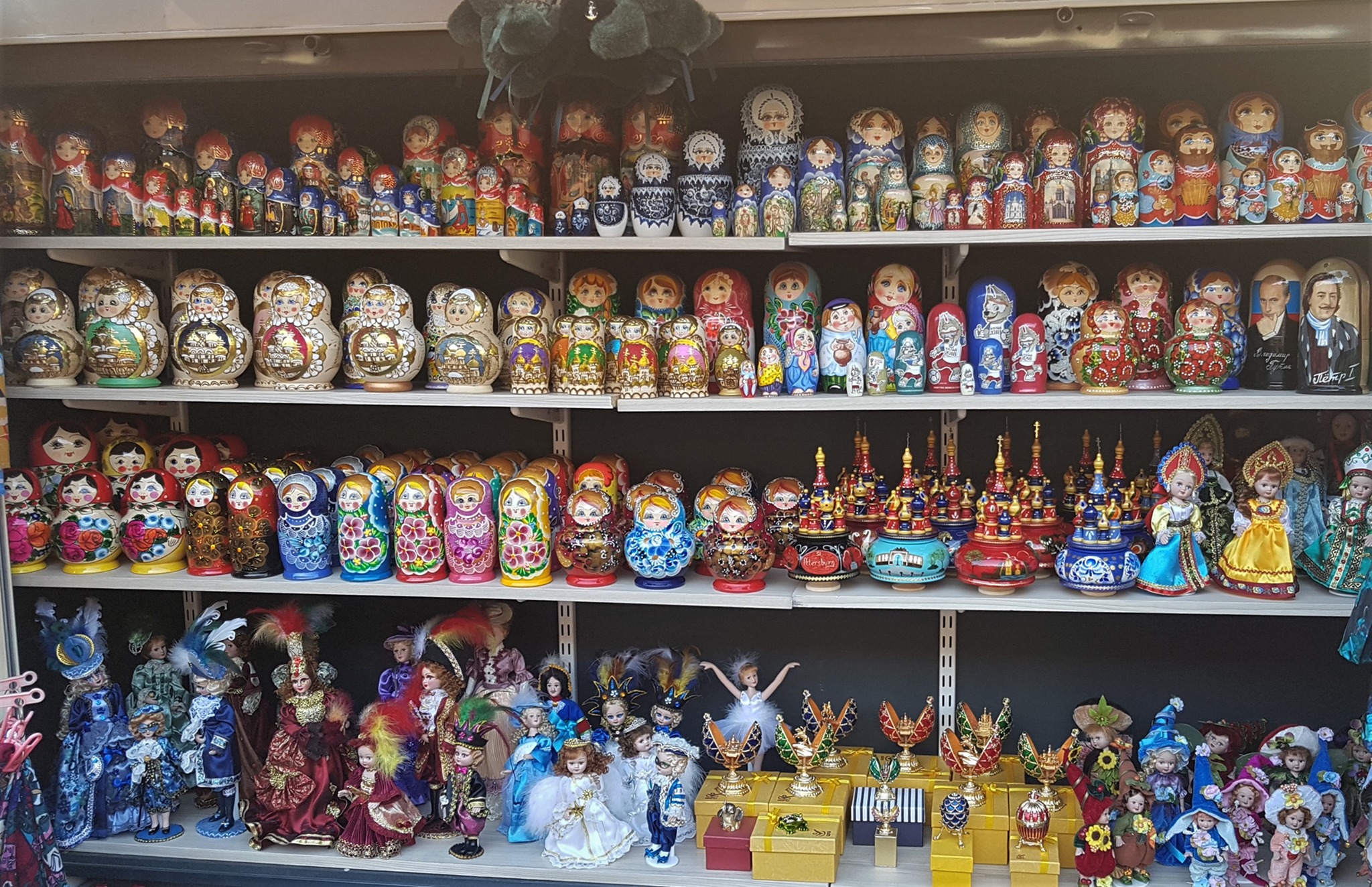 Called the matryoshka doll, these dolls are a set of stacking dolls decreasing in size placed one inside the other. Each doll set consists of 10 dolls going smaller and smaller in size.
Gum Department Store
One of the most upscale department stores you would find in Moscow is GUM.
It looks so magical because it has Christmas lights everywhere, and yes, the lights lit up even in July when we were there.
During the FIFA World Cup, the fountains inside their malls were filled with footballs, like these.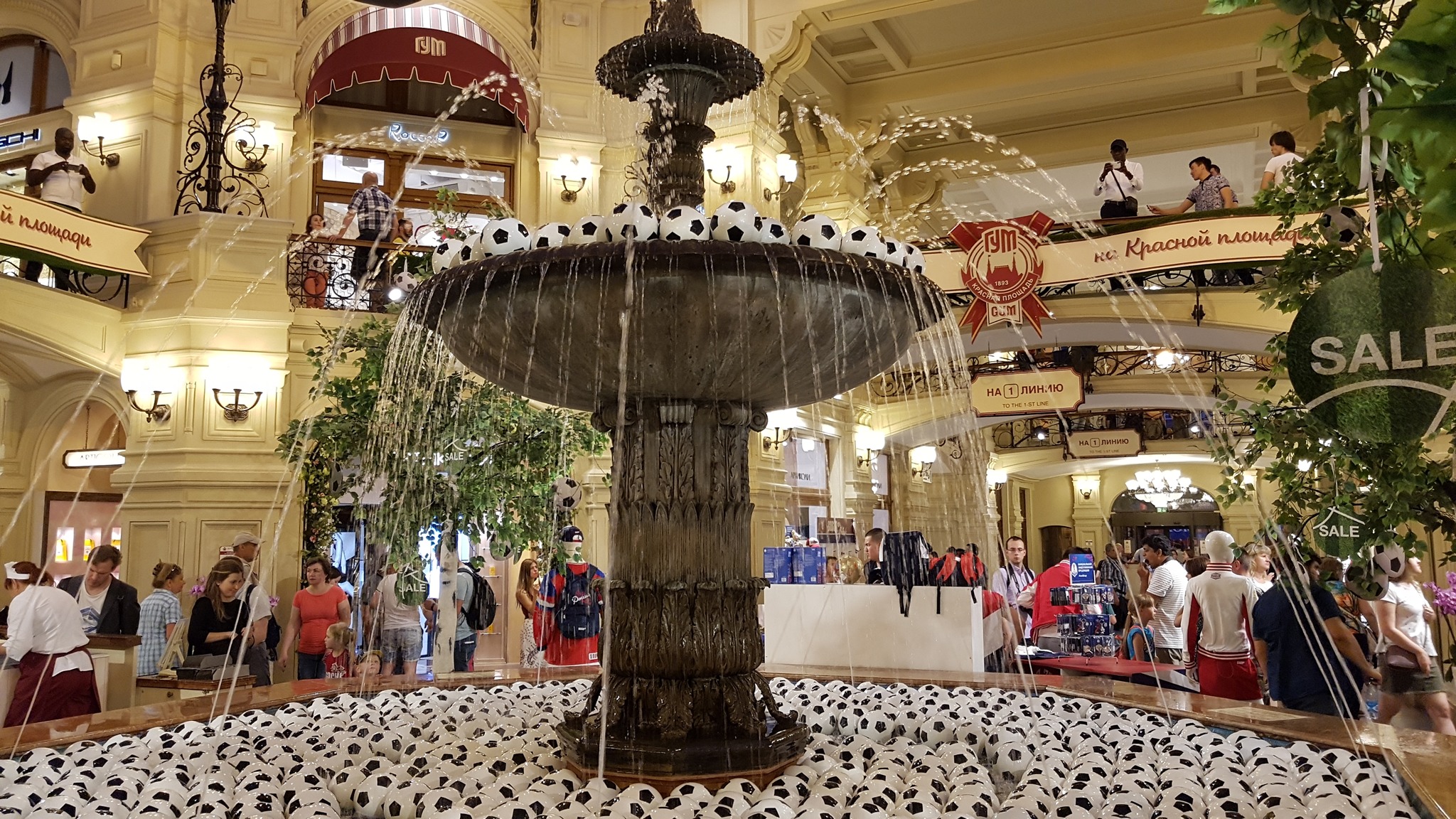 Saint Basil's Cathedral
If there is one attraction that you should never ever miss, it is the Saint Basil's Cathedral which is the most famous landmark of Russia.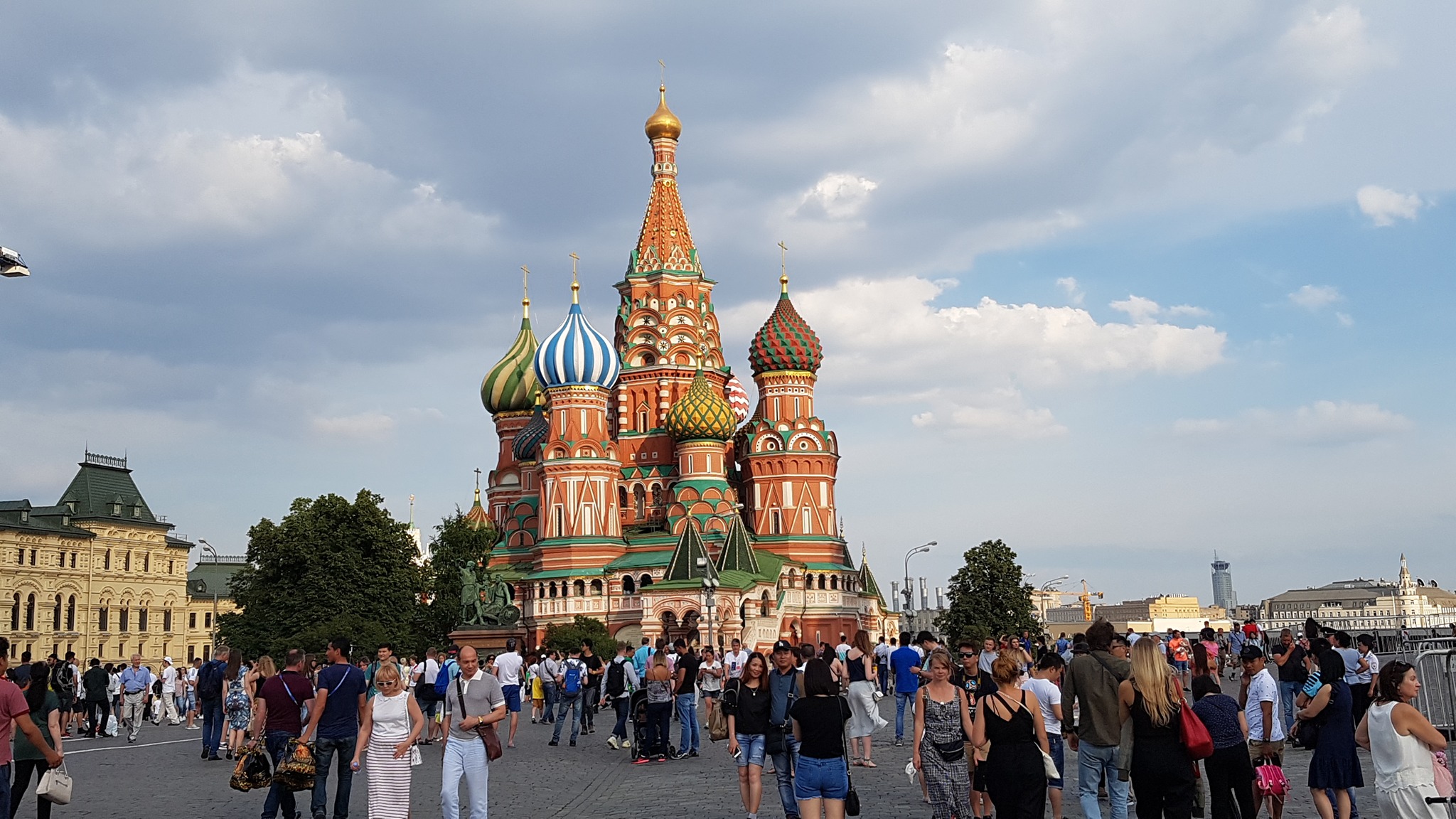 Nobody would believe you are in Russia if you don't take a mandatory photo of the beautiful church with colorful, onion-shaped domes.
According to legend, the architect of this church was blinded by Russia's monarch back in the day so that he wouldn't be able to create anything as beautiful.
The Highlight: The FIFA World Cup Experience
Now that we're almost at the end, you would wonder: How was my FIFA football experience?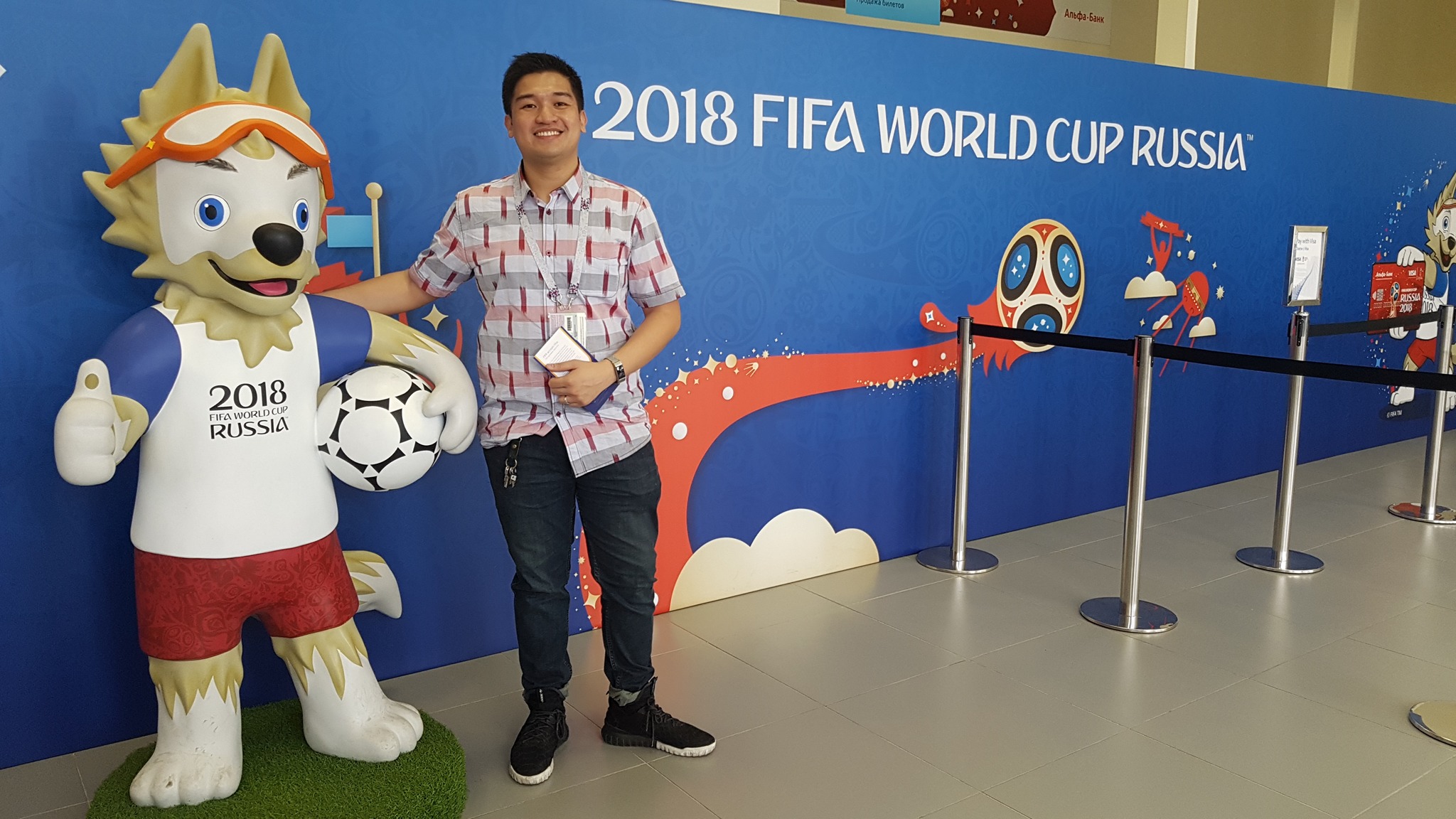 Well, I saved the best for last in this write-up. Because it was indeed, the best part of going to Russia. It's the main event.
We arrived in Nizhny Novgorod (one of the host cities of the FIFA World Cup) via Sapsan Train to watch the event. Here is how the humongous stadium looked like.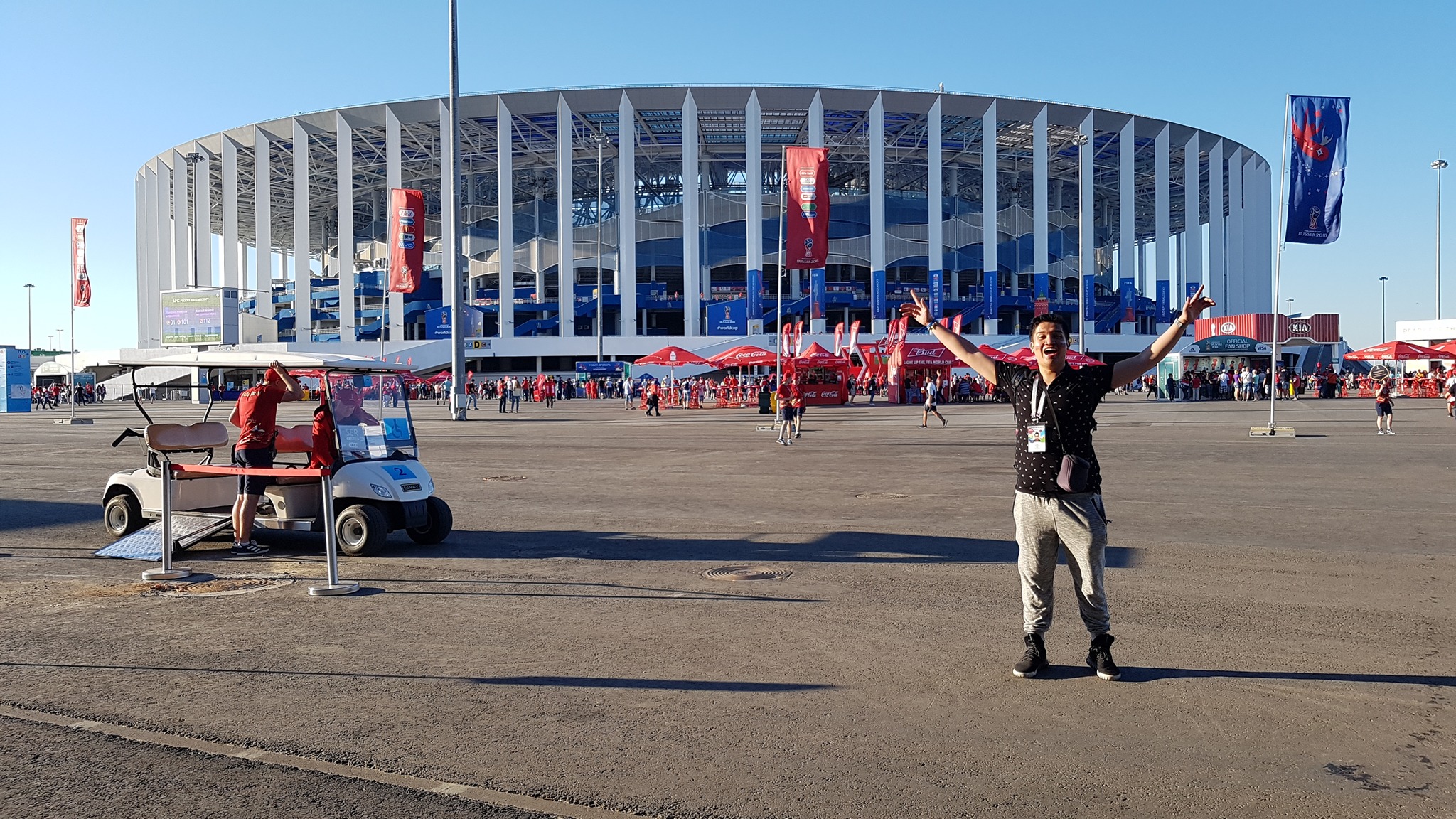 Seeing the brand new stadium literally gave me chills. It was a dream, four years in the making. Actually more like a lifetime in the making.
The stadium has a capacity of 43,319 people and this is how it looked like from the inside. It is the largest stadium I have ever set my feet and eyes on.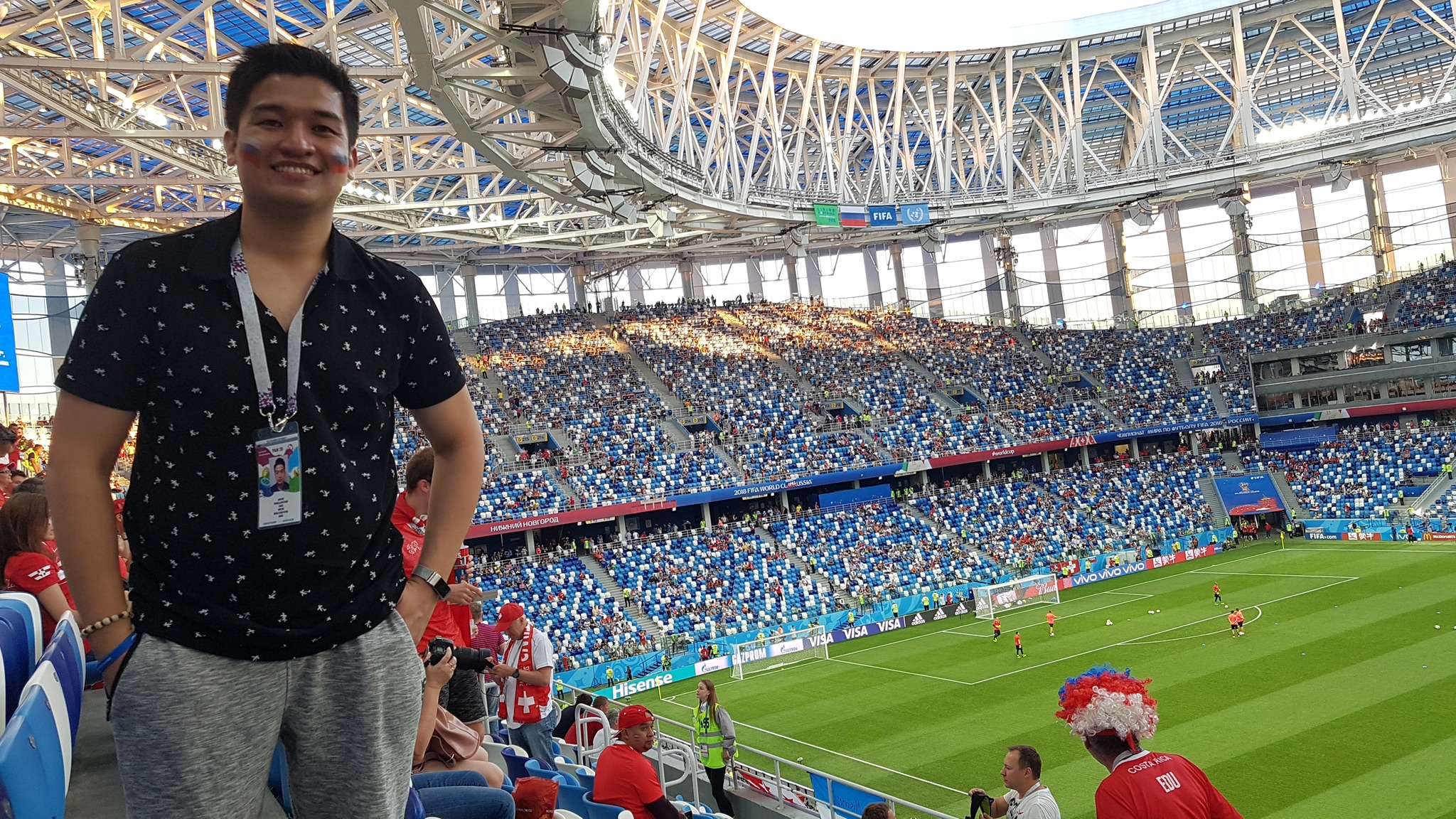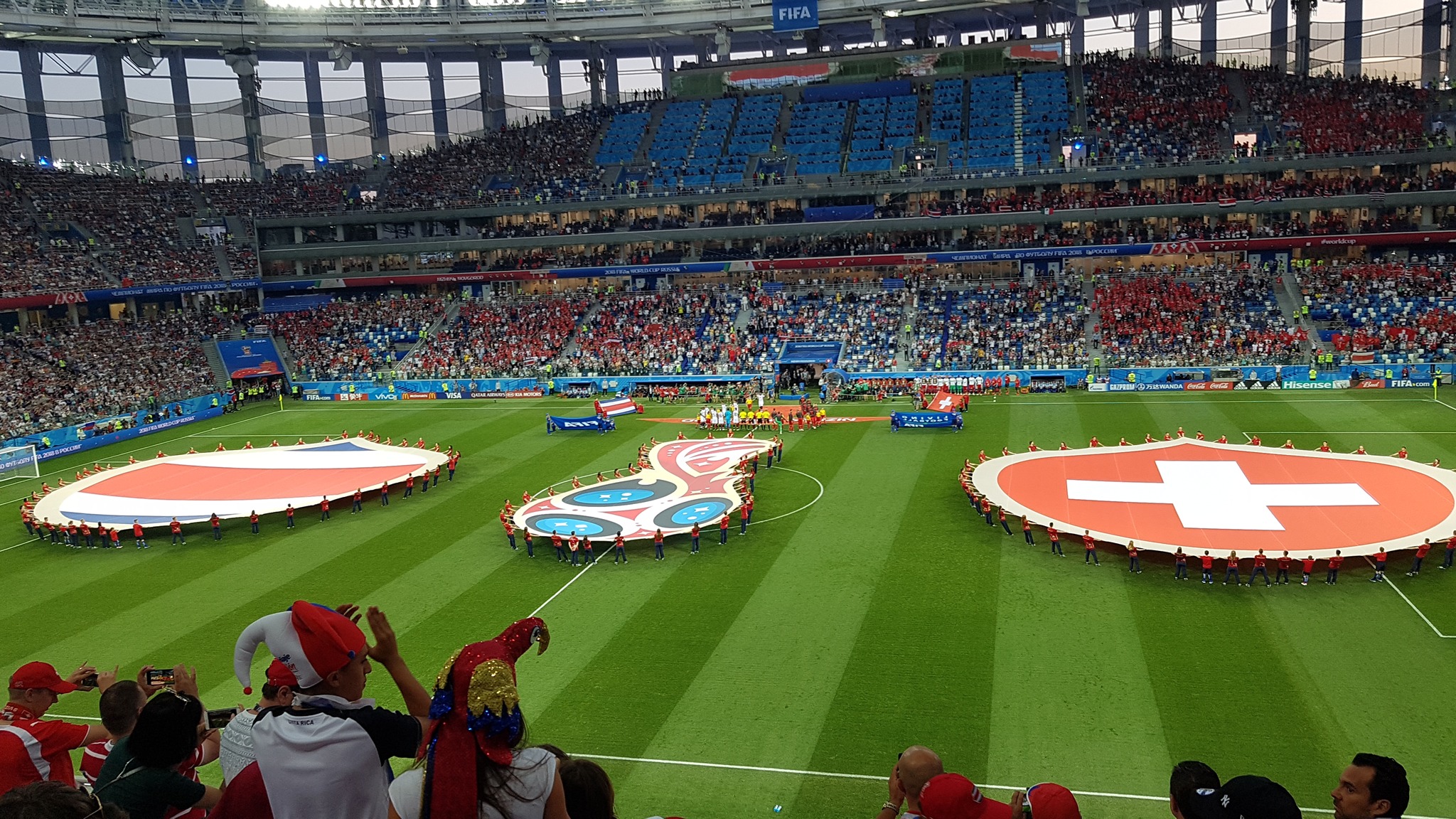 We watched the thrilling Switzerland vs. Costa Rica Group Stage Match and here is one word that best describes my experience: Legendary!
There is nothing like watching the FIFA World Cup Live. It's the real deal.
You don't see everything on TV and there is something about joining the crowd and cheering for your favorite team that gives me goosebumps.
Spoiler alert, here are just a few things you miss when you just watch it on TV and not live at the stadium.
For every goal, a music is played. Just like what you'll see and hear here:
There is nothing as thrilling like the free kick when you're inside the stadium.
Other spectators from different countries will make friends with you.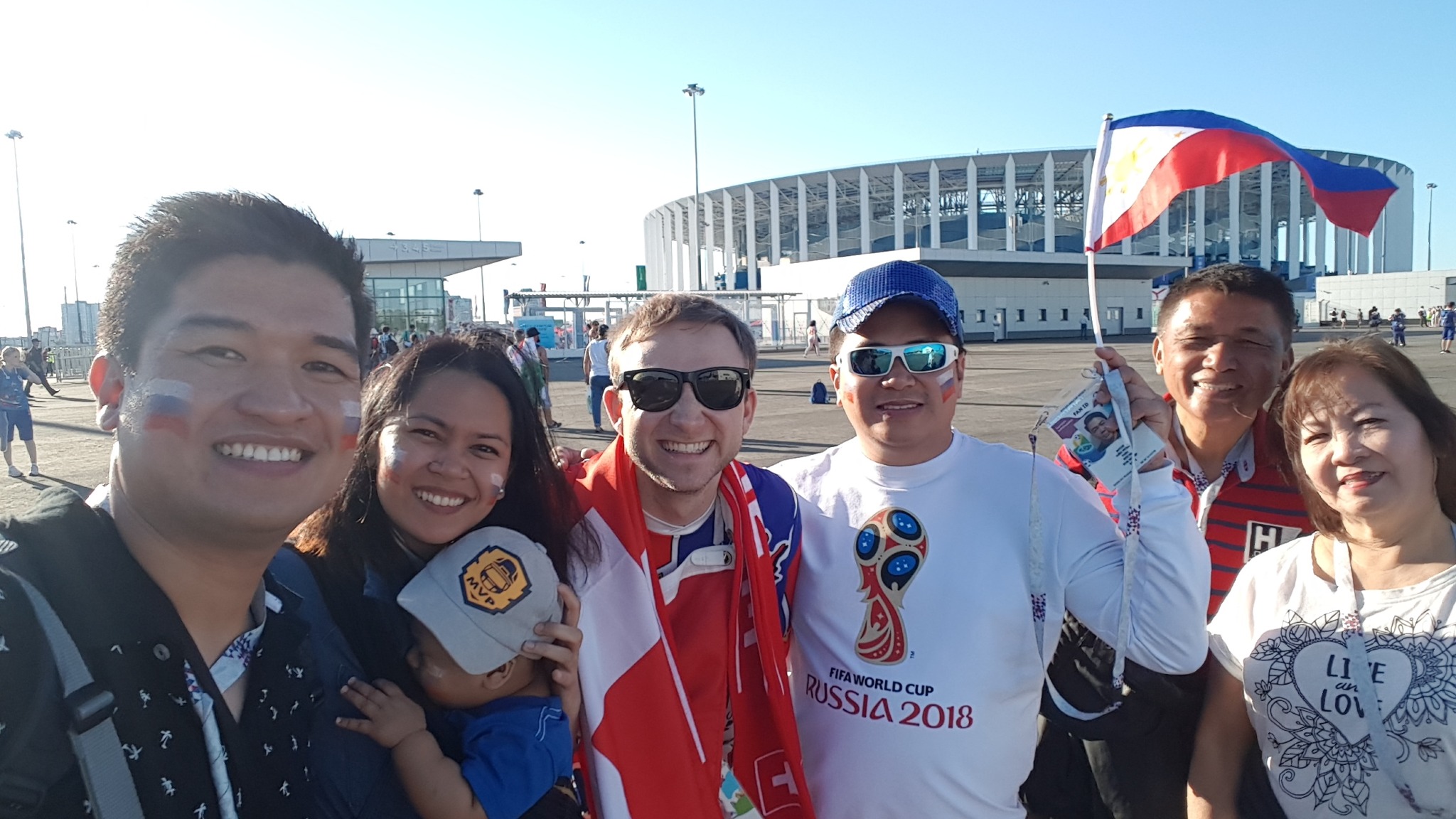 Joining the "WAVE" of the crowd inside the stadium is part of the whole experience. That's one of the reasons why you buy the ticket in the first place.
The passion of fans you see in the stadium explains why football is the most popular sport in the world and why I think that my fellow Filipinos are missing out when football gets ignored as a sport in our country.
The spirit of football in the streets of Russia during FIFA FAN Fests is contagious.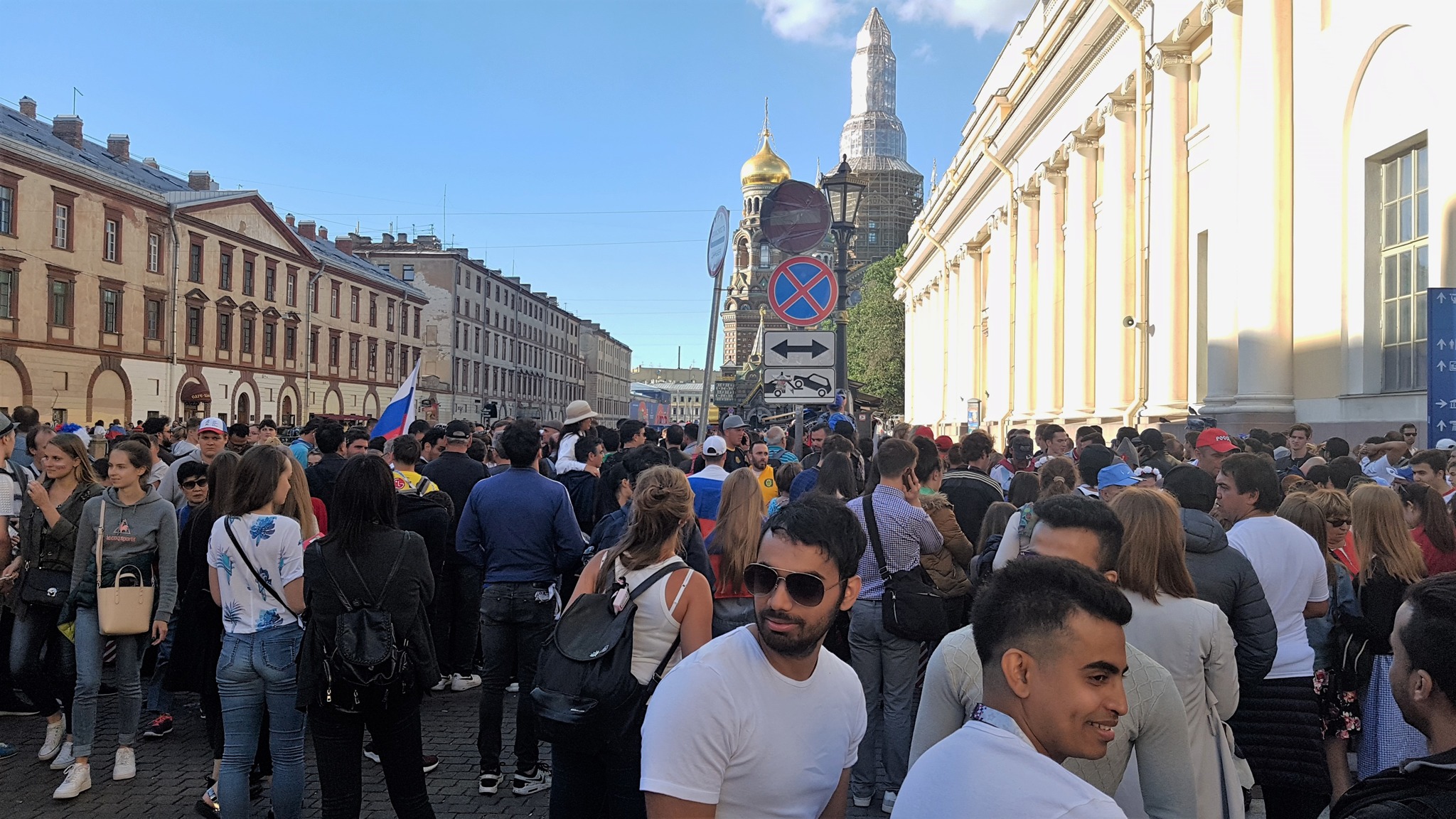 Plus the cheerful crowd and the gorgeous looking people.
There is nothing like it and if you are one of the few Filipino guys who love football, please do yourself a favor and save up to watch the next FIFA World Cup live in the same way that I did. Trust me, it is an experience that you will never forget and one which you should include in your bucket list.

A Renewed Impression of Russia
The common impression is that Russians are unfriendly. While that is true for some, not everyone is like that, and there is always an exception to the rule. We've met friendly Russians and I found out that despite having a language barrier (Russians hardly speak English and their alphabet is way different than the English one), I found it thoughtful that some Russians would make the extra effort to use Google translate to have a conversation with foreigners like us.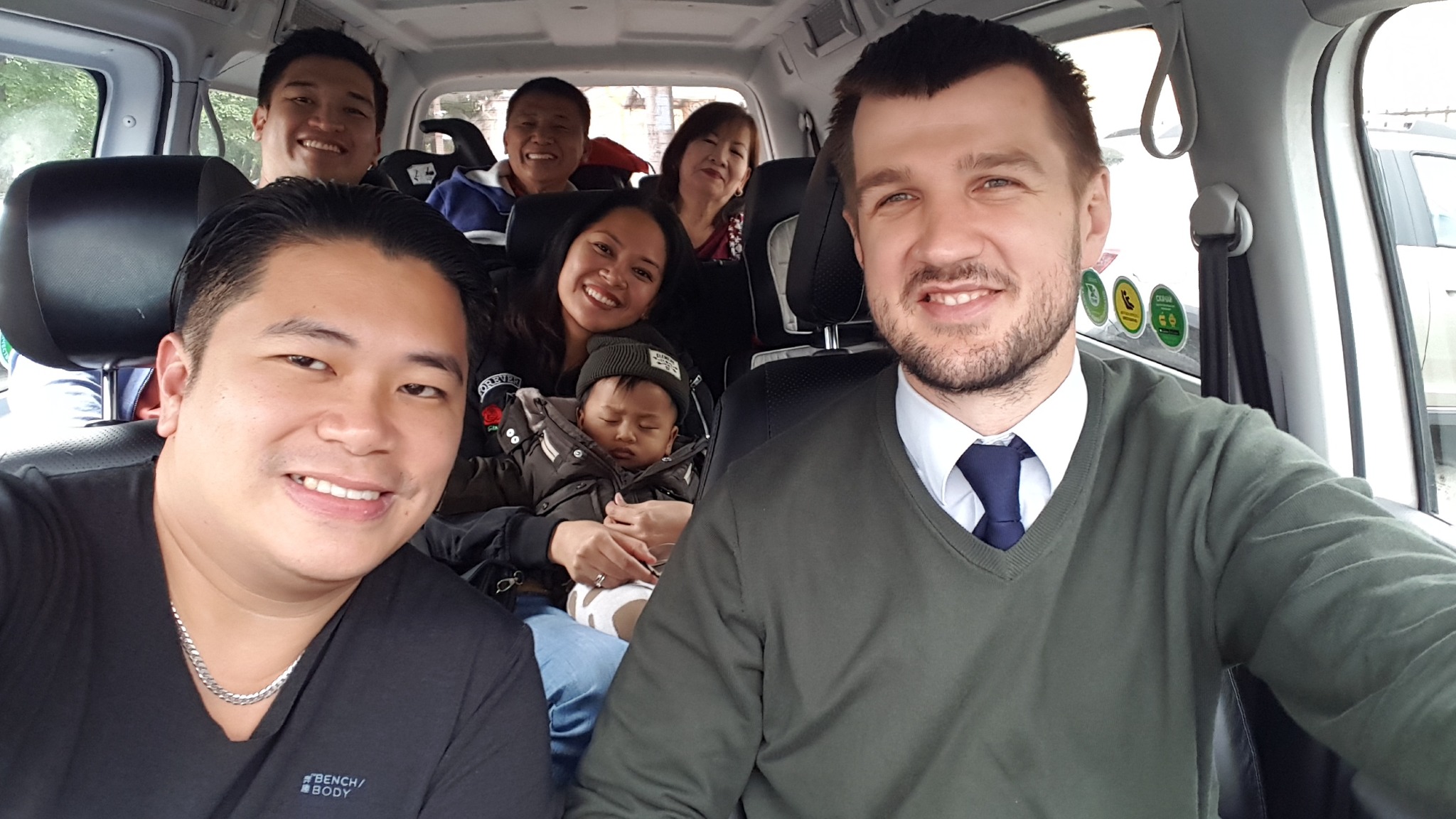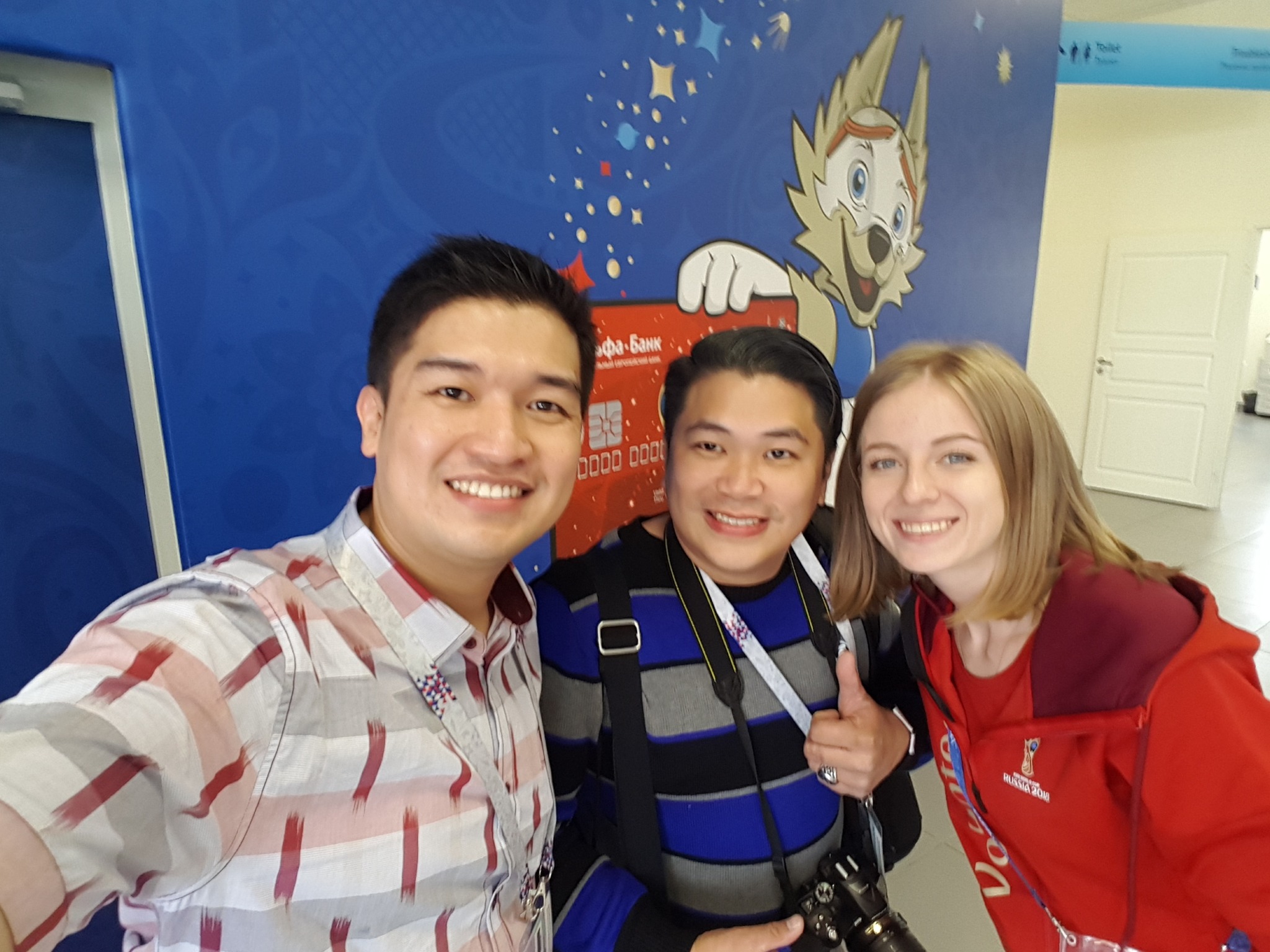 My entire family enjoyed the once in a lifetime opportunity to watch the FIFA World Cup in Russia.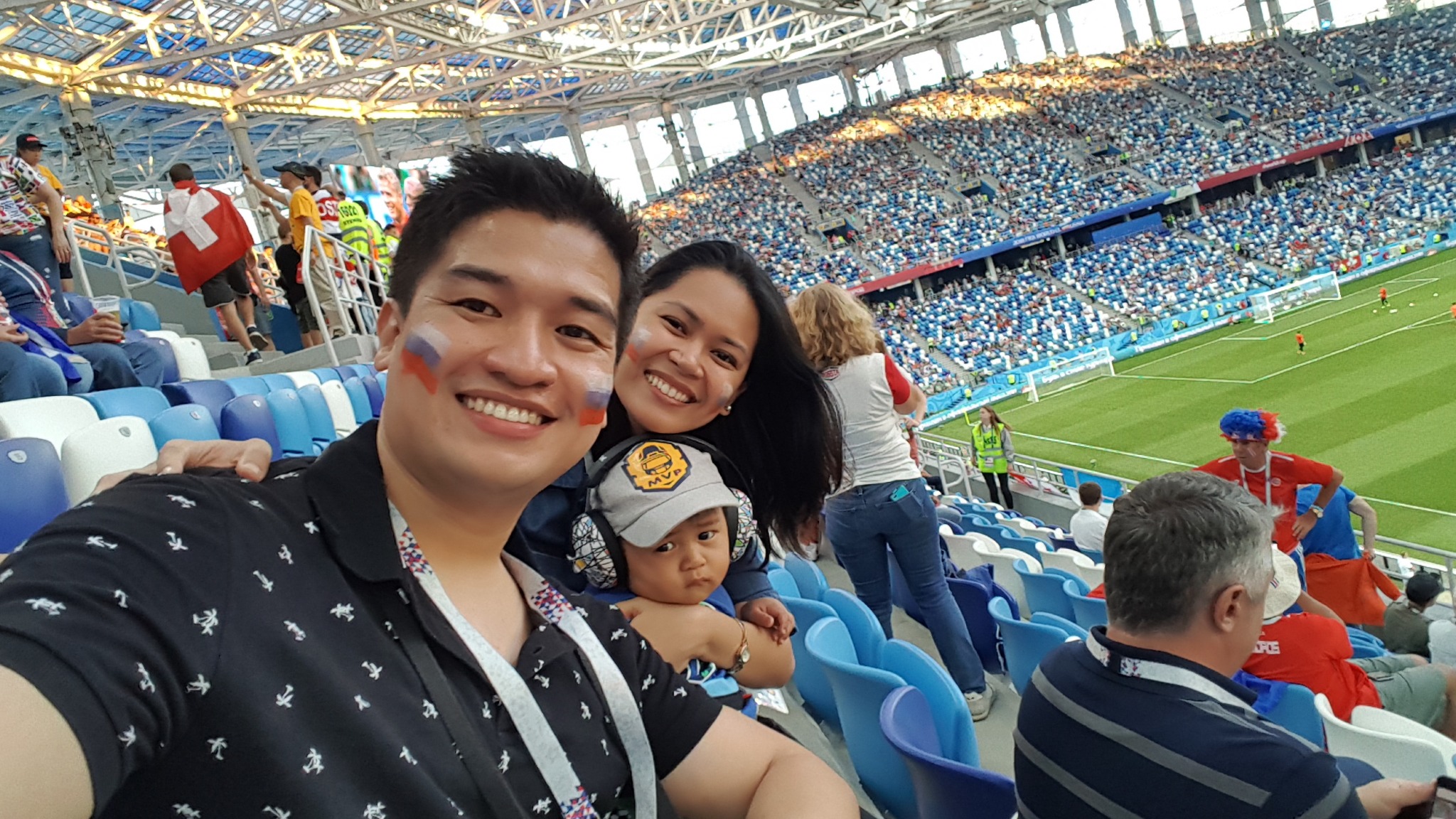 And despite all the negativity that you've seen in the press, I think that Russia did a great job hosting the FIFA World Cup. I went to Russia with my entire family expecting and preparing for the worst, but we left falling in love with the beautiful country. Going there changed all my perceptions about the former Soviet Union and seeing the FIFA World Cup in person made me love football even more. The whole experience is one for the books and one that definitely crossed out many items from my bucket list.
Follow PGG on Instagram for behind the scenes of upcoming stories on PGG.