We have officially entered the world of digital nomads.
That is, a world where the majority of workers are no longer bound by the confines of physical offices.
So in this age of working from anywhere, professionals and digital creatives alike need a topnotch device that would support their ever-growing needs.
One device that supports this on-the-go lifestyle is the Asus Zenbook 14X OLED (UM5401) – the world's first laptop with a 16:10 WQXGA+OLED HDR display with a stylish and compact body.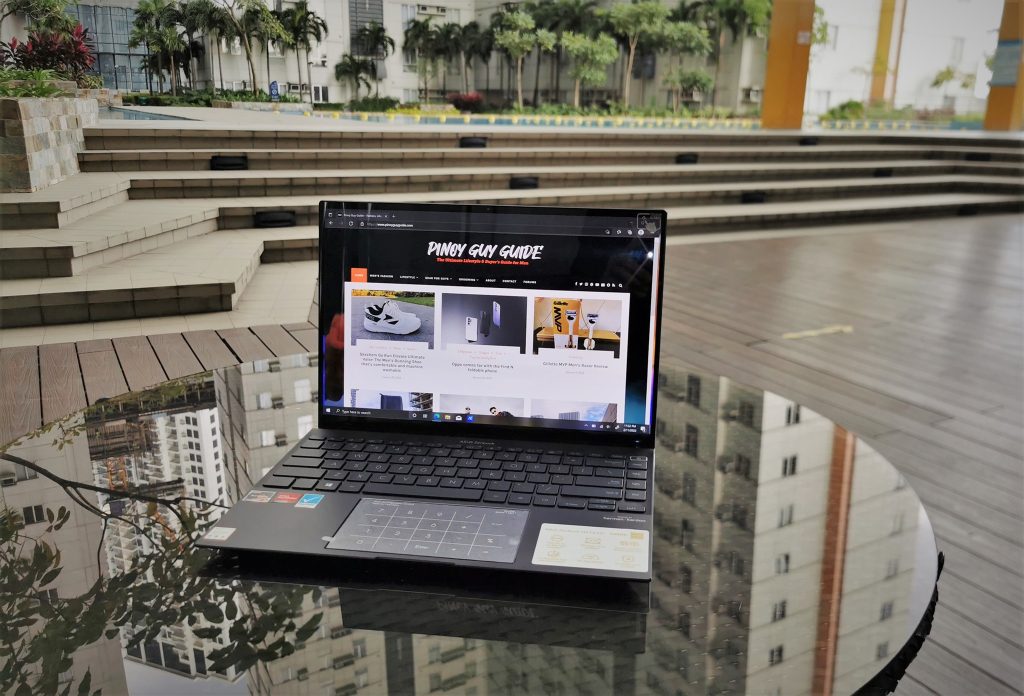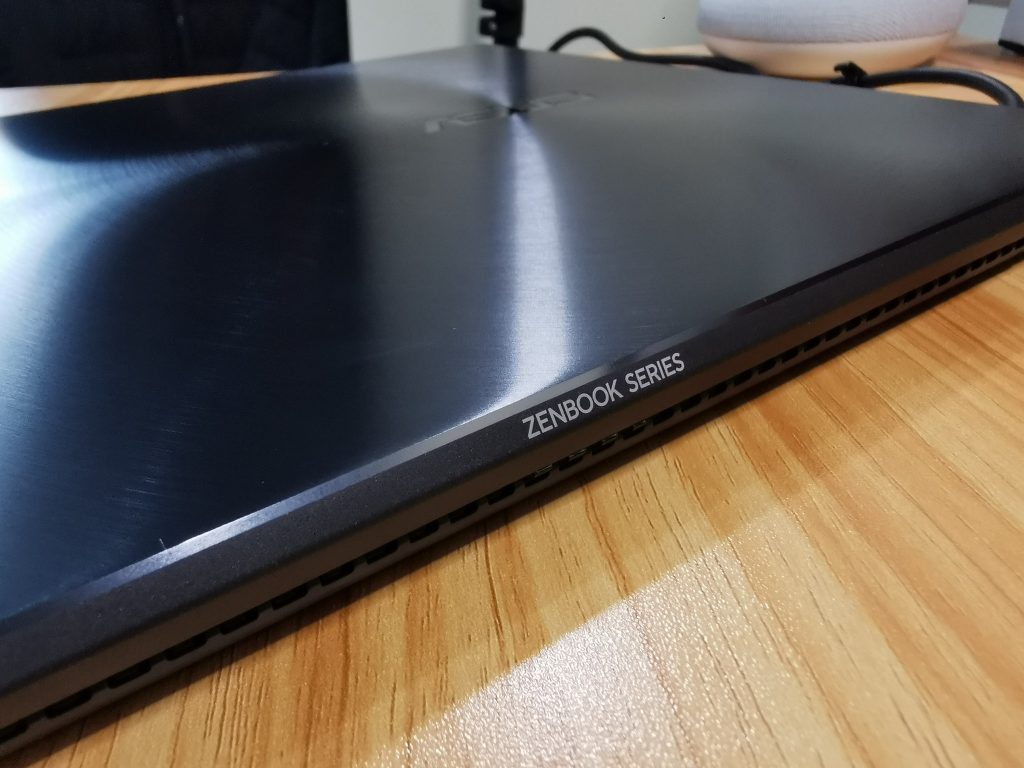 I had a chance to get my hands on this workhorse laptop and here are the top five things I personally loved about it.
Screen is KING
I have got to say that this is the BEST screen I have ever seen on a laptop to date.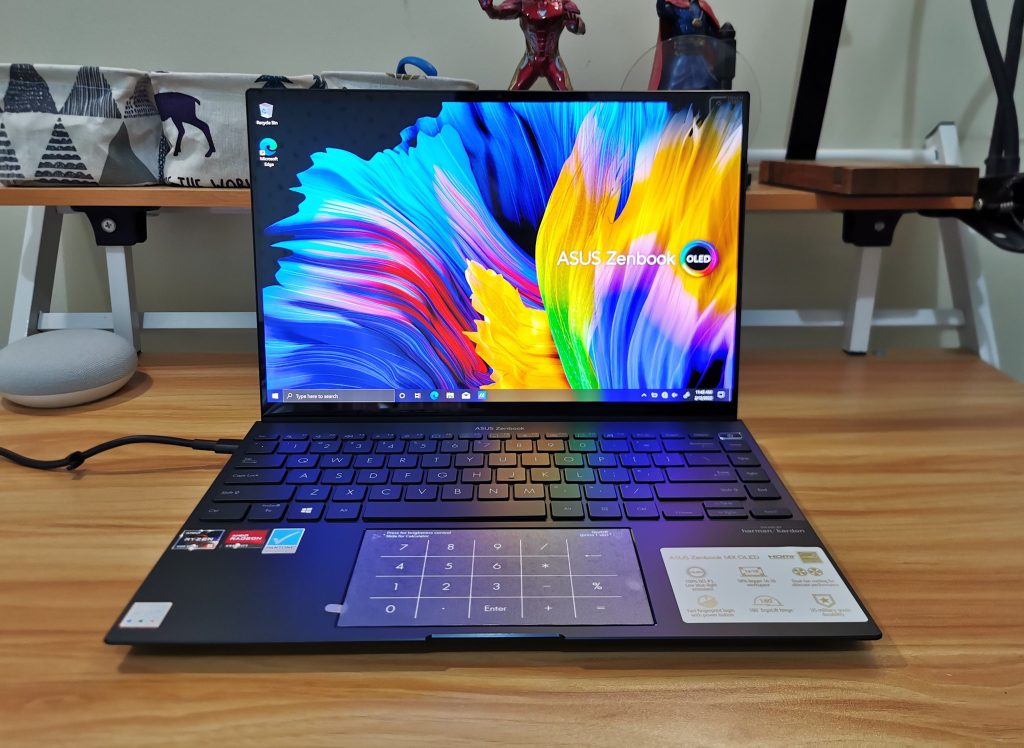 Just take a look at how bright, alive and vibrant the colors are. Pictures alone won't do justice, you have to see this laptop in person to see how gorgeous its display is.
ASUS OLED laptops like this one deliver supreme viewing experience as they render true-to-life colors. The very slim bezel and NanoEdge design screen is PANTONE validated. This means that the screen's color has been validated by PANTONE for color accuracy.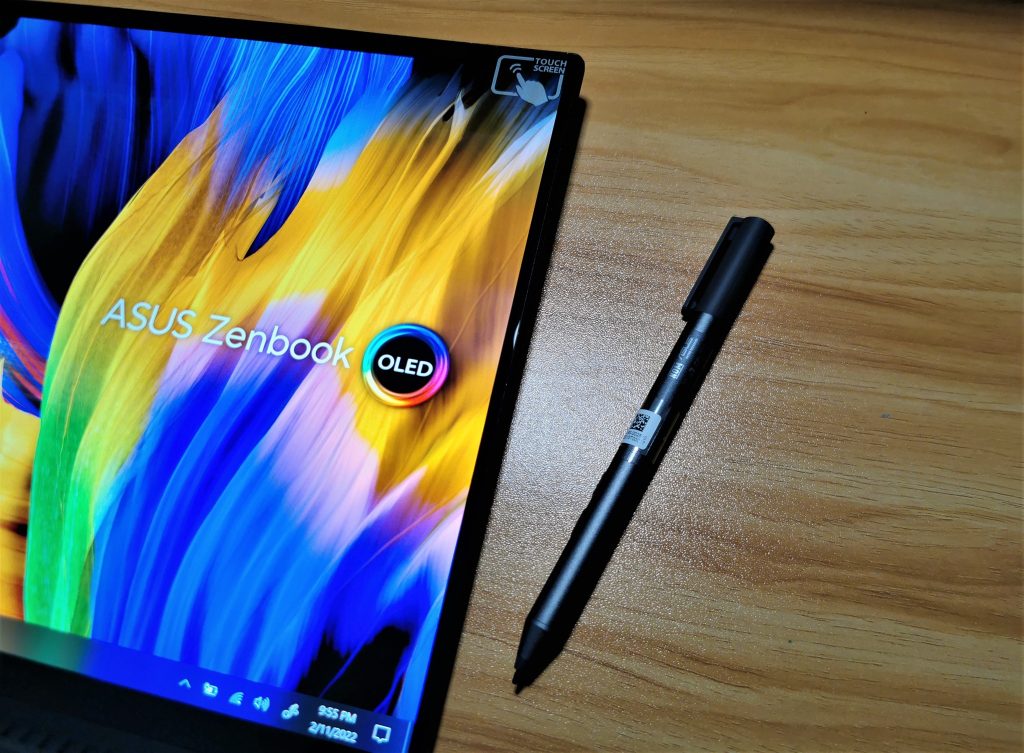 Not only that, you'll notice in the pictures below from a music video how it renders deep blacks and cinema-grade color gamut: something that other screens can't do. It's extraordinary.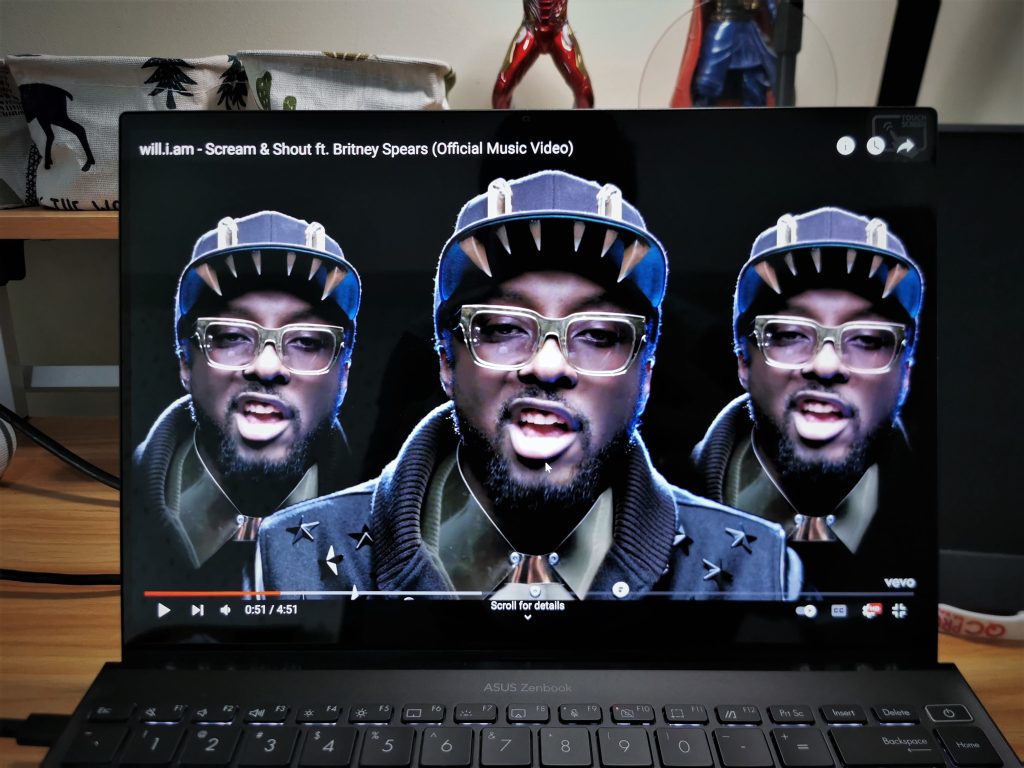 The display also protects your eyes from blue light. As you may or may not have known, blue light from screens is known to cause visual discomfort and disrupt sleep quality. ASUS says that the OLED display of the Zenbook 14X reduces up to 70% of blue light.
Oh and the screen can be tilted to a full 180 degrees like down below – pretty useful for business presentations.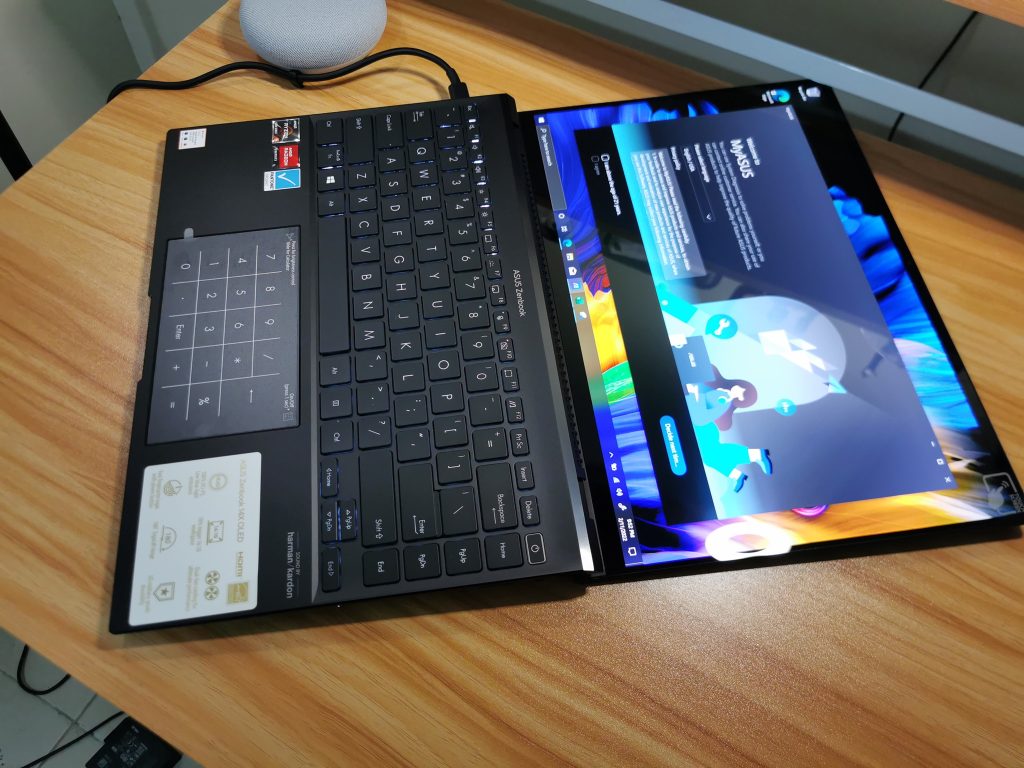 Camera privacy with non-mechanical shutter
As an IT professional, I'm a bit paranoid about having a webcam that could easily be switched on by installed software on my laptop.
You just don't know if there is an application that is using your camera or what not. So whenever I buy laptops, I always look for one which has a camera shutter.
What's unique about the Zenbook 14X OLED is that it has a shutter, but it's not a physical one. It's an electronic one. You can easily press F10 and it disables your webcam electrically. Think of it as having a "mute" button for the camera.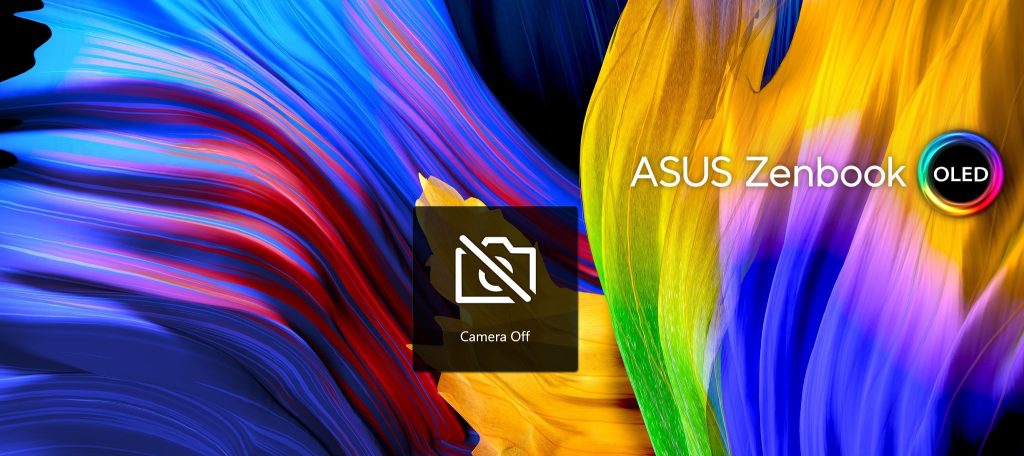 It's pretty cool.
Modern and most-needed I/O Ports
The Zenbook 14X OLED is equipped with the most modern ports for all your I/O needs.
There is a Micro SD card reader, audio combo jack, USB 3.2 Gen 2 Type A on the right side.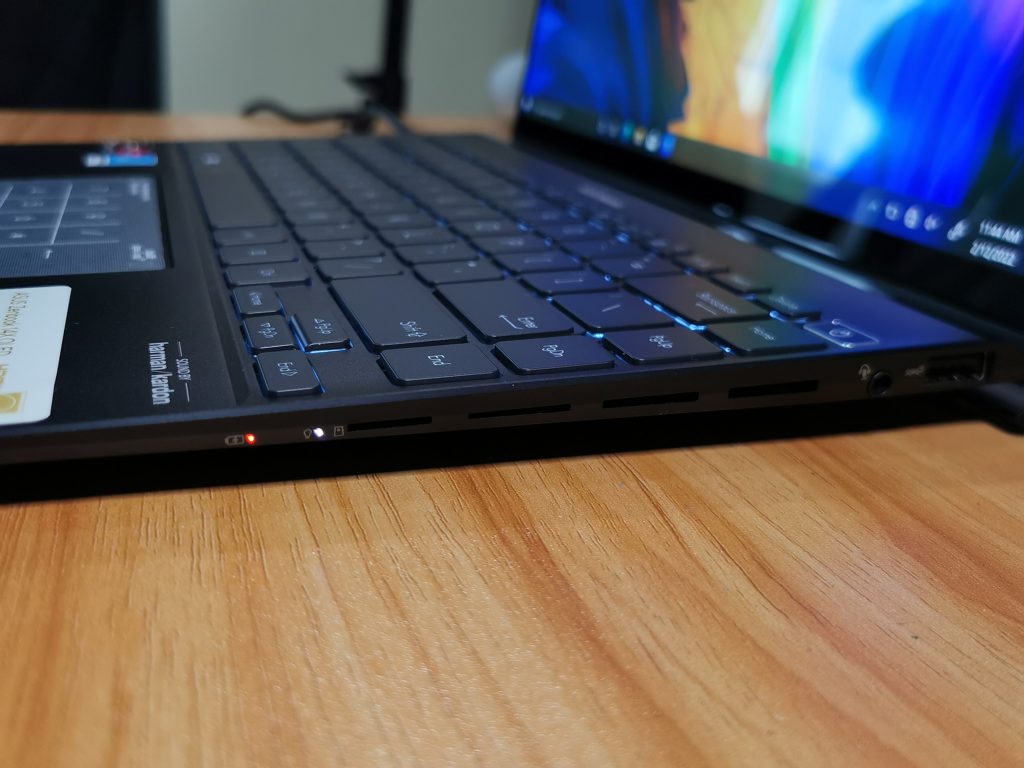 Then there is HDMI plus two USB 3.2 Gen 2 Type C ports on the left side.
Guys, I'd like to emphasize how important having two USB 3.2 Gen 2 Type-C ports is.
It's almost a must to have 2 Type C ports because one of them would serve as the socket for your charger while the other would serve as an input to the secondary monitor's display.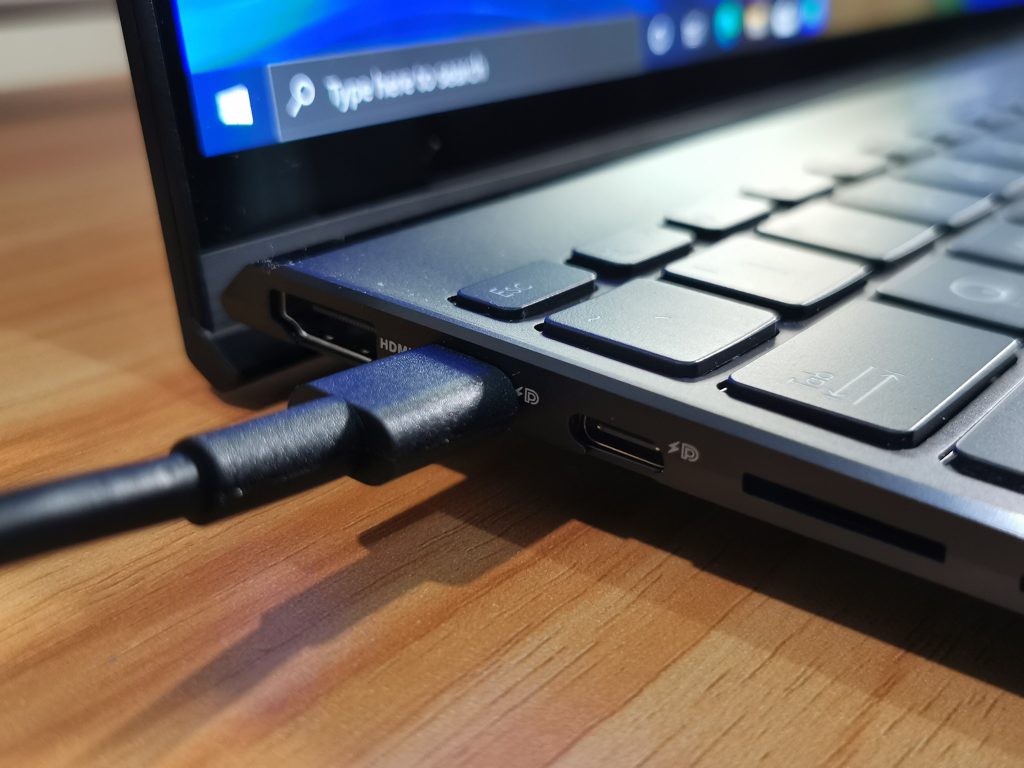 Now, if you recall, I bought a secondary portable monitor and what I discovered is that best way to make it work is to connect it via USB Type-C port from your laptop. Most modern monitors require Type C port because unlike HDMI, this port serves not only as the input to the visual display of the monitor but also as the source of power so that you won't need an extra electrical cord. Your laptop powers the external monitor.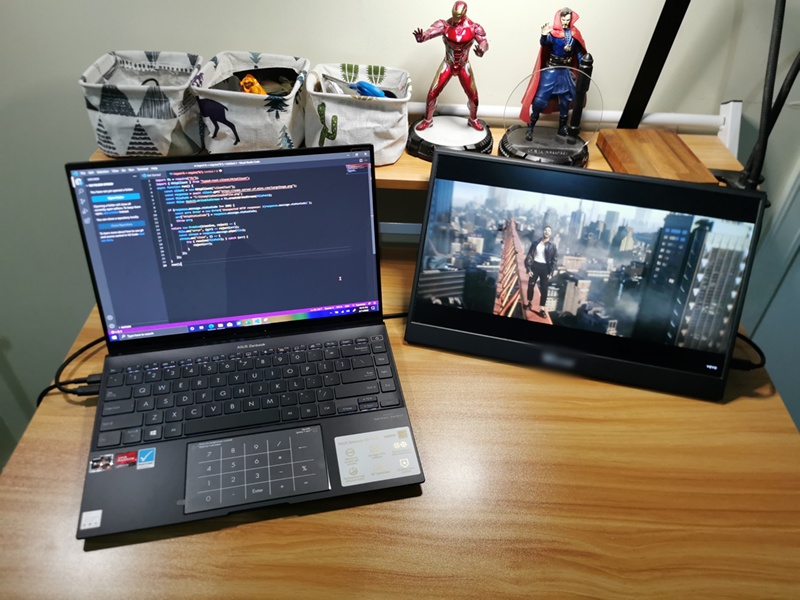 Innovative Number pad
If you work with numbers and Excel, one thing that is imperative to have is a numeric keypad.
However, most 14-inch laptops rarely have a separate numeric keypad. I've only seen numeric keypads in 15+ inch laptops which is too big for most people.
But thanks to the innovations from ASUS, we have a numeric keypad in this Zenbook much like the earlier models.
They achieved this by making the trackpad serve as a numeric keypad too which I think is a brilliant idea.
So if you occasionally need to work with numbers, this is a must-have and so far, I think only ASUS has them.
One small thing you'll realize though is that sometimes you will accidentally press numbers while navigating using the touchpad. ASUS solves this problem by having a small switch on the upper right hand corner of the touchpad to disable the number pad completely if you don't need it.
Harman / Kardon Speakers for audiophiles
When I first played music on this laptop, my wife asked me if I was using a new bluetooth mini speaker. She didn't recognize that the music was coming from the laptop because the bass is so good – thanks to sound by Harman / Kardon.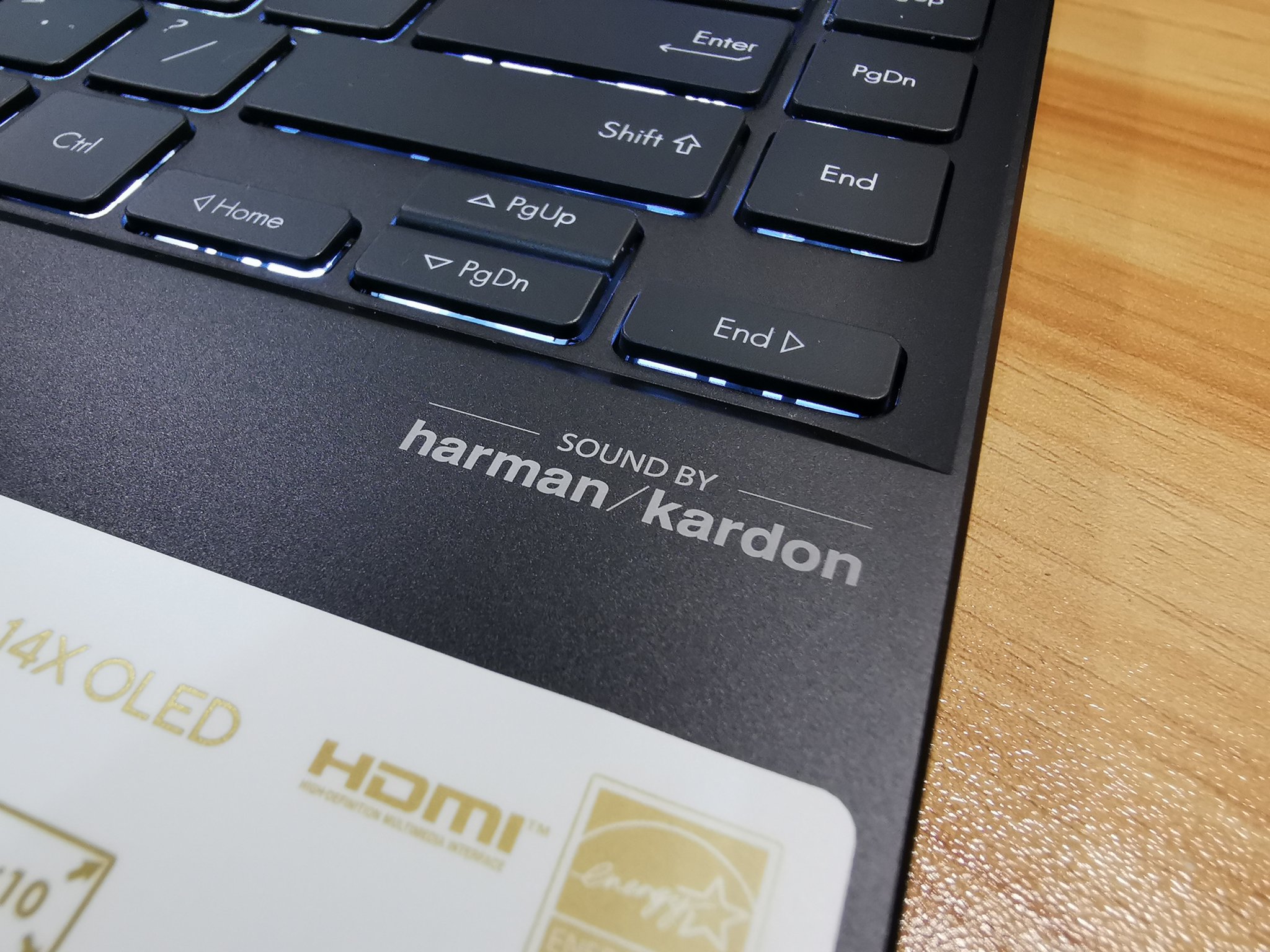 As an audiophile, the bass and the loudness of the speaker was pretty impressive for a laptop.
So who is this laptop for?
This laptop is most suited for young professionals who work hard and play hard. It's a laptop you can use for coding and business presentations. And more importantly, if you like to create things on social media (like blogging, posting etc.) as well as watching series and movies on Netflix then this is a right fit for you especially with the immersive screen and the outstanding speakers.
Just for the record, I created this blog post, edited pictures and edited videos on Filmora using this laptop and the performance is pretty good.
For this write-up, the specific model I used is the ASUS Zenbook 14X OLED UM5401QA-KN006TS with the following specs:
Processor: AMD Ryzen 5 5600H with Radeon Graphics 3.30 GHz
RAM: 8 GB
512 GB SSD hard drive
The Zenbook 14X OLED also comes with free 3-month subscription to Adobe Creative Suite and MS Office PreInstalled.
To know more about this laptop visit the ASUS PH official website.