In this post, PGG contributor Jessie, writes about his favorite shoes which he believes will always be in-style.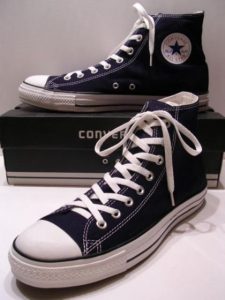 Being a sneakerhead since I was a kid, I have managed to collect over 50 pairs of shoes or "Kicks" (as I like to call it) over the past 10 years. Different styles, different colors, different stories behind it. I'm not lying. I can see, even in the corner of my eye around 20 pairs of running shoes sitting comfortably in my drawer as I am typing this. All looking innocent. All looking sharp. These are my babies. My trophies. Each pair has its own story. But like every other person, I secretly have a personal favorite. In my case, there is a pair that stands out among the rest, a style that always saves me from humiliation.
I call them "My Chucks".
Every guy needs to own at least a pair. Period.
Chuck Taylor's can be used by anyone, anywhere, and in every possible way. No one's going to complain. It goes very well with jeans. It looks hot when you're wearing it with a suit (tried it and it sure worked! – thanks JT!). You can use it when wearing shorts or when you're just going out for a stroll. It's the epitome of 'wear and tear'. It's the style that saves you a lot of time when dressing up. Its a template. A brand where you can't go wrong. Its the ultimate 'play-safe' shoe. Heck, its not even a brand – its a culture. Remember, whenever you wear chucks, you're wearing a 91 year old fashion statement on your feet!
Chuck Taylor All-Star is the most successful shoe in the history of mankind. Thanks to a resurgence of old school styles. Chuck Taylor's All-Star has targeted a whole new breed of shoe enthusiasts and I don't see them slowing down. They ain't going nowhere because Chuck's are here to stay.
Jessie is a full-time employee in Makati as a Technical and Billing Support Supervisor and also works as a Freelance Event Organizer. He has a strong passion in sports and urban lifestyle. In his spare time, he reads books and magazines, surfs the Internet and plays video games.
Chucks Image credit: Wikipedia
Subscribe to Pinoy Guy Guide to know more about men's fashion