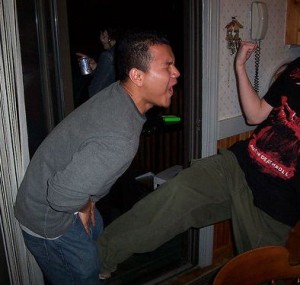 Image credit: Sarinva | Creative Commons
Ever wondered if you will become infertile if your balls got kicked? Or have you been thinking for a solution to your thinning hair? In this post, Jessie tells us answers to frequently asked questions on men's health.
My breath stinks man, what can I do?
Give me three people around you right now and chances are, one of them is suffering from bad breath, or halitosis, at one time or another. Studies show that about 30% of Pinoys are affected by this. It may be caused by many factors, such as gum disease, smoking and drinking alcoholic beverages, eating food including onions and garlic, and of course lack of regular dental check.
To minimize the effects of bad breath and to keep you in the hunt for a girlfriend, you need to brush your teeth twice a day. Brush your tongue and gargle like you mean it. Refrain from eating food that contains a handful of onions and garlic. Last but not the least – go to your dentist at least 3-4 times a year. If you work in a company that offers free medical and dental check-ups, make the most out of it.
My hair is starting to thin. Is it time to let go?
Baldness patterns in males are cause by a combination of genetics and hormonal imbalance. So don't go blaming your dad about it. The imbalance that occurs inside of you makes hair follicles decrease in size, thus making your hair silky smooth. Literally. As in silky thin. So there are actually two things that a man can do: Hold on to it and try to feed it with the right nutrients (botanical hair tonics like 'Retane' might do the trick since it contains Vitamins B5, Aloe Vera and Vitamin E) to keep the growth cycle or just let it go and shave it completely to have that bad ass look your girlfriend have been wanting all along.
I sweat like crazy. Is there anything I can do?
Sweating is a natural thing. Never be ashamed about it. Even the hottest FHM cover girls sweat about twice a day, regardless of their daily activities. It's our bodies natural way of regulating its core temperature. However, for guys whose sympathetic nervous system works at an extremely high level of activity – leading to abundant sweating – it is indeed a problem. That problem is called 'Hyperhidrosis'. Fortunately, there are a lot of methods that can help reduce or regulate your excessive sweating. Using antiperspirants are probably the most common one, but if you have the money and time, you can consult your physician who can prescribe drugs or 'iontophoresis' therapy ( its that thing doctors do when they apply a low intensity of electricity to your body). Last option is of course, surgery. But like I said awhile ago, sweating is a normal thing, if it doesn't kill you – don't worry about it too much.
Can I become infertile if kicked in the balls?
No man should ever experience this horrifying ordeal of getting kicked in the nuts. It hurts like hell. Ever wondered why a soft gentle hand on the groin (use your imagination guys) can automatically give you that arousal while a solid smack on the your 'member' can easily put you on your knees, screaming in excruciating pain. Reason being is that the groin area has the most concentration of nerves in the entire human body. But the question is – Will it make you sterile?

It could if it was severely damaged. If the hit resulted to bruises and bleeding under the skin, then better cancel all your dates and see a doctor right away. It is possible to be infertile, but the chances are slim.
Note from Chris:
I don't know if it's true, but I read somewhere that if a man is kicked very hard in the balls, it could actually lead to death. Well, whether it's true or not we all know how painful it is. So guys, keep your defenses up – and don't cheat on your girlfriends!
Jessie is a full-time employee in Makati as a Technical and Billing Support Supervisor and also works as a Freelance Event Organizer. He has a strong passion in sports and urban lifestyle. In his spare time, he reads books and magazines, surfs the Internet and plays video games.
Article references:
MedicineNet, NetDoctor and BCHealthGuide
Know more about men's health. Subscribe to Pinoy Guy Guide by email