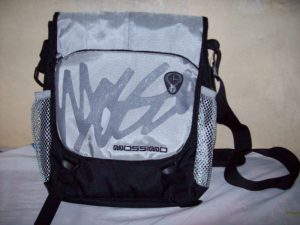 (front view)
The last time I posted about messenger bags was like ages ago. But since these bags are still in the mainstream, I'd like to feature one which I bought two weeks ago. I call it my Mossimo silver-black messenger bag.
(back view)
If you have been a reader of PGG in the past few months, you would know that i have this thing for the silver-black combination on shoes, jackets, pants, and yes – even bags. So the moment I saw this one at the Mossimo shop I immediately bought it.
So what do I personally like about this bag?
1. Color – I'm just lovin' the silver/black thing.
2. Size – not too big, not too small. So it's really hip for those going to school, office or even gimmicks
3. Lots of pockets. Aside from the ones at the front and back, check out those two on the sides. I got lots of stuff to put in there.
4. Earphone hole. I'm aware that lots of bags have that. As an audiophile, I really need one for my music player and having all of the above features makes it a perfect bag for me.
So, what do you think?
Know the latest trends by Subscribing to Pinoy Guy Guide by Email