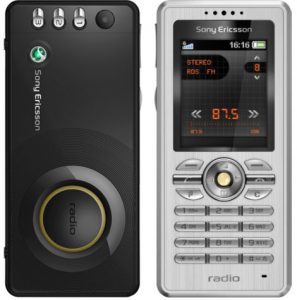 Image credit: Sony Ericsson
I bet that a lot of guys out there never switch their home or car's radio to the AM frequency band. Don't worry, I'm one of them. Let's face it. It's boring. I'd rather listen to music than listen to radio news. But don't get me wrong, I get news info from other sources – TV, newspapers and even the Internet. But just not on my music player or even my cellphone. It's just not my thing.
However, Sony Ericsson seems to have revolutionized radio for our mobile phones especially for those who love news on the go.
So let's meet the SE R300 – a cellphone unlike the ordinary. It has both AM/FM radio frequency band. So whether you're a music lover or a news town crier, you'd surely love having both frequencies! If I'm not mistaken, it's even the first mobile phone to have a built-in AM Radio and it's very suitable for a lot of students who are always wishing for class suspensions during the rainy days. 🙂
Here is a list of other features of the R300. It's really a minimalist yet unique phone!
-2G Network
-Polyphonic Tones
-1000 contacts
-8 MB internal memory – no memory card
-Bluetooth
-VGA Camera
-Music player
-FM/AM radio recorder
There's also the SE R306, also a mobile phone with AM/FM radio but the only significant improvement to this is that it has a clearer, 1.3 Megapixel camera instead of a VGA one.
Question is, do you really need an AM radio in your phone?
Get the coolest gadget updates by Subscribing to Pinoy Guy Guide