In this featured article, PGG writer Jessie, tells us excellent gift ideas for women this Christmas season. So if you're lost for ideas, this one is a must-read!
Christmas is just around the corner. Best time of the year to shop like crazy. I noticed that a lot of guys out there are clueless when it comes to buying gifts for their queen. Let Pinoy Guy Guide help you out! Read on to know what's inside the mind of girls this holiday season.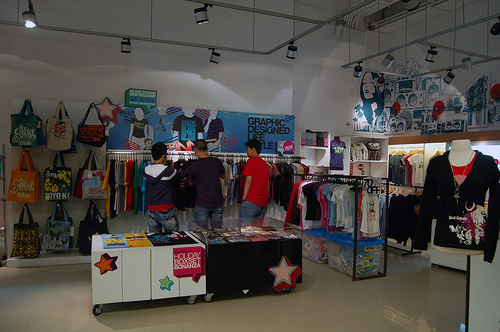 Guys shopping | Image credit: Asimulator
Before anything else, you need to know this: Lots of guys shop as much as girls do. I firmly believe that and that's nothing to be ashamed of. Just because we males don't go to Ayala/SM malls doesn't mean that we don't like to shop for stuff. We do it in our own private way. We're pretty low key when it comes to splurging our hard-earned money on stuff that we like. We don't walk around flamboyantly carrying 6 different paper bags around our shoulders when we shop. We get in, get our stuff, and get out. That's how we roll. But girls are the best when it comes to shopping, so if you can get your sister, close friend or female co-worker to join you in your gift-hunting escapade, the better!
GADGETS
– If you have the money/credit to buy your girl a cool new device, go for it. Guys are tech freaks by default so shopping for a 'techie' gift won't be a problem. Cellphones are always numero uno on the list. MP3 pillows are also a hot commodity. But if you really want to push it to the next level – a brand new laptop can bring tears into their eyes. Awww…
BAGS/SHOES/COSMETICS/PERFUMES
– This combo doesn't always work for girls. Disaster may strike if you picked the wrong shoe size or chose a 'not-so-favorite' bag color, but if you did some research and you know the details, you'll be able to pull it off. If you're still hesitant to do the shopping yourself then it's better to give them a gift card to their favorite store than giving them something they wouldn't be caught dead wearing.
Shops to visit: Topshop, Bayo, F&H, Kamiseta, Nike Women, Mango, People are People and Rustan's
For cosmetics: Nars, Shu Uemura, Philosophy and Mac
DAY AT THE SPA
– Truth be told, women love to be pampered. Taking them out to a fancy spa of their choice can mean a lot to them. But please guys, don't go cheap on women. They have a way to know. Give them all-access to the spa! Then a nice dinner at Fridays after her relaxing time at the spa ain't so bad. In my opinion, the best spa in the country right now is still 'The Spa'. They have branches spreaded all over the region which provide the widest variation of services for different types of people.
VACATION PACKAGE
– Another kind of gift that needs a lot of moolah and preparation. But the rewards are very high and it serves both the giver and the recipient well. Pick a destination that SHE likes. Believe me when I say this, but girls are natural born beach bums. Boracay and Siargao can be a little too cliche for her (and its definitely jampacked at this time of the year) so going someplace else is worth giving a shot. Wherever it is, what's important is you BOTH have a relaxing and memorable time together.
Places to check out: Puerto Del Sol (Bolinao, Pangasinan), Talipanan Beach (Puerto Galera, Batangas), Club Serena (Lapu-Lapu City), Aguirangan Island (Camarines Sur)
Guys, pick your poison wisely. Girls always remember what they got for Christmas.
Get more tips for your date by Subscribing to Pinoy Guy Guide