I'm no astrologer, but I've listed here some of my predictions for this year on men's style. These are entirely based on what I've seen so far and how I think it will progress throughout the year so let's get the ball rolling…
1. Glossy or Metallic prints on shirts will be the next "in" thing
I've started to see some of these shirts late 2008. But I bet that as 2009 goes by, there will be lots of guys wearing these. It seems that this will be the next "in" thing for men.
Many of the statement shirts that will come soon will probably have these metallic prints. I know that these types of prints have been around in the 90's but it seems that they are coming back.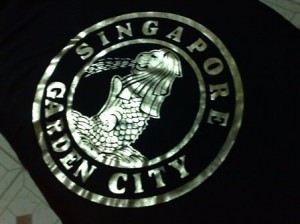 Example of metallic (silver or gold) print in t-shirts
2. Nokia (and others) will come up with a fashion phone to combat Samsung Armani P520
I'm not sure. But I absolutely think that they really should. Samsung and Motorola have been introducing stylish phones for men and they should do the same.
3. Violet – the next color for men
In 2008, I found it odd that all sorts of bright colors have been made for all types of men's apparel – from shirts to jeans as we've seen in those colored pants.
This year, violet, purple or whatever you want to call it will soon be the next color for men's clothing. Remember the "Tough Guys Wear Pink" shirt a couple of years ago? This year, we'll probably see a "Tough Guys Wear Purple" shirt. As a matter of fact, I've seen lots of formal wear and even ordinary men's shirts in violet.
4. From flag jacket, to flag caps, to flag shirts, to…
Flag underwear?
Over the last quarter of 2008 we've seen all types of clothing bearing the Philippine flag's colors and sometimes even icons of the sun and the three stars. Perhaps this 2009 they will put it in men's underwear. Yeah, I know it's hilarious and it is definitely a sign of disrespect to our flag but who knows what these clothing brands can come up with?
5. Checkered shoes, then checkered shorts, then checkered pants, then…
I don't know. What do you think will be next?
Don't want to miss the next post? Subscribe to Pinoy Guy Guide via email or join the forums