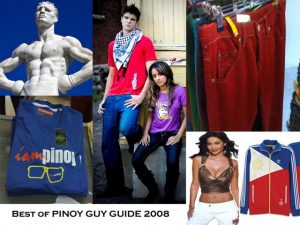 The year 2008 has been a great year for Pinoy Guy Guide. There has been lots of developments in men's clothing and lifestyle and PGG is very happy to have delivered you the latest updates on these. There were also several dating and lifestyle tips that have been published the year round to serve as a guide for guys out there. These tips are based on my experience and also that of our contributors'.
As 2008 comes to a close, let's take a look at some of the significant articles on men's fashion and lifestyle for the past year:
1. 8% body fat for great abs – I wrote this article sometime in January and it looks like a lot of guys out there have been bookmarking this post as it is very important for gym-goers to know how much body fat is needed to be lost to show that six pack!
2. Boardshorts for men – Last summer saw an influx of boardshorts for swimming. And it seems that every guy who went to the beach is wearing one.
3. Adidas Philippine Track Jacket – Lots of men (and women) are dying to get their own Adidas Philippine Track Jacket. However, it's extinct nowadays.
4. Samsung Armani P520 – This year we saw mobile phone manufacturer, Samsung, introduce their fashion phone P520. It's co-branded with Armani and we know that Armani is mostly a men's fashion brand. So as expected, this phone will most likely appeal to men. Though I've seen it available in shops, I haven't seen anyone owning this phone yet. Perhaps too pricey?
5. 77% of PGG readers go to salons – I did a survey here last April and was surprised to see that a lot of guys prefer to go to salons rather than barber shops.
6. "Guys are so plain" – says women – I was really amazed to find out that a lot of women see guys as plain. Contrary to popular belief, most women want their men to be stylish too.
7. PBB haircut in the mainstream – This has got to be one of the most odd haircuts you'd ever see. But ever since the guys of reality-show Pinoy Big Brother have sported this look, almost everyone at that time copied that hairstyle. Unfortunately, after the PBB show ended, the hairstyle seem to have died too.
8. Buying a music player? Get a Zen – I'm not really a fan of iPod so I bought a Creative Zen mid this year. All I can say is that it is a fantastic music player. I love it!
9. Pointed shoes are sometimes pointless – Need I say more? I'm sorry but I find it really painful to wear these.
10. Hooters now in Manila – Every guy out there is smiling to see Hooters come to the country – myself included :). Take a look at my experience at Hooters over here.
11. Colored Pants for Men – who would ever think that this trend will take everyone by storm? All clothing brands now have colored pants for men and surprisingly lots of guys bought it.
12. The importance of getting a great haircut – Take a look at my experience here after I got a great haircut. I also gave reasons why it's good to get one.
13. Table for one – This article is really a nice featured story of a PGG contributor who told us what is like being a single guy.
14. Women's pick-up lines – Don't be lost. Sometimes words spoken by women are indeed "pick-up lines" because she's attracted to you. This one's really a must-read.
15. Scarf for men – Aside from colored pants for men, this one is a massive and one of the most explosive trends ever this 2008.
16. Cellphone radio waves damage sperm in men – Love putting your phone in your pocket? Think again.
17. Basic Fashion Rules for Men – Every man's guide to fashion.
18. Speed Dating – Clueless what this is all about? Then this one's for you. It discusses as a whole what speed dating really is.
19. Dating beyond Dining – If dining out is the only thing you do when taking your girl out for a date, read this. I'm sure you'll learn a lot.
20. Why can't Philippines be a fashion trendsetter? – I received an email from an Italian-American who is very concerned why Filipinos just copy trends from abroad.
21. Pinoy Shirts: The Bomb – After I received that email in #20, I'm surprised to see that we are somehow trying to establish our very own trend to show the world that we can start our own style and that we are damn proud to be Pinoys!
22. Anne Curtis is voted PGG's Hottie of the Moment – A survey at Pinoy Guy Guide – Forums proclaims Anne Curtis as PGG's Hottie for November-December this year.
23. Jelly watches – Looks childish, I know. But lots of guys are wearing them now.
24. Pinoy Guy Guide wins in the Philippine Blog Awards – due to your continued support, PGG won this prestigious award – Thanks to YOU!
Whew, that was a long list of great articles for 2008. Which of these are your favorites and why?
You can also suggest future articles for 2009. Just drop me an email at pinoyguyguide[at]gmail[dot]com or use the contact form here.
That's all for this year. Have a Happy New Year everyone!
Not yet subscribed to Pinoy Guy Guide? Subscribe now to get all these free articles and tips straight to your email.
Not yet a member of Pinoy Guy Guide Forums? Join the discussions now.
*Image credits given individually in each article.