In this post, PGG contributor Jessie shares 10 traits that Filipino guys ought to have.
A Pinoy Guy should be able to…
1. Give advice that matters. In one sentence.
A close friend of mine once invited me to join forces with him and start a business. We discussed the details and I wasn't really impressed with his proposal. But I knew we can make it work. Days passed and the endeavor became more unrealistic and my mind was filled with hesitation. Then one day my dad sat me down and talked to me. He just sighed and said: When in doubt, don't. Best advice I ever got. One sentence.
2. Know how to hit a 'jump shot' in pool.
You rarely use this trick but when you hit a jump shot, it tells a lot about you as a player and it actually impresses women. Angle your cue steeper, aim for the bottommost portion of the ball, and drive the cue stick in a smooth and steady motion.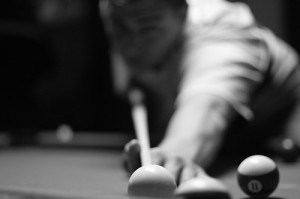 Image credit: Pichado Photography | License
3. Ask for help.
Guys who refuse to seek help are the biggest d-bags on Earth.
4. Learn how to say NO.
5. Buy a suit / Barong.
My mother once told me, a man who knows how to shop for a formal attire on his own with no chaperon and no assistants are priceless gems. Know what your likes and dislikes are and what you need it for. Squeeze the fabric and if it bounces back with little to no wrinkling – that means it is good. Jacket sleeves should never go lower than the base of your thumb. Don't be shy on asking if you can take some time to try it on.
6. Name a good book.
Twilight doesn't count.
7. Commute.
Learn how to commute. Save some gas money. There's nothing more sexier to a woman than having a man on her side with a good sense of direction.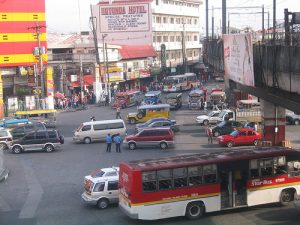 Image credit: hellochris | License
8. Be loyal to at least one product.
It tells a lot about who you are and the things you believe in. I'll take Domino's Pizza over Pizza Hut any day. I like San Miguel Beer Light better than Red Horse. Be sure to keep it real and be consistent.
9. Tell a joke.
Here's one: A Rasta man walked inside a bank holding a whole sack of weed. The teller asked how can she be of service. The rasta man said; Me want to open a joint account.
10. Know what to do with wounds.
Stop the bleeding. Apply pressure using a gauze pad or a clean cloth. If you can't stop the bleeding, forget step 3 and just get to a hospital. Once the bleeding stops, check for signs of infection then clean it with soap and water. Dress the wound. Never ever cry.
Get more tips by Subscribing to Pinoy Guy Guide by email or by joining the forums