I went to my hairstylist today to get myself a good new haircut for the hot summer days. I was thinking of retaining my modern short haircut with spikes on top and bangs in front but at the same time, since it's summer, I wanted to apply the good old barber's cut on the sides and at the back. Basically this is how I described it to my hairstylist (just use your imagination).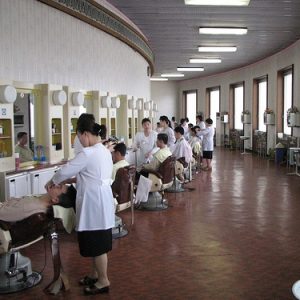 Men's Salon | Image credit: Pricey – License
He has been cutting my hair for the past 8 months and the style was basically the same throughout. I trusted him a lot because all that time I was always satisfied with my hair and I would always give him a tip each time I visit amounting to around 60-80% of the cost of my haircut until today.
So what happened?
About a month ago, I asked him what would be a good hairstyle for men this coming summer. He told me barber's cut, semikal or anything short will do. But at that time I didn't want to cut my hair short because I wasn't really in the mood for the summer – not yet.
Fast forward to today, I told him what I wanted as mentioned above and I was a little surprised that he was quite uncomfortable, even fidgety about the idea. But since I trusted him, I ignored that.
A bit later he seems to have trouble searching where he placed the electric hairclipper but luckily, he was able to find it. When he was already starting to cut my hair on the sides, he asked me: "So why do you want this haircut?". I just replied: "It's summer and I wanted to try something new." But at the back of my mind I was wondering why he even asked me that question where he was in fact the one who was suggesting it just a month ago.
Throughout that haircutting session, I was bothered by his question. I was thinking that maybe he knows that it will not look good on me or probably he's not good in doing it. I was getting really uncomfortable on my seat thinking that I may not like the outcome of my new haircut so I just expected the worst. But guess what? It came out to be exactly how I wanted it to be! I just realized that probably the reason why he was uneasy with the haircut is because it is not his expertise. It really took him more than 40 minutes to get my hair done while in the past 8 months (with my old hairstyle) he could complete my haircut in 20 minutes or less.
I think the next time that I will try to get this kind of haircut, I will go to a different place. Yeah, he did get it right but I wouldn't want to risk it again the next time.
How about you? Do you stick to just one barber/hairstylist? Any bad haircut stories?
Discuss the latest men's hairstyle by joining the PGG Forums