This is part 3 and the last of a series of posts talking about popular gyms in the country.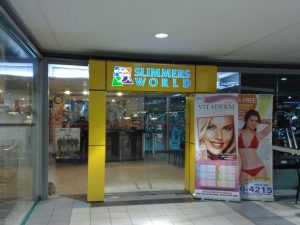 I can remember back in the late 90's that Slimmers World was the first thing that came to my mind when people mention the word "gym". Let's face it: Slimmers World was among the first in the country to put up a gym inside SM Malls and although there is a lot of competition now, they still continue to become one of the top choices when it comes to gyms.
First Impressions: More of a ladies' gym?
I don't know why but I have an impression that about half of the people who work out at Slimmers are women. Maybe because they used to be the sponsor gym of Binibining Pilipinas during the late 90's. I think this one is a good thing especially when you are looking for places to find women.
Another impression that I have which seems unusual is that the gym's reception looks like a hospital. Yeah, you read it right – a hospital. This is because most of their personnel are wearing doctor's clothes which will make you think you are going for a medical check-up. On the bright side, this gives them an "expert" look when it comes to health and fitness.
People and Equipment
Based on what I've seen in their branch at SM City North EDSA, their gym-goers are really serious people who are really into getting in best shape. According to friends who have been in various gyms, Slimmers World trainers are really one of the best. They seem to be real experts in fitness.
However, when it comes to their pieces of equipment, some of them are quite old (I guess they need to replace them) and only a few. I remember that during peak hours, you may have to wait until the machines are vacant before you can use them. I think they need to improve in this area.
Rates
The rates are pretty competitive and they do have a variety of options below. According to their sales personnel they accept cash or credit card as payment
Buy 1 month, get 1 month Free – 3,500 Pesos
3 Months – 3,375 Pesos
6 Months – 5,400 Pesos
1 Year – 9,450 Pesos
Lifetime Membership – 40,000+ Pesos
This ends up the series on gym guide. Check out the other related posts in the series:
Part 1: Gold's Gym
Part 2: Fitness First
Talk about men's health and fitness by joining the PGG Forums or Subscribe to Pinoy Guy Guide to receive the latest updates.