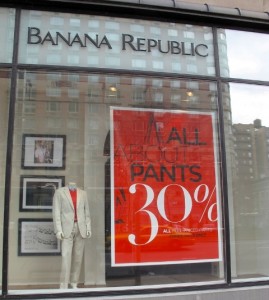 Image credit: Yourdon | License
Today, Kilo, a Pinoy Guy Guide contributor and member of the PGG Forums, shares with us how to make the most out of your money when shopping.
Shopping for good quality fashionable clothes is a skill on a game of getting the most out of your money. When buying for yourself, always think and sense but do not decide based on emotions. You should buy because it looks great and worth all of your money.
What retail stores want you to do is to purchase items through emotional needs. When you're emotional, you leave your guard down and grab whatever matches your mood. You don't look at the price tag and you barely criticize what you buy. Good salespeople will always trick on your emotions to get a sale. You only get to feel the empty pockets when your mood dies down.
Take for example a mother's day gift. Everyone would like to express their love for their mother so they go for the best and most expensive gift for her. They won't think much of the value for money aspect because they would like the "Best". That is why stores get the most profit out of Valentine's day, Mother's and Father's day, Easter, Halloween, and Christmas.
Every item has a sale life cycle. At the start, new items are shown to be fresh and attractive and are not on sale. Since it's new, stores hope that people will be attracted to it and buy it because it's "New". After a few days or weeks on the shelf and the items are not bought much, they start posting a fake "Sale". These 10 to 15% off retail price are meant to attract you to their store. When items are sold 25 to 30% off, these are optimal sales where it catches the attention of more people to buy at the store while getting a considerable amount of revenue. When an item is considered old and needs to be eliminated, they post a 50% to 60% sale. 75% off is a break even so the store doesn't have to pay for the disposal of their goods.
Merchandising or the way an item is being sold is a hidden communication tool from the store to the buyer. If there are a few items being displayed, it means that the item is expensive, rare, and exclusive. They want you to think that the item is running out and you need to buy it now or its too late. However, most likely there are more at the back. Items stacked by the dozen or massed means that the items are cheap, many and they want you to buy more.
Buying quality goods is a matter of timing. You have to know what you want and wait for it to dive down to the appropriate price. Appropriate means that there is a few left and you know this item is not coming back. Sometimes, I've had experiences of buying P1375 polo shirts costing P3750 originally by simply being vigilant.
People buy the expensive brands for the sensitive eyes of the designer on what looks good. They see the smallest of details on texture, color and look. Black is not just black, but screaming "BLACK!". They dictate the trend while other lower stores attempt to follow their design like 6 months after.
There is a value on window-shopping of expensive items. You look at expensive stores not only as an eye candy but to steal ideas as well. You get to see and feel what the designers have and copy. You get to know what style will suit you best and what you feel will not work out for you. When you get the idea of what you really like, you go to a store with similar but cheaper goods and just mix and match.
THE POWER OF THE BUYER
The following are useful tools when buying items:
1. Ask when the sale started, when the sale is going to end, what's the next sale going to be. You'll be offered discounts and coupons if the sales people get annoyed. Sales are good indicators when the store is doing well or the item is running out.
2. Ask for the availability of the item, and their quantities from other stores. Sometimes it's cheaper to buy a rare item from a different branch.
3. Always do a price check even if the price tag is shown. Some items are mis-tagged and might be on sale.
I hope that these tips will help you a lot on your next purchase! Happy buying!
Kilo is a former sales associate in the home decor and furniture industry and is currently pursuing a career in the medical field. He has a great interest in topics such as technology, health issues, economics and business.

Subscribe to Pinoy Guy Guide by email to get the latest updates or join discussions like these at the PGG Forums.