I'm talking about men's leather shoes, that is. I just arrived home after my quest for buying a new pair of leather shoes and what did I realize? That men's shoes today are expensive… and dull!
Expensive
Think about this. Ordinary men's shoes are around a thousand pesos while the average ones are 2,500 Pesos at minimum. They are indeed expensive compared to the same brand and quality of women's shoes which are usually only half the price.
So have you ever wondered why men's leather shoes are so expensive? Well that is for the simple reason that guys don't buy shoes as often as women do. Men buy shoes as a necessity. Women buy it as a collection.

Dull
Aside from being expensive, there is one thing that bothers me these days. Why is it that the latest styles of men's shoes are dull? Remember the good old days when men's shoes are a bit glossy? Not as glossy as that of security guards' but just the normal shine in shoes? I miss that because shoe manufacturers these days seem to be producing shoes which are no longer shiny. Perhaps it's the trend but I'm not sure.
I guess that they knew that we had always been lazy in polishing, so shoes nowadays went from this…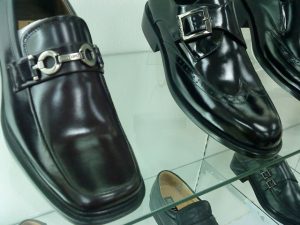 Men's shoes (shiny)
to this…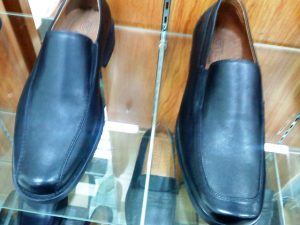 Men's shoes (dull)
So if I were to ask you, which do you prefer? The shiny ones or the dull ones?
Click here to Subscribe to Pinoy Guy Guide by email or join the men's talk at the PGG Forums.