This post was contributed by Tim to Pinoy Guy Guide and discusses a new style of folding-up your jeans. Read on to find out how.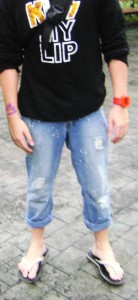 Tired of your old pair of jeans? Thinking of throwing away all your old straight cut denims in favor of skinny jeans? Or felt like your old pants are no longer of good use?
Recession in the economy can be a hinder in buying new clothes and it even makes some fashion savvy guys drive away from updating their fashion pieces. But who says that recession should make any Juan Dela Cruz stick back to their old 90's high cut blue jeans and baggy white t-shirt?
We've read it in PGG that fashion need not to be expensive. It is how you put things together and how you carry it with machismo confidence. So how about taking out your old, outdated pair of jeans in the closet and bring it back to life with style?
I tried experimenting some of my old pair of straight cut denims, and tried folding it up until the knees (or below the knees, it depends on you) making it look like a new pair of Capri denims paired with rubber shoes, sneakers, or ordinary flip-flops. I find this idea brilliant and cost-saving by making an old pair of jeans useful again in one way or the other. I mean, if we do fold our shirt's or polo shirt's sleeves an inch or so to showcase our biceps and to feel fitter, then why not do the same with your bottoms?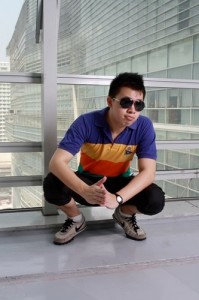 So how about you? Has the recent recession affected the way you spend your money for style and fashion? What other possible ways can you think of to help us in maximizing our old clothes?
Tim is a 19-year-old Hotel, Restaurant, and Institution Management student, who considers himself as a modern Pinoy, and a great appreciator of male fashion. Tim hopes to share his experiences, and help the timid guys to get out of their old comfort zones in order to experience the zest that comes within a modern Pinoy.
Get updates on men's style and fashion by Subscribing to Pinoy Guy Guide by email. Want to share your story with other PGG readers? Contribute an article now to PGG by contacting Chris