I'm not a die-hard fan of statement shirts but there are really some which are so hilarious enough to be considered cool. And I really like them.
Take the case of this shirt saying "Undress to Impress". I love the way the fonts and letters are arranged. I Initially thought it read as "Dress to Impress" only to find out after re-reading that it doesn't.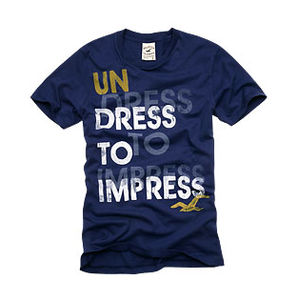 Image credit: Polyvore
The problem is I forgot where to buy this shirt. I was rushing to go home because it was raining hard so I don't remember the exact store where I saw it. Can anyone help me find it?
And here is another funny one I saw a few months ago. It's a spoof type of statement shirt. If you are in Metro Manila and are familiar with MMDA's slogan "Metro Gwapo, Tao Ganado", well here is the spoof version – "Macho Gwapo, Chicks Ganado". (Pardon me for the blurred photo)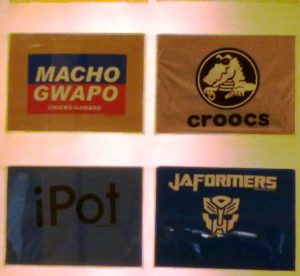 Anyway, I love it – really funny, and in case you were wondering, this can be bought at the spoof store in Trinoma.
So how about you? What type of statement or spoof shirts have you seen which caught your attention and made you considered buying it?
Talk about men's style at the PGG Forums. For the latest updates, Subscribe to Pinoy Guy Guide by email