Look what I have stumbled upon today.
If you have a blog, I'm sure you will love this shirt! (Click on image to zoom)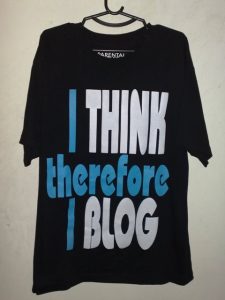 And since I'm a blogger, I immediately bought it.
The phrase "I think therefore I blog" is kind of a modified version of "I think therefore I am" by the philosopher Descartes. It amazes me how statement shirt makers are able to think of clever ways to play with words coming from well-known phrases.
So if you have a blog too, rev up your style and make sure you don't miss on this one!
Join the other PGG members by participating in the Show Your Style Test Project.