For quite some time now, I have been discussing this test project with other members of the PGG Forums, and I think it's time to announce here at the blog about this test project. I'm hoping that there will be some who will participate for it to successfully launch. But for the time being, I will consider it as a test project.
So what's the idea behind Show Your Style?
The idea behind Show Your Style is to allow readers of Pinoy Guy Guide and members of the PGG Forums to show their own choice of clothing and apparel. It's about showcasing your style and your attitude.
What do you need to do?
The idea is pretty simple. Take photos of yourself wearing what you feel like and send it to my email at

After sending your photos now what?
Upon sending of your photos, we will post them here at the blog. Please note that not all entries are guaranteed to be posted and featured here at the blog. I'm still working out the details on how we will select which photos will be posted so if you have any ideas, please let me know! =)
Guidelines for sending your photos:
1. Entries SHOULD be your OWN photo and must be decent. Photos of other people are not allowed. By sending your photos to

, you agree that PINOYGUYGUIDE.COM has the right to use your photos.
2. All photos that you will send SHOULD have NOT been used by other commercial publishing media (e.g. magazines, online websites, books, etc).
3. Photos taken by any form of camera are allowed (even if just from a camera phone) as long as it is clear and big enough.
4. If you're a little shy, it's alright to not show your face but your apparel should be clearly visible.
5. You have the option whether you want to disclose your full name or not but your nickname is necessary for the purposes of displaying it in the blog.
6. Please provide a brief description of your photo/style which will be used when posting it to the blog. An example of a blog entry will look like the one below:
Chris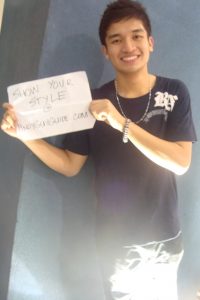 Description:
Photo of me wearing a dark blue shirt, black jeans from Lee, black bracelet and silver necklace with lights coming from a ground spotlight nearby.***
***Please note that the photo above was taken for the purpose of this post only. It is not necessary to take photos of yourself displaying a sign with the text "Show Your Style @ PINOYGUYGUIDE.COM" like the one above.
7. And lastly, have fun showing your style and learning from the other PGG readers! I might give away prizes for the first few senders.
Not yet a subscriber? Subscribe to Pinoy Guy Guide by email now!