I discovered a new shop to buy men's clothes. The name is Philosophy and I accidentally found it while I was strolling my way with a former officemate to Fully Booked at Bonifacio High Street.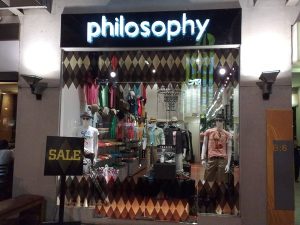 Their clothes are definitely for modern guys who love that "porma" look. Most of their styles are really extraordinary and unique. You will find it hard to find similar styles in other shops.
I didn't have any intentions to buy clothes at that time because as I mentioned, I was there to buy a book and not clothes. But still, I ended up buying a short sleeve stylish dress shirt below which was on sale. It originally costs 1,699 Pesos but they sold it to me for only 999 Pesos. 😉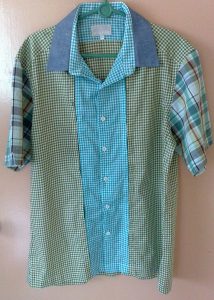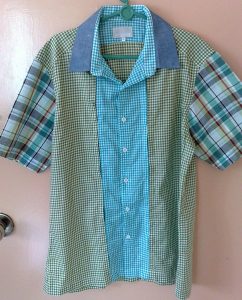 It looks better in actual and when wearing it than the pictures above – I'm just not so good in photography. Pairing it with khakis or beige slacks is perfection! It also goes well with jeans.
And speaking of Philosophy, they only have two branches. One, as I mentioned, is at Bonifacio High Street (The Fort, Bonifacio Global City, Taguig) and the other is at SM Mall of Asia (Pasay City).
Now here's the catch. Before my friend and I left, I looked around to see if I could buy anything else. To my surprise, I saw shirts which appear to be "for women".
I asked them: "Isn't this a men's shop? Why are you selling shirts which look like uhm…"
My friend interrupted: "A blouse?"
The sales clerk answered: "Yeah it is a men's shop."
Me: "Then why do you have men's clothes in that section where I bought my polo shirt and women's clothes over here at the back of your store?"
Sales clerk: "The clothes here at the back are not for women. They are also for men. These shirts which look so flamboyant are for the metrosexuals and gays."
Me: "So you sell clothes for straight men, metrosexuals and uhm, gays?"
Sales clerk: "Yeah, that's our niche."
Me: "WTF!"
My friend laughed out loud. And so did I.
Then I walked out of the shop with my new shirt feeling half the man I used to be.
Want to be updated in the latest men's fashion and lifestyle? Subscribe to Pinoy Guy Guide by email or join the discussions at the PGG Forums.