Lacoste did it again. They were able to convince me once again to buy their perfume. This time, I bought their newest fragrance – Lacoste Essential Sport.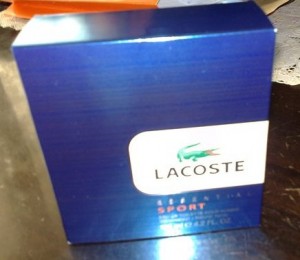 Lacoste Essential Sport is a variant of Lacoste Essential which I also mentioned in PGG's Four Picks on Men's Scents back in 2009. I now have both fragrances and they both smell great. I initially thought that the two variants would smell almost the same but I was wrong. They smell differently. I realized that Lacoste Essential Sport has a stronger masculine scent than the original Lacoste Essential which has a "citrusy" smell. If you ask me which I like better, I won't be able to decide because I love them both. But for now, I think I'm liking the "Sport" variant more due to the more manly scent that women like.
Lacoste Essential Sport was officially released last March 2010. According to the salesman of SM Department Store, this fragrance came out locally less than a month ago and SM was one of the first to carry the brand.
The perfume is available in 75 mL and 125 mL. I bought the bigger 125 mL because Lacoste is currently giving away a free messenger bag with every purchase of the big bottle.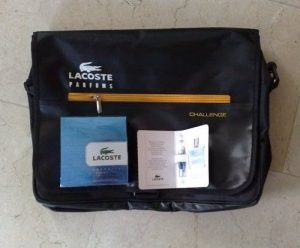 Aside from the bag, I also received a free pocket-size perfume applicator which I can refill and take to a party so that it wouldn't be such a hassle carrying the big bottle around. I guess I got myself a pretty good deal if you ask me.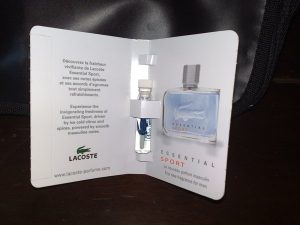 One last thing. In case you are still wondering – yes, the smell of Lacoste Essential Sport is worth it!


Want to be updated on men's fragrances? Subscribe to Pinoy Guy Guide by email or join the PGG Forums.
*Image credit for bottled Lacoste Essential Sport: Lacoste-Parfums