Every once in a while I see couples wearing uhm, how do you call them? Couple Shirts?


Well, it looks sweet but don't you find it a bit cheesy? I know it's none of my business but sometimes, when I walk at the mall and see a couple wearing it, I imagine how hard it was for the girl to convince the guy to wear it. I mean, don't get me wrong: it's cool, no doubt. It's just that it's not too often that we guys would initiate something like this with our girlfriends. Or maybe it's just me?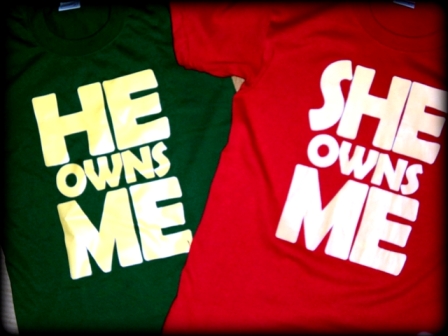 On the bright side, I realized, that these shirts make good presents for monthsaries or anniversaries. Your girlfriend will really appreciate your effort for something like this. Just make sure that when you wear this shirt, your girlfriend is always beside you. Otherwise, when she's not around or when you're all by yourself walking alone, the statement on the shirt doesn't really make sense.
I'm just curious though: have you seen any shops selling couple shirts? The shirts pictured above are custom-made and were sent to me by PGG Forum member Marfz for illustration purposes. Thanks dude, by the way!
Get the latest in men's fashion by Subscribing your email to Pinoy Guy Guide. Are you a fan of PGG? Like us on Facebook or join the PGG Forums.