Last Friday, was the last day in the office for my former boss Jon, who happens to be also a good friend of mine. I feel sad that he is leaving because it's not too often that you'll have a cool boss whom you can joke around with. He is leaving our company for better opportunities coming his way. Before he left, we wished him good luck and he gave us all guys a man hug.
So what exactly is a man hug? A man hug, also known as a "bro hug", a "pound hug", or a "dude hug" is a hug between two heterosexual males.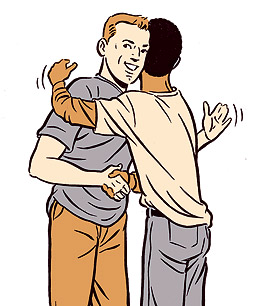 Image credit: TVTropes.org | CC License
Note that unlike the bear hug – which you do to your girlfriends – wherein you throw both your arms around her in embrace to lock each other's body, a man hug has certain limitations.
When doing a man hug, you extend your right arm to perform a handshake and then you use your left hand to semi-embrace and to tap the back of your buddy as fast and as hard as you can for about 2-3 times. The act should only last around 3 seconds.
As you noticed in the above picture, the handshake prevents you and your buddy from getting too close and the hard tap on the back shows that what you are doing is a masculine gesture and not something gay.
Asians are a very low-touch culture. Japanese people for instance, would prefer bowing to each other. Filipinos, on the other hand, would prefer a handshake. In the Philippines, we put too much emphasis on virility so we seldom do the man hug. You will only see two dudes doing this during the adrenaline rush of sports like basketball (the only place where even the bear hug and group hug are acceptable) and also when meeting a long lost friend or brother at the airport. In my example, we only did the man hug when bidding our buddy Jon, good luck and farewell.
So how about you guys? Have you done the man hug?
Learn more about men's lifestyle and pop culture. Join the discussions at the PGG Forums.
Connect with Pinoy Guy Guide via Facebook | Twitter | Free email updates