In the last couple of months, I have been hearing a lot of good words about Azta Urban Salon. I have read about them on the Internet and even PGG Forum member ctan has recently talked about his positive experience here.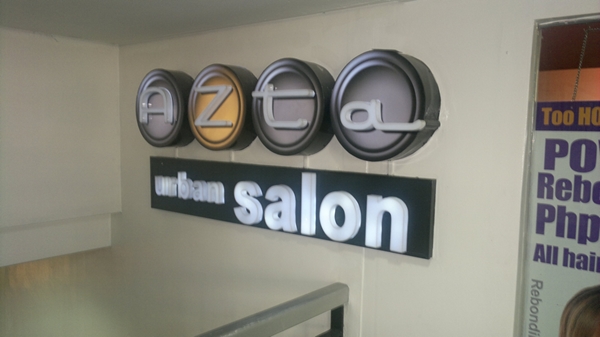 Now as if it was some sort of destiny or perhaps coincidence, I got an email invite from Azta Urban Salon directly. They asked me if I wanted to try their services and I said why not?
So last Sunday, after realizing I badly needed a haircut, I headed over to one of their branches at Forum Robinsons in Mandaluyong. I wanted to try something new and something I have not done before to my hair so I thought that maybe this would be the perfect time.
When I got into Azta, I saw a lot of people in there. They have a lot of customers, after all it's a weekend and unlike most salons that I have been to, their clients not only consisted of mostly women. They consisted of several men too. Now good thing I booked for an appointment otherwise I would have to wait for quite some time.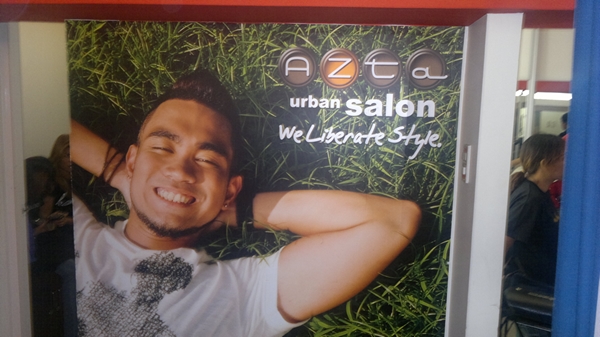 I was booked for 1.30 pm. When I got in there, their personnel immediately led me to my seat. Afterwards, my designated stylist arrived. His name is Darryl. He was wearing glasses and a bright-colored shirt. He looked young and hip. He approached me and asked: "Hi sir, what can I do for you today?". I replied, "I want to get a haircut but I want something different."
He glanced at my head, thought for a while then he continued: "Okay, let's cut your hair short. It will be a matte haircut because you will have to apply hair wax to it everyday. After the cut, let's add some color."
I initially hesitated about the hair color. Since time immemorial, I refused to dye my hair for a couple of reasons. One is that I am really satisfied of my midnight black hair and two, I am not sure if there is some other color that will look good on me. You see, the thing about hairstyle is that the cut should complement your face shape and more importantly, your hair color should perfectly match your skin color. Otherwise, you would look like some scary basketball team mascot.
I paused for a while and doubted the idea of hair color. Darryl sensed it so he grinned and explained further: "Sir here is what we will do. I will only apply Ombre coloring". "What's that?" I asked. He went on: "It means that I will only apply highlights on top of your head. Your sides will remain black and only portions of your hair will get color around the edges and tip. Trust me sir, this is the latest method for guys and I'm sure it will look good on you."
A few minutes later, I found myself browsing over the catalog of hair color samples. He managed to convince me because he looked like he really knew what he was doing. He said that he has been in the industry for a while and gained a lot of trainings from Azta mentors who went abroad to discover the latest hairstyling techniques for men. Then after a while, Darryl noticed that I was starting to get confused on what color to pick from the catalog so he ended up deciding for me. He chose golden light blonde because it is a color that is not too loud nor too light, something which is "just right", he said.
So this is the part where my hair was being trimmed matte-style.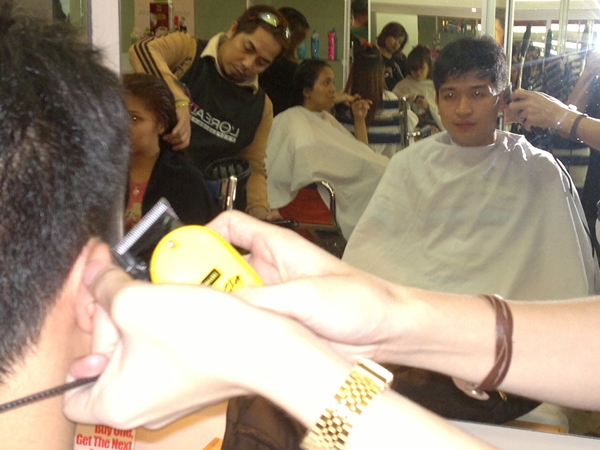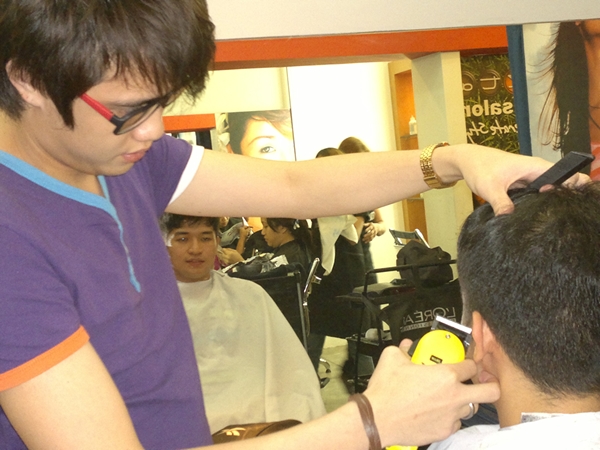 And here is the part where they were applying hair color. Damn, it's crazy! At first my hair looked color blue.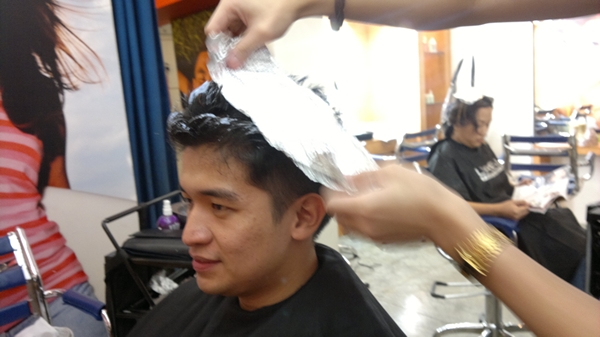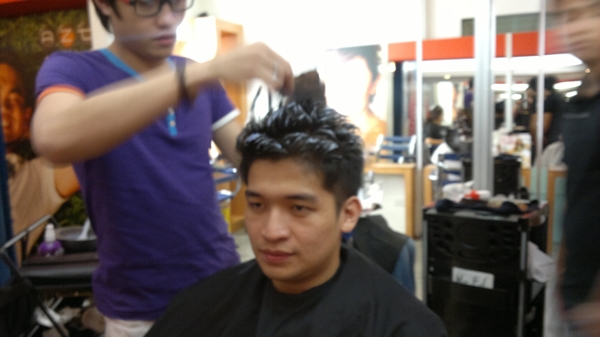 I stayed on my seat for about another hour. They let my hair absorb the color and while waiting for that to happen, they offered me free coffee. Talking about good customer service, you know.
After waiting time was over, they rinsed my hair and toweled it dry. I came back to my seat and when I looked at myself in the mirror, I was mesmerized. My hair looked so damn cool.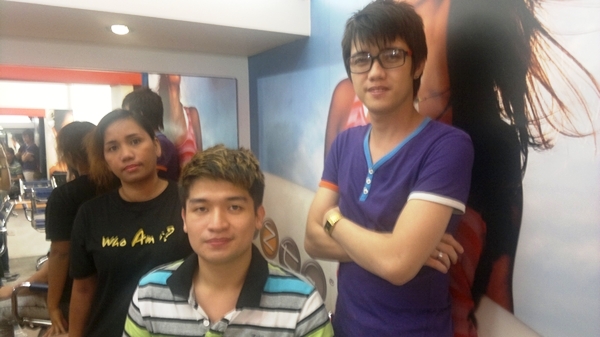 Darryl applied some wax, blow dried, and styled.
So guys, this is how I looked before with my natural black hair…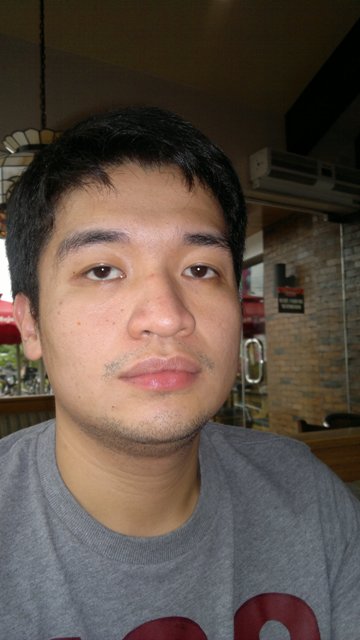 And this is how I looked after. This is the finished product.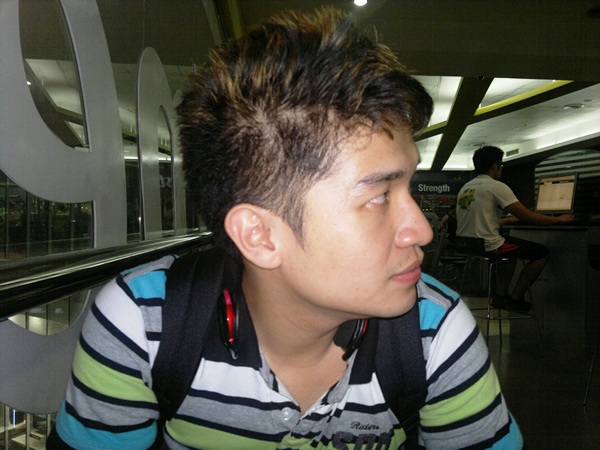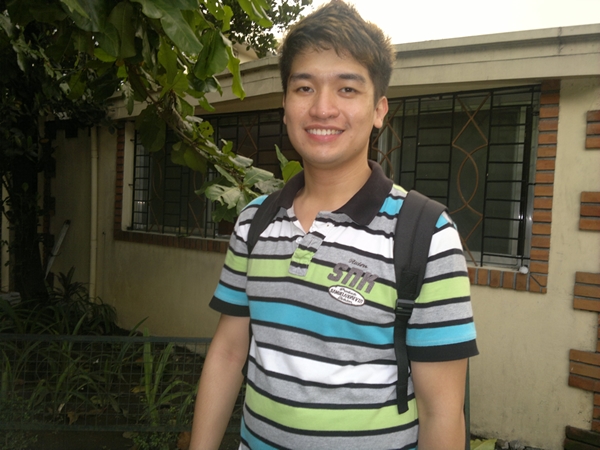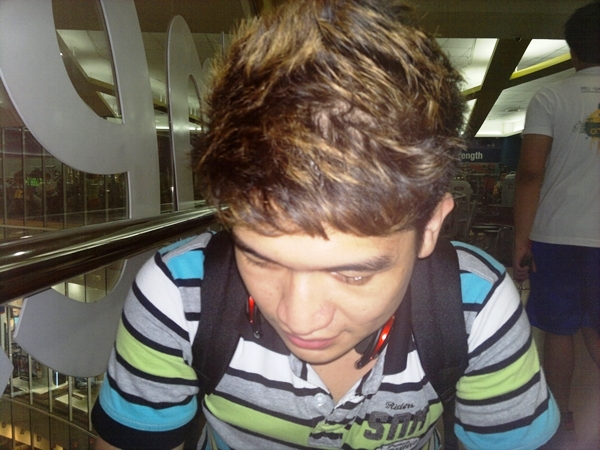 Come Monday morning, I was both excited and terrified to go to the office. What would my colleagues and friends say? What would the chicks think? Will they like it? As much as cliché tells us to not care about what other people say, I simply cannot do that. Comments and feedback from other people matter to me because I believe that constructive criticism helps all of us become a better man.
I arrived at work at 9 am. When I opened the door of our office, there was a commotion. Everyone was staring at my head, smiling and they all started to make noise saying:
"Chris? What the f***? I did not recognize you dude!"
"Wow, are you an actor?"
"Hey can I have a picture and autograph?"
"Nice hair man!"
"Is it the City Hunter guy? You look like Korean."
"Chris, nice choice of color. Looks good on you."
"Are you a footballer from Manchester United?"
Needless to say, everyone was smiling at me the entire day. Everyone I met along the way was greeting me as if it was my birthday. Even my boss.
Of course, I will be honest that there is one girl in the office who said she is not exactly sure how she felt about my new hairstyle. Her name is MJ. MJ is a minimalist who seats right across of my cube. She sees my face 8 hours per day since we've met at work and she prefers my old black hairstyle because it is simple. Apparently, she likes the good guy look on me and she is so used to it that she says she is having a hard time adjusting to my new bad boy, rebellious teen image. I just managed to persuade her by telling her that she will like my new look in time.
Maybe yes, she will get used to it or maybe not. But somewhere deep inside me, I am still happy about MJ's comment on my rebellious look because it only means that my image-change is effective. It did affect her perception about me and this is exactly what I wanted. Actually, it's what we all want don't we? If you come to think of it, whenever we change something about ourselves – whether it is a new hairstyle, new clothes or new attitude – we want other people to notice that change and to perceive us differently right?
As I'm writing this, I'm still overwhelmed by my new look. I just love it! Thanks to Azta Urban Salon for their gracious invite and awesome service. Special mention also goes to Darryl who styled my hair. I think I just found myself a permanent stylist.
Just in case you want to know, Azta Urban Salon also has branches in Timog, SM San Lazaro, Katipunan, Robinson's Metro East and Alabang Town Center to name a few.
Find out the best men's hairstyle for you. Subscribe your email to Pinoy Guy Guide.
You can also connect via Forums | Facebook | Twitter |