Once in a while, you will get invited to a party that requires you to wear a costume. This is especially true when you work for a company in the city and Christmas is fast-approaching.
Ever since I finished college and joined the workforce, two of the companies I have worked for require their employees to wear costumes during corporate Christmas parties. I initially thought that this was unique to the companies I've been to, but I have learned through my friends who work at other offices that this is actually the trend. Each year, these companies have different costume themes ranging from Walt Disney cartoons to Cowboys to Hawaiian and a whole bunch more. Heck, I even heard of a company whose Christmas Party Costume Theme was "What would you wear if it was the end of the World?"
So if you are about to attend a costume-filled party this December, here are some of the popular costume themes that I have tried, where I bought the outfit and how I managed to pull it off.
Greek gods and goddesses Costume Party
This is perhaps one of the most difficult costume themes I've ever tried. If you think about gods, you'll have either of the following in mind: Poseidon, Zeus, Ares and the like. If you come to think of it they are either shirtless and almost totally naked or they are wearing a Roman gladiator type of get-up.
I have no guts to show up at a 5-star hotel party nude so I opted to dress up as the latter. I did not choose a specific Greek or Roman god, so I just rented a costume that looks like this. I'm the guy on the left.
There are some parts of the get-up which I improvised. The black shirt and pair of shorts I'm wearing inside were bought separately. For my head gear I asked the help of friends to cut out gold foil in the shape of an olive wreath which will serve as an accessory.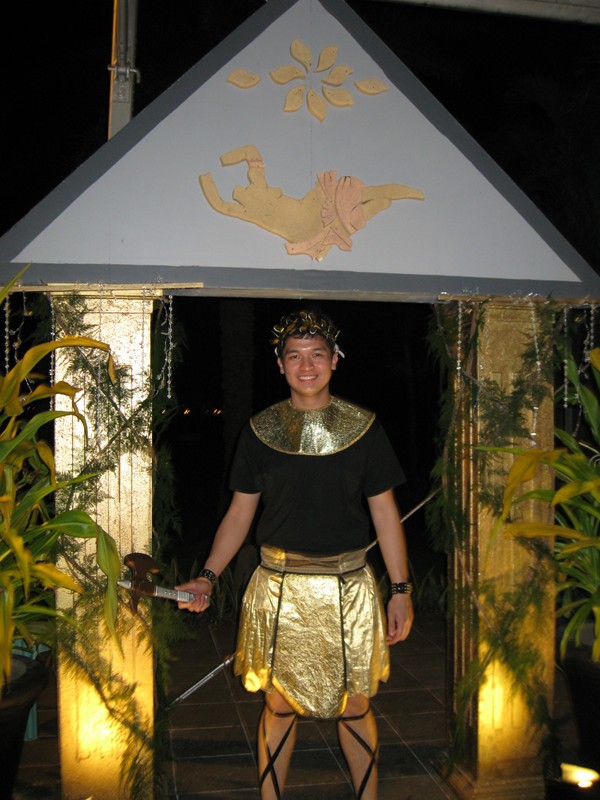 For my sandals, I am wearing a cheap one which I bought at Greenhills then I made up the straps.  If you look closely, the straps are actually made of electric tape which I wrapped around my legs in a crisscross fashion. Yes it looks nice, but you can imagine how excruciating it was to remove them given that the tape is pulling off hairs from your legs. Insane!
But still, it was one of the costumes I truly enjoyed.
1920's Costume Party
There's no need to rent as this is one of the easiest costumes you can find.
All you need is a beige longsleeves shirt, a pair of dark brown corduroy pants, a corduroy coat and a newsboy cap. These are all readily available at department stores.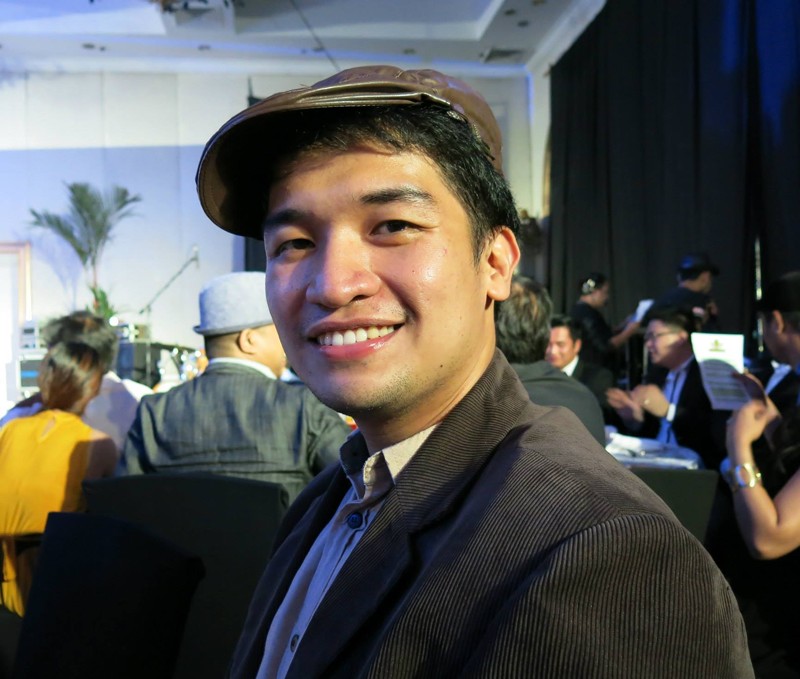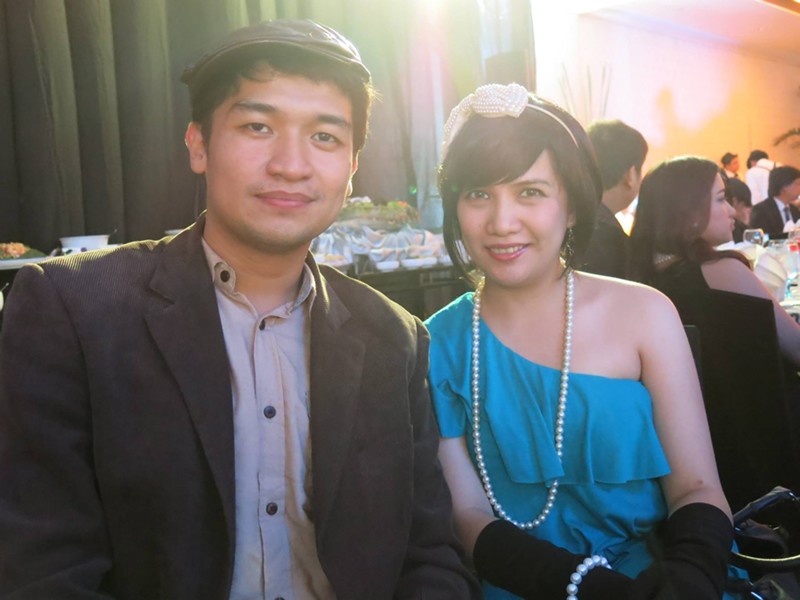 My dad already has a corduroy coat and I already have a corduroy pants so I just borrowed the coat from him to match it up with my pants. The only items I bought were the 300-Peso newsboy cap and the beige longsleeves. This is how it looks like from head to toe: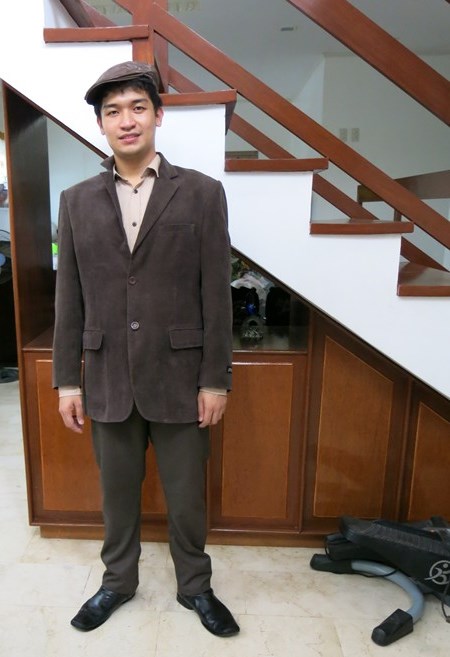 I felt like I was in a time machine and was taken back to the 1920s with this costume. (Back to the past and future Michael J. Fox-style) 

Safari-themed Costume Party
I grew up in Kenya so it is safe to say that I know the Safari outfit pretty well: It involves khaki pants, green, pale or light brown color shirts. The reason behind those hues? Well it seems that wild animals are attracted to bright and striking colors (red, yellow etc.) so the Safari get-up makes use of earth-like hues in order for you not to be bitten by insects and be chased by wild animals.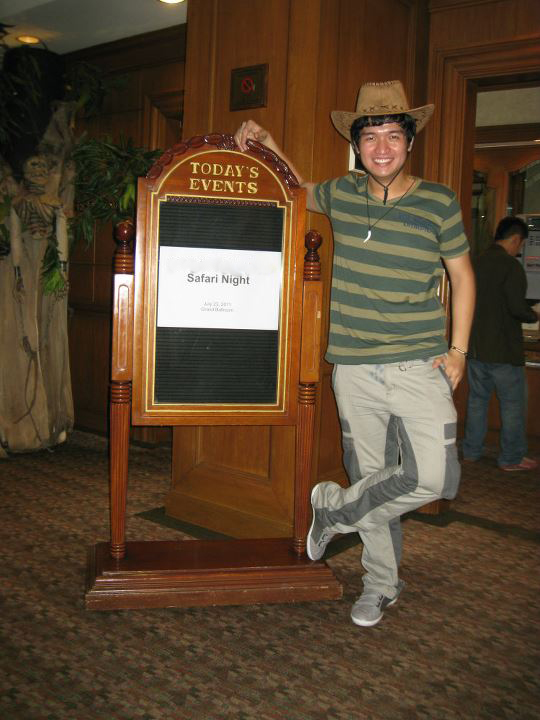 There's no need to rent a costume for this too because almost all parts of a Safari-like get-up are available at department stores and malls. The pants I'm wearing here is from Mint, while the shirt is one which I bought from Wrangler. The pair of shoes is my old casual one from GBX and lastly, the hat is somethingI reused from my Cowboy Costume way few years ago. It is still available at SM accessories.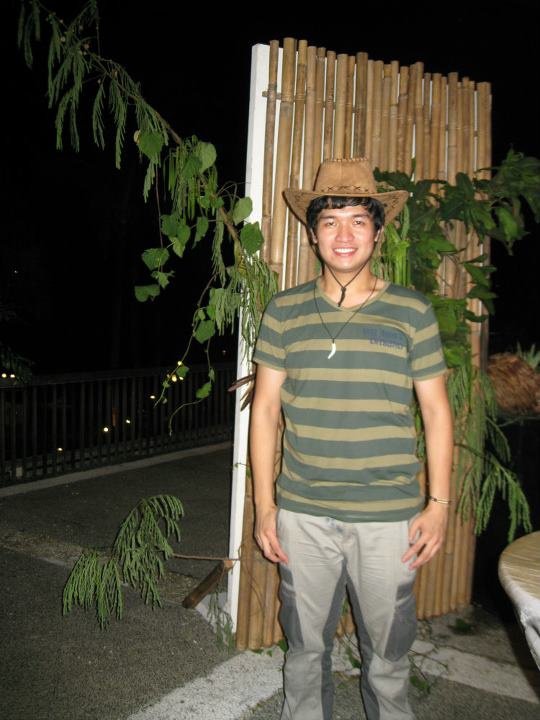 All-in-all, the get-up for safari are mostly recycled clothes that I already have in my wardrobe. It's  just a matter of mixing and matching.
Superheroes and Villains Party
In the Greek gods costume party, I rented a costume but I did not use all parts of it. My get-up that time was 50% rented and 50% improvised. But when it came to Superheroes and Villains costume party, I had no choice but to rent 100% of my get-up. That's because I had to wear a costume of a well-known and identifiable superhero. In short, I had to do cosplay.
My favorite character is Spiderman but I couldn't get a decent costume for it so I ended up renting my second favorite: Batman. Yes dude, make no mistake. I'm the guy on the left here wearing spandex. LOL.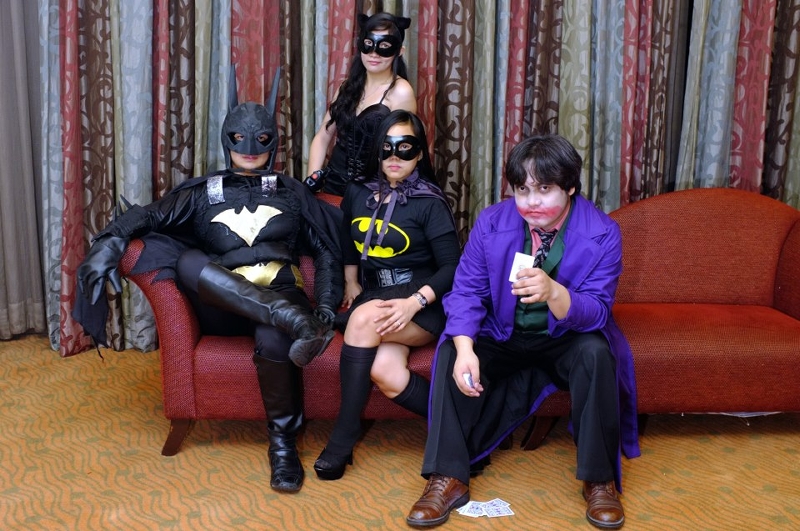 During the party, I was one of the finalists for best in Costume. Read more about my first cosplay experience for Batman here, as well as more pictures and details on where I rented the outfit.
Back to the 80's Costume Party
This costume is a no-brainer. It is so easy to find and it is almost similar to fashion trends today except that it is a little gaudy and awkward.  The trick is to combine very bright colors which do not match and do not complement well.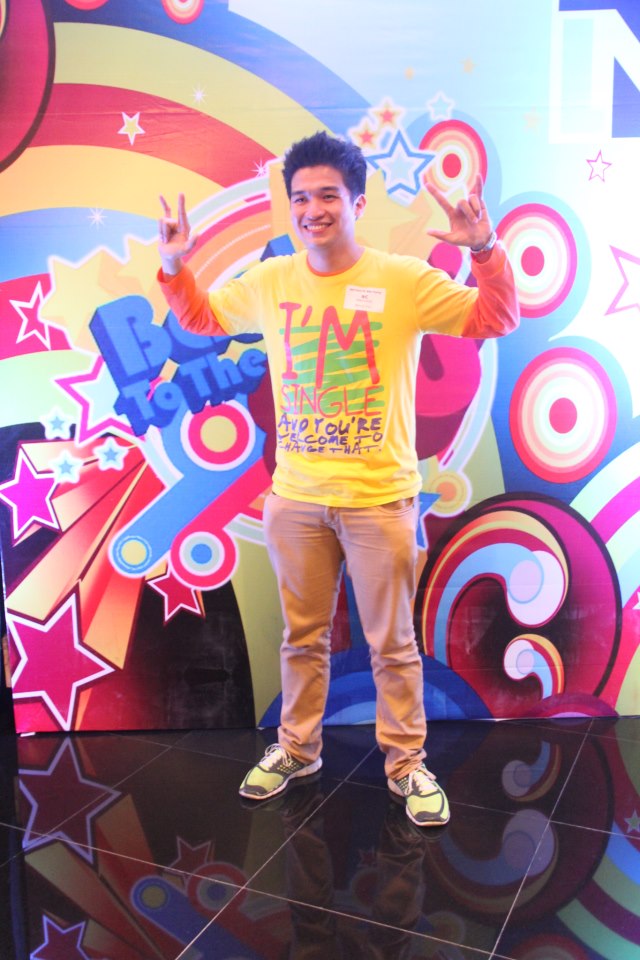 As you can see, I mixed yellow with tan, with orange and green shoes. It's crazy but that is fashion for men in the 80s.
Glamour Party
The Glamour Party's theme is to "Dress To Kill". That means, dress-up in your most fashionable and appealing get-up for the modern times.
Now since this party was back in 2011, I wore a shirt and a coat on top of it similar to this. If you still remember, this is the outfit I blogged about during that time. It was the year when men's fashion is all about Coat + Jeans = Dressed to Kill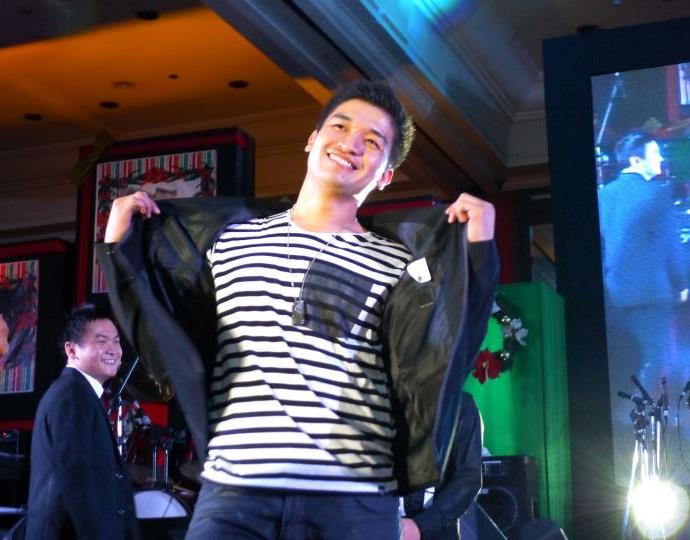 For my bottom, I wore coated black jeans and leather shoes. It brought out the preppy, youthful, and cool appeal by mixing and matching formal vs. casual pieces of clothing. The judges really liked my outfit so I feel blessed to win the best in costume award that night.
 *    *    *    *
Tips on how to prepare for a Costume Party:
1. Check first if you have something in your closet which you can use or mix and match. Don't waste money on something which you will only use for one night (read: 3 hours).
2. If you have the creative side in you, you may want to make your own costume or improvise. It is usually a lot cheaper, but requires time and effort.
3. When buying costume outfits, as much as possible, try to buy pieces of clothing which you think you can still use after the party. Maybe you can wear it to work, or during weekends. That's what I did for my "Back to the 80's" costume.  Up to now, I still wear the shirt and my pair of tan denims I used during the party. But I wear them separately and match them with my newer clothes for it to blend into modern fashion trends these days.
4. If all of the above fails, don't buy a costume, RENT!
Final word:
Eventhough you've always known me as a men's fashion blogger who is a bit serious in dressing up (yes, some of my readers who I've met told me that), I still know how to dress down and have fun too. 🙂 Sometimes it doesn't hurt to look goofy at times during costume parties and bring back the kid in you even for just a few hours. It's an exciting way for you to loosen up and have fun with your classmates, colleagues and friends.
So what about you? What costume theme parties have you tried in school or corporate parties and how were you able to prepare for it?