When you're out on date night, sometimes, the usual movie and dinner starts to become boring. Not that there's anything wrong with it, but there are times when you just want to add a little flavor to your dates just like what my girlfriend and I did a few nights ago. Instead of doing the usual, we did something we haven't done before. We took a painting class at Sip & Gogh.
Sip & Gogh is a Paint and Sip Studio located in the vicinity of Capitol Hills Drive in Quezon City. From the outside, it looks just like an ordinary shop that sells paintings. But the truth is, it's not.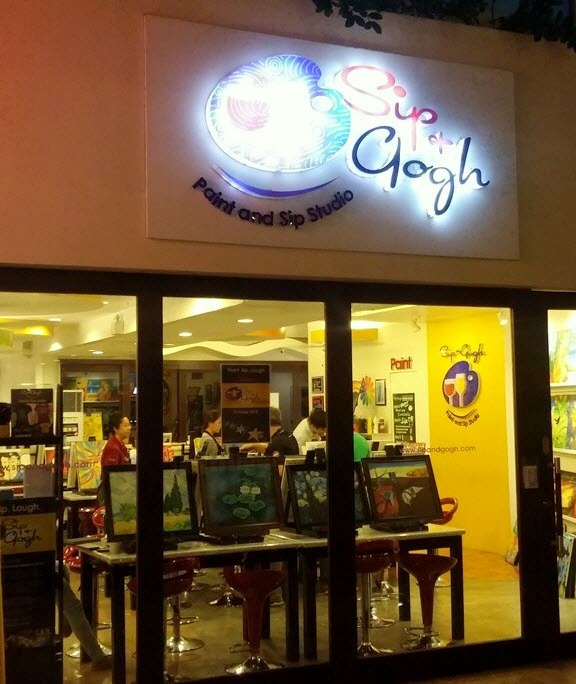 It's actually a studio where they will teach you how to paint while sipping a glass of wine and nibbling some cocktail food. It's awesome for a date and is something that I highly recommend to you, bro.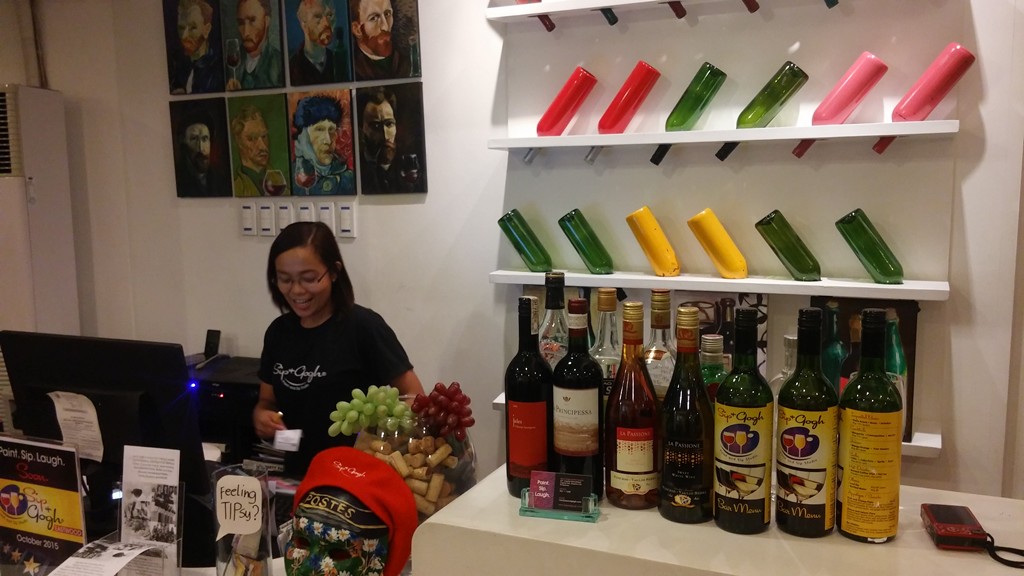 If you plan to take your date with you to Sip & Gogh, the first thing you need to do is to check their website's calendar for their class schedules and make necessary reservations in advance just like what we did. At Sip & Gogh, one thing to remember is that, no two of their painting sessions are the same because each has its own unique theme. For example, one of their classes would have students paint Van Gogh's "The Starry Night" while the other would paint da Vinci's "Mona Lisa".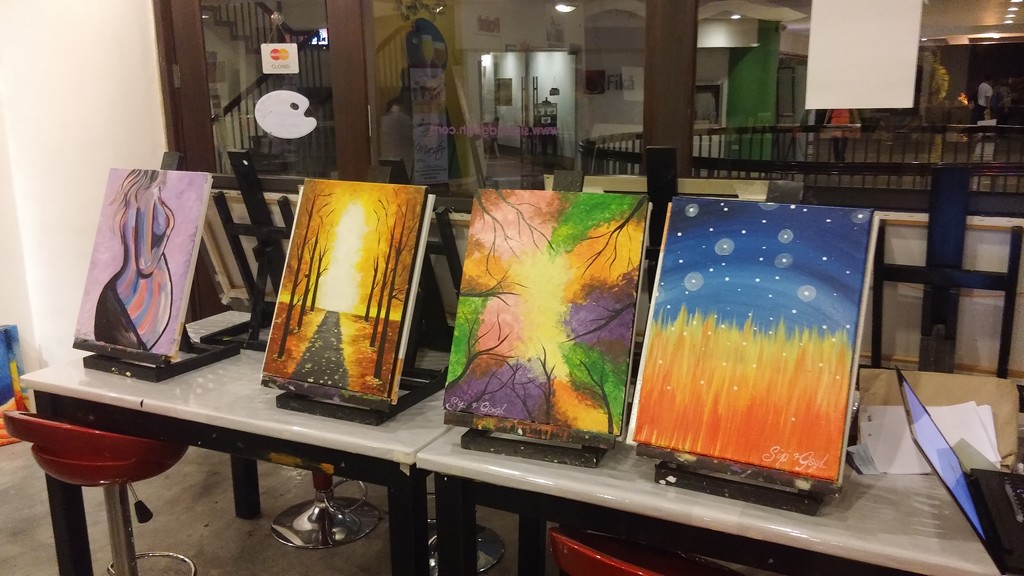 As for my girlfriend and I, we picked their open session instead of their themed classes. An open session is a class where you are free to choose which artwork to replicate and paint on your own. There are so many options to choose from that we quite struggled to pick which one we're gonna paint.
Out of all the options, this is what we ended up choosing as our inspiration: The Eiffel Tower.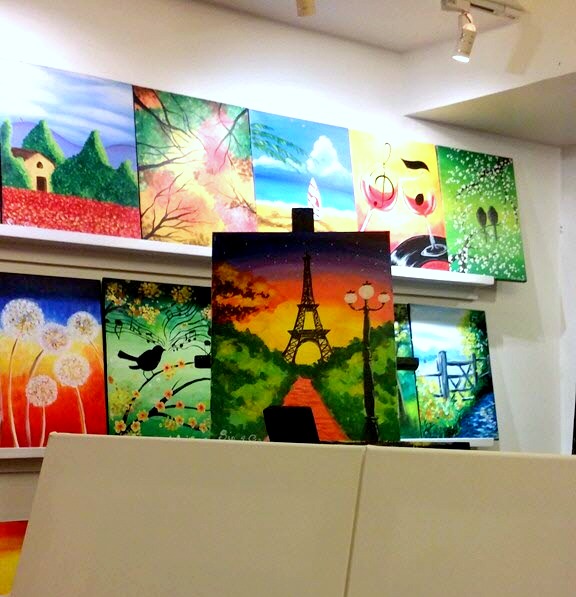 We chose to paint as a couple so they gave us two separate canvases. Our job is to replicate The Eiffel Tower painting in the best way that we can.
My girlfriend was assigned to paint the left side of the artwork while I was assigned to the right. The tricky part in painting as a couple is making sure that when the first half of the painting is joined to the second half, the elements in the middle should intersect and fit together exactly like pieces of the same puzzle. It should appear as if only one person painted the entire thing.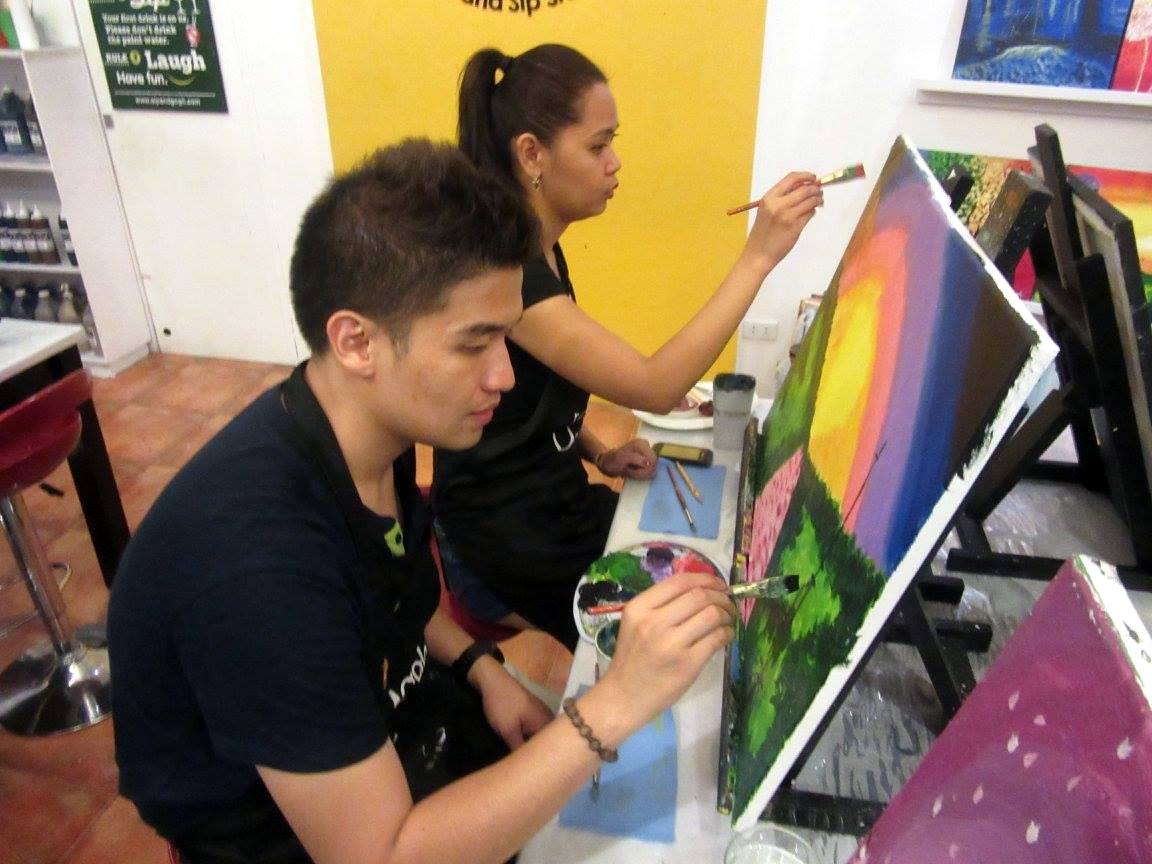 Of course, no one expects us to produce something like a pro because it is a leisure and a just-for-fun activity, but heck, at the very least, we should try to paint like an adult and not like some kid in kindergarten. That's where the pressure lies especially that we're not that artsy, you know. Haha.
Good thing that they have an instructor who will guide you step-by-step on what to do, what hues to mix in your palette to come up with the precise shades of colors and which brush strokes to use to effectively produce the artistic patterns on your canvas.
About two hours, a glass of wine and a "feeling proud" moment later, here is the result of our combined artwork as a couple.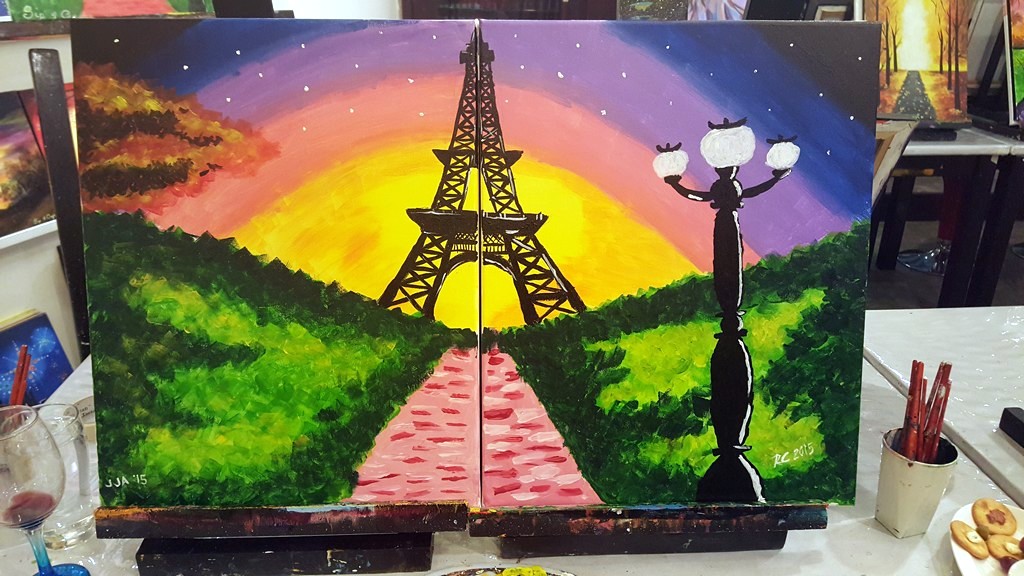 My girlfriend did the left side and I did the right. Pretty amazing for someone amateur, right?
Believe it or not, we're selling this painting for a million dollars. Okay, I'm kidding haha! It certainly won't sell at that price, but for us, as a couple, this painting is priceless. I'll be hanging this at the wall of my condo.
I can guess the question you have in mind right now. "Can I go there to paint alone?" Man, certainly! This place is not exclusively for dating couples. If you'd like to get a feel of painting, learn a new hobby, meet someone interesting or maybe just hangout and bond with friends and family in a one-of-a-kind activity, then Sip & Gogh is the place to Gogh!
Overall, I'd say that we really had so much fun here. They have one of the coolest and most unique restaurant concepts in the city and is something you really shouldn't miss. Not to mention that their staff are very entertaining and comic too. The only thing I didn't like about them, though, is that their location is way too far and pretty hard to find if you're commuting especially at night. But the good news is that they will be opening a new and more accessible branch in Eastwood City very soon. I'm so looking forward to that.
Have you been here? Tell me your experience by leaving a comment below.