Whenever summer comes, people always think that the beach is the one and only place to go.
But that thinking is wrong, because here in the Philippines, there are so many treasures and beautiful places waiting to be found. One of those treasures, hidden just two hours away from Manila, is Crosswinds Resort Suites, a condo/hotel/resort situated in Tagaytay City.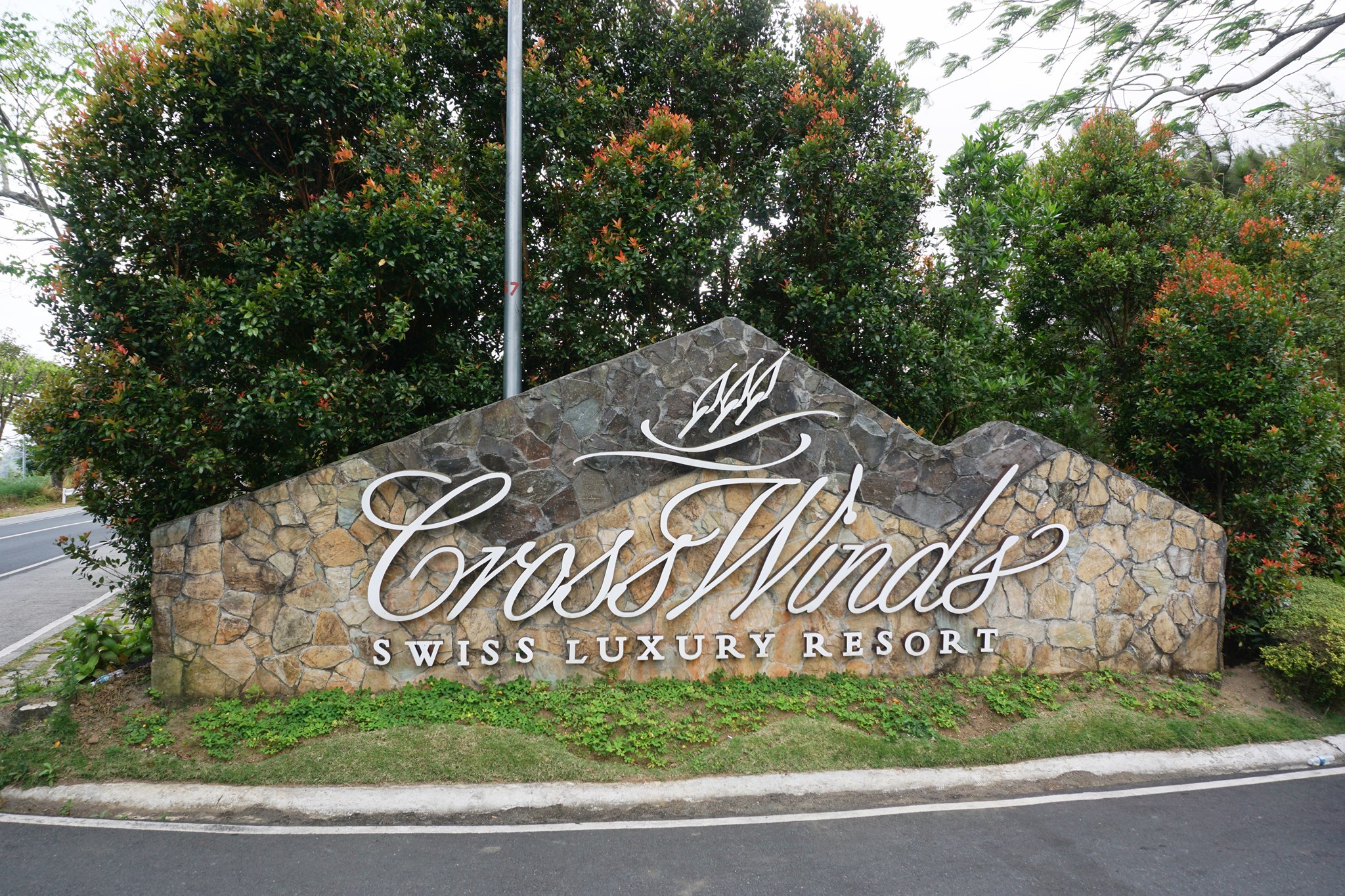 I first discovered Crosswinds when I read positive and rave reviews about it online. As I read more about the resort and saw stellar photos of it, the more I was enticed to go there and see how it looked like in person. Because the truth is, I haven't seen anything like it yet.
Now to understand what I'm talking about, do you see this photo right here?
Would it ever cross your mind that it is in some place here in the Philippines?
I bet you wouldn't be able to tell. Without having any clue or context, one would think that the photo above was taken at a fancy place in Europe. But the reality is, it is actually the facade of one of the posh buildings at Crosswinds Resort Suites in Tagaytay. It is very pretty.
It was roughly two weeks ago when my family and I decided to go to Crosswinds for a short summer roadtrip uphill to beat the heat in the city. We wanted to celebrate my dad's birthday too, but since we only had the weekend to spend and we were curious about Crosswinds, we drove to Tagaytay to arrange a staycation there and to see for ourselves what our newly discovered resort-hotel had to offer.
So what did we like best about the resort? Plenty. But based from our experience, here are five reasons why I think you should visit and stay at Crosswinds the next time you go to Tagaytay.
Reason #1: The Evergreen Pine Trees
Until recently, I had always thought that Baguio was one, if not, the only place where we could find pine trees in the Philippines. But that all changed when we visited Crosswinds.
Because as soon as we drove past the main entrance gate, this is what greeted us.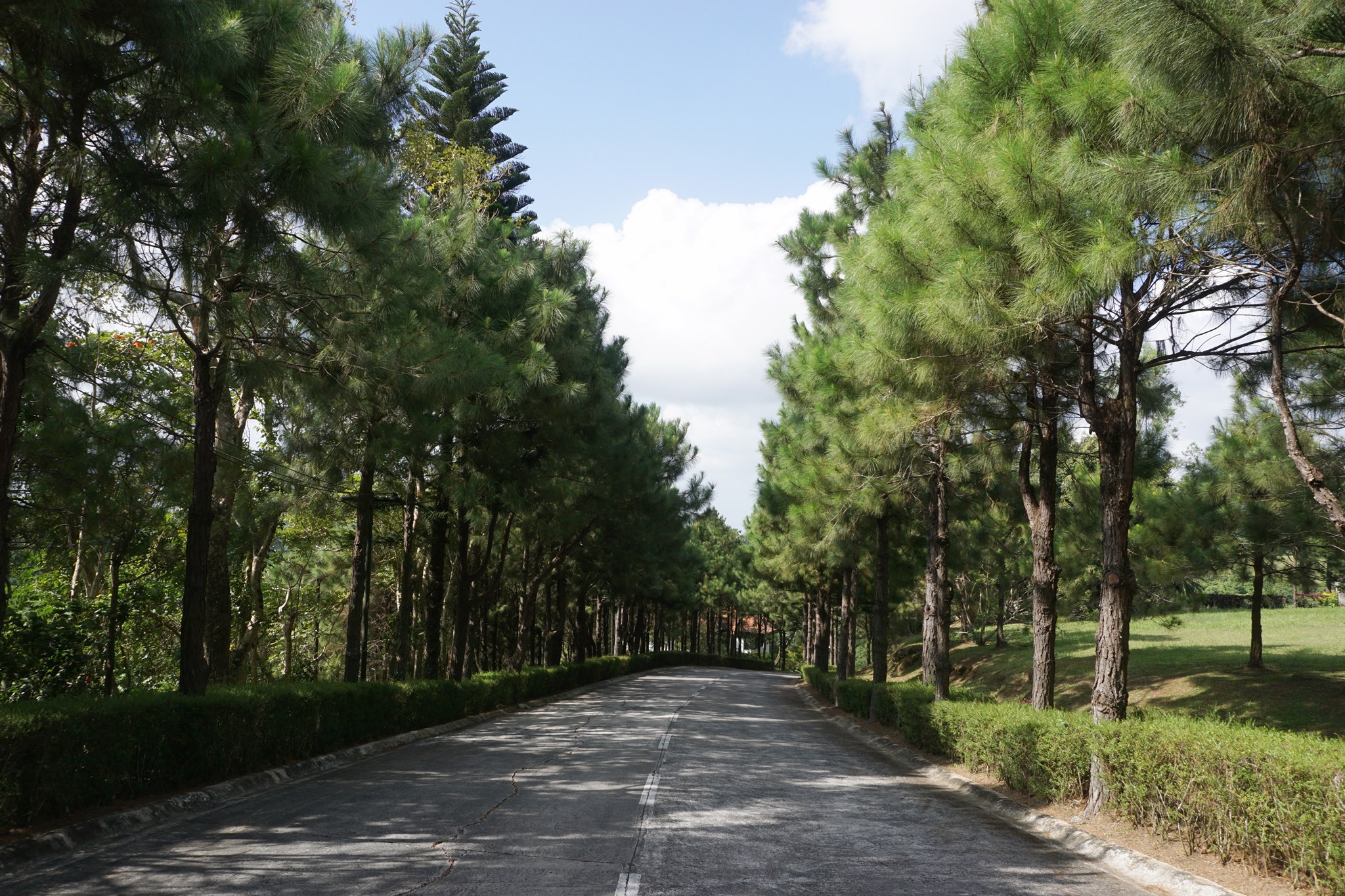 Beautiful and evergreen, isn't it?
Everywhere we looked and each turn we made down the hill, towards the hotel, we were greeted by pine trees. Lots and lots of pine trees.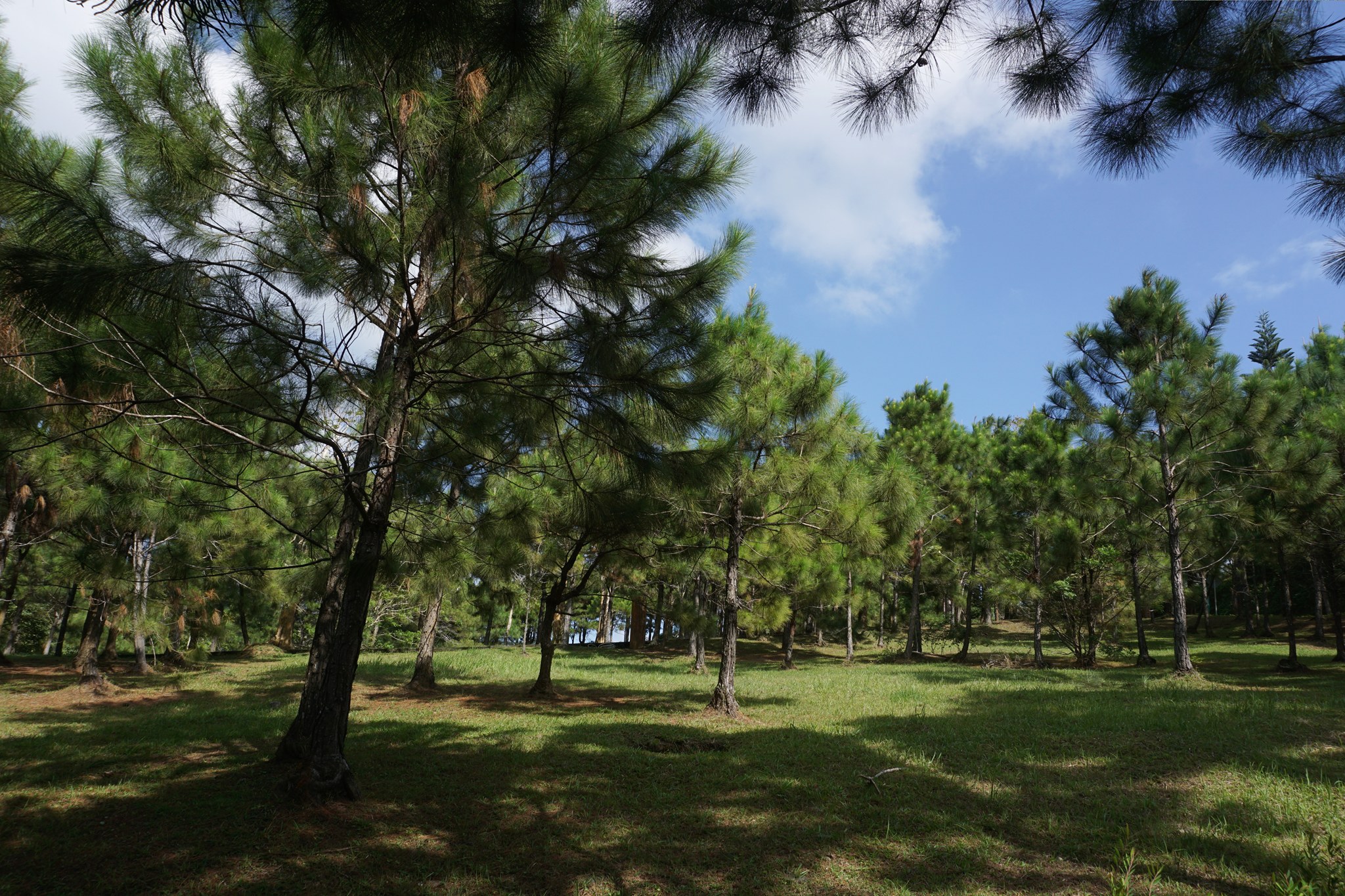 The cold climate, together with the fresh scent of pines, filled the air. It felt like mother nature's own spa. It was invigorating.
Reason #2: The Unique Architecture of the Hotel's Buildings
The moment you gaze at the hotel from afar, you know for sure that its facade is distinct and unlike any other.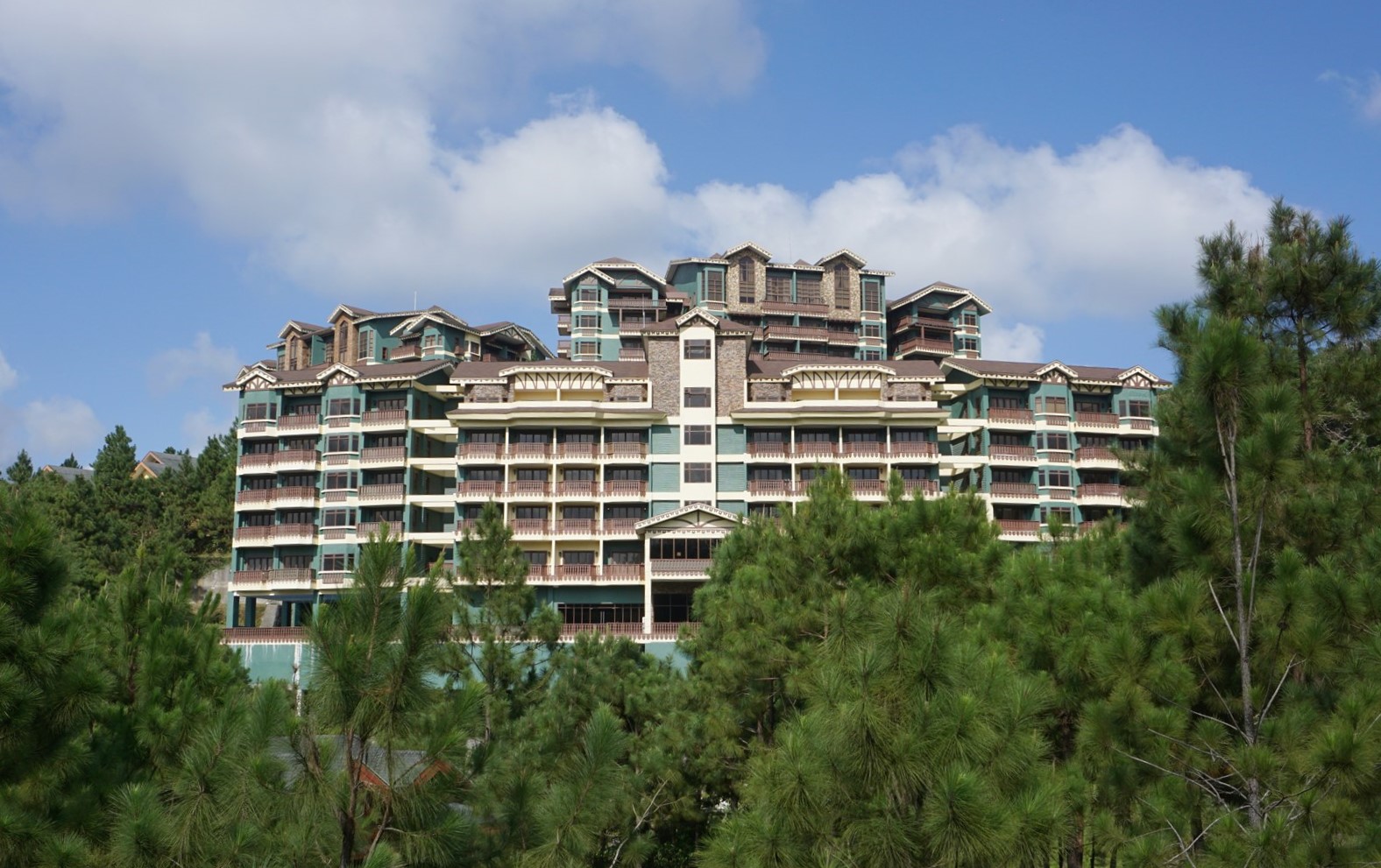 That is because the structure of the hotel's buildings were inspired by the so-called Swiss chalet style, an architectural style, that is characterized by exposed construction beams, widely projecting roofs and facades with richly-decorated carvings and elaborate wooden balconies just like this.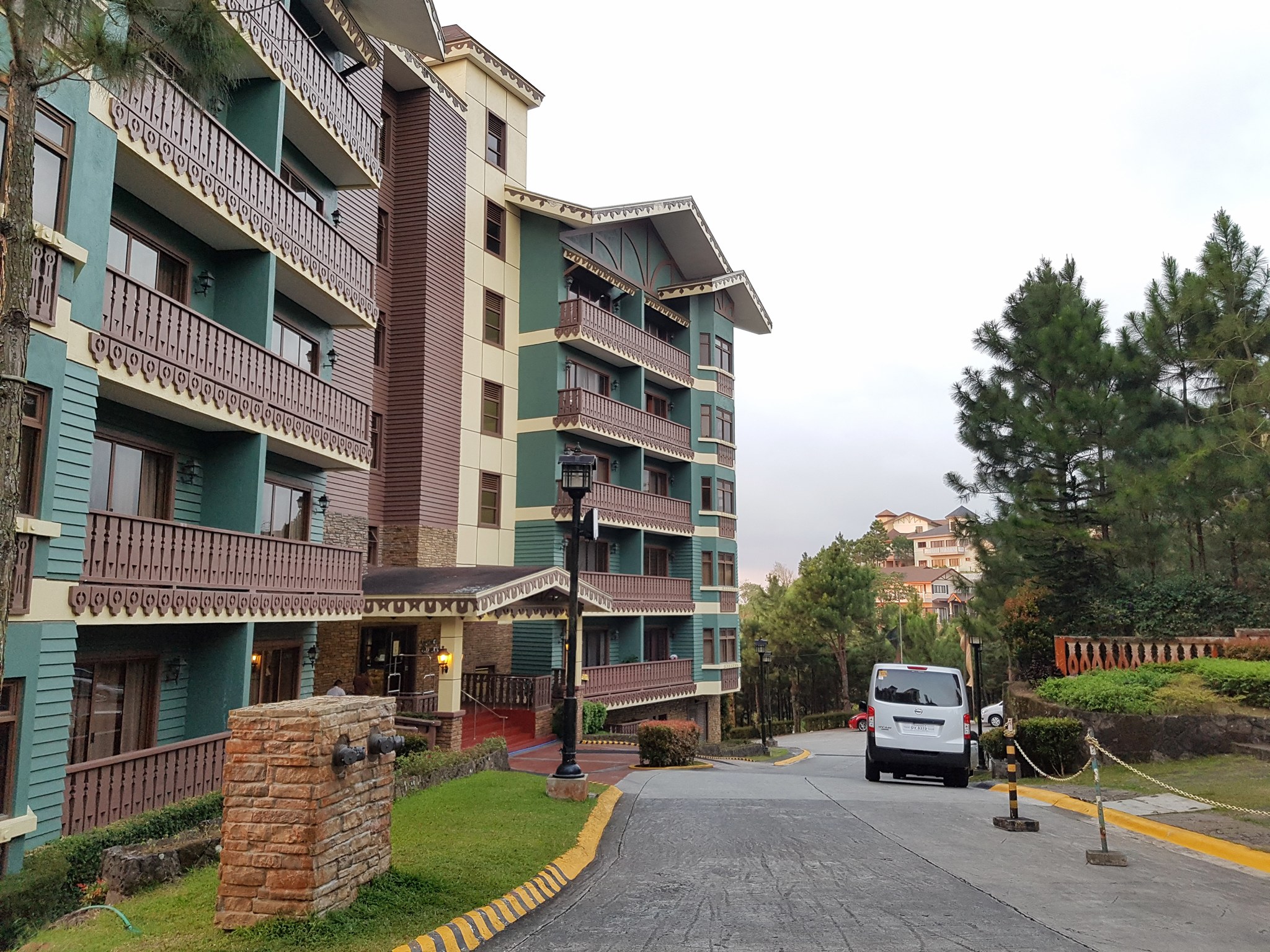 History tells us that the Swiss chalet building style was made popular in Europe during the 18th and 19th centuries. It started in Switzerland, then afterwards, it spread across to Germany, Austria, Hungary and Scandinavia.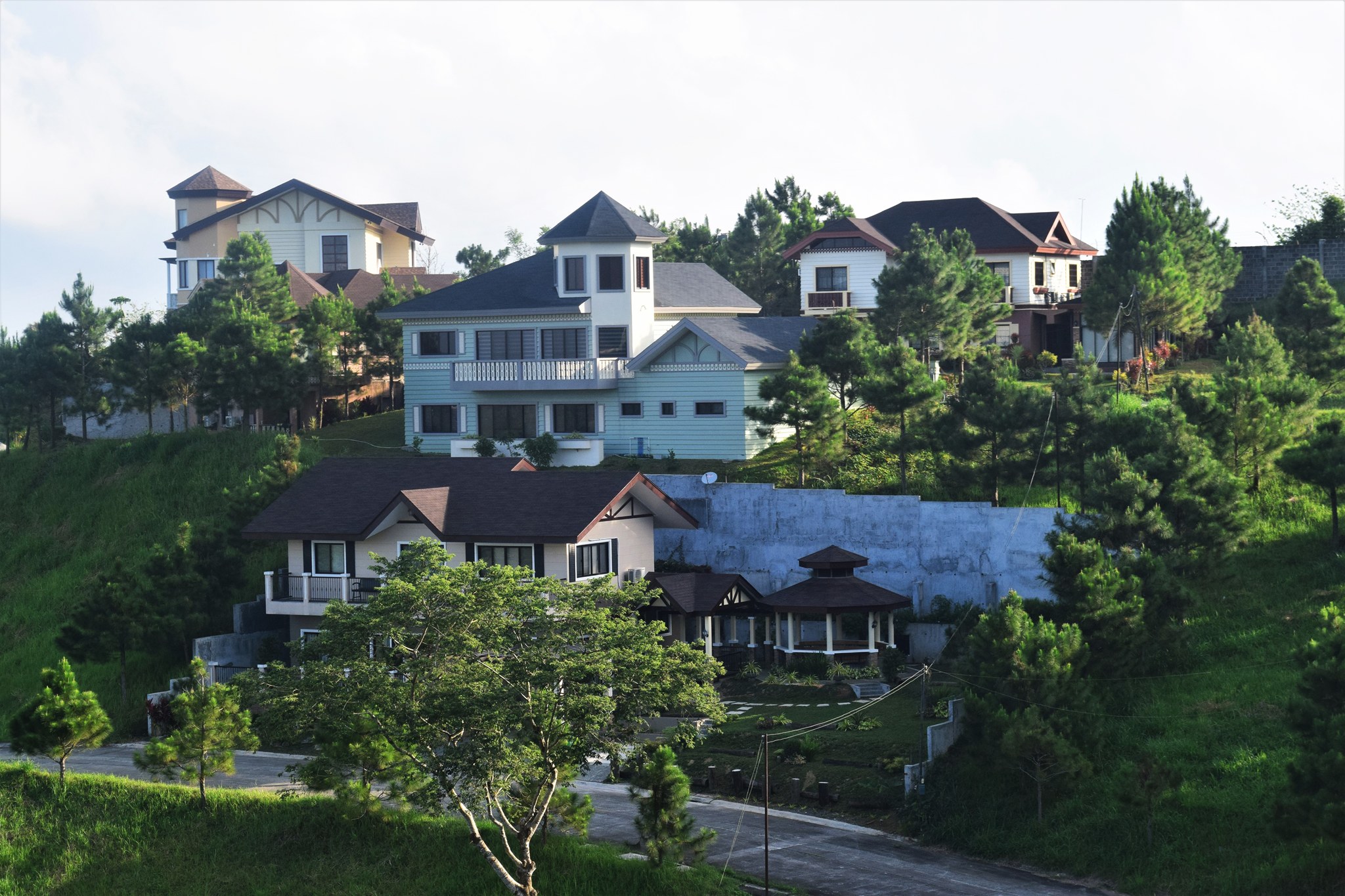 It has been said that this architectural style was greatly appreciated by people who were impressed by the simple life of people living in the mountains.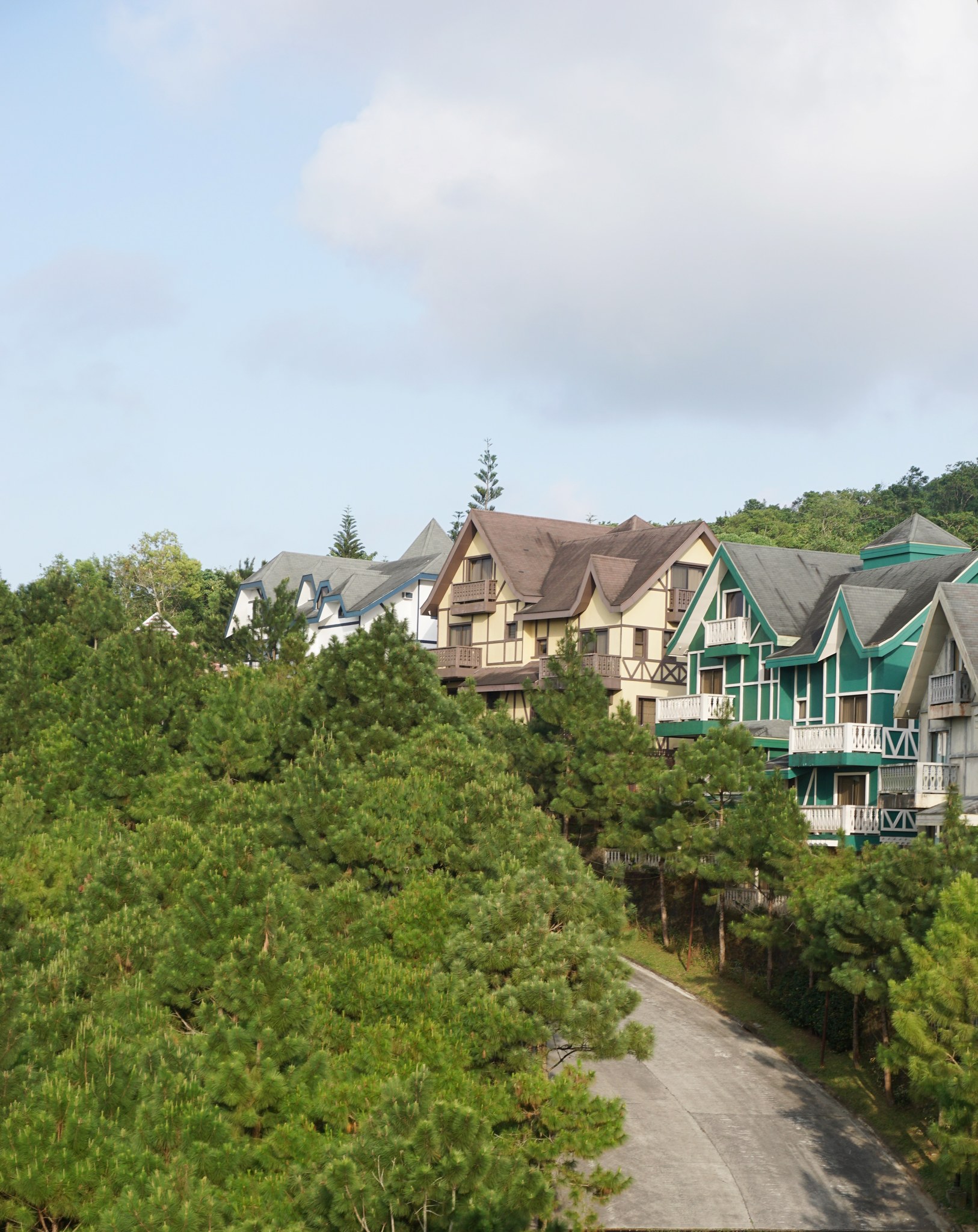 And since Tagaytay is a mountainous region too, it was pure genius of Crosswinds to use that same architectural style to their hotel's buildings.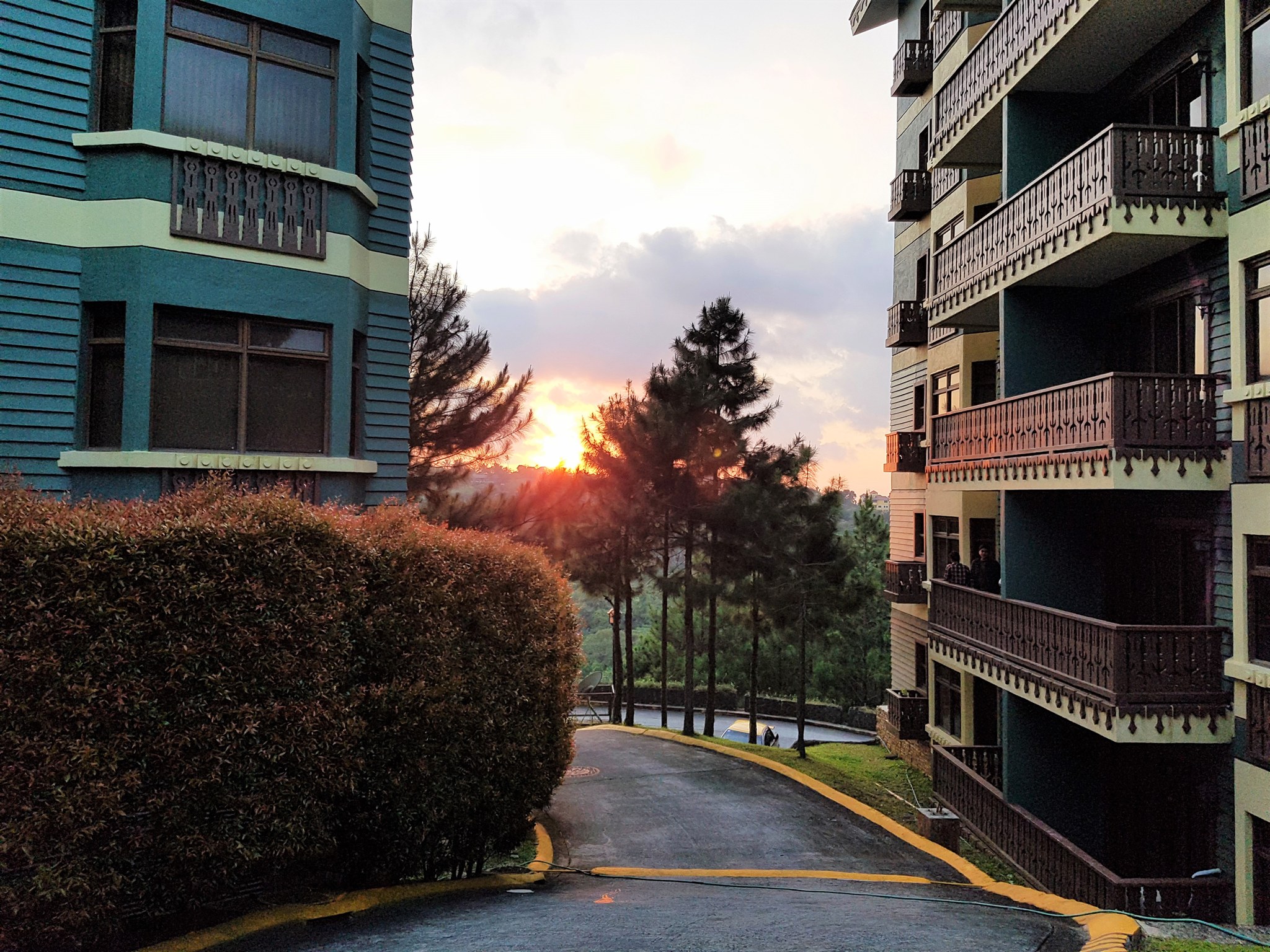 See my Instagram picture down below with Crosswinds as the background? Photos won't do justice because I can't emphasize enough how picturesque this place is. You, your family, your friends and your girlfriend will love this place!
Reason #3: The Breathtaking Views
What can you say about waking up to this view, over your hotel room's balcony?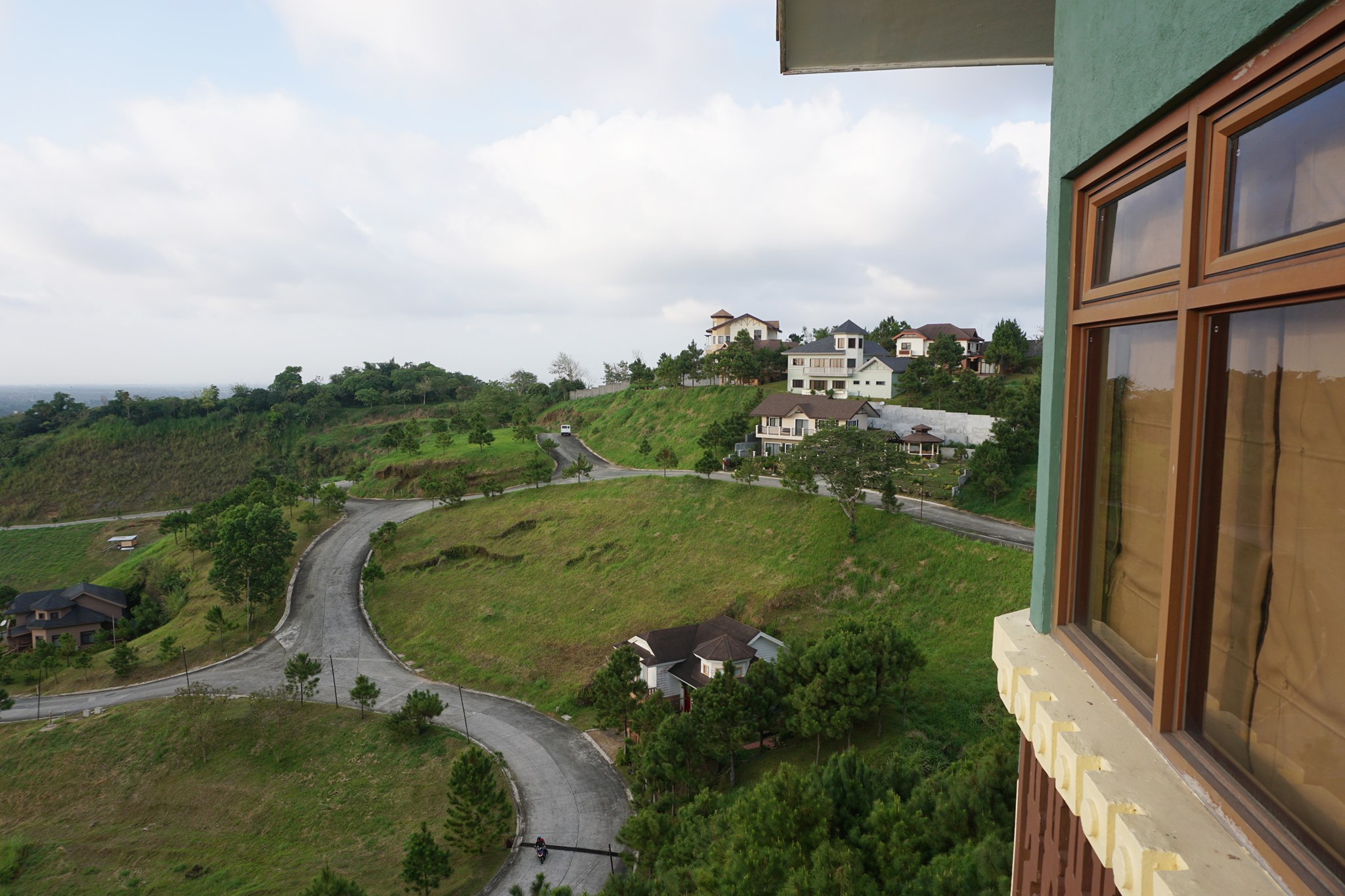 Breathtaking, isn't it?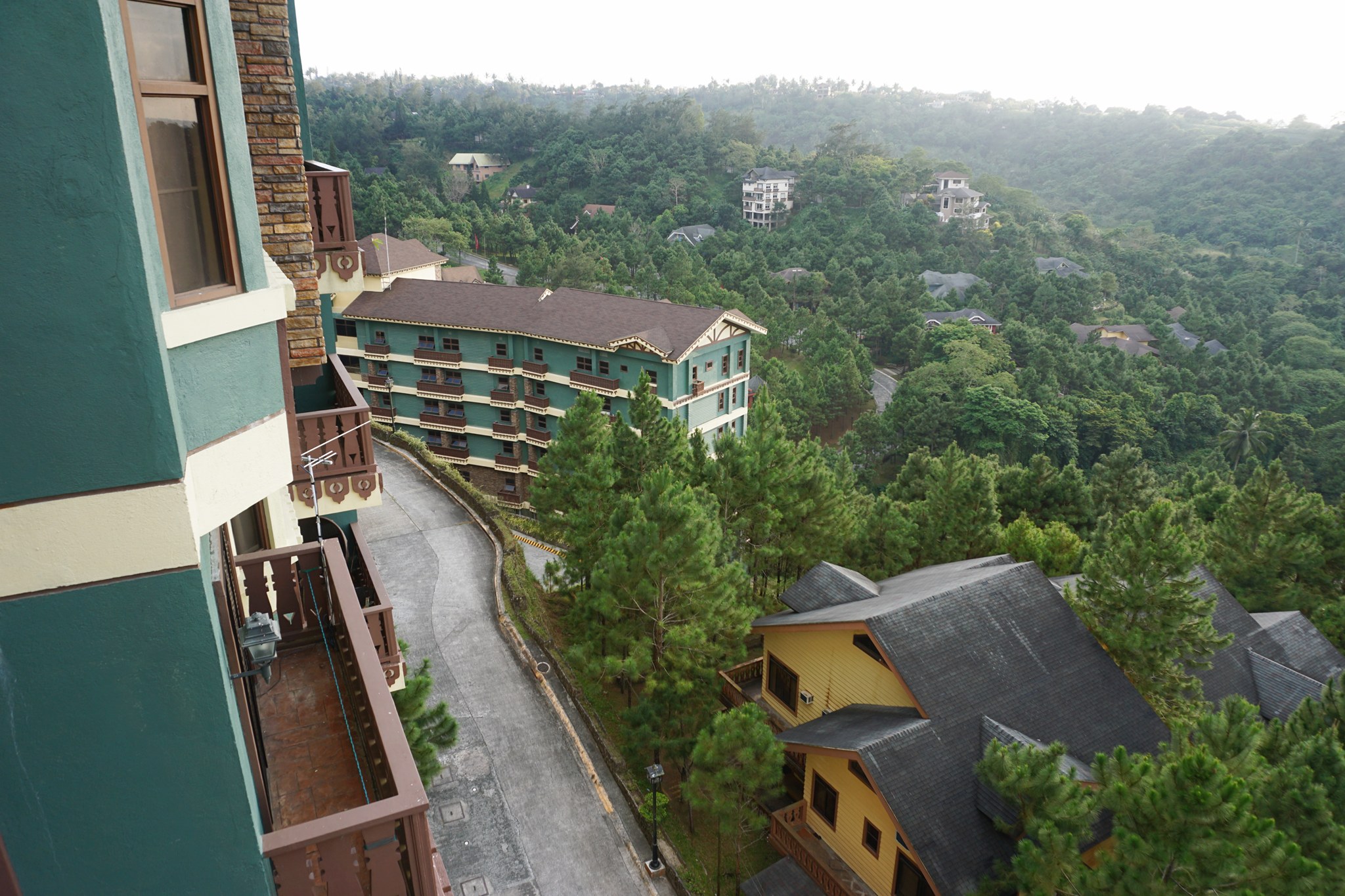 The simple countryside look plus the scenic hillside view makes you forget your problems. I want to live here!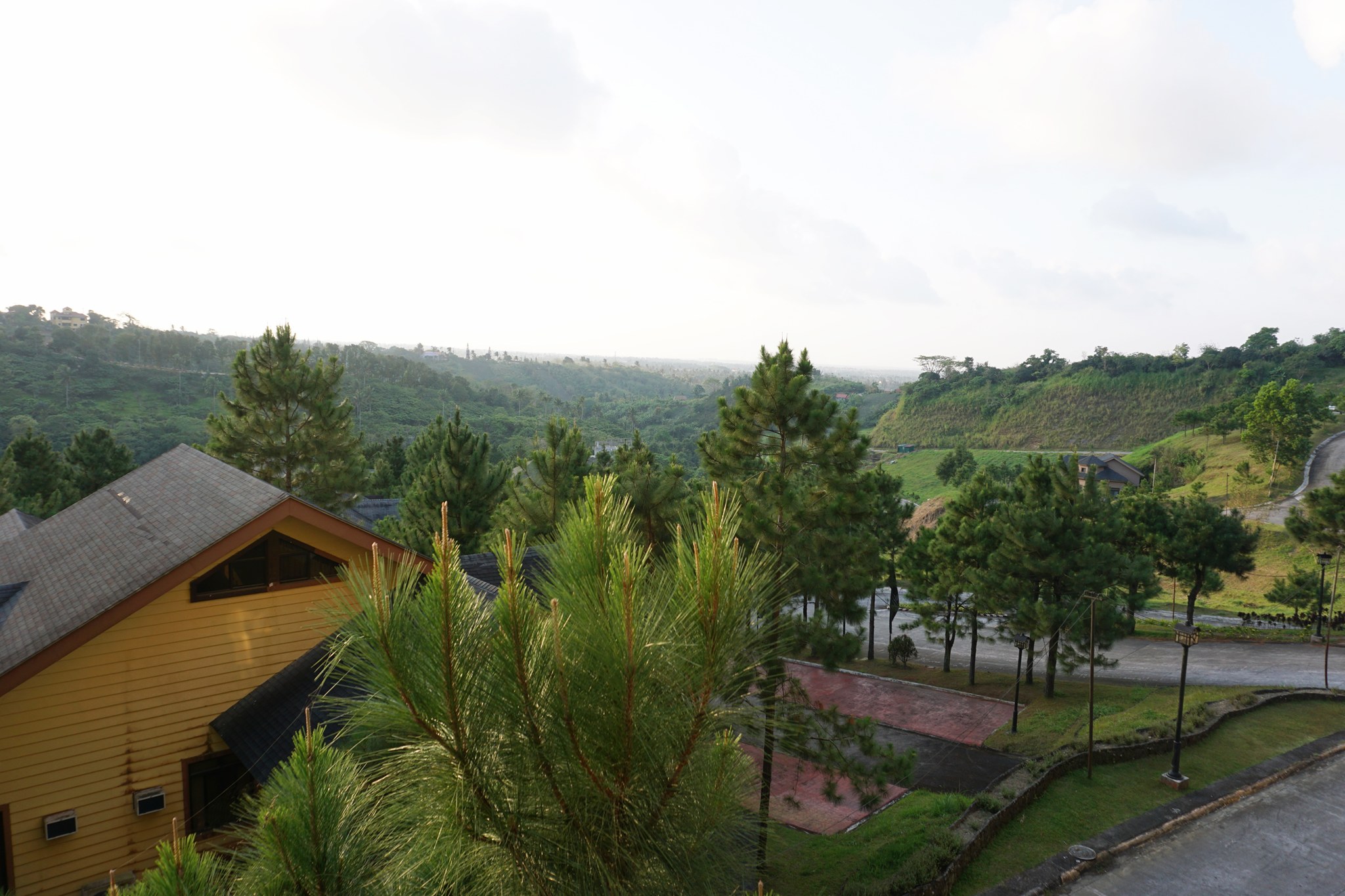 Reason #4: The Splendid Hotel Rooms and Suites
At this point, maybe you are thinking: "The hotel looks gorgeous outside but does it also look as good in the inside as it is in the outside?"
Well, let's find out.
I was lucky enough to be toured by the hotel crew to the different suites and rooms so I'm taking this opportunity to give you a preview of what to expect and hopefully, this would help you to pick which room or suite will be most appropriate for your stay at Crosswinds.
Let's start with their…
Studio Double Room
Think of it as a hotel room similar to a bachelor's pad.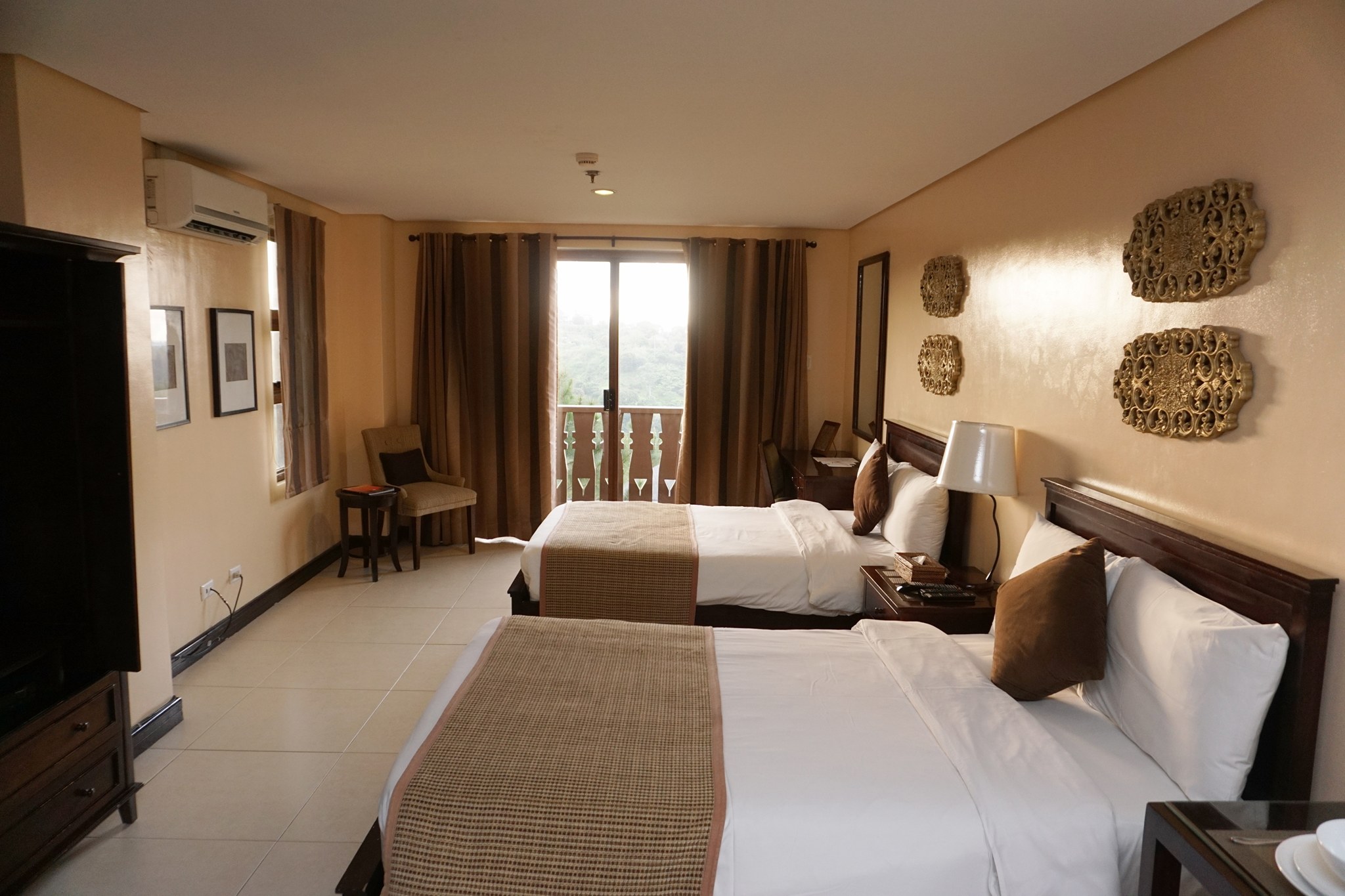 You have the option to choose whether you would like two double beds or one queen bed. Crosswinds says that the room can accommodate up to three people.
One Bedroom
Next is the 1BR which features a living and dining room that is totally separate from the bedroom.
It can accommodate up to four persons and as you can see, it is equipped with sofa and dining chairs.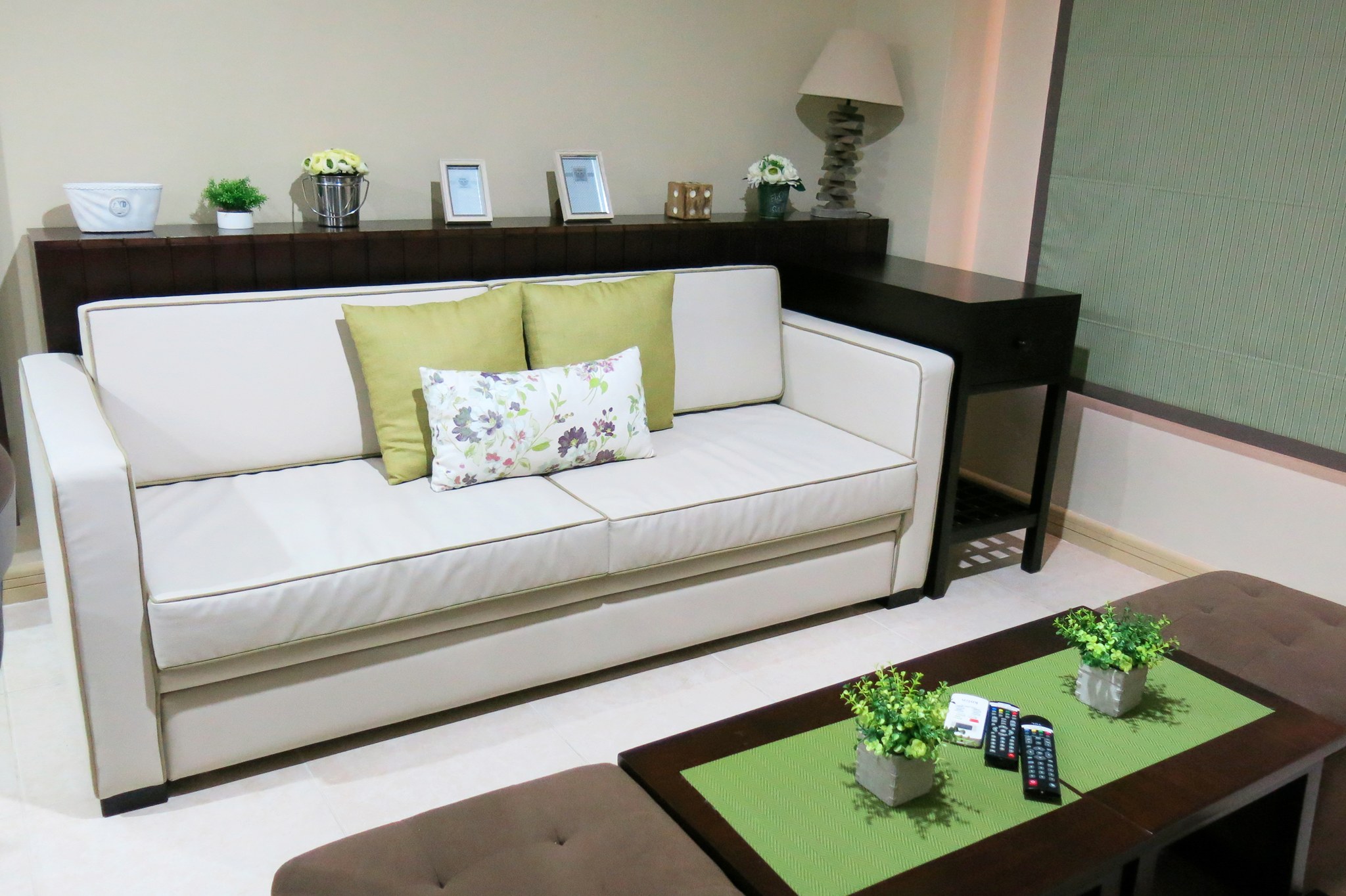 Two Bedroom Suite
This is the actual suite where we stayed. It features two bedrooms, two balconies, one bathroom, a living room, a dining room and a kitchen.
The master's bedroom has a balcony where you can gaze at the hillside full of pine trees. It also has its own TV set inside and features a queen size bed.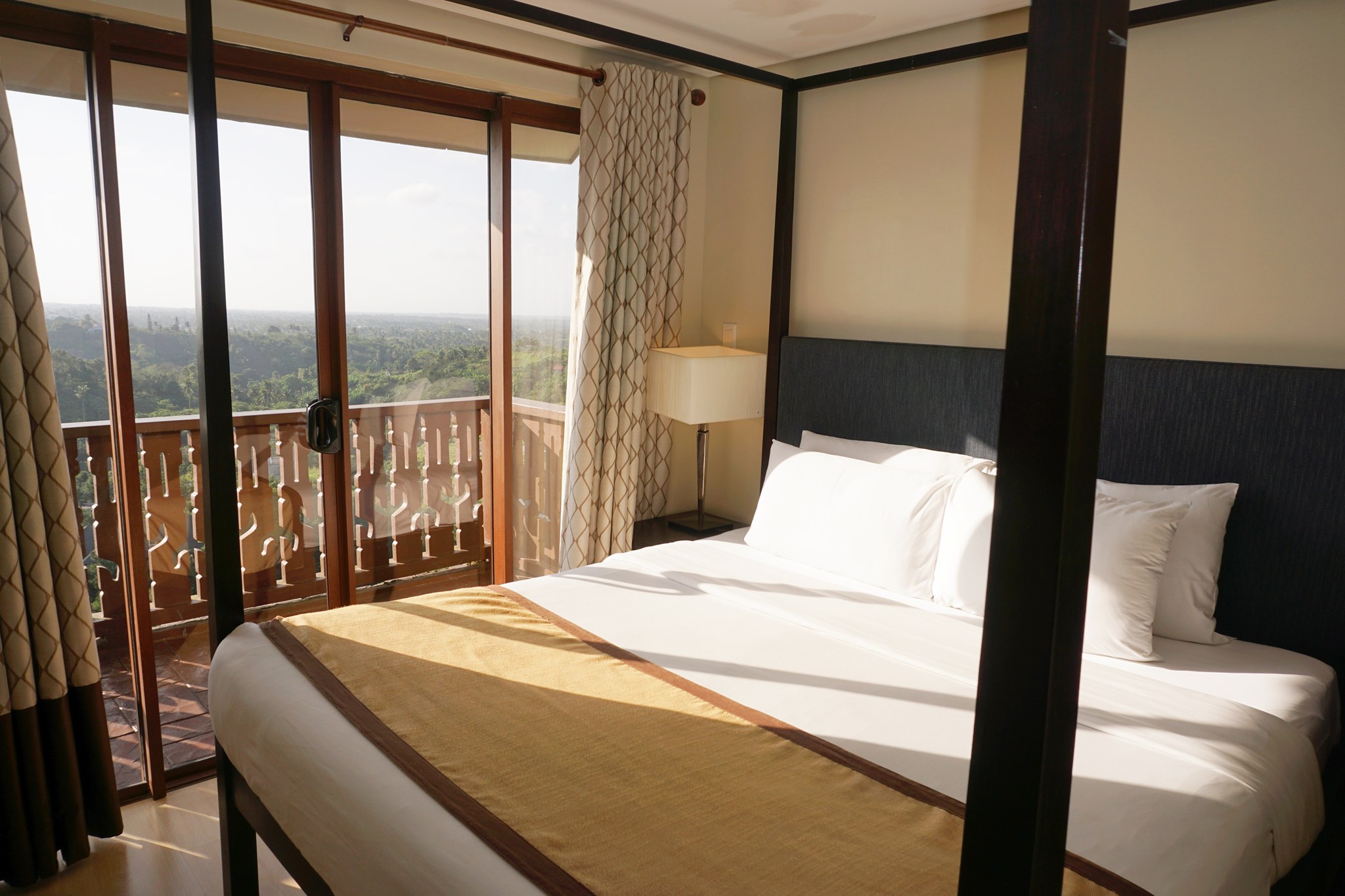 The second bedroom, like the master's bedroom, also features a queen size bed. Although it does not have a balcony, it has a window where you can still vividly see the surrounding nature.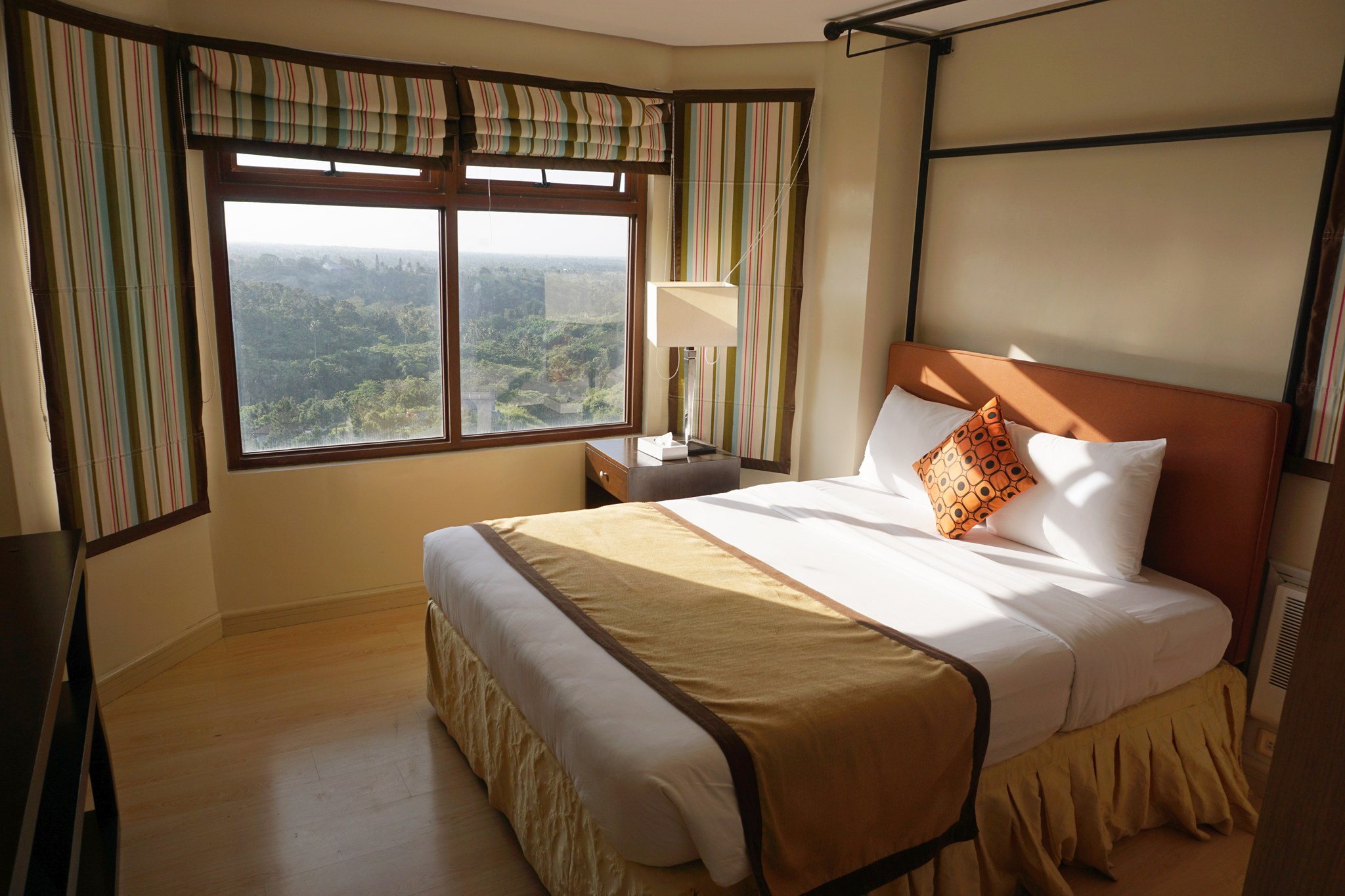 The living room is spacious enough for you to bond with friends and family over movies.
Then there is a dining table which features all the necessary dinnerware, silverware and wine glasses to complete your bonding over meals.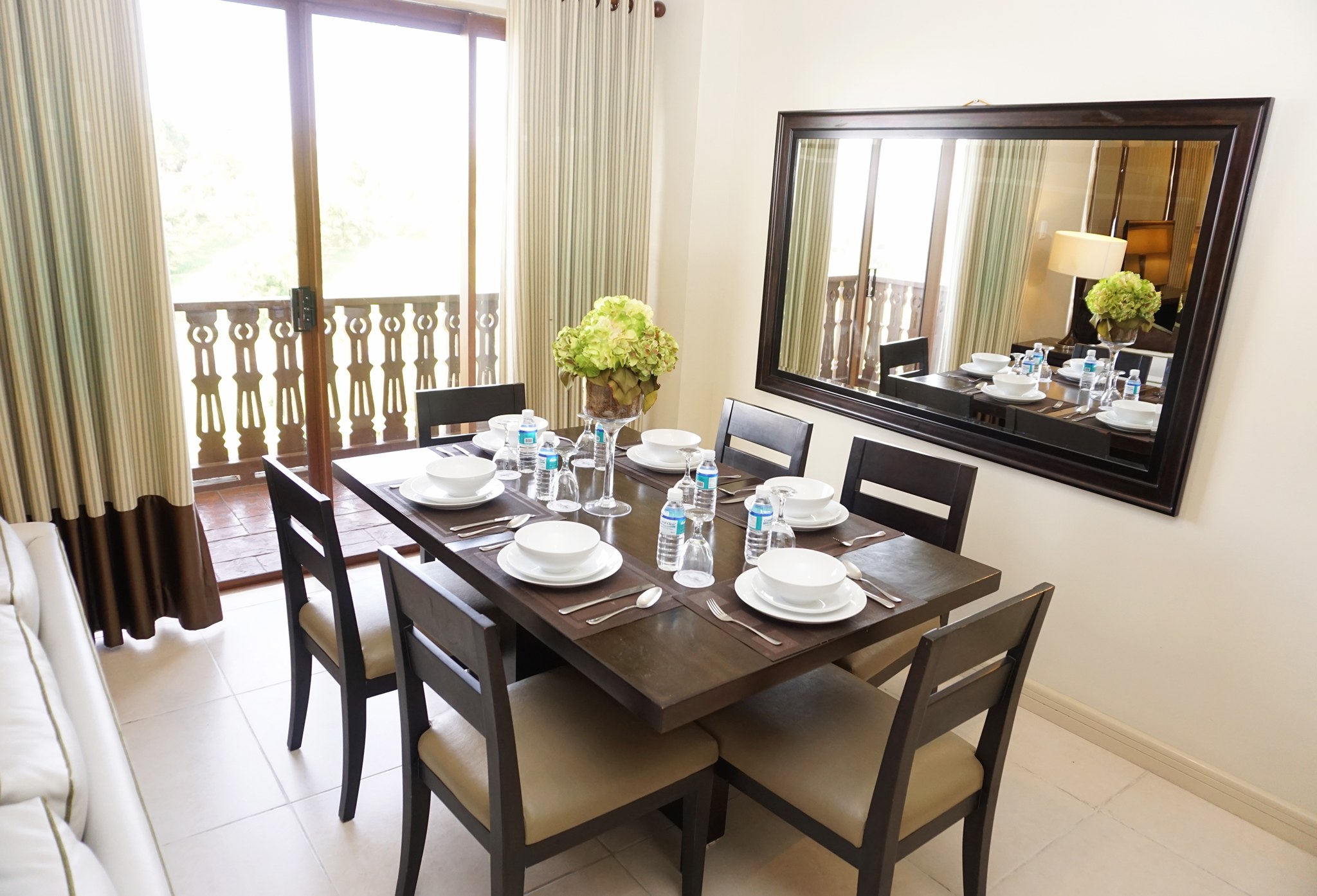 Since Crosswinds is a condo-hotel to begin with, you will notice that their rooms and suites all have a kitchen. You have the freedom to bring in your own ingredients and recipes from outside to prepare your own home-cooked meals.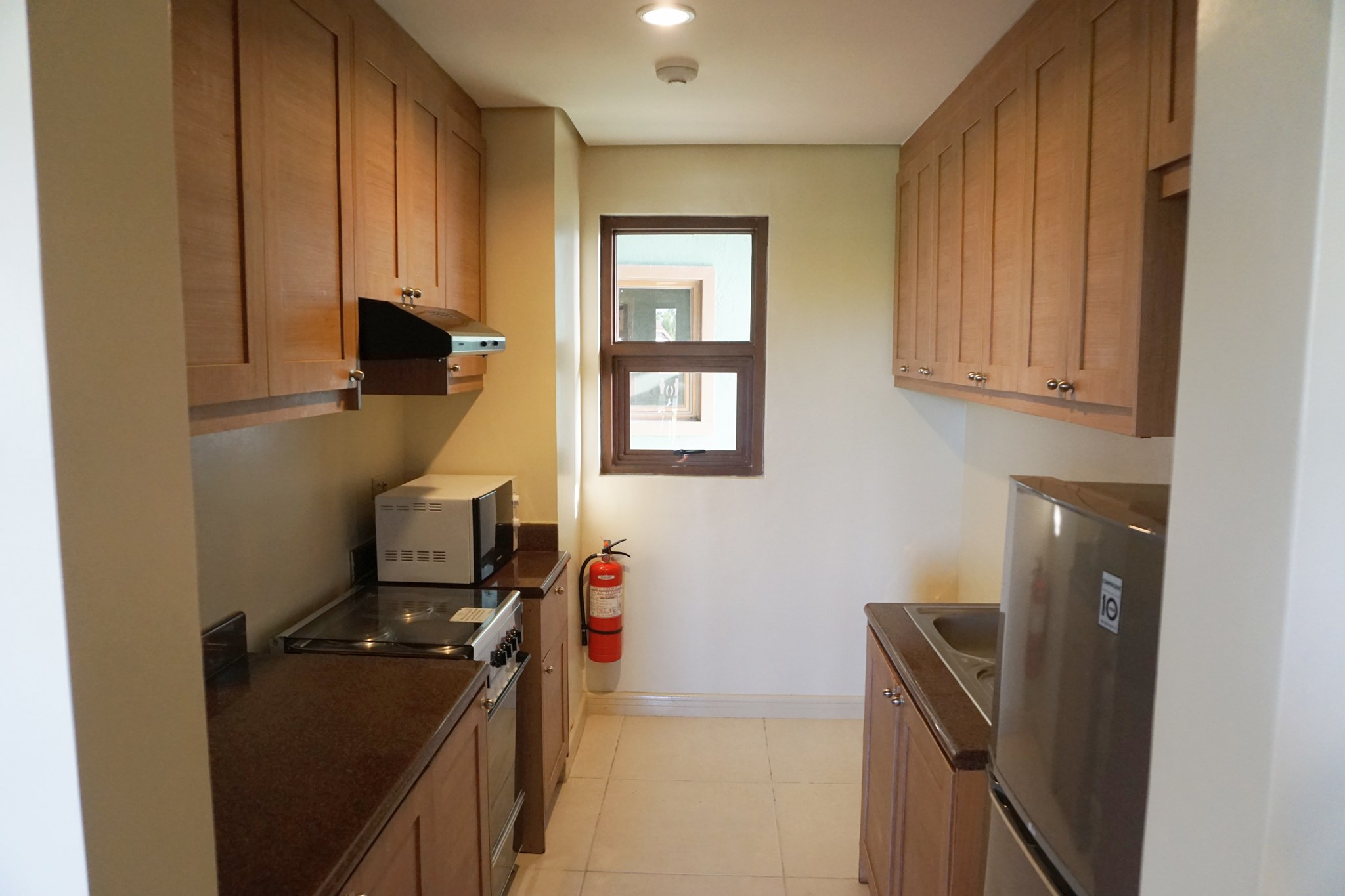 All in all, the 2BR suite can accommodate up to six guests.
Three Bedroom Suite
Perhaps, the top of the line and the crowning glory of Crosswinds, is their three bedroom suite.
See the wallpapered dining and living room? WOW!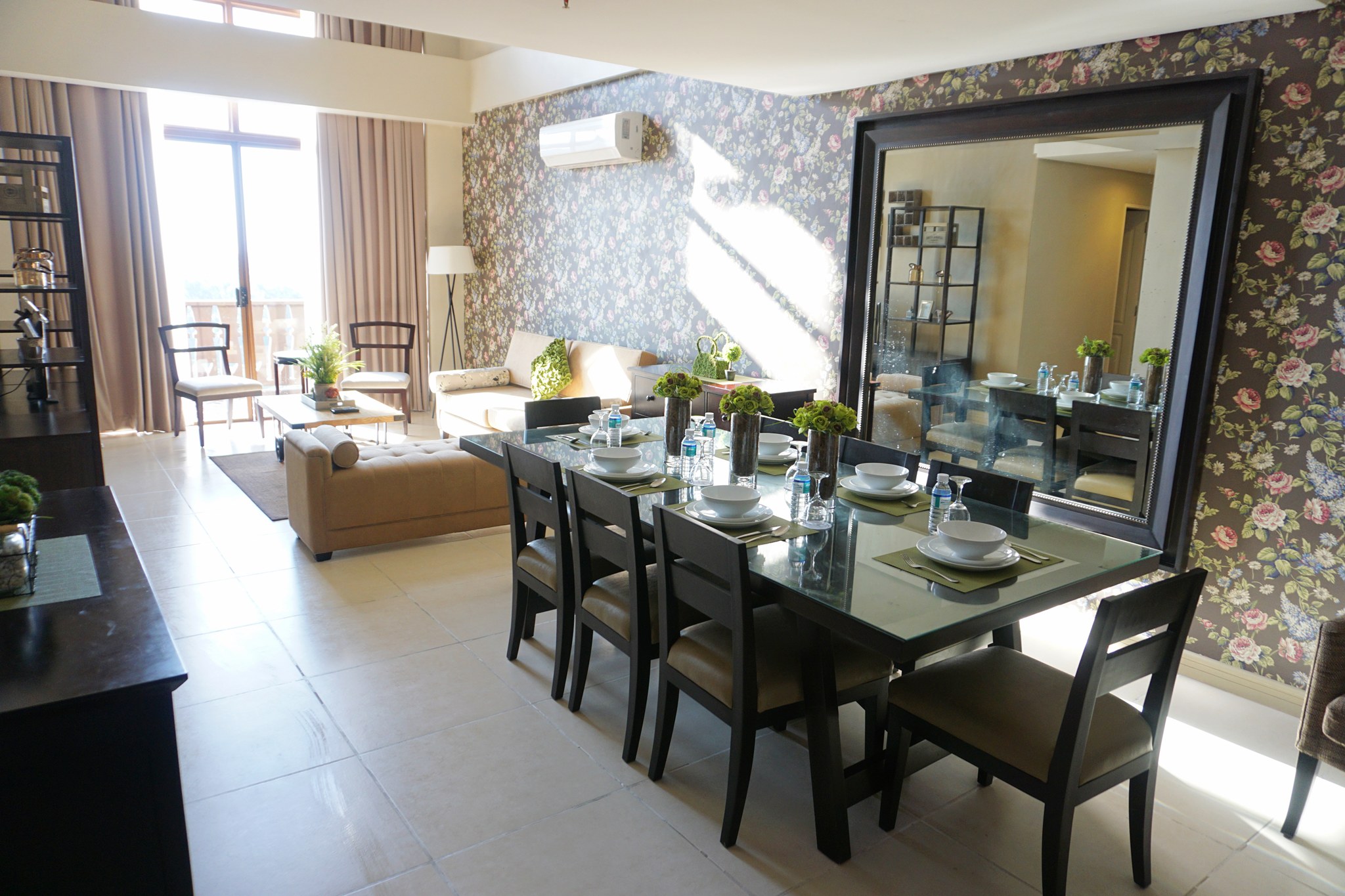 It gives the impression that it is their most luxurious suite and indeed it is.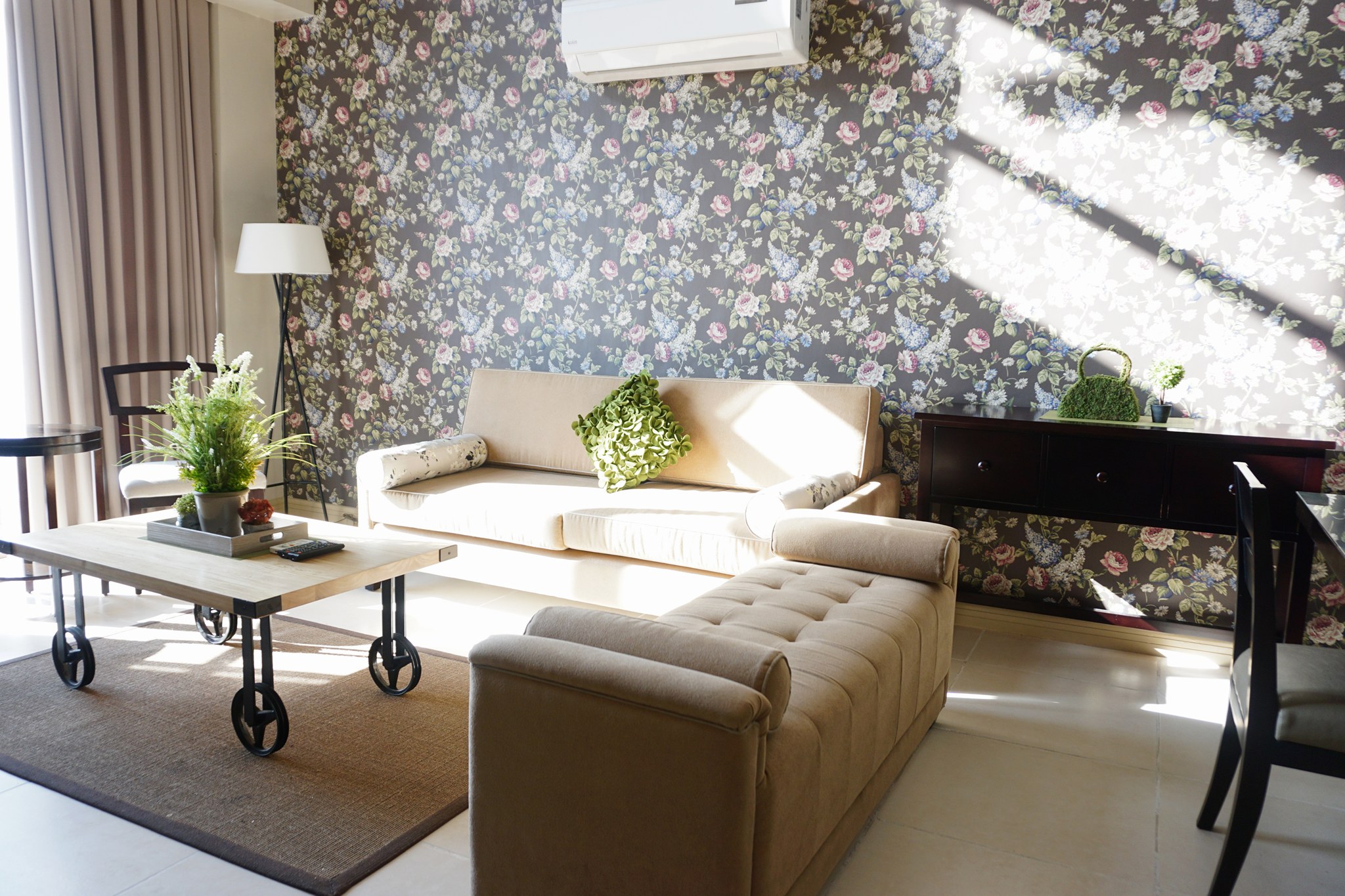 The suite is loft-type so it has two floors. The first floor has two bedrooms and one bathroom.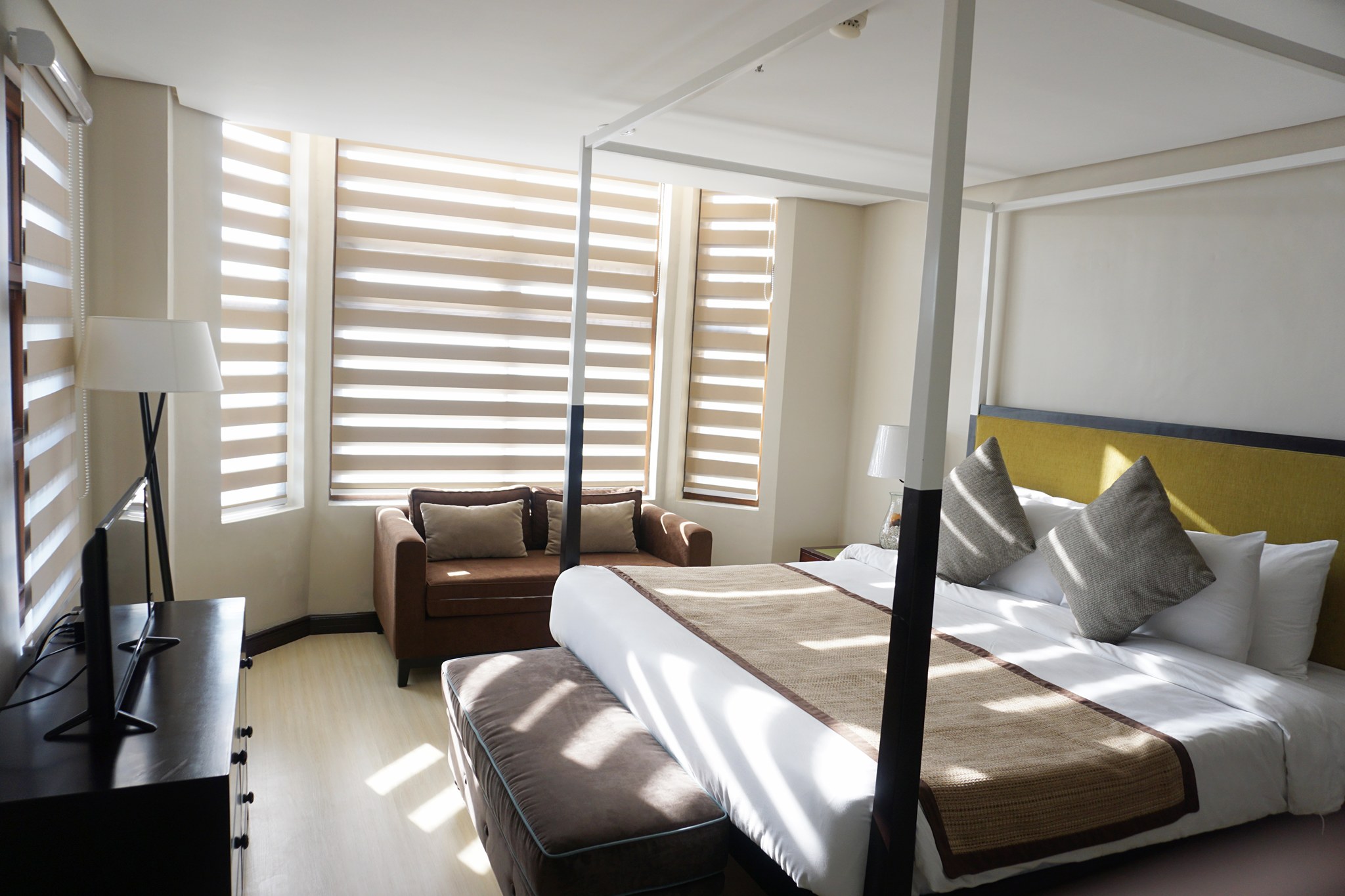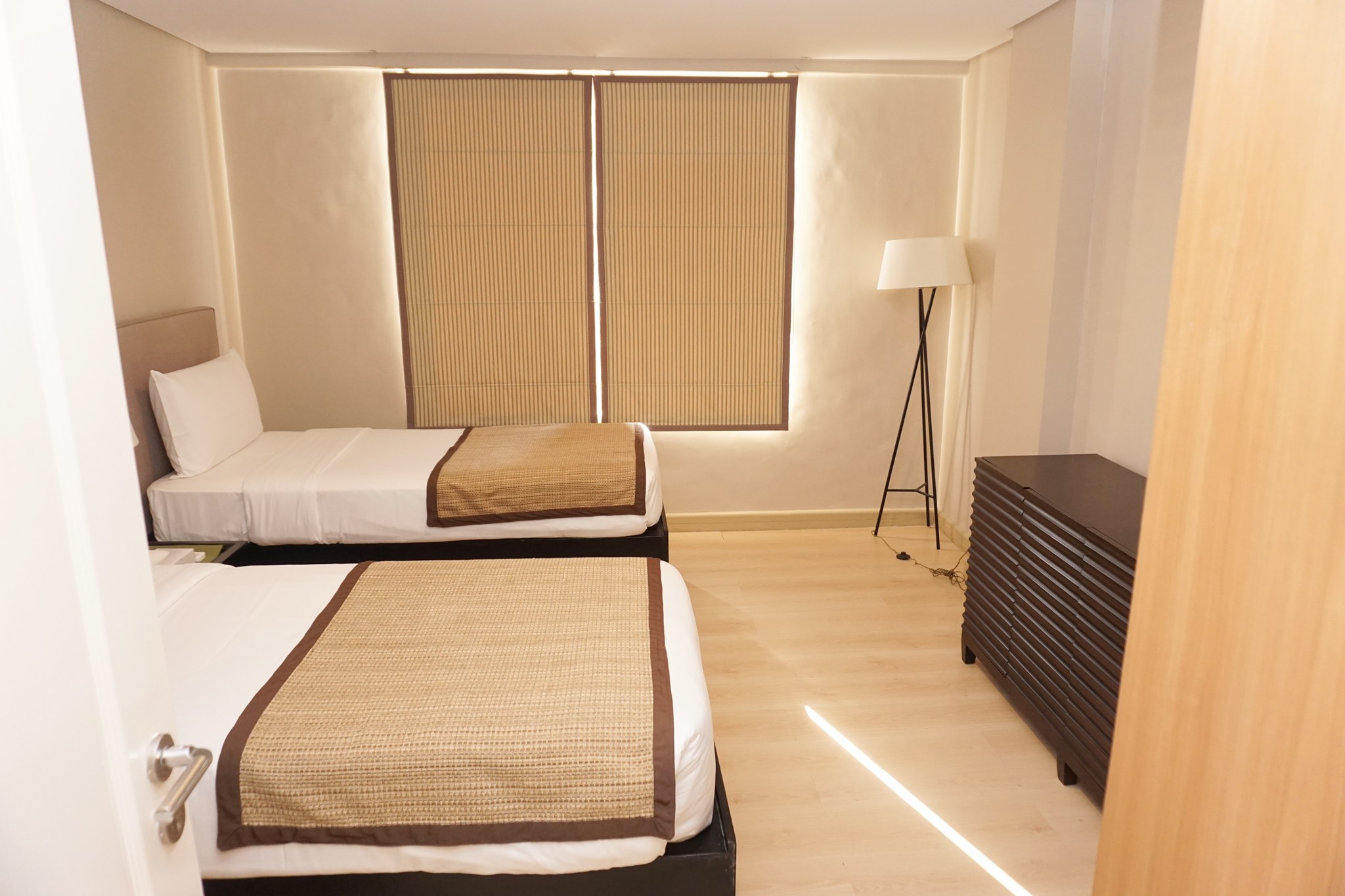 And as you go upstairs…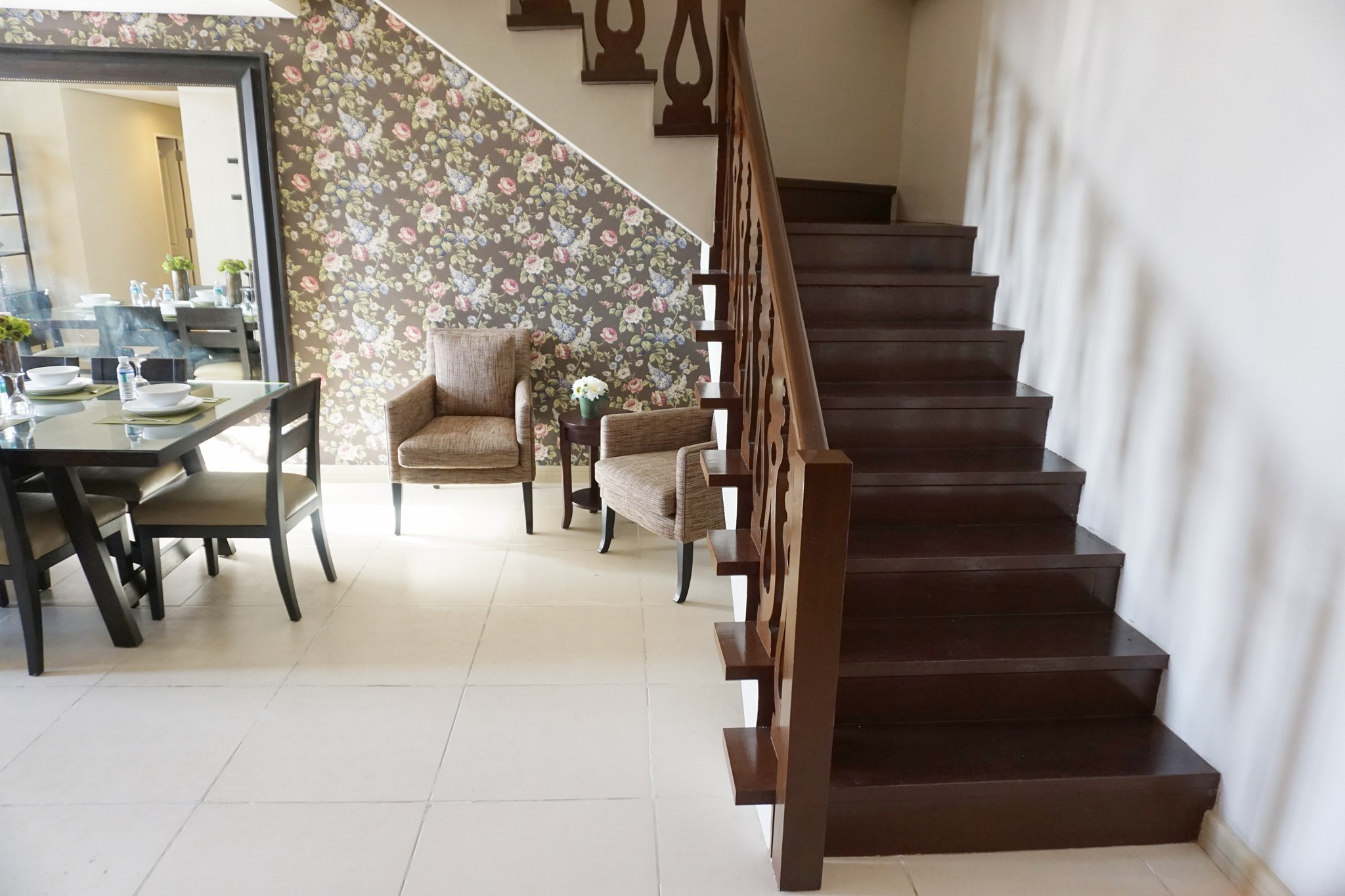 You will see a second, mezzanine-type living room where you can also watch cable TV with the rest of your buddies.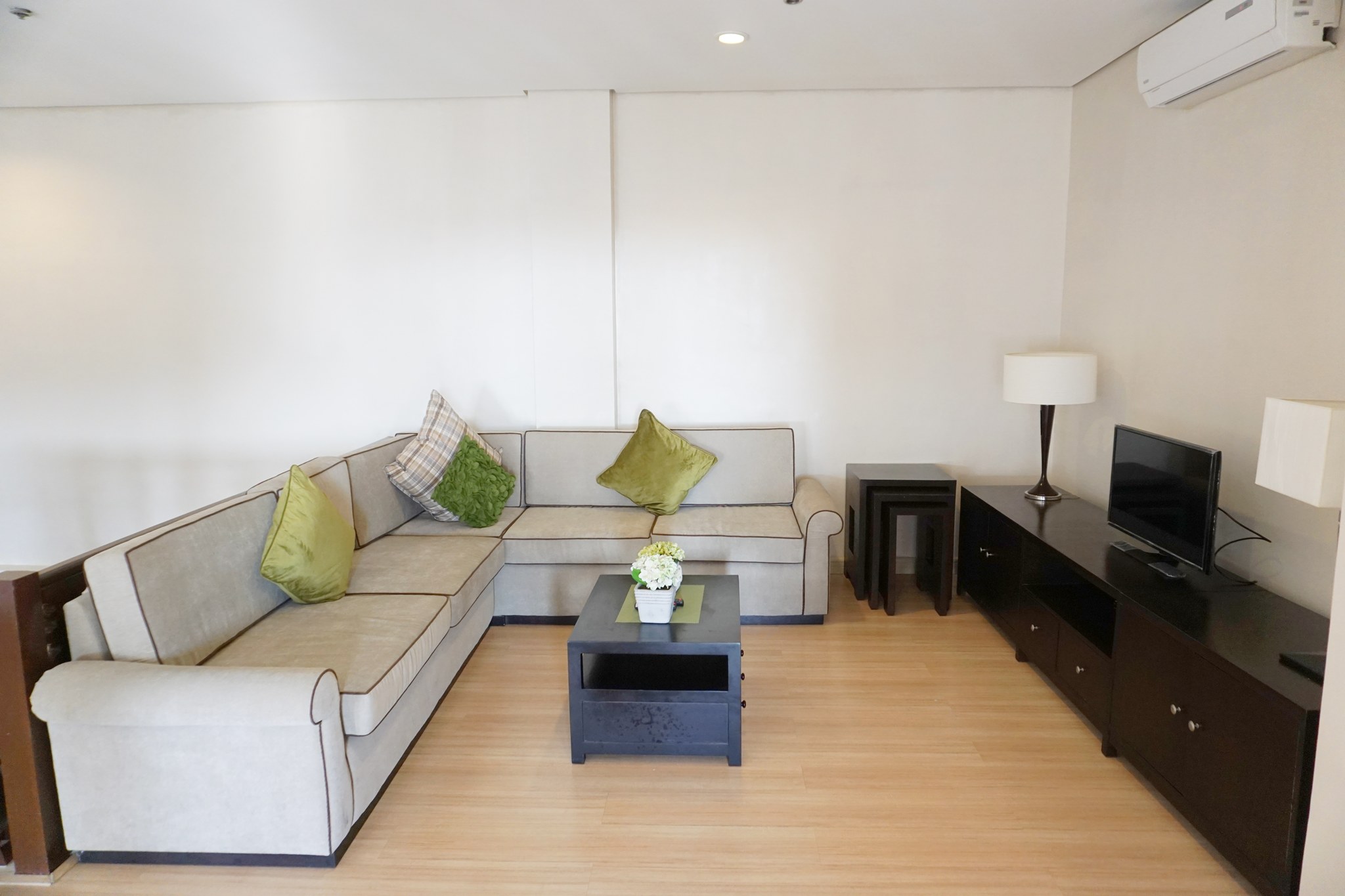 The second floor overlooks the dining and living rooms so what you'll see here is the view from the top. It's gorgeous!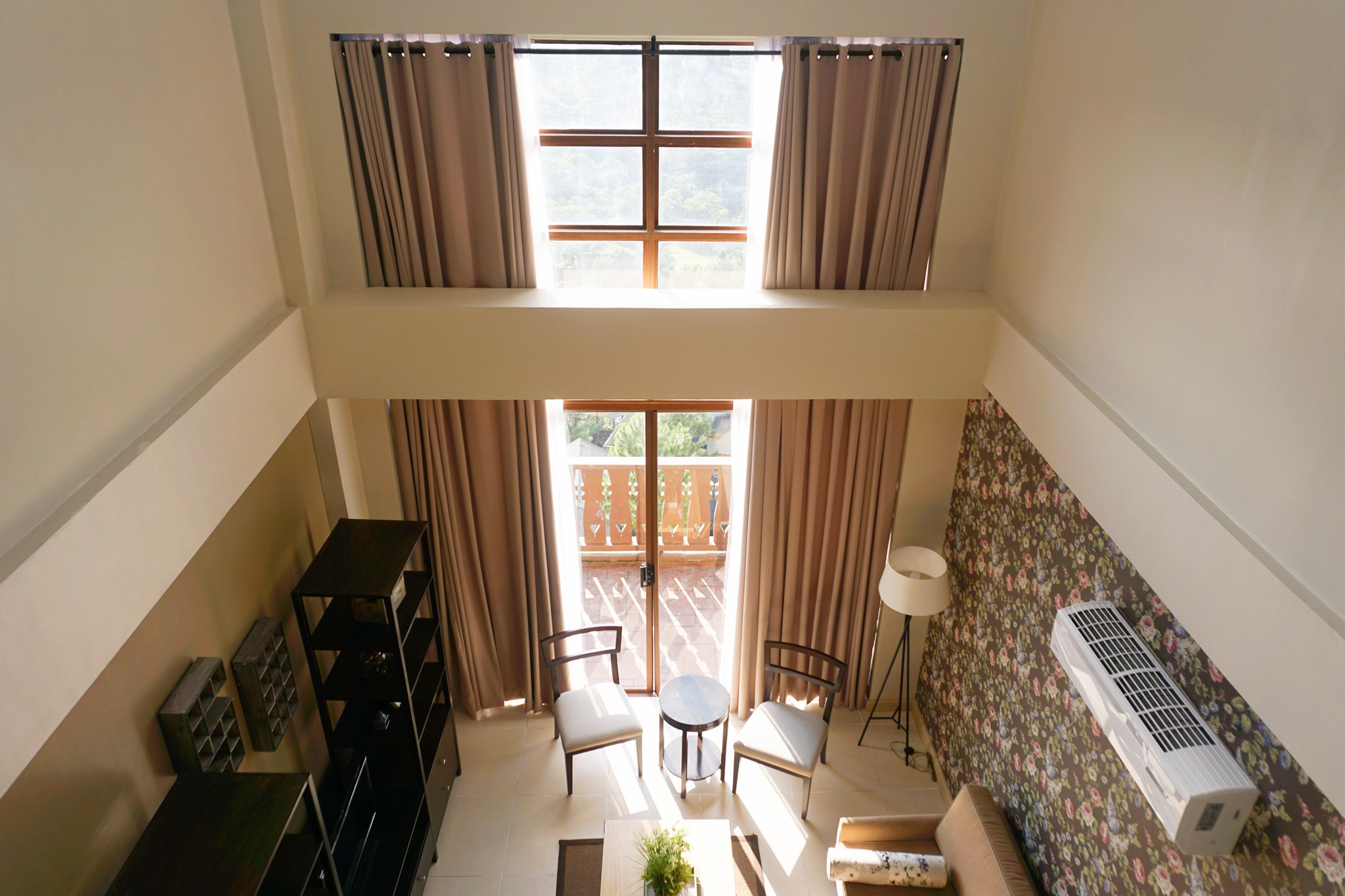 There is also one more bedroom at the second floor (making it three bedrooms all in all) and another bathroom beside it (making it two bathrooms overall).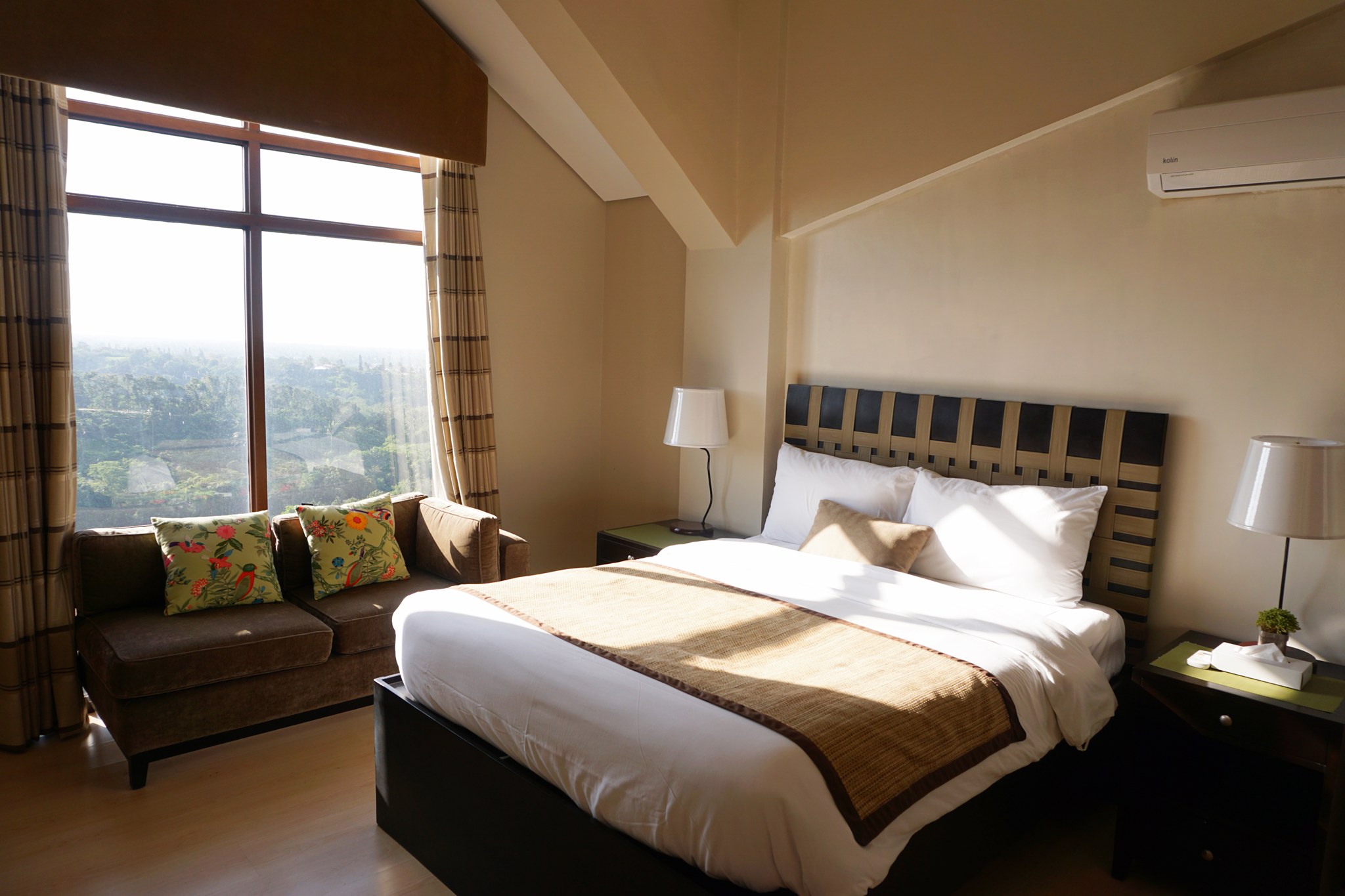 The suite can accommodate up to eight guests. I would say it is ideal for big and extended families, for a group of friends and also for company team buildings.
Just so you know, the three bedroom loft-type suites are limited. In fact there are only four of them available. We wanted to stay in one of them, unfortunately, they sell like hotcakes and all four were booked during the time we were there. I suggest that you book way in advance if you want to stay in one of these suites.
Reason #5: The Instagram-worthy & Tranquil Attractions

One of the things that millennials and photography enthusiasts would love about Crosswinds is their Instagram-worthy and tranquil attractions.
Let's start with…
Crosswinds Mini Buffet on peak seasons
Breakfast is usually included as part of your room reservations. During high-occupancy seasons, Crosswinds Resort Suites offers mini buffet breakfasts.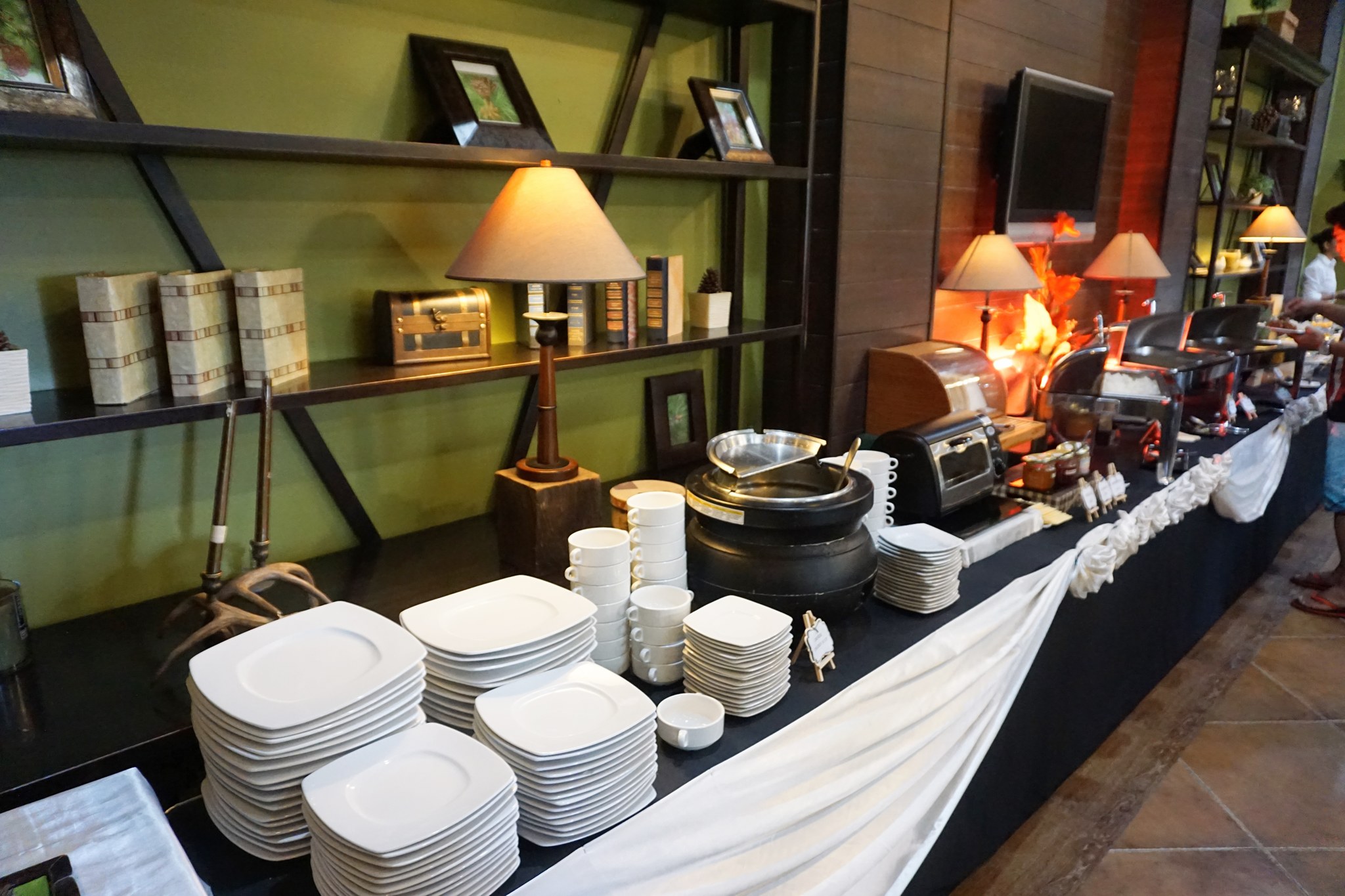 In off-peak seasons, they serve ala-carte breakfasts right in your room.
The Pool Area
The climate is already cold in Tagaytay, but if you still want to beat the heat further, Crosswinds offers a pool area where you can swim in the midst of an alpine environment.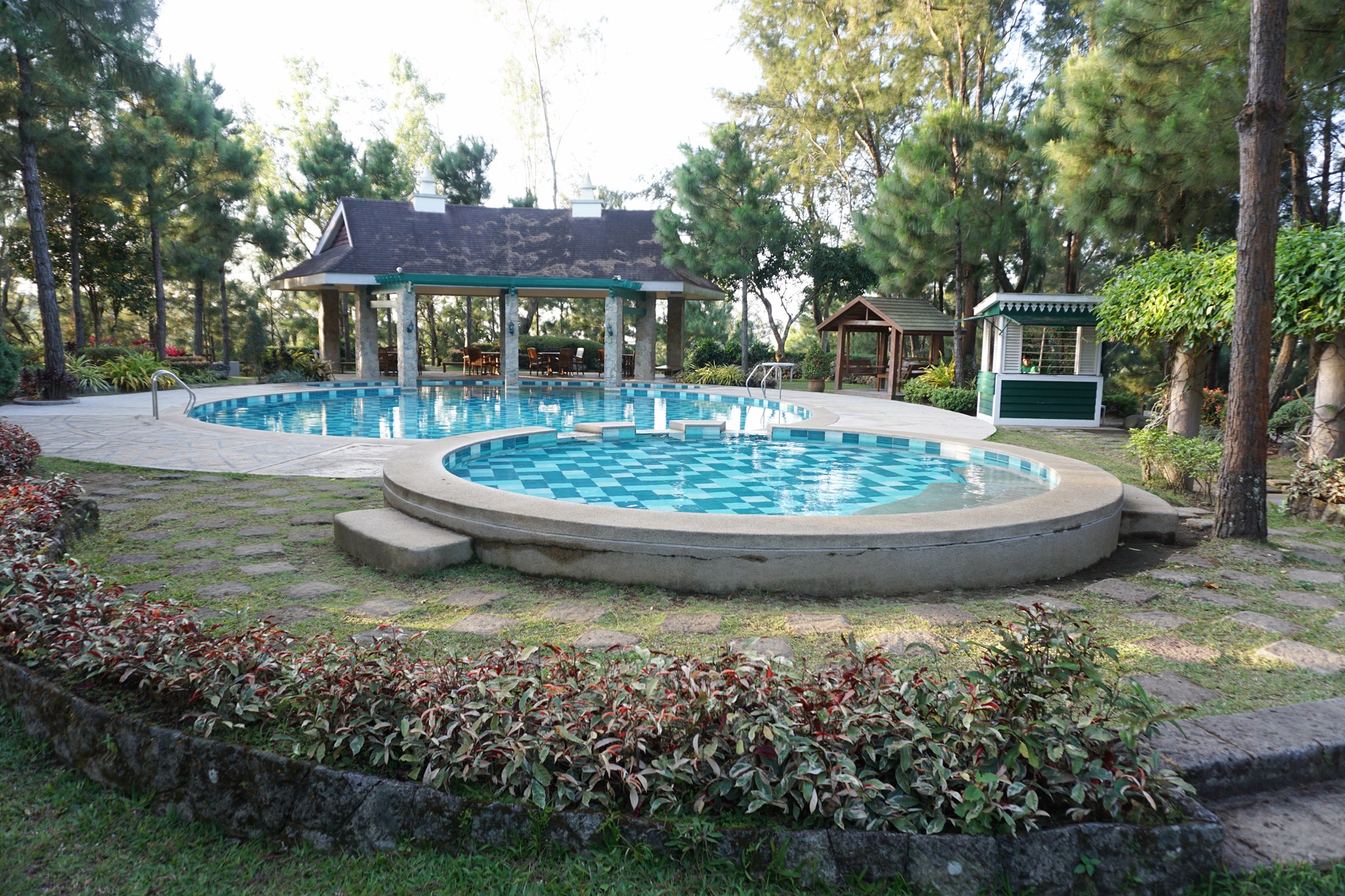 The Iconic Christmas Village and The Crosswinds Express
Being surrounded by pine trees means you will always be reminded of Christmas trees.
Crosswinds knows this, so they built a Santa-themed house where we took our family photo.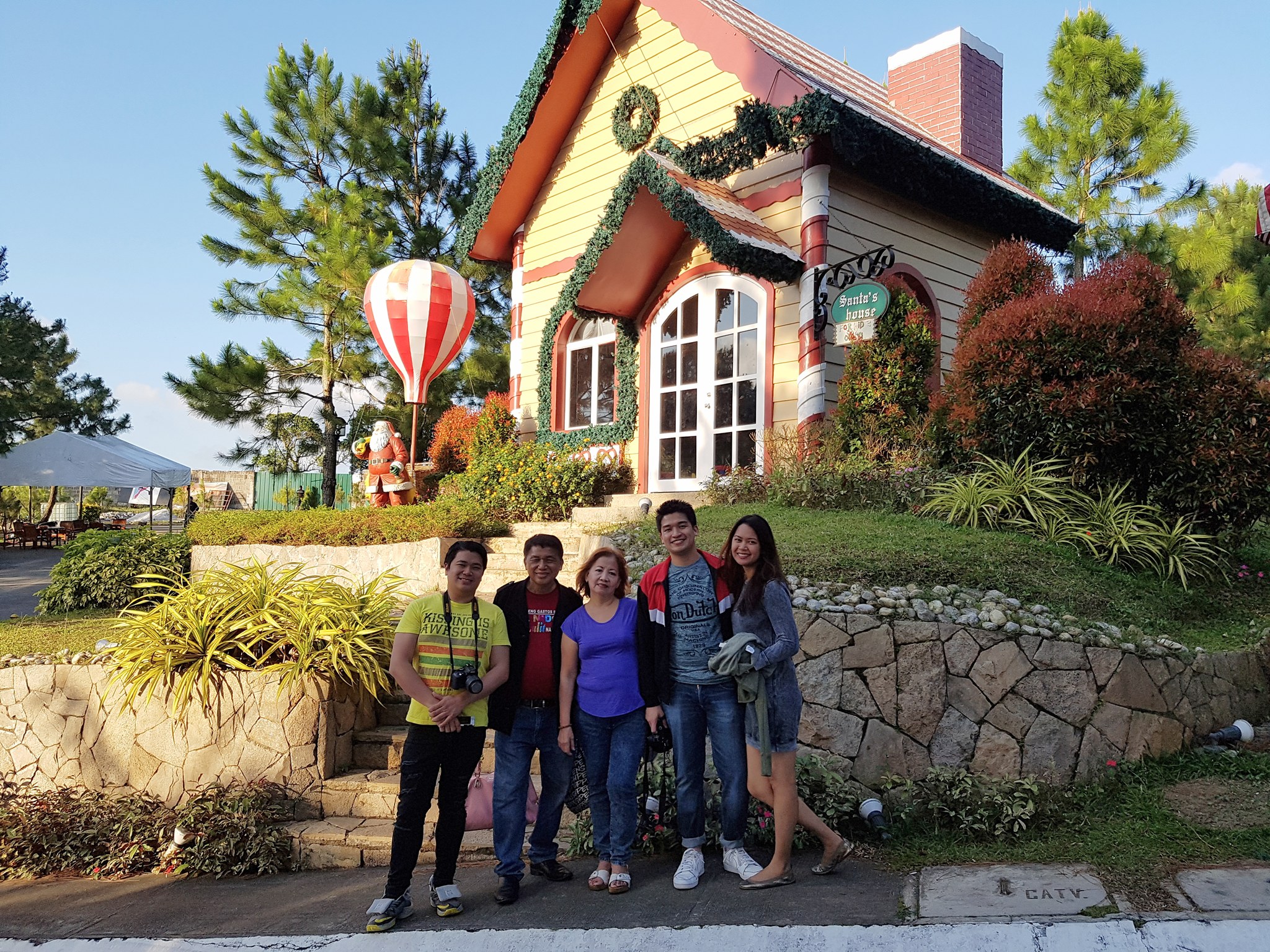 They also have Christmas village houses like the one right here, where at any time, you would imagine Santa's elves leaping out.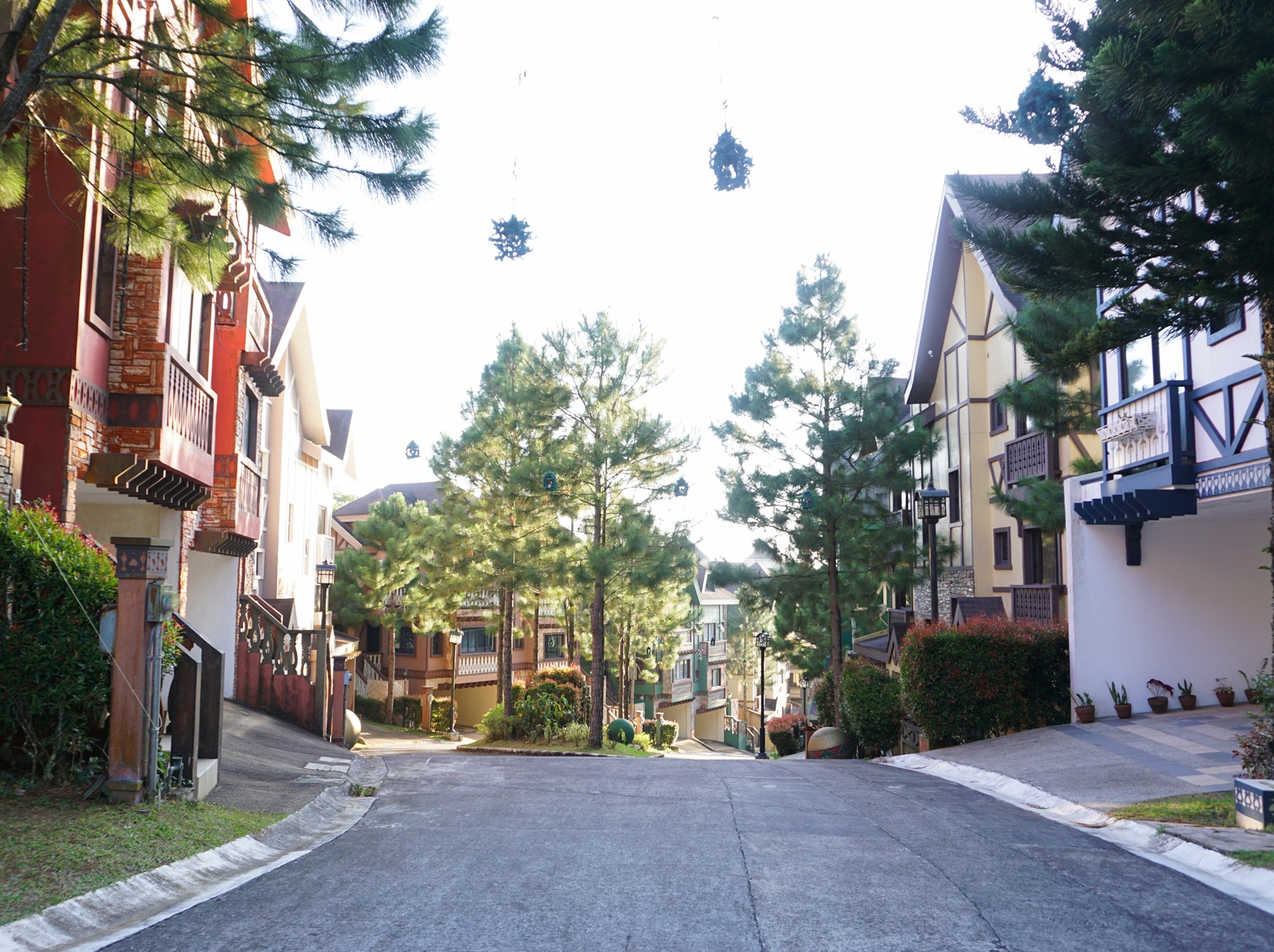 At the main entrance gate, they also have a Christmas-themed location where you can take photos. They have a Crosswinds Express mini bus where I've heard some couples had their prenup pictures taken.

Yep, that's me and my wife.
There is also a quasi gift shop that resembles an elf's house from the North Pole. I bet kids and kids at heart will love this.

And if you want to make use of your mountain bike, by all means, bring it with you on your trip to Crosswinds. The resort features plenty of uphill and downhill slopes that cyclists will be thrilled to bike on.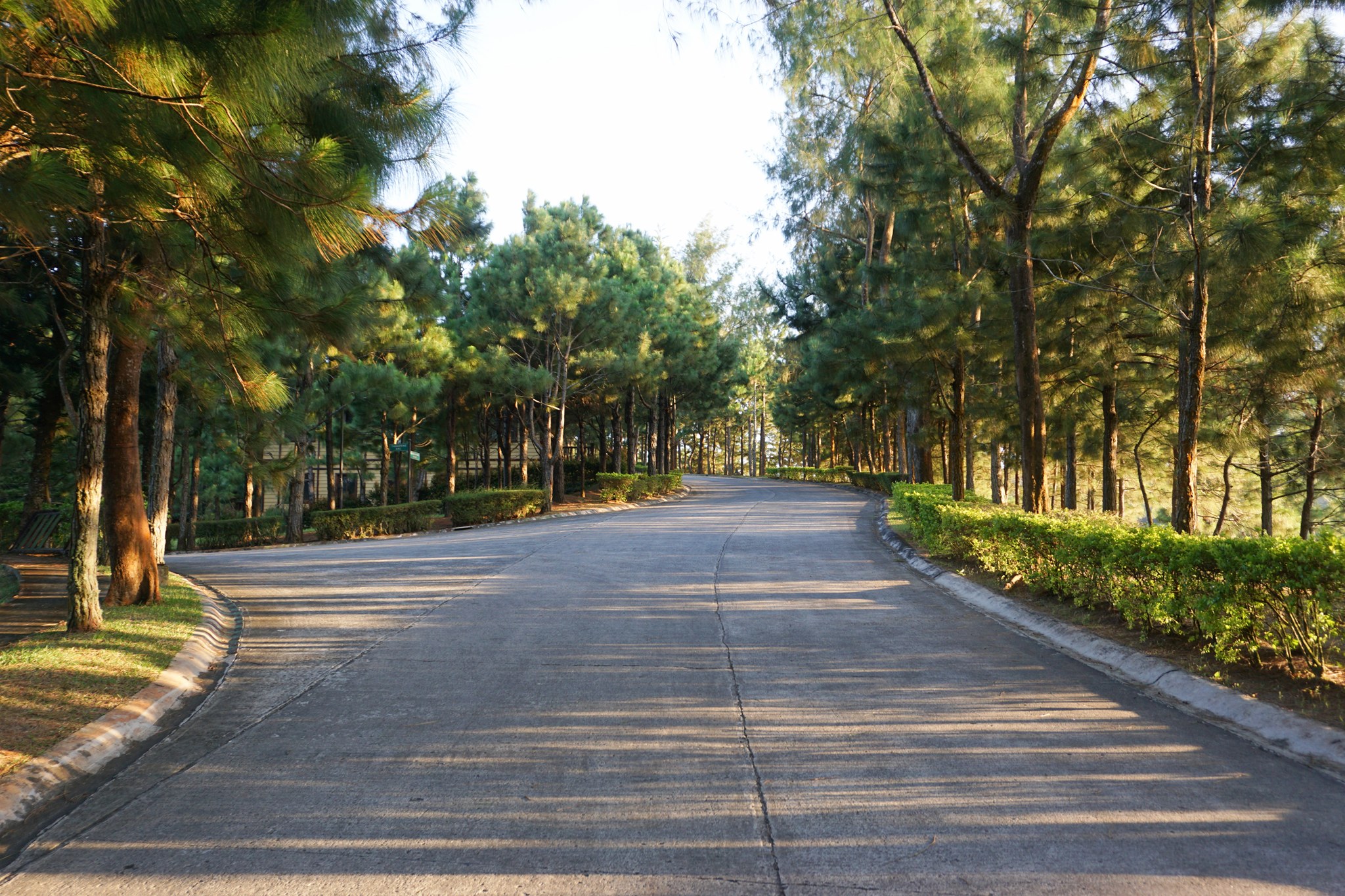 Runners would also appreciate jogging at the long and hilly pathways since very few cars pass through it. So how about training for your next fun run at Crosswinds Tagaytay where the climate is cool? Sounds like a good idea!
And for those who would like to dine, Crosswinds has a couple of concessionaires at the Alpine Village at the main gate. One of them is Café Voila, a colorful restaurant which serves Asian cuisine and the other is The Coffee Bean and Tea Leaf, one of my favorite coffee shops. These two cafés are open Tuesdays to Sundays until dinner time.
*   *   *   *
Now to be honest, I almost ran out of storage space taking photos of the entire resort. There are too much eye candies in one setting that I had a hard time putting my camera down.
My family enjoyed our stay here and we left wishing we could have stayed longer. Visiting it only validated that the stellar reviews of Crosswinds are correct. We will surely be back!
About Crosswinds Resort Suites
As you have probably noticed, Crosswinds Resort Suites is not your ordinary hotel. It is a condominium, fully-equipped with dining and living rooms plus a kitchen to complete your family staycation and friends getaway.
Each room/suite is actually a condo unit which was converted to a hotel and is managed by Hospitality Innovators Incorporated (HII), the same group of people that manages Azumi Boutique Hotel. For that reason, you know for sure that you are going to have a great time here.
The resort offers one-of-a-kind dining choices and scenic spots where you can take plenty of photos and make your staycation memorable.
For group and company tours, Crosswinds Resort Suites also offers function rooms for offsite meetings, corporate events, team buildings and even weddings.
To know more about Crosswinds Resort Suites and to book your stay here, follow them on their official social media pages and website:
For further inquiries you may also contact their reservations at 02 8569601 / 0917 571 4284 or email reservations@crosswindsresortsuites.com