Boutique Hotels are the type of hotels that originated from the US and the UK which are typically small to medium in size and generally have 10 to 100 rooms. They usually have a design concept or theme in their interiors and are located in upscale areas like New York City and London.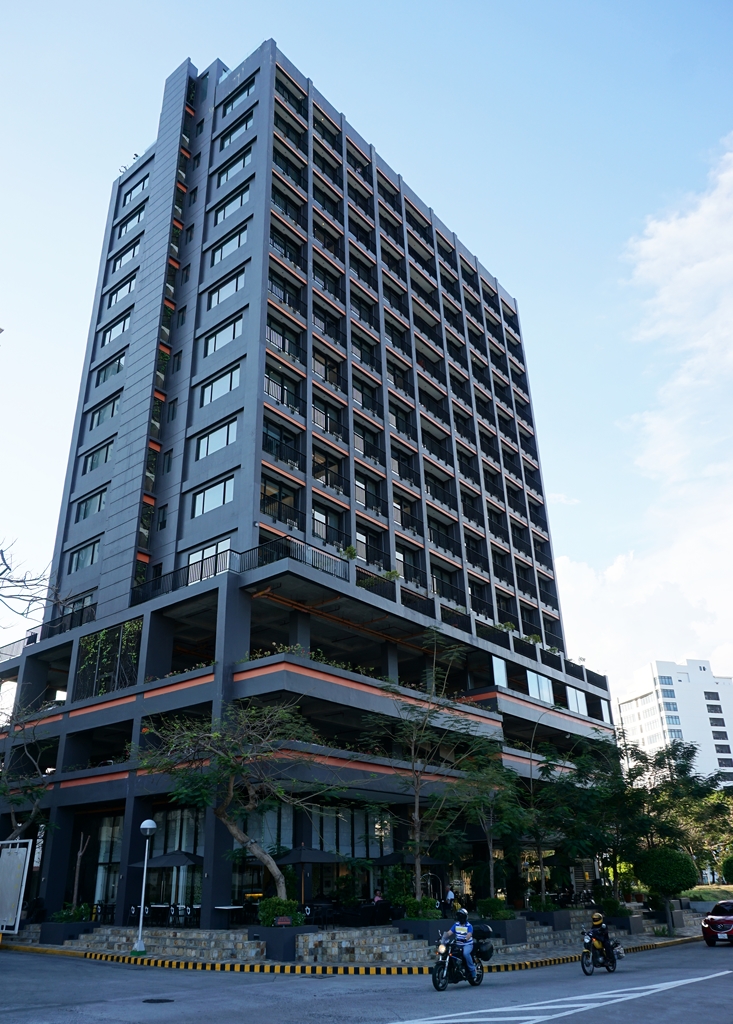 I don't know if you have noticed, but here in the Philippines, there is a slowly growing number of hotels already which are classified as boutique hotels. I know a couple in Boracay and here in Metro Manila, one of the most popular ones is Azumi Boutique Hotel, which is located in Madrigal Business Park in Alabang.
So how did I discover them?
Last March, I was tasked with organizing our family's summer outing this year. As much as I wanted to go to beaches like Boracay, I was a little hesitant because A.) The weather is scorching hot and so I'm trying to avoid getting into a heat stroke and B.) We were trying to stay away from areas which are too overcrowded because we know we won't enjoy that much.
So what did I do instead? I booked tickets to the Nivea Slidefest as you've probably seen on my Instagram and Snapchat. That event would take place in mid April at Filinvest City in Alabang and given that it is a bit far from where I live, I looked for nearby hotels for accommodations. Thankfully, as if it was some sort of coincidence, a friend of mine just finished having a vacation at Azumi Boutique Hotel and posted her photos on Facebook. When I saw how enticing her photos were, I Googled for Azumi and as soon as I found out that they are located just two kilometers from the Nivea Slidefest event, I didn't think twice. I contacted them immediately to arrange our reservations.
Now what did I like most about our stay at Azumi Boutique Hotel? Plenty! But just to summarize, here are five major reasons why I think that Azumi is one of the best places for a summer staycation.
Stylish and Trendy Look
Remember just about a week ago I read a book which inspired me to unleash my inner creativity? As it turns out, my inspiration didn't stop there. Just last weekend, our stay at Azumi Boutique Hotel reinforced that artistic feeling in me. As I entered the lobby of their hotel, everywhere I look and each turn I make, I am confronted by a marvelous piece of art.
See this photo right here?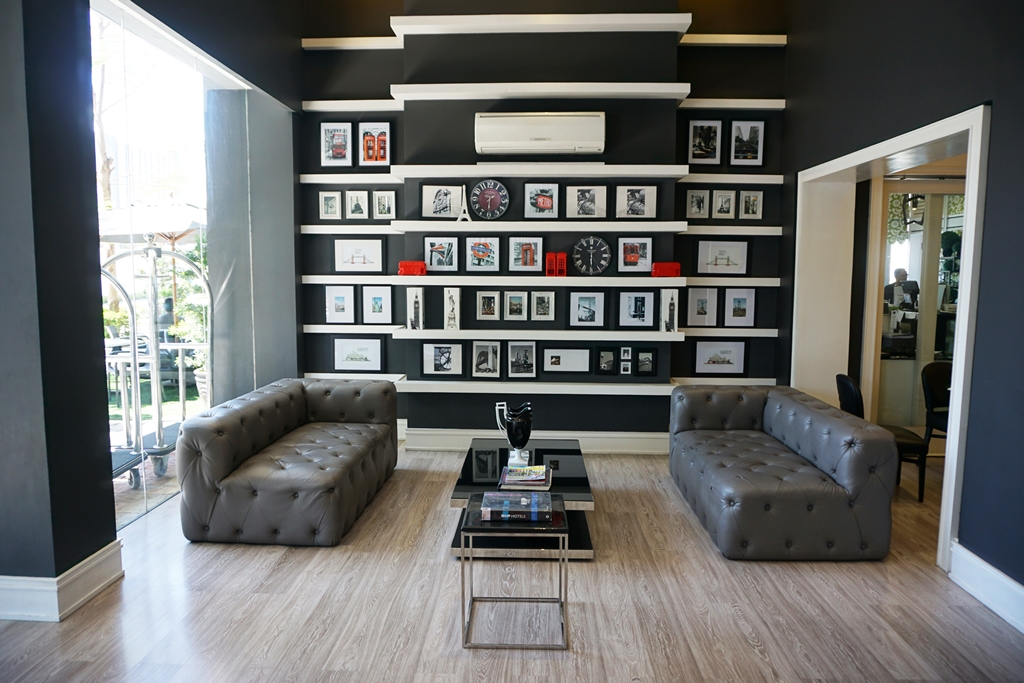 That's the hotel's posh lobby. It is made up of minimalistic designs consisting of straight lines, diagonal lines, black and white squares and a bunch of alluring displays that make it appear like you are in a fashionable and upscale gallery somewhere in New York, London or Paris. You'll love it especially if you have an eye for art.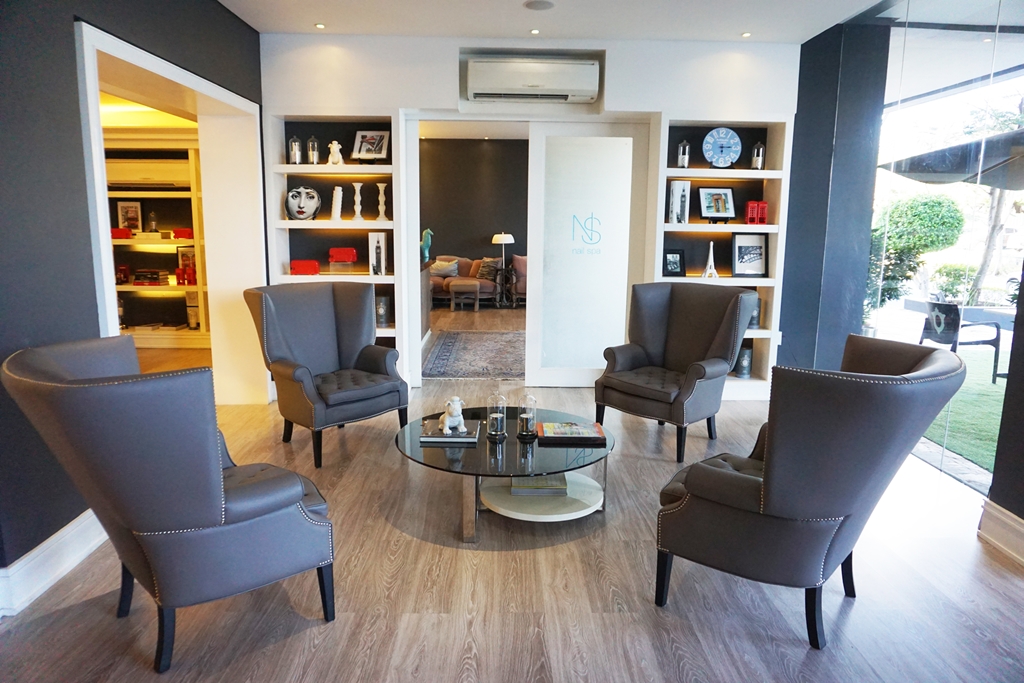 With all of these around you, who would have thought that you are in a hotel here in Alabang?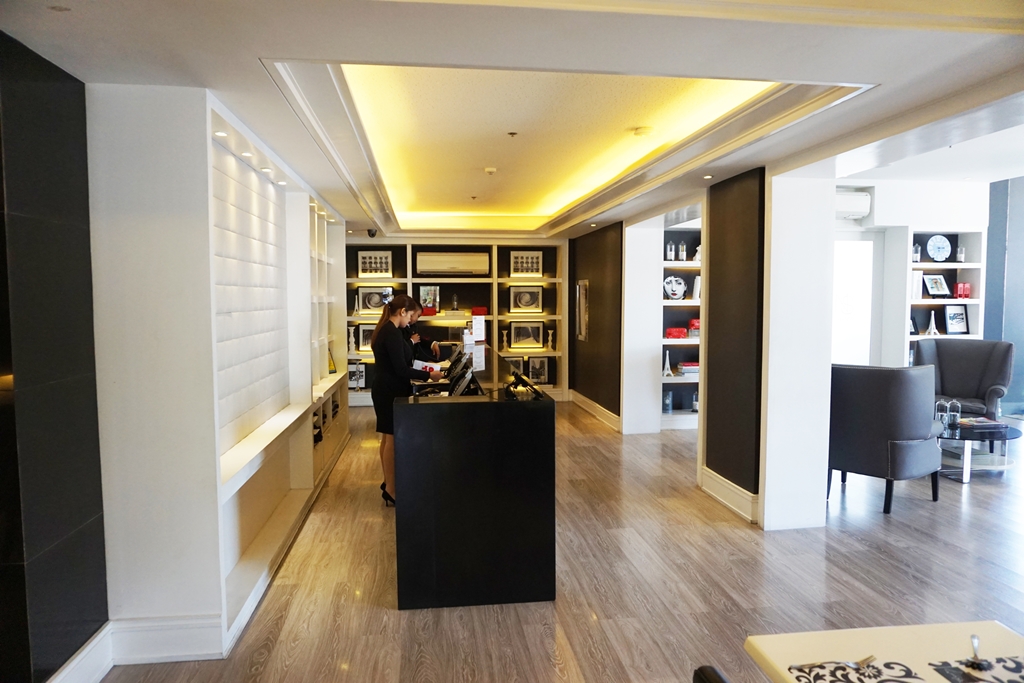 To add to all that, the relaxing ambiance of the hotel made me feel at home.
Romulo's Café is Azumi Boutique Hotel's Official Restaurant
If you frequent Jupiter Street in Makati, there is one fancy restaurant that I'm sure you wouldn't want to miss: Romulo's Café.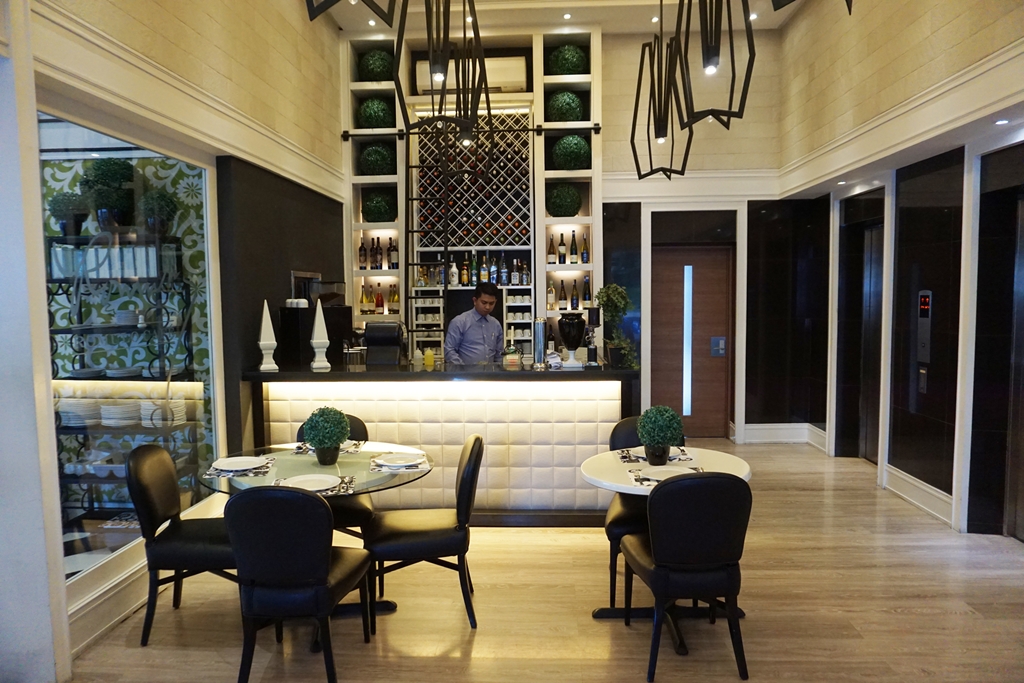 In case you didn't know, Romulo's is a restaurant that serves mainly Filipino dishes. A few of their specialties include Kare-Kare, Flying Tilapia and Rellenong Manok, which, up to now, I couldn't get over with. Yes guys, it's that good.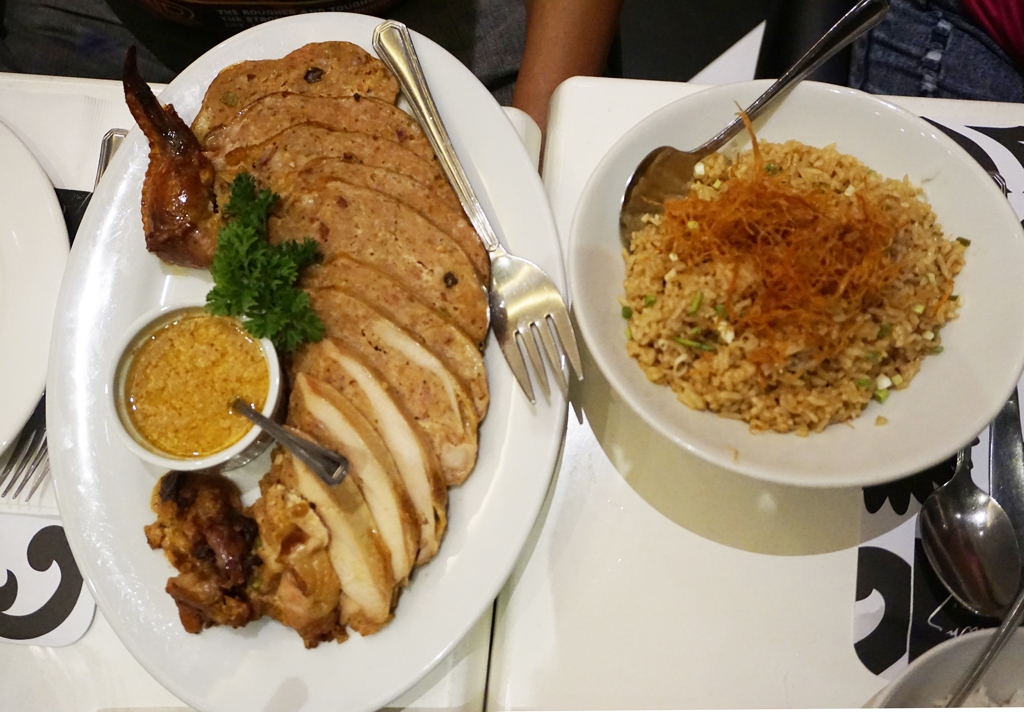 Now what would surprise you about Azumi Boutique Hotel is that instead of having their own hotel-branded restaurant like the majority of other hotels, what they did is that they collaborated with their concessionaire, Romulo's Café, in order to build an in-house restaurant located at their ground floor.
If you come to think of it, their partnership makes perfect sense. That's because if you've been to any of Romulo's branches, you'll see that their interiors are artsy too, just like Azumi.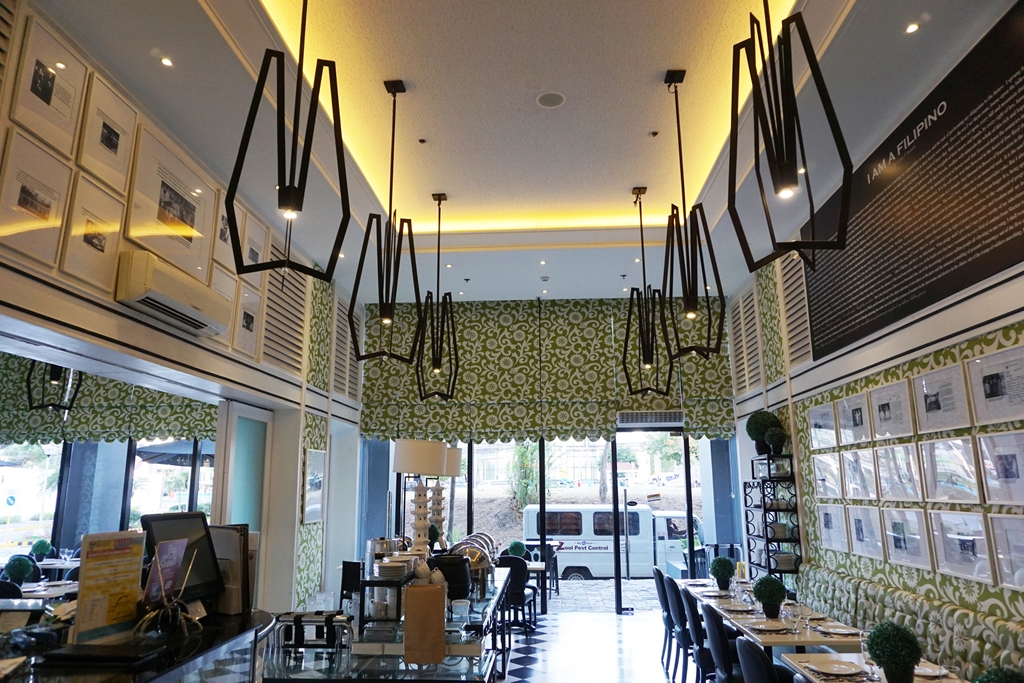 Romulo's Cafe is the hotel's main restaurant that serves meals throughout the day until 10 pm. And yes guys, if you are availing their bed and breakfast accommodations, you'll be getting a sumptuous buffet breakfast from Romulo's too.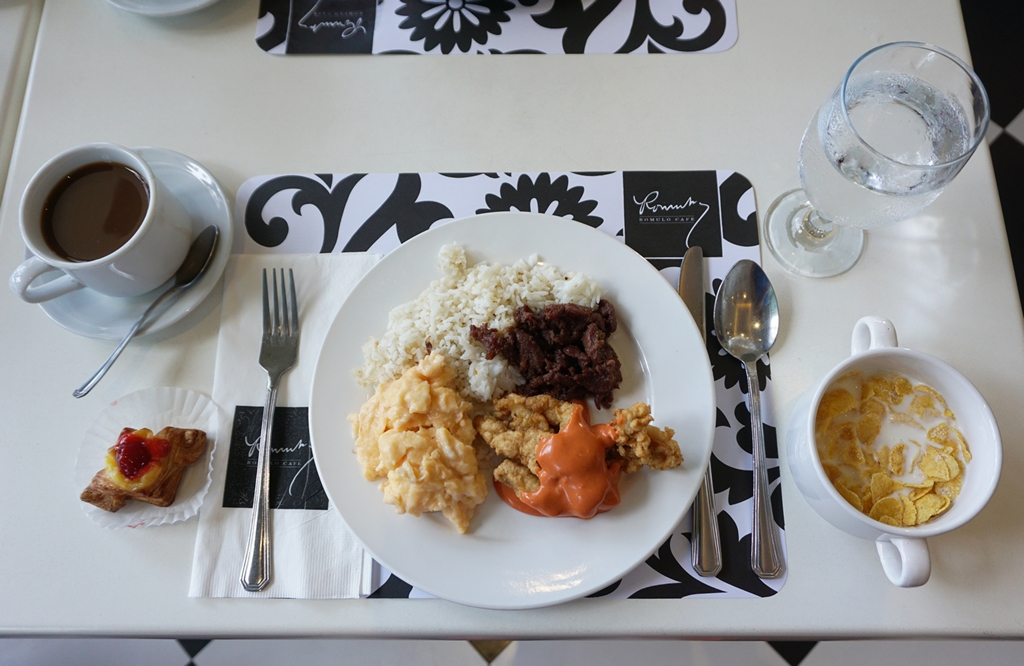 The Infinity Pool at the rooftop
If there is one crowning jewel that Azumi Boutique Hotel has, it would be none other than their infinity pool located at the penthouse.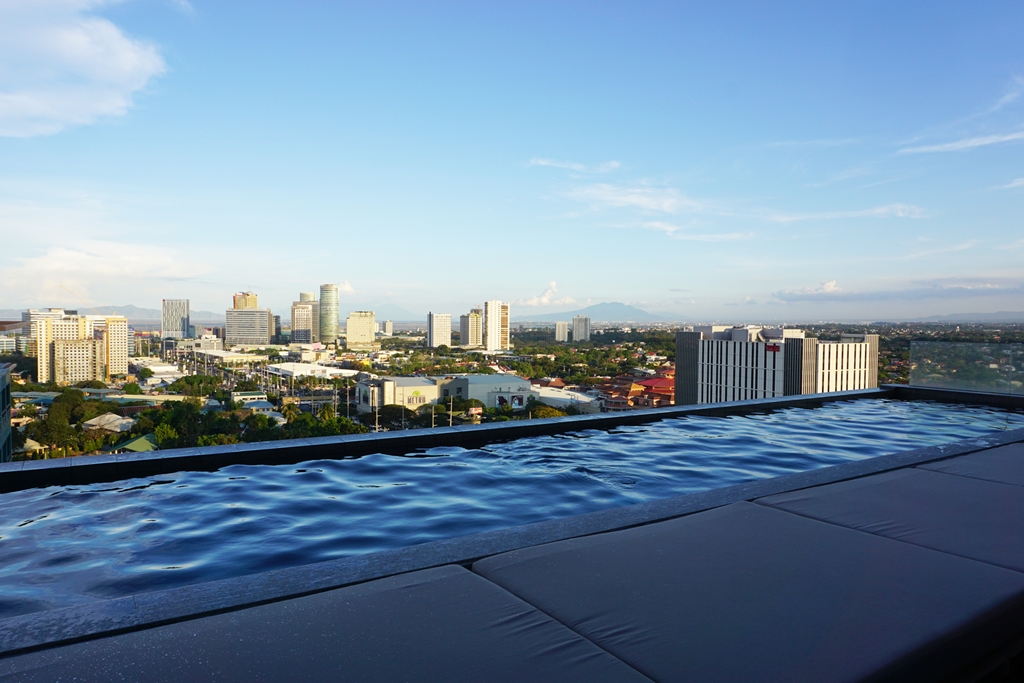 Azumi's infinity pool has become so popular that you'll see pictures of it being shared everywhere in social media these days. As I've said, when I first saw their pool in one of my friend's posts on Facebook, I was so amazed that I didn't stop looking until I found out where it was. I admit that it is one of the things that convinced me to stay at this hotel.
The infinity pool has a depth of 5 feet at the center and 4 feet on the sides. And here's a little trivia: Did you know that it is actually a salt water lap pool? It is such a stunner that even Metrobank decided to shoot one of their TV commercials there.
Yes guys, that's how awesome their pool is. It's beautiful both day and night.
The Bar at the Rooftop
Most of the hotel's entertainment are located at the penthouse. Aside from the dazzling infinity pool, you will also find there a rooftop bar.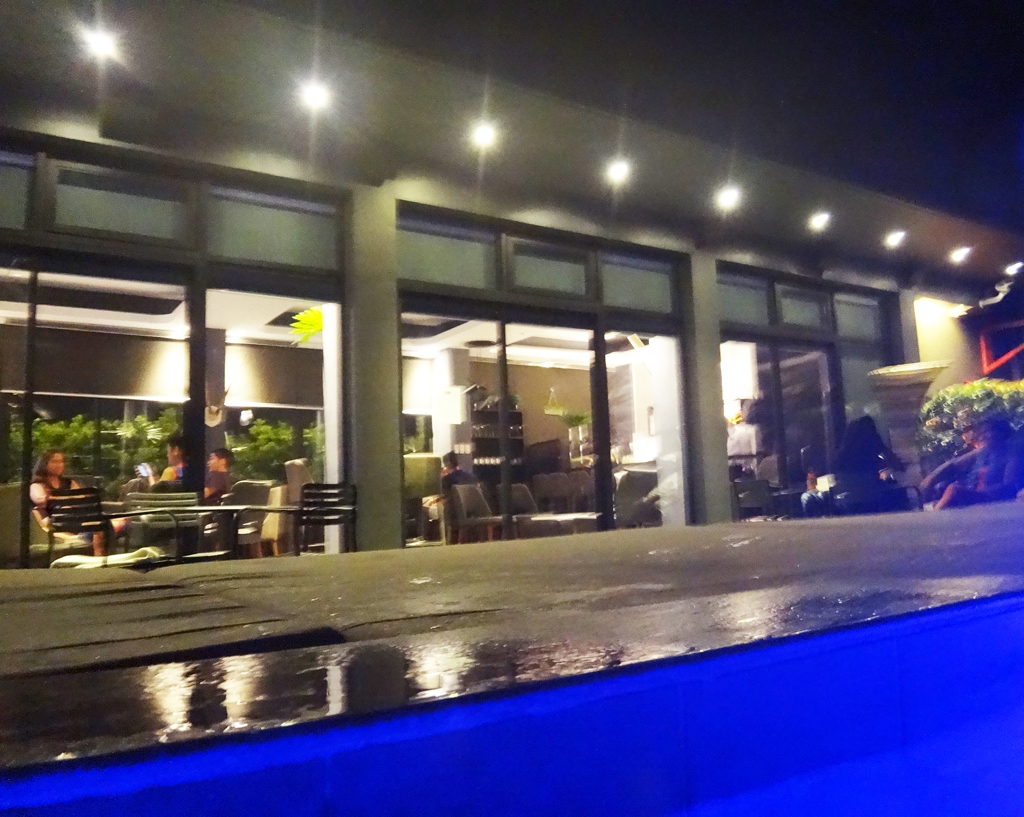 The rooftop bar beside the pool is also managed by Romulo's. It serves hard drinks and coffee for non-alcoholic drinkers from 5 pm up until 12 midnight during the weekdays and up to 2 am during the weekends.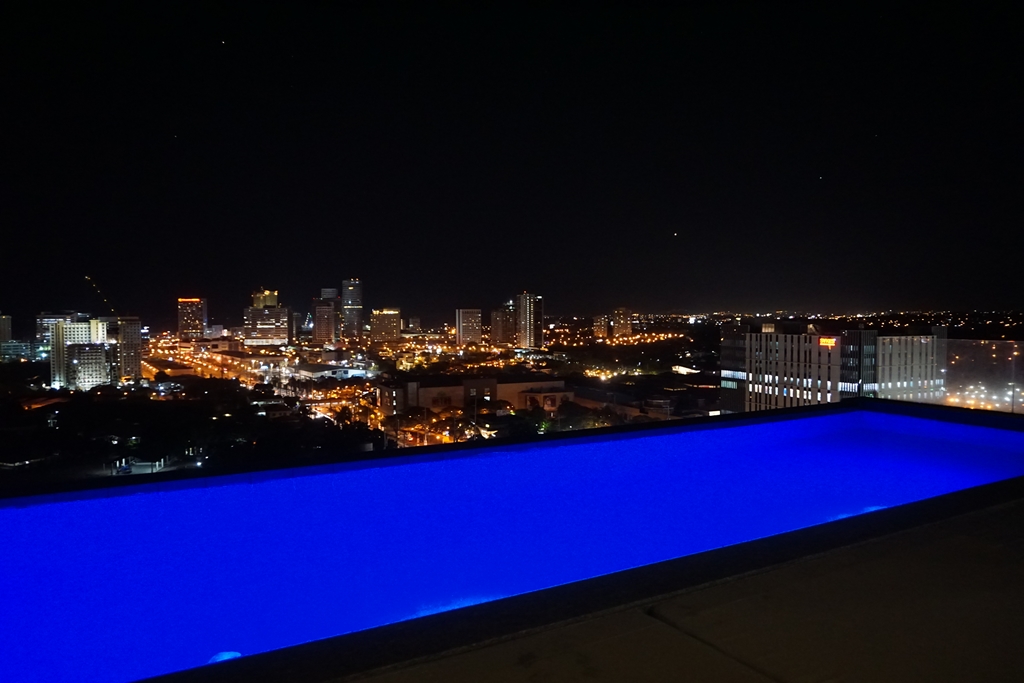 We had a great time hanging out and chilling at their rooftop bar while gazing over the spectacular view of the pool and the cityscape. All that, including the cool night breeze and a bottle of champagne is the perfect way to cap off the night.
The Rooms, the Mini Snack Bar and the Location
Naturally, this feature story about Azumi Boutique Hotel wouldn't be complete without mentioning their rooms, right? Because that's the most important feature of a hotel and where you'll be staying at most of the time.
As you'll see in the photos here, their rooms range from small to medium in size. As we are a family of four, we picked the larger Double Queen Room right here which features two beds, one bathroom and a study table where you can work on your laptop while connected to the hotel's wifi. It even has a balcony where you can breathe some fresh air.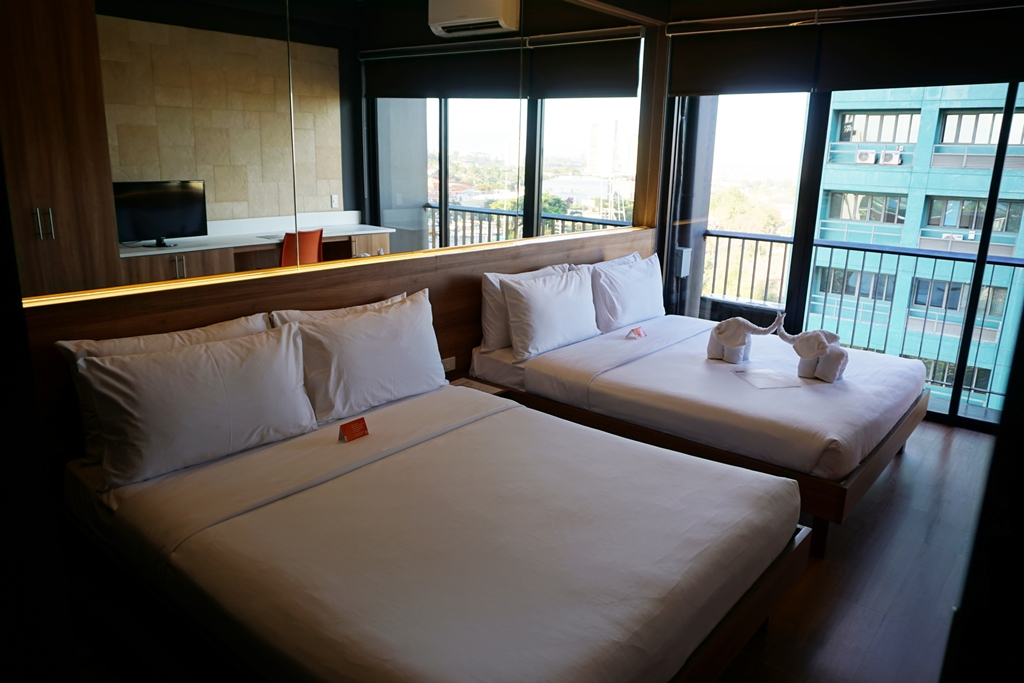 Consistent with the overall look of the hotel, their rooms also have the minimalistic style and modern feel. It reminds me of a stylish, self-contained bachelor pad. I kind of wished the interiors of my condo looked like this. If it did, I promise I'd never leave home haha!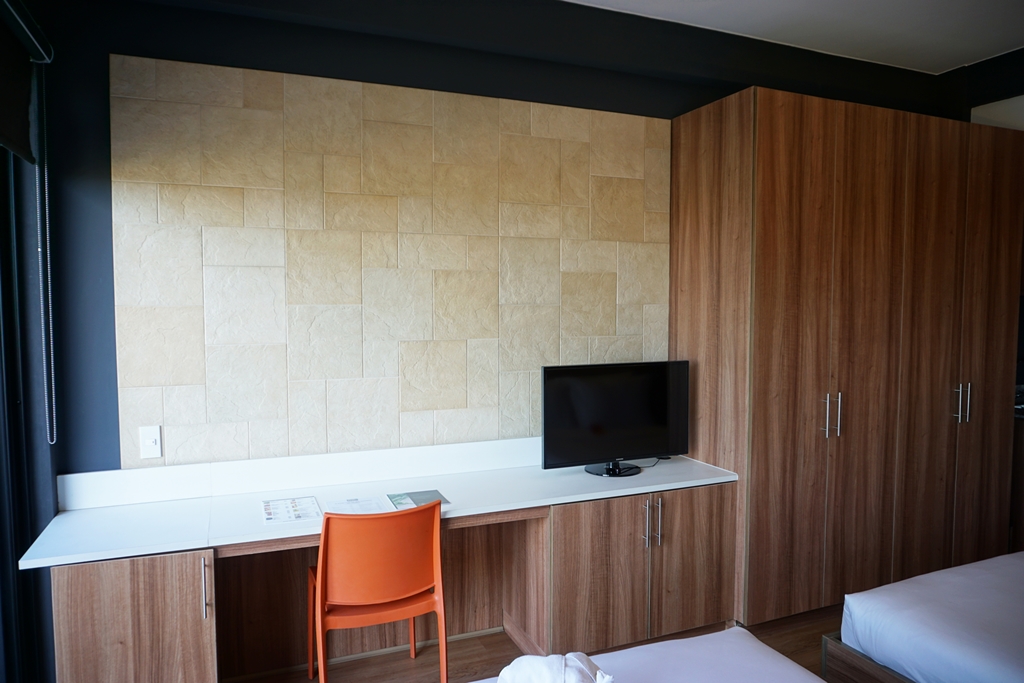 The room is also equipped with a sink, a fridge, a mini snack bar and yes, even a microwave.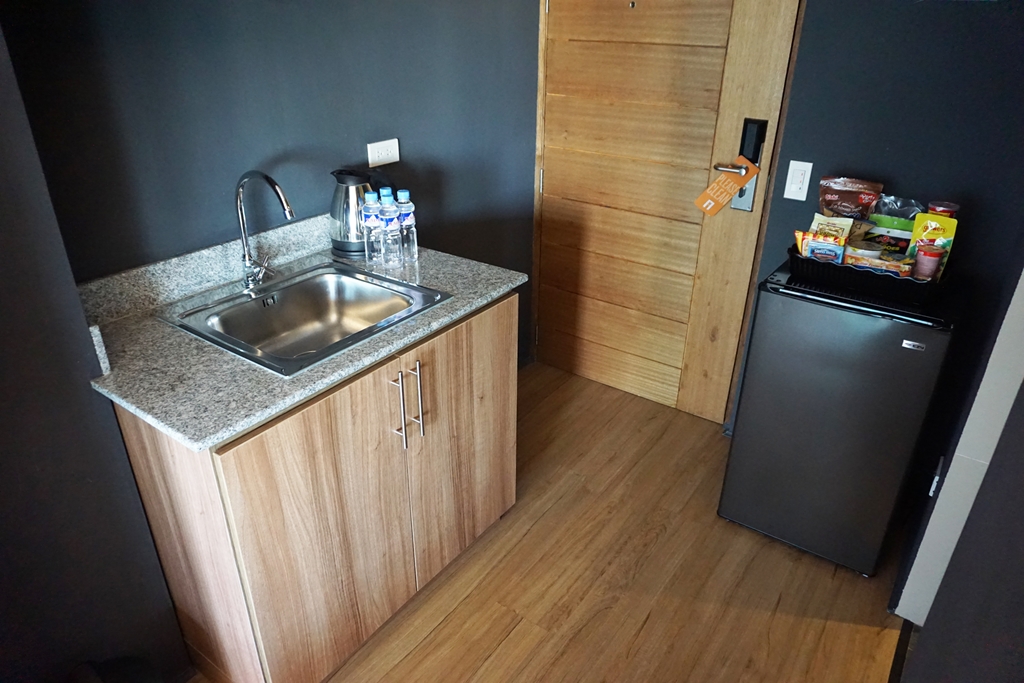 Upon our arrival, these elephant-shaped towels placed on the bed welcomed us. Sweet!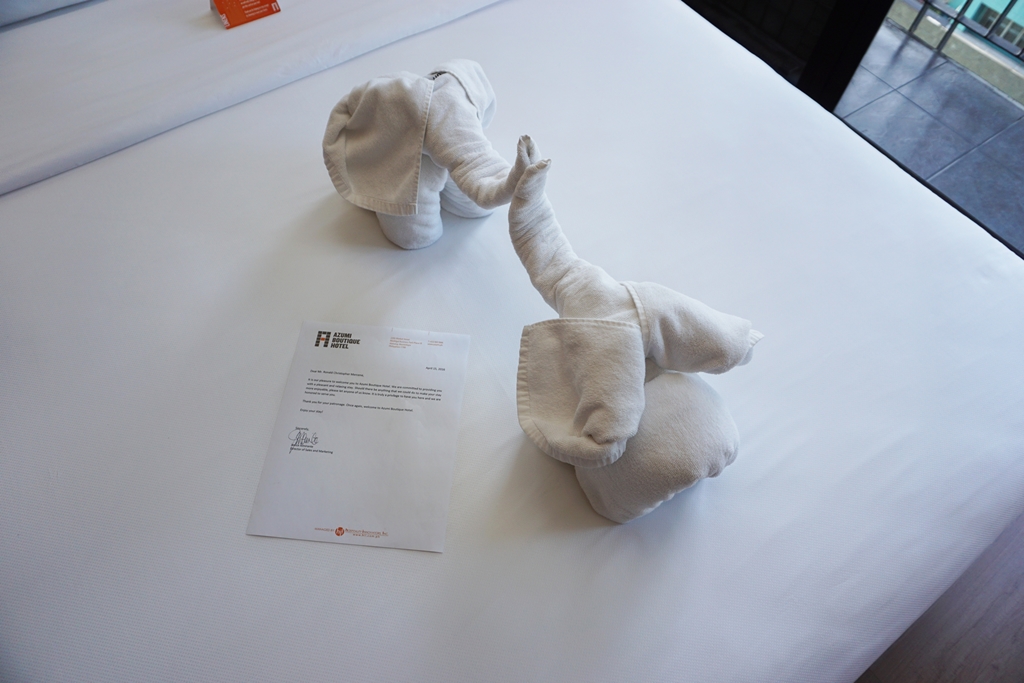 They are so adorable I almost couldn't lie properly on the bed because I didn't want to mess them up. Haha.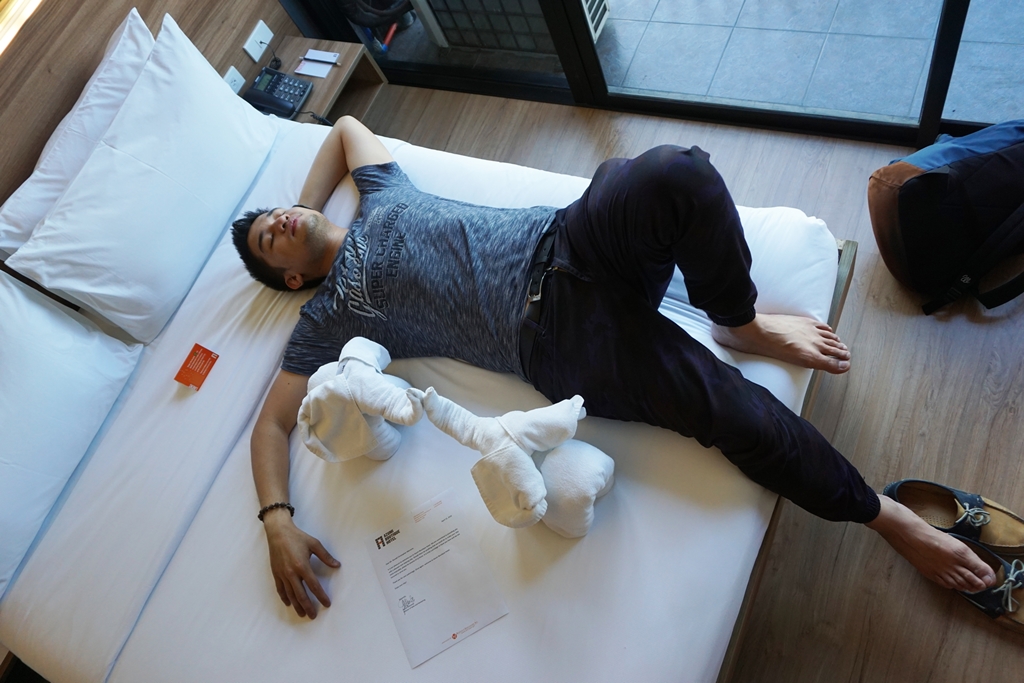 During our stay, the hotel staff allowed us to get a glimpse of the other rooms in the hotel for blogging purposes. This one here, is their Garden Room, which, aside from the bed, has a couch beside it.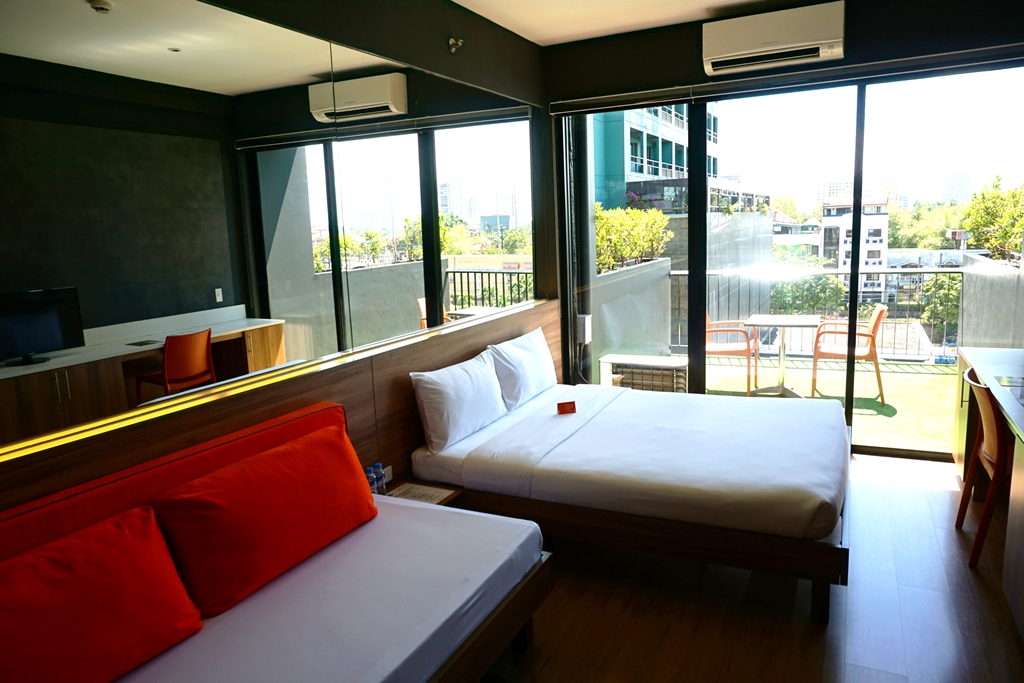 And did you notice that the balcony is bigger and has a garden set? In case you are bored but too lazy to get out of the hotel, you can sit and relax at the balcony while having a bite and a glimpse of the picturesque city view.
Some of their rooms also have a shower with a glass window. I guess this would be a room that couples would love.  😉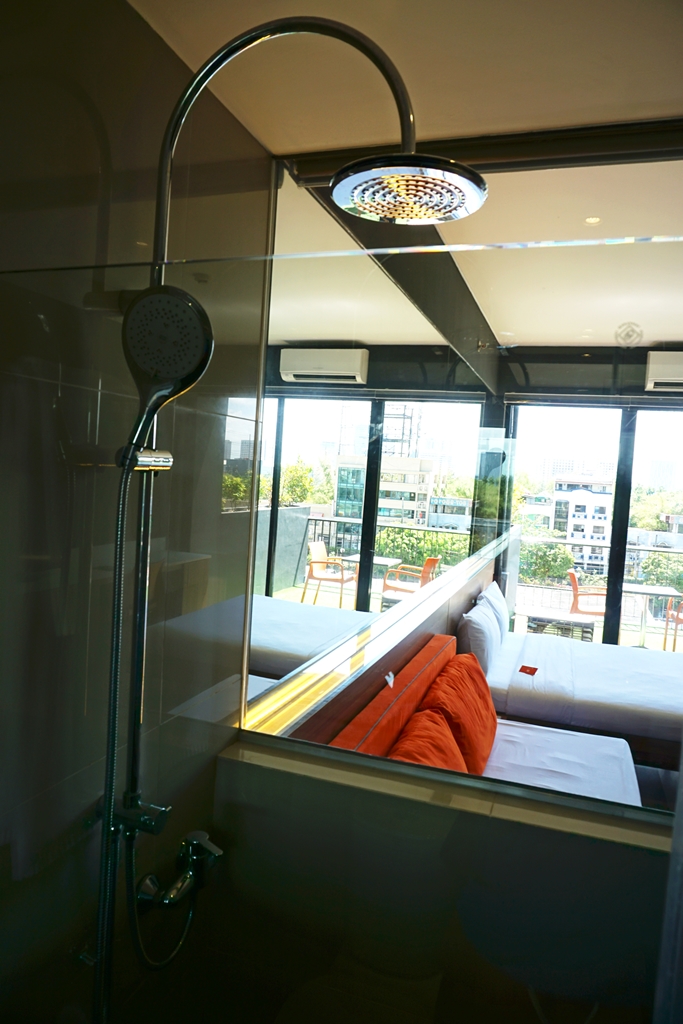 Of course you can pull down the curtain in case you're not comfortable.
But perhaps one of the best things I liked about their rooms aside from its visually-appealing look is the mini snack bar.
If you have been to a number of hotels, you know the general rule of thumb: don't touch anything inside the fridge or at the mini bar or else you end up paying for overpriced drinks and snacks as soon as you check out.
But that's not the case for Azumi Boutique Hotel. Would you believe that their sodas, chips, alcoholic drinks and other microwavable snacks are priced comparable to that of convenience stores?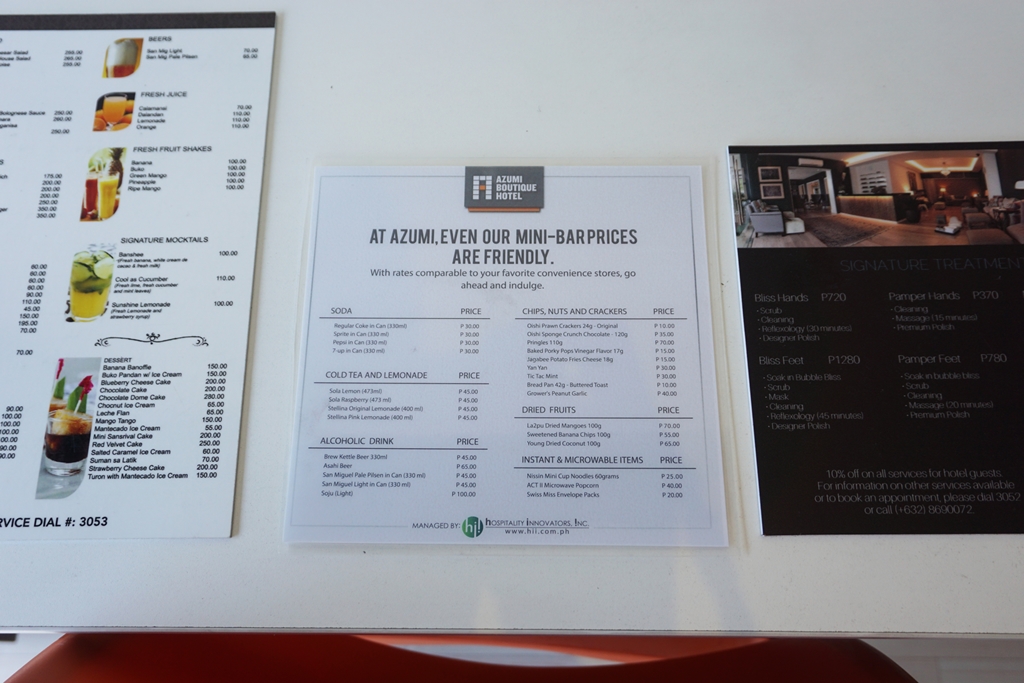 Yes guys, they are wallet-friendly. I remember we ate whatever we wanted from the mini bar and consumed drinks from the fridge without having to worry about paying for overpriced items because the refreshments are really cheap. It's awesome. There's no need for you to leave the room to buy snacks because everything is right within reach. That ultimately makes the hotel a great place for a summer staycation.
Azumi Boutique Hotel has a total of 186 rooms to accommodate tourists and vacationists in the area. Below is a gallery of the other rooms in the hotel. Click each photo to zoom in.
And before I forget, do you know how close Azumi Boutique Hotel is to the Alabang Town Center Mall?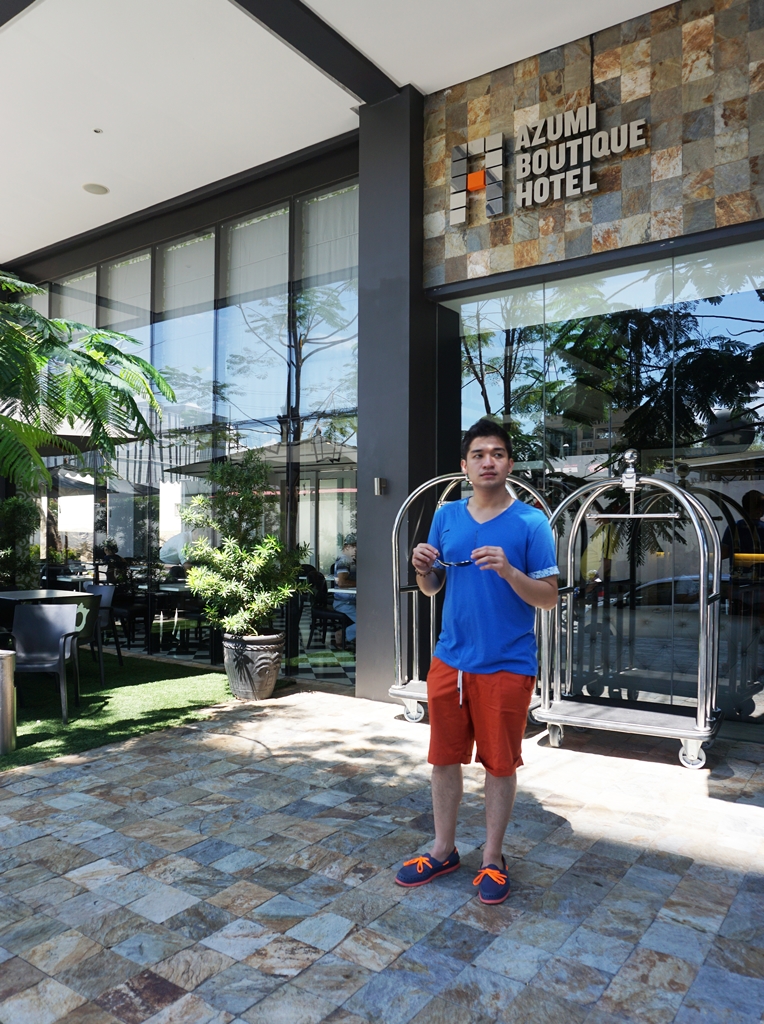 You'd be surprised because ATC is just right across the street! You can swing by anytime if you want to go watch a movie, shop, dine or just look around the area.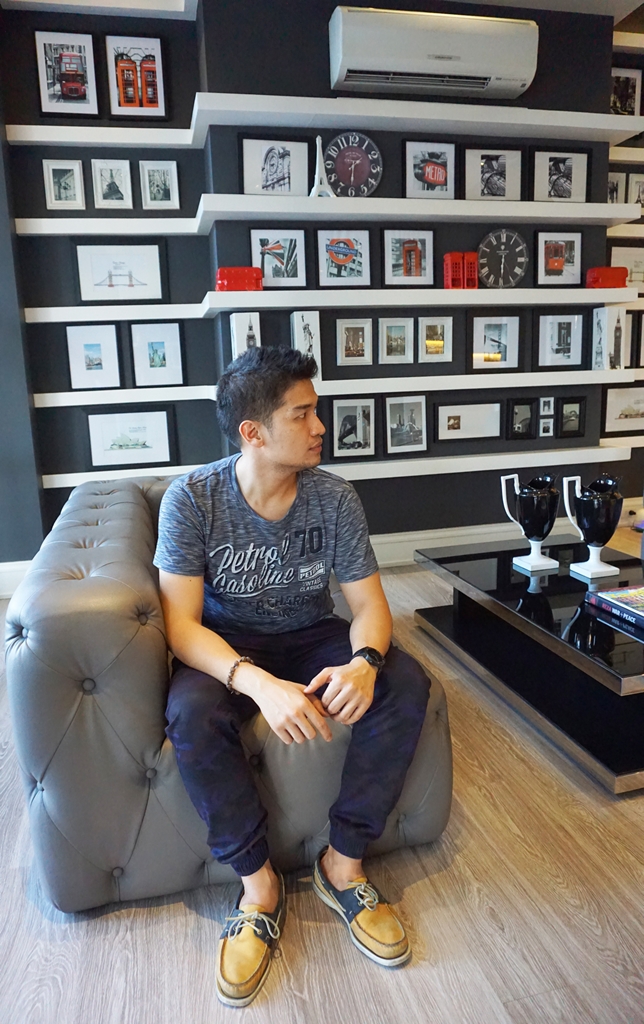 Stylish Hotel, Stylish People and Stylish Mall for a Stylish Summer Staycation!
Check out more about Azumi Boutique Hotel here at their website and their Facebook page.
Follow Pinoy Guy Guide on Instagram and Twitter to see upcoming men's lifestyle features.