I've always dreamed about having my own home cinema setup.
Especially that now, more than ever, work has become more flexible and most of us are either work from home 100% or have more flexibility to stay at home and bond with the family while watching movies together in the comforts and safety of our homes.
Thankfully, there's one product that makes that dream come true for me and one which makes it easy for you to transform any space in your homes into a smart theater. I'm talking about the LUMOS RAY projector.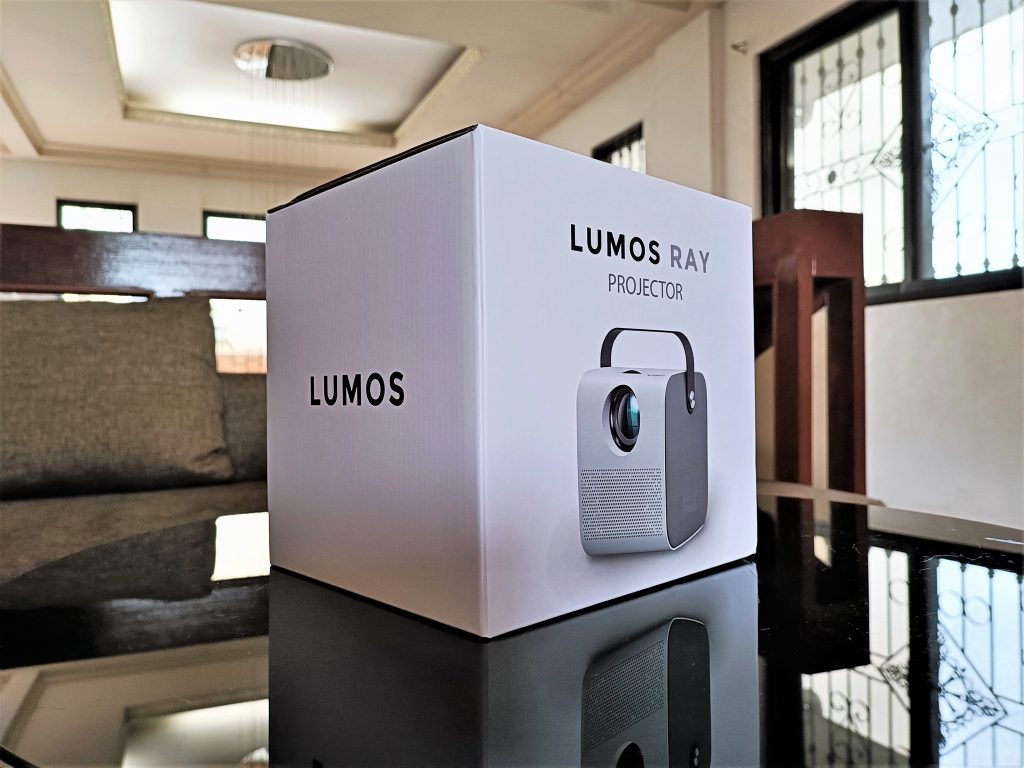 How to turn any space into a home theater
So how did I transform our home into a theater?
Simple.
First, I got myself the LUMOS RAY Smart Projector, plugged it in and then connected it to the Internet.
Second, I looked for a blank white space to project on (like a wall or any other white surface), picked a show to play on Netflix or YouTube and voila! You now have a home theater. It's that easy.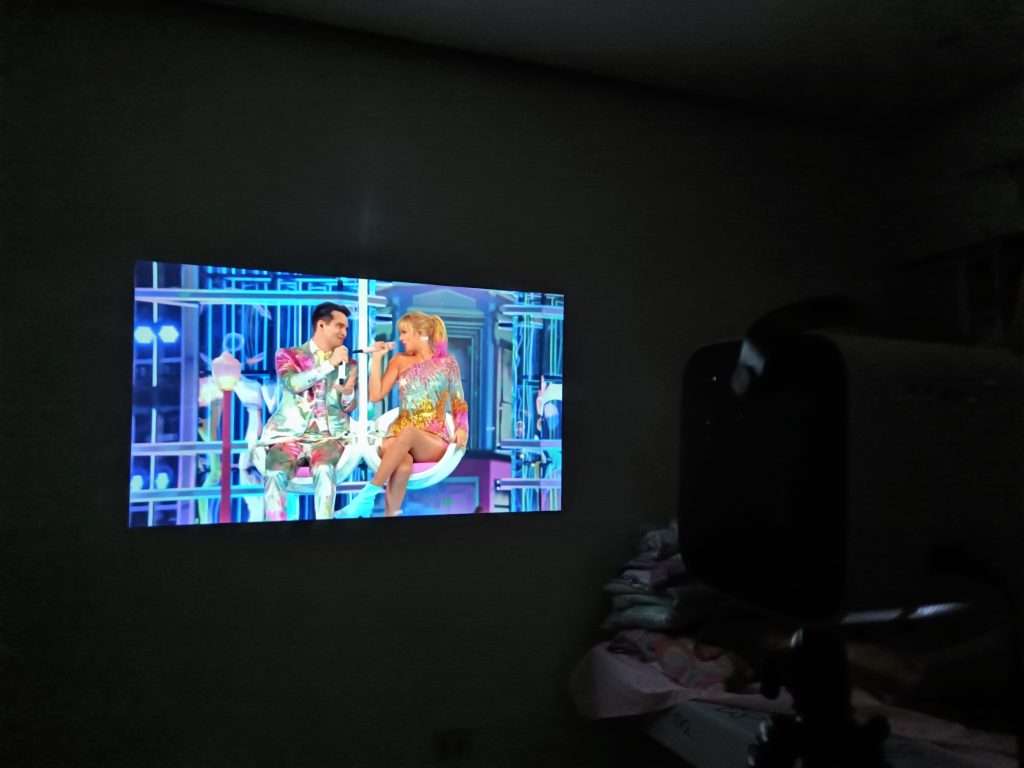 Awesome, right?
Detailed Story
But here's the more detailed story and review on how you can set up your home theater with this amazing device.
First thing you'll need is your LUMOS RAY Smart Projector.
Upon unboxing the LUMOS RAY home cinema projector, you'll see the following inside the package:
LUMOS RAY Smart Projector
HDMI cable
Power cable
Audio/Video cable
Remote control
Instruction Manual
Then the next thing you need is a white surface to project on. The most practical one is a white wall but I've also had a chance to improvise and project it on an old white tarpaulin from my kid's birthday party from a few years ago.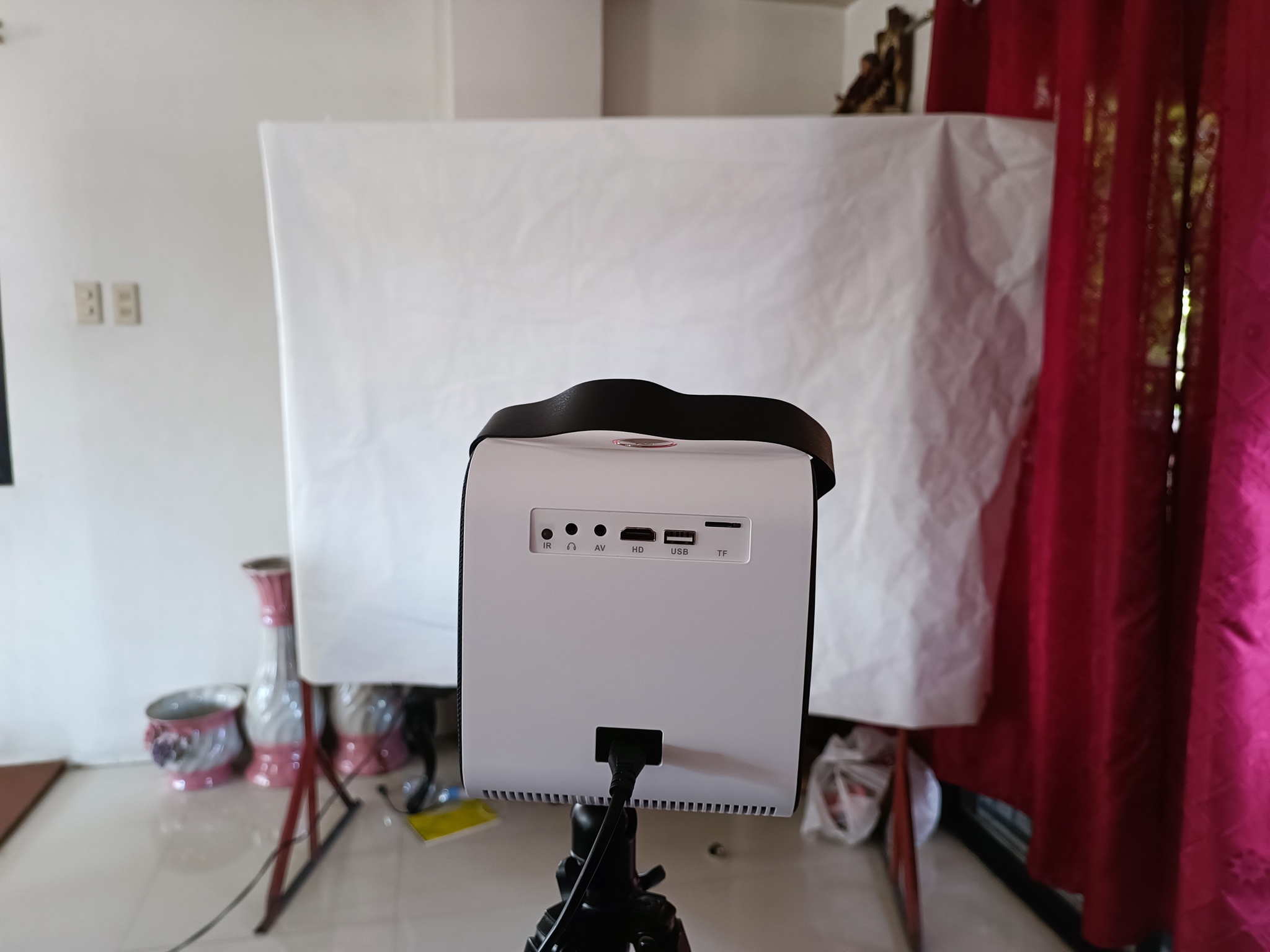 The projector can easily be placed on top of a table. But as for me, I opted to place it on a camera tripod to make it taller. I have an unused tripod at home and the nice thing about the LUMOS RAY projector is that it can easily be mounted and screwed on a tripod like this.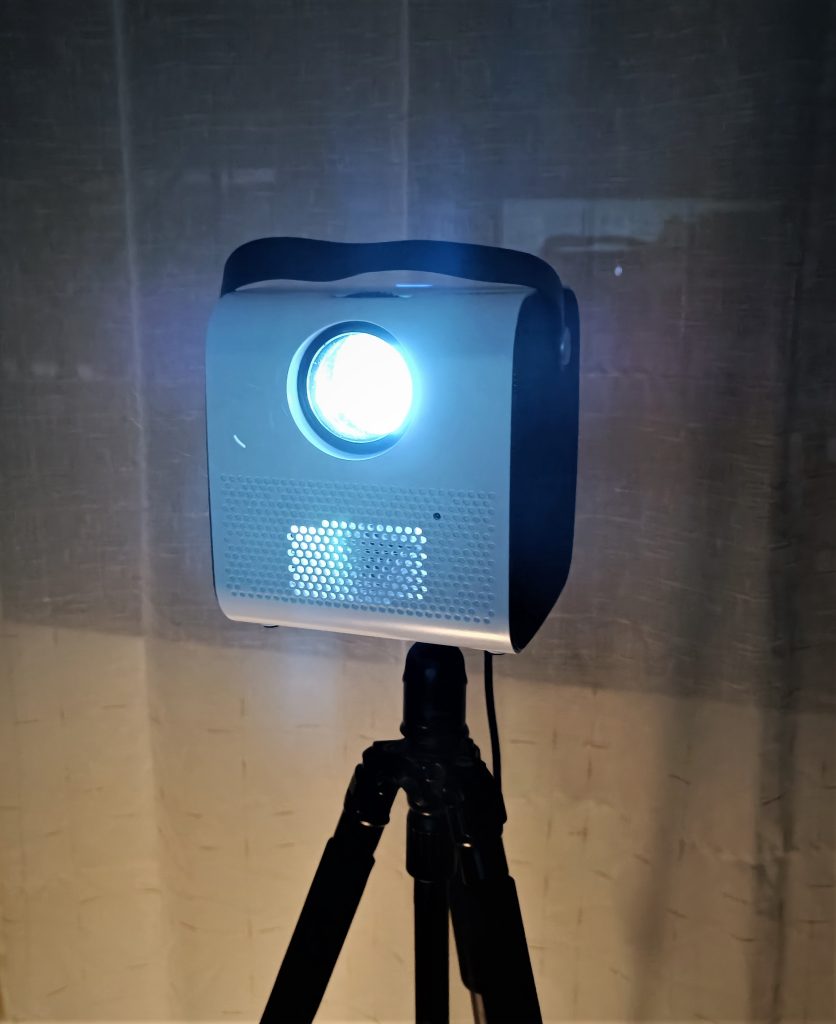 As you turn on the projector, you'll need to adjust the focus as needed and soon you'll see Netflix, YouTube and other preinstalled apps. Afterwards, using the remote control, you can navigate easily to configure the WiFi and once you are connected to the Internet, you could pick an app you want to login to to watch a movie. It's that simple.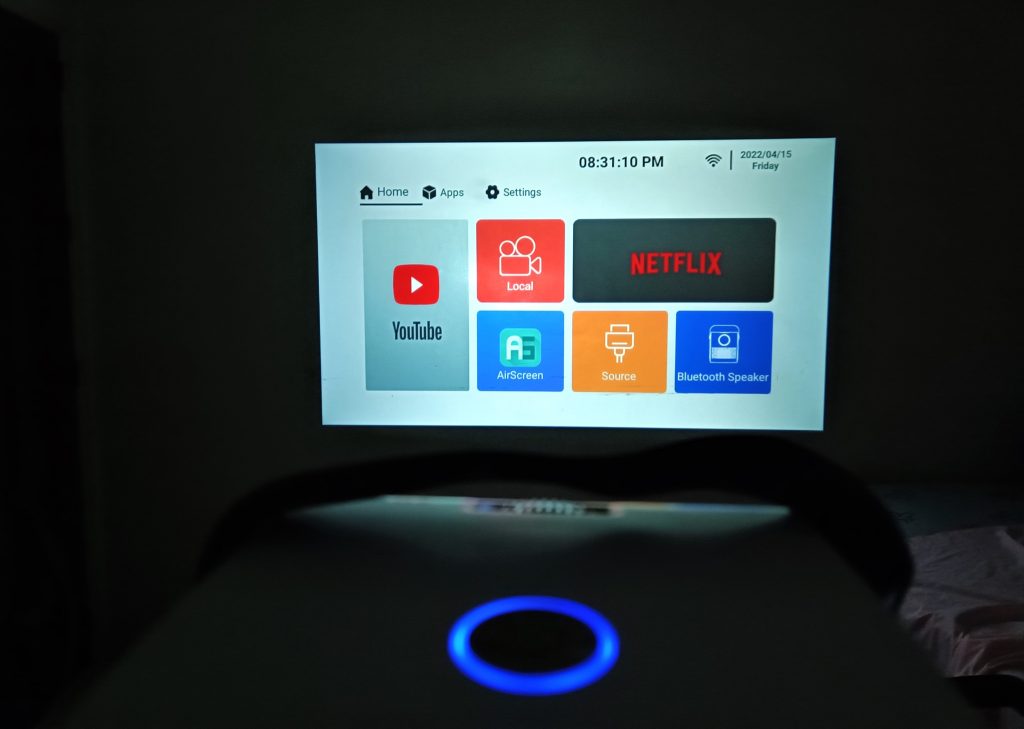 To
p 7 things I loved about LUMOS RAY
So what did I love about the LUMOS RAY Smart Projector? Plenty. But here are the 7 major things I loved about it
1. Massive Screen with little space
Some projectors would need a big room to project properly. The nice thing about LUMOS RAY is that you only need just a 3m distance from the wall to project an impressive 100-inch screen.
Take a look at this. I watched the trailer of Doctor Strange Multiverse of Madness on a tarpaulin and it feels like you are watching on a cinema.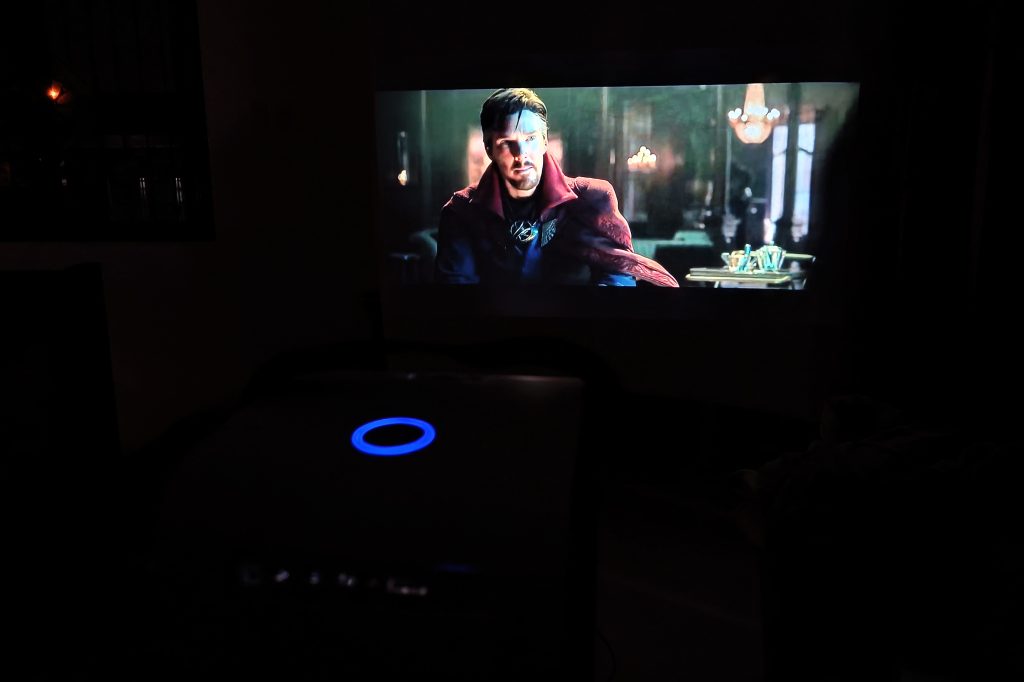 2. Amazingly bright 3,000 lumens projection
One of the best things about this projector is its high brightness. The projection is so clear and the colors are so vibrant. It's not grainy nor washed out. It's crystal clear. Here is a photo sample which I tried to capture while playing a video clip online.
I tried to project both on a white wall and a tarpaulin and both looks pretty good. Of course, the smoother the texture and the whiter the surface is, the much better.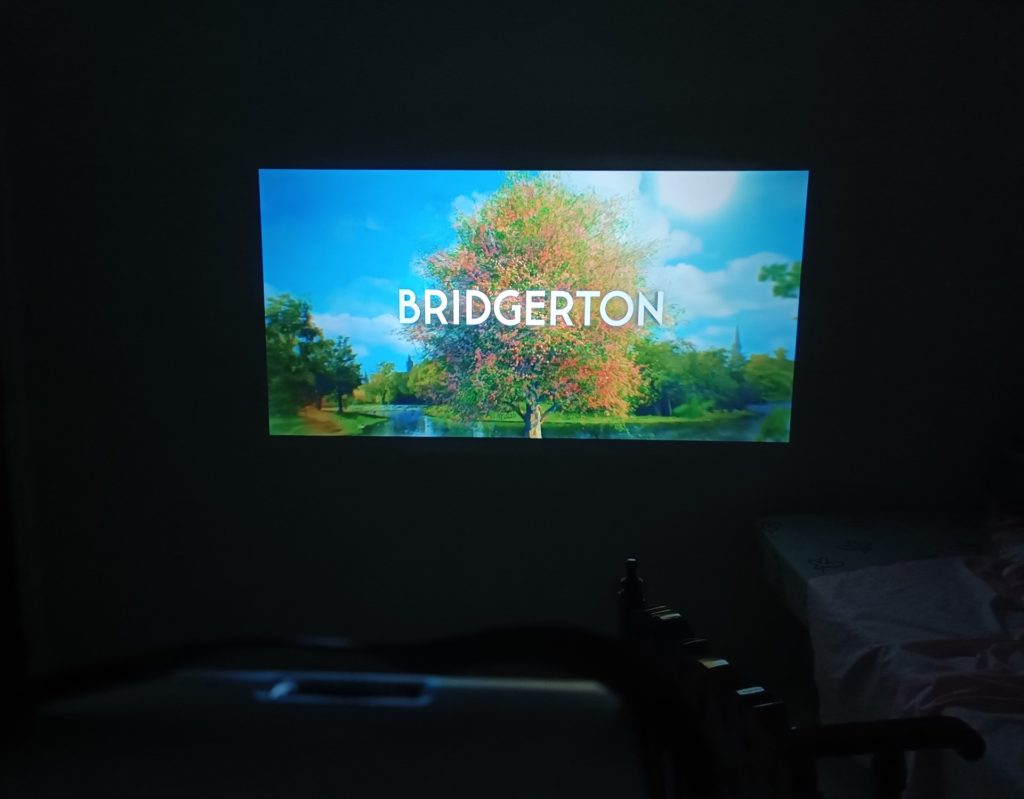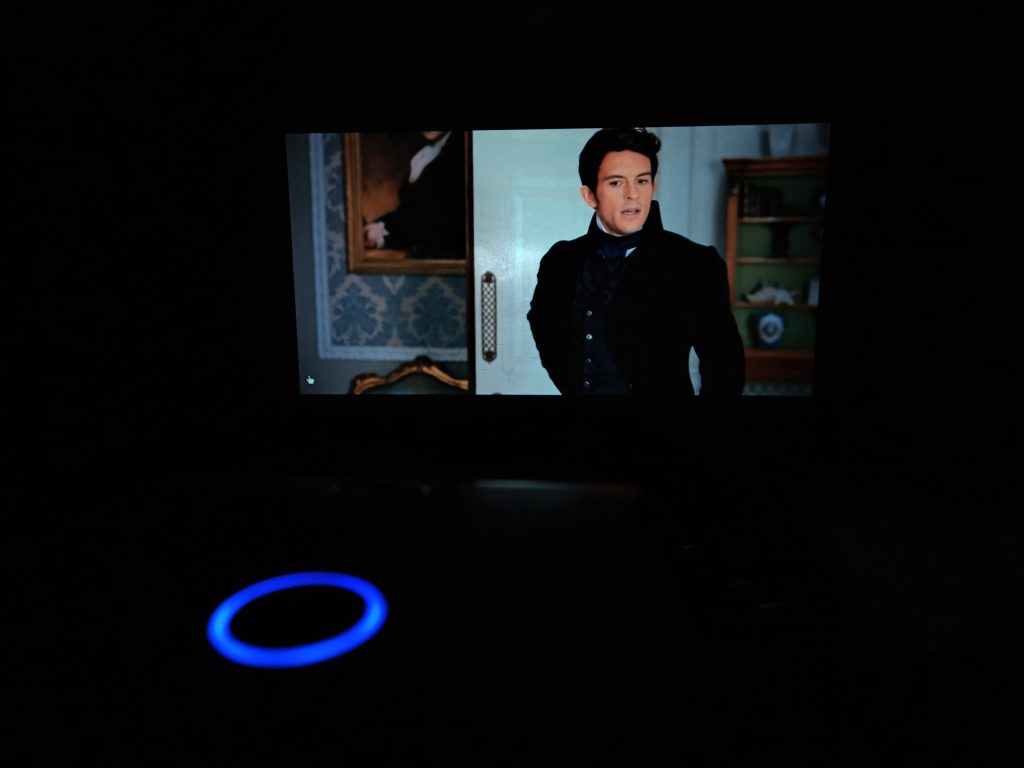 It's pretty impressive.
3. Built-in Netflix and YouTube apps
Whenever we go online to watch movies or videos, there are two primary apps that come into mind: Netflix and YouTube. LUMOS RAY has both Netflix and YouTube apps out of the box making it easy for you to get started. Just login using your account and you are ready to go.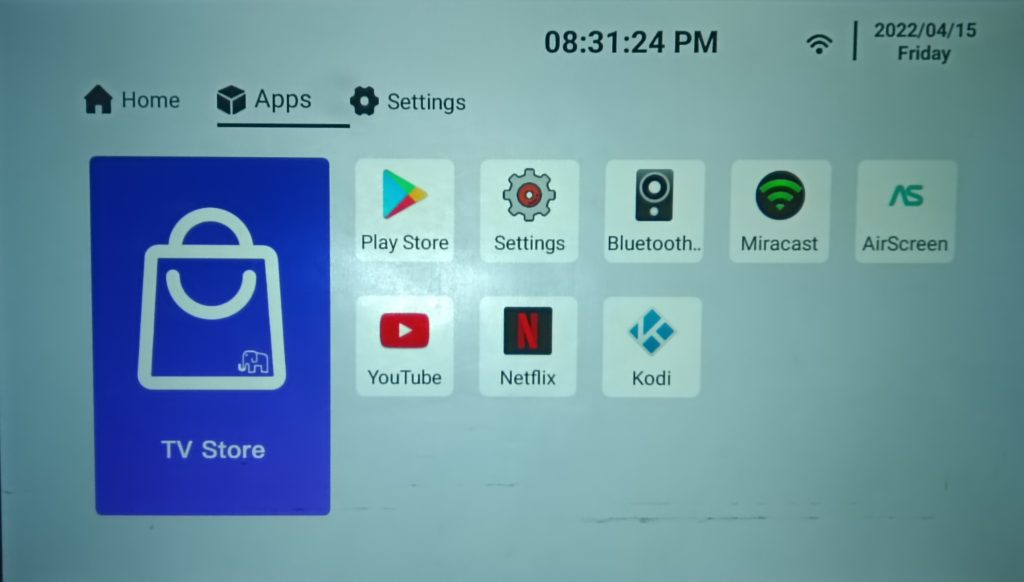 There are also apps which you can install from the TV store. It also comes with Google Play Store, however, I was not able to try and test it properly due to a temporary problem that I encountered. LUMOS Support Center says that they are working on fixing it as of this writing. Not a big deal for me as long as I have Netflix and YouTube, but I do hope they fix it soon in case I want to try some other apps from Google Play Store.
4. Wireless Mirror Casting
If you are a gamer or love to listen to music via Spotify or you simply want to cast your mobile or laptop's screen to the projector, you could easily do so by using the inbuilt Air Screen or Miracast app which you can connect to using WiFi to mirror your screen.
5. Premium and elegant look
Unlike the projectors of the past which are huge, bulky and a true eyesore, the LUMOS RAY Smart projector is the complete opposite because it has a premium and elegant look plus it's small enough and has a modern appearance.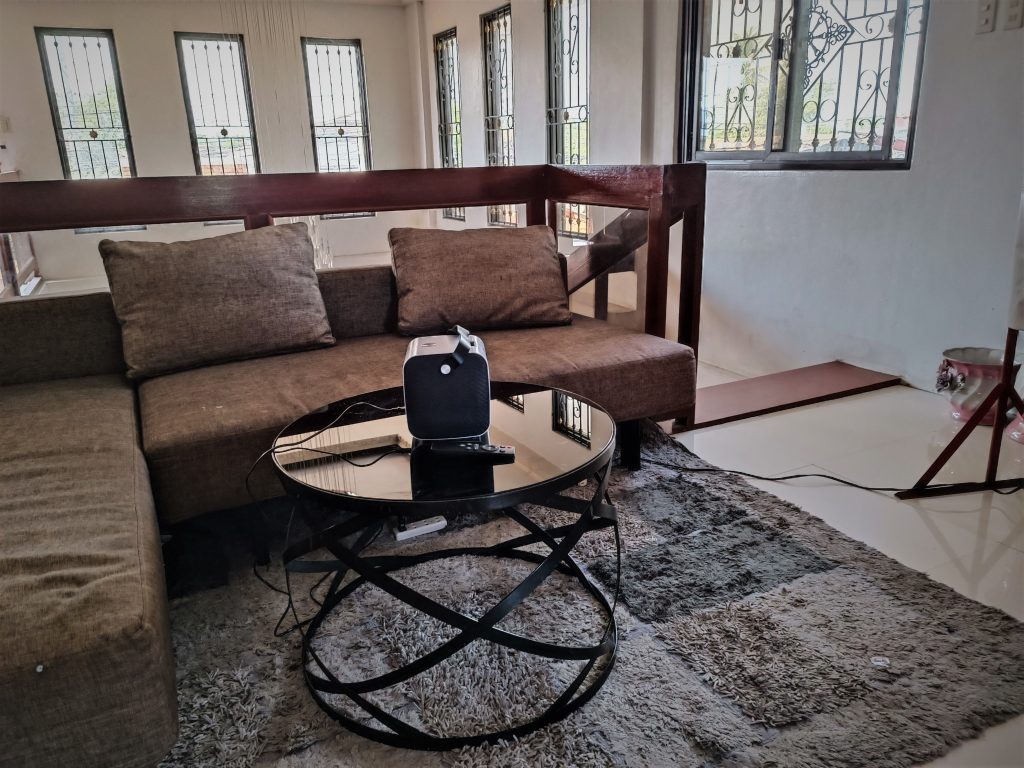 6. Outstanding Dolby Audio
I admit that when I first tried the LUMOS RAY Smart Projector, I wondered how it would sound like. I mean, would I need a separate speaker? Would it have audible sound that is good enough for watching movies just like in the theaters?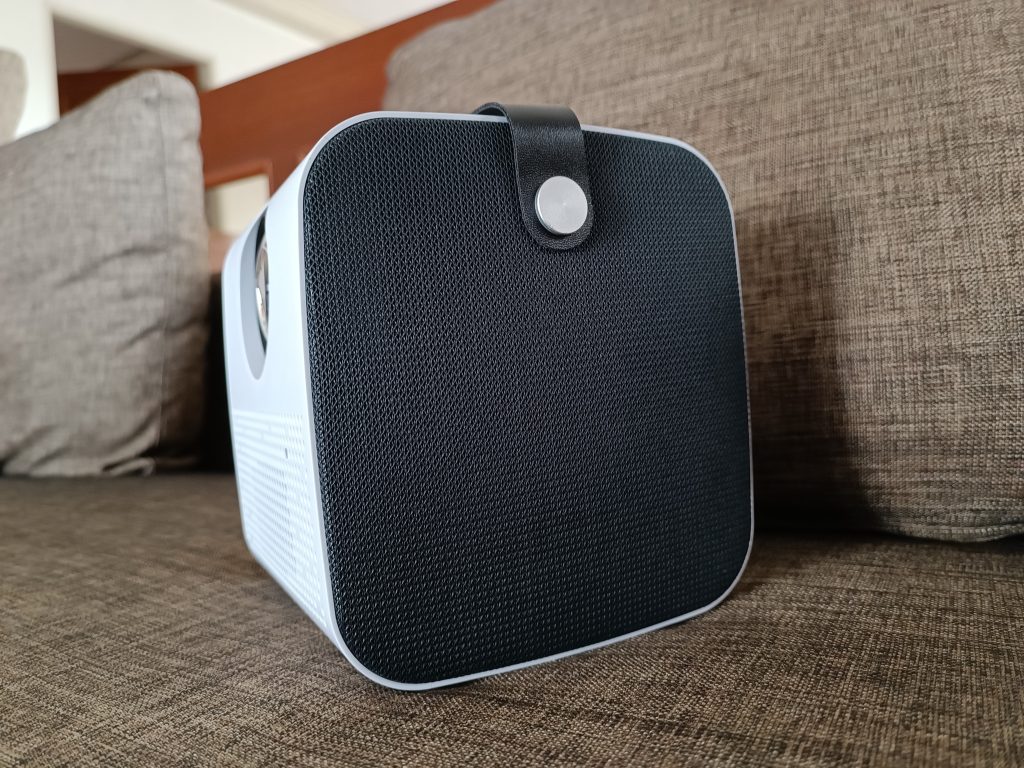 Well, to my surprise, it has built-in Dolby Audio speakers. The built-in dual speakers on its left and right sides are loud and crisp enough for you to not need a separate speaker at all. My wife was even surprised when she found out that the sound was coming from the projector itself and not an external speaker.
Want to see how good the audio and video are? Check out this short video clip when we tested the LUMOS RAY Smart Projector:
7. User-friendly plug and play operation
The other thing that you will surely love about this device is how user-friendly it is. No complicated setup needed, just plug and play and you are ready to go. It's a smart projector after all.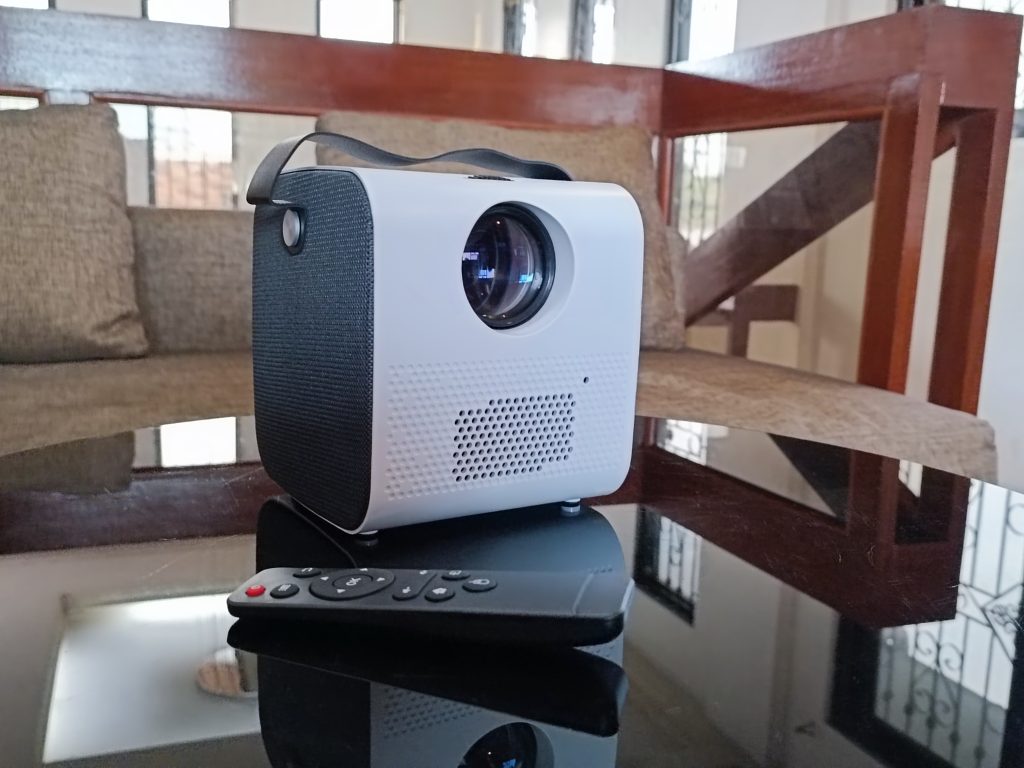 The device comes with a remote control for easy navigation. It also comes with a number of ports such as: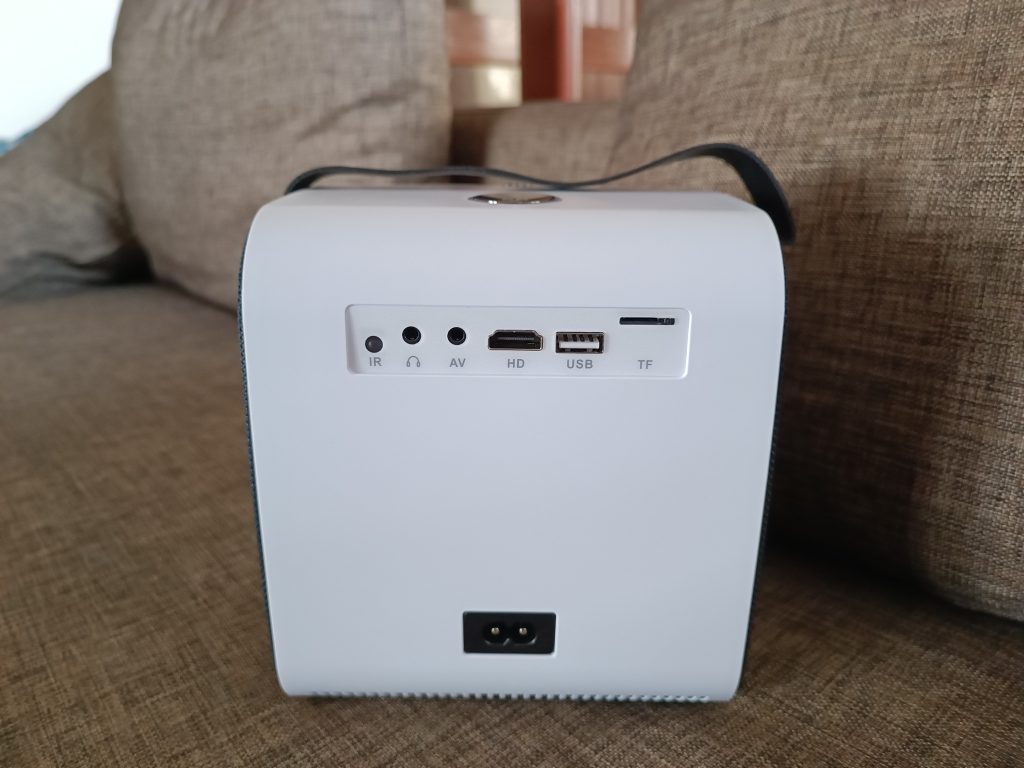 HDMI port
The LUMOS RAY Smart has an HDMI port (and it also comes with an HDMI cord) if you want to easily connect your laptop.


AV port
Together with the AV jack, you can connect the projector to an external device that does not have HDMI.


3.5 mm jack
There is also a 3.5 mm jack which you can use to connect to a pair of headphones (for private watching). The headphone jack also serves as auxiliary in case you want to connect it to an external speaker or audio component system for excellent surround sound.


USB port and MicroSD reader
The projector also has a USB port which you can use to plug in your USB stick or external hard drives that you want to access media from. It also has a MicroSD reader in case you have photos or videos that you want to view on the projector.

* * * *
And… lastly, did I just forget to mention how handy and portable it is?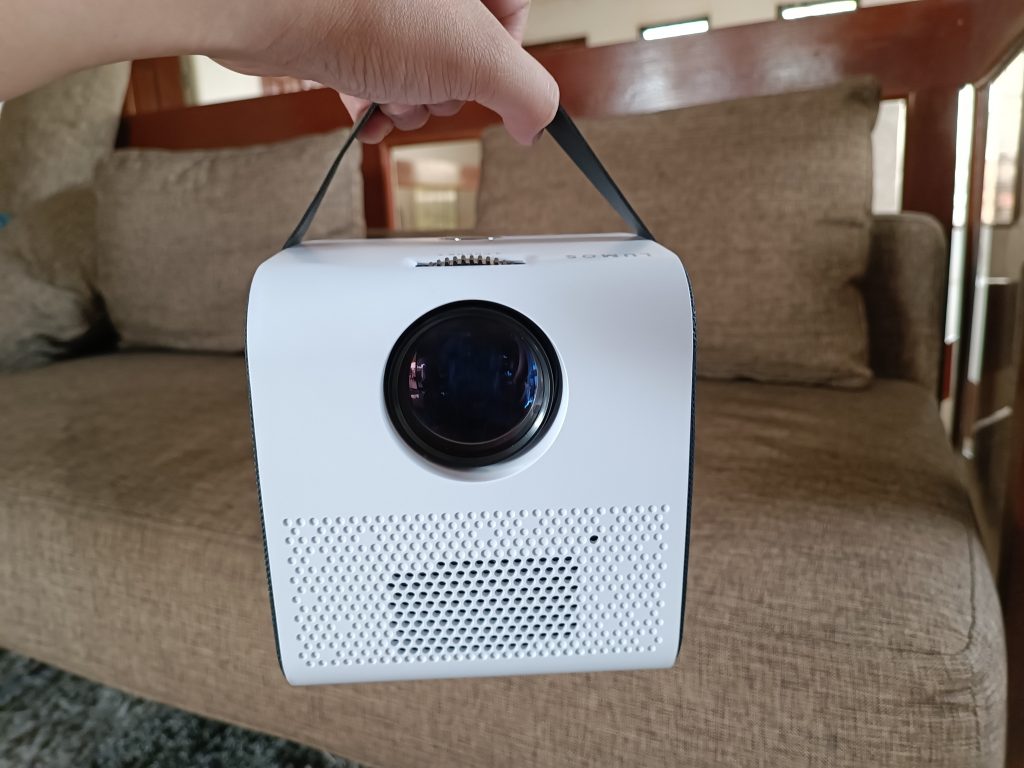 Overall, I'd say that the LUMOS RAY Smart Projector delivers value for money at an affordable price of 11,999 Pesos. It's a fantastic device that you wouldn't want to miss. In fact, it's a must-have if you love movie nights with family and friends.
Get yours now at lumosprojector.ph. It comes in two variants: the "REGULAR" and the "SMART" version. Make sure to pick the "SMART" version of this product if you want the exact version that I have.