Since Barcelona 1992, I've been watching the Olympic Games every 4 years, especially the opening and closing ceremonies. And now that we only have a few days left, I'm so excited to watch the upcoming worldwide sporting event, at least on TV. It's been my dream to watch the Olympic Games Live, and I hope it would happen in London 2012.
So to all of the guys out there who are fans of the Games, I'd like to share with you some of the stuffs to do to be ready for the Beijing 2008 Olympic Games:
1. Collect McDonald's/Coca-cola Olympic Contour Glass
I find myself hilarious for visiting McDonald's 5 days straight, just to collect this glass! Imagine having lunch at McDo with my friends from Monday to Friday just to be able to collect them all but I'm glad I did. I now have all the 5 different glasses but by the end of that week, my friends and I all smelled like Chicken McDo Value Meal!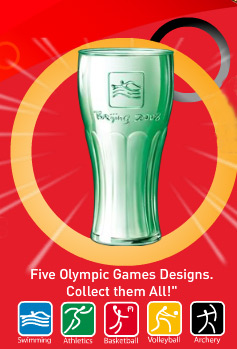 Image Credit: TheSheRants
2. Wear the Adidas Philippine Track Jacket
I first posted about this jacket back in March before its release date in April. It is really a beautiful limited edition jacket to show your support for Pinoy athletes! Sadly, after having lots of reservations from Adidas, it became out-of-stock on the very first day of its release. So as much as I want to wear one, I will not be able to. If you have this jacket, all I can say is you're one lucky guy!
3. Don't miss the date
08/08/08 at 8 PM is the opening ceremony of the XXIX Olympiad. Don't miss the event. It will be covered mostly by Solar Sports and RPN9 according to the Philippine Daily Inquirer. I wish our athletes good luck!
Just a thought: Do you think that the Philippines will get a Gold this time around?
Get the latest stories for men by Subscribing to Pinoy Guy Guide