Be wary guys, especially if you are in the reproductive age! According to the LA Times, researchers from the Cleveland Clinic have found that cellphone radio waves decrease the sperm quality in men.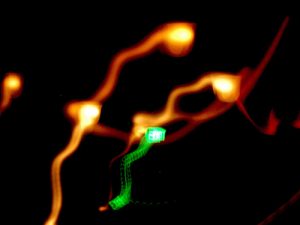 Image credit: Arlen | Creative Commons
Here is an excerpt from the LA Times stating the results of their study:
The new study by the same research group, published online today in Fertility & Sterility, took sperm samples from 32 men and divided the samples into two parts for a test group and a control group. The test group specimens were placed an inch from a 850 MHz cellphone that was in talk mode. Measurements taken after the one-hour exposure showed that the sperm exposed to the cellphone contained higher levels of harmful free radicals and a decreased amount of protective antioxidants compared with the unexposed sperm. These factors caused a decline in the sperm's function and motility and in the overall health of the sperm. However, there was no significant difference in damage to the DNA of the exposed cells.
It was also mentioned that guys should avoid putting their cellphones in their pockets especially when using their headsets to conduct voice calls. So the next time you put your mobile phone in your pocket – think twice because it might affect your fertility and your future.
After reading the news story, I guess I will have to bring a separate clutch bag just for my cellphone.
Want to know the latest news for men? Subscribe to Pinoy Guy Guide
Discuss this story at the FORUMS