An officemate of mine forwarded to me this true story regarding some guy's experience with a gold-digger in a bar somewhere in Makati. The story is written in Taglish. As much as Pinoy Guy Guide is written almost fully in English, I quoted the story "as is" since I figured out that translating it all in English would make the story look like it's not in the Philippine setting. So just read on. I'm sure you'll find the story interesting as much as I did.
My friend and I decided to have a drink in a bar in Makati. Kararating nya lang galing States and looks pretty "boring" pero in reality he belongs to one of the most prominent families here in the Philippines. He looks good and neat so medyo lapitin. There was this good-looking girl who was staring at him at the bar where we were just talking about stuff and the HS times we had. Cars, girls and the likes. Kwentong lalake lang. Tapos biglang lumapit yung girl and this is how it went.
Girl: Hi
Friend: Hello
Girl: Haven't seen you before, tiga dito ka ba?
Friend: Not really. Just hanging around I guess.
* Tumunog yung phone ng friend ko which was a low-end phone.

Girl: Ay! Why is your phone like that?
Friend: Why?
Girl: Kasi I don't date guys who have lower phone models than I have eh. I have the iPhone kasi.
Friend: So why did you bother approaching me?

*Nakialam na ko
Me: Miss, if you intend to look for a gold mine, go find it somewhere else. We're just enjoying ourselves here.
Girl: Hay naku! Poor people. Sayang gwapo pa naman kasama mo kaso…
Friend: Just leave ok?
*So umalis na yung girl. To get off some steam, lumabas kami ng bar to smoke. So kwento kwento pa rin kami. Lumabas din yung girl to meet up with some friends of hers (hot girls, if I may add). Then we just felt that we were their topic. Sobrang na bad trip na yung friend ko so we decided to pay the bill and head somewhere else. While we were waiting for the car na pina-park namin sa valet, lumapit na naman yung girl.

Girl: So you're waiting for a cab? How cheap.

* Di nalang namin pinansin yung girl. Then nagkamurahan na dahil sa sobrang galit ng friend ko. Yung girl kasi medyo high na lasing e. Then lumayo na ulit sya. Tapos may dumating na guy na naka Corolla. Then nagpabayo yung guy dun sa parking lot. Medyo malayo kasi yun pinag-parkan ng valet so medyo natagalan. Sumigaw na naman yun girl sa amin ng ganito.

Girl: Do you have this ha?
* Then parang nagpapaka show girl sya sa kotse nung guy. Finally dumating na yung car ng friend ko and guess what? It's a Audi R8. Napatanga yung babae at biglang lapit na naman.

Girl: Uy! I'm sorry na. Sige na you can take me home na! We'll have so much fun.
Friend: Get off my effin face!
* Sumakay na kami and my friend just looked at them with a grin sabay zooom…. Buti na lang my friend kept his cool a little bit kasi kung ako yun baka sinampal ko. Muntik na nga e.
And in case you were wondering what an Audi R8 is…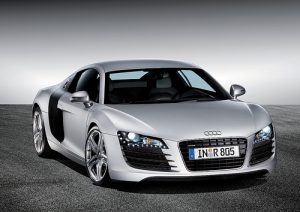 Image credit: Mrapplegate | License
It's IronMan's car in the movie. I wish I saw the girl's reaction upon seeing this car. So guys next time, beware of gold-diggers!
How about you? Ever experienced anything like that?
Subscribe to Pinoy Guy Guide for more stories.
If you have stories to share you can email them to pinoyguyguide[at]gmail[dot]com
*Other image credit: Sidehike