This is part 1 of a series of posts talking about popular gyms in the country.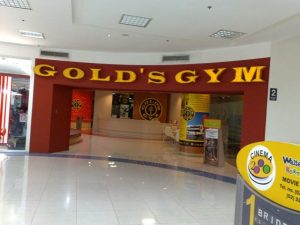 Last weekend, I got the chance to visit Gold's Gym in Waltermart North Edsa. It has been quite a while since I visited one of their branches and this time I was stunned.

First Impressions: A Boxing Gym?
When I entered Gold's Gym in Waltermart, my attention was caught by their boxing ring. Surprising isn't it? It's not common to see one in a fitness gym and if I remember it correctly, they never had a boxing ring the last time I checked one of their branches a few years ago. According to their staff, it's a new feature of their gym after Elorde boxing gym was bought by Gold's. Now, almost all Gold's gym branches have a boxing ring so if you think you have the Manny Pacquiao in you, go ahead and check out any of Gold's gym branches.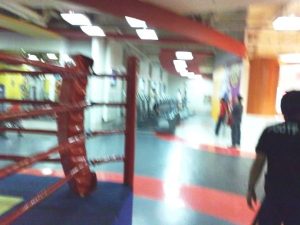 Equipment and People
I was toured by one of their personnel inside the gym. It's not that big (compared to their other branches) but I was impressed by their equipment especially their complete line of weights, cardio equipment and if I may say it again – their boxing ring. I must admit that I really wanted to try to get into the ring (at least to have a feel what it's like to be a boxer) but too bad, there was a boxing match the time I visited so maybe next time.
Their pieces of equipment are of superb and excellent quality. However, I think that they need to add more since there were only a few and I'm not sure if they are enough for all the gym-goers in that branch during peak hours. I would also like to add that you need to bring your own padlock for the lockers.
With their equipment suited for bodybuilding, I can say that Gold's Gym is highly recommendable for those who want to get big muscles (just take a look at the logo of Gold's Gym). I think that bodybuilders are their target market and is probably the main reason why there were only a few women working out when I visited.

Rates and Payment
Their staff was kind enough to explain to me their rates as follows:

UNLIMITED WORK-OUTS:
FEE: P25,200 – (good for 1 year: P2,100 per month)

FIXED NUMBER OF WORK OUTS – 144 visits per year (around 3 times per week):
FEE: P16,500 (good for the entire year: P 1,375 per month)

Note that actual rates may vary and this does not include the boxing facility. They accept credit cards for monthly installments or cash if you wish to pay in full.
If you will notice from the above rates, you will save more on a fixed number of sessions rather than unlimited. While this may give you less freedom to work-out whenever you feel like, I still think that it is more economical since the ideal number of times to exercise is 3-4 times a week, so it is definitely worth it!
But if you believe that you are a gym rat, I bet that the unlimited one is the right thing for you!
Related posts in Gym Guide:
Part 2: Fitness First
Part 3: Slimmers World
Subscribe to Pinoy Guy Guide by email to get the latest updates
Talk about men's fitness at the PGG Forums